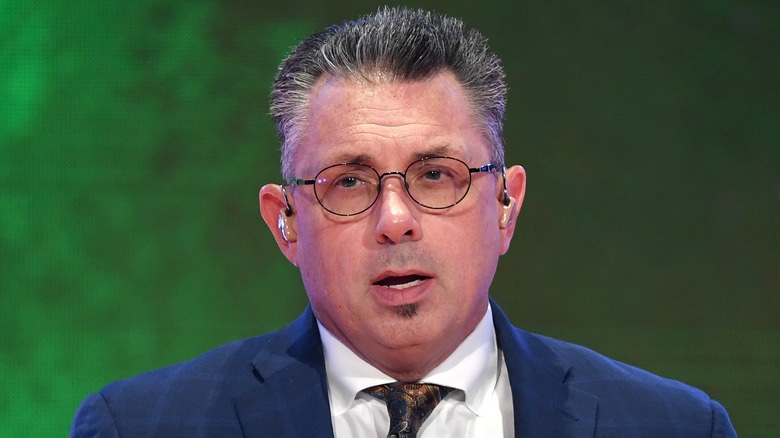 Veteran play-by-play announcer Michael Cole appeared on The Pat McAfee Show this week.
Speaking with his former Smackdown commentary partner, Cole offered his argument as to why Roman Reigns and The Bloodline should win an Emmy or an ESPY for their work at Money In The Bank.
"When you have a story like The Bloodline, which for three years, and I said this on a number of occasions, should be nominated for an Emmy Award. Roman Reigns should be your best actor. Sami Zayn, Kevin Owens, The Usos, Solo Sikoa, Paul Heyman, all these guys should be nominated. You could make an argument that we could win an ESPY or we could win an Emmy Award because what our guys do is so unique to our world. Not only are they tremendous athletes, and in my estimation, the best athletes on the planet because they can do things that so many others can't, but on top of that, they're actors. You have to be an actor. If you watched what Roman Reigns and company did in that tag match in London, it was cinema. It really was. These guys are tremendous athletes who put their bodies on the line every week, but they're putting together an unbelievable story."

– Michael Cole
Cole isn't the first person to call the Bloodline story "cinema," as that has been one of the prevailing opinions of fans online, something that WWE Chief Content Officer Paul "Triple H" Levesque acknowledged during the post-Money In The Bank press conference.
Cole also spoke about WWE's growth in recent years and their position as one of the leaders in live entertainment.
"We have a very loyal fan base of people, two and a half million, 3 million people every Friday night, 2 million people every Monday night, millions and millions watching our premium live events on Peacock, but at the end of the day, over the past number of years, the company is really starting to take off now and starting to be recognized as the global leader in entertainment that it is and I mean, there's so many people that have come on board over the past decade that have helped us get there. It feels really cool to finally see us, especially with what went on with the sale and the possible sale now if it goes through with Endeavor. Obviously, our TV rights are coming up. It's just really cool to see all kinds of different companies being involved and wanting to get involved in our product."

– Michael Cole
WWE has their own category at the ESPYs for Moment of the Year, and The Bloodline have another chance to add to their acclaimed story when The Usos hold the Trial of Roman Reigns on tonight's episode of Smackdown.
(H/T WrestlingNewsCo for the transcription)