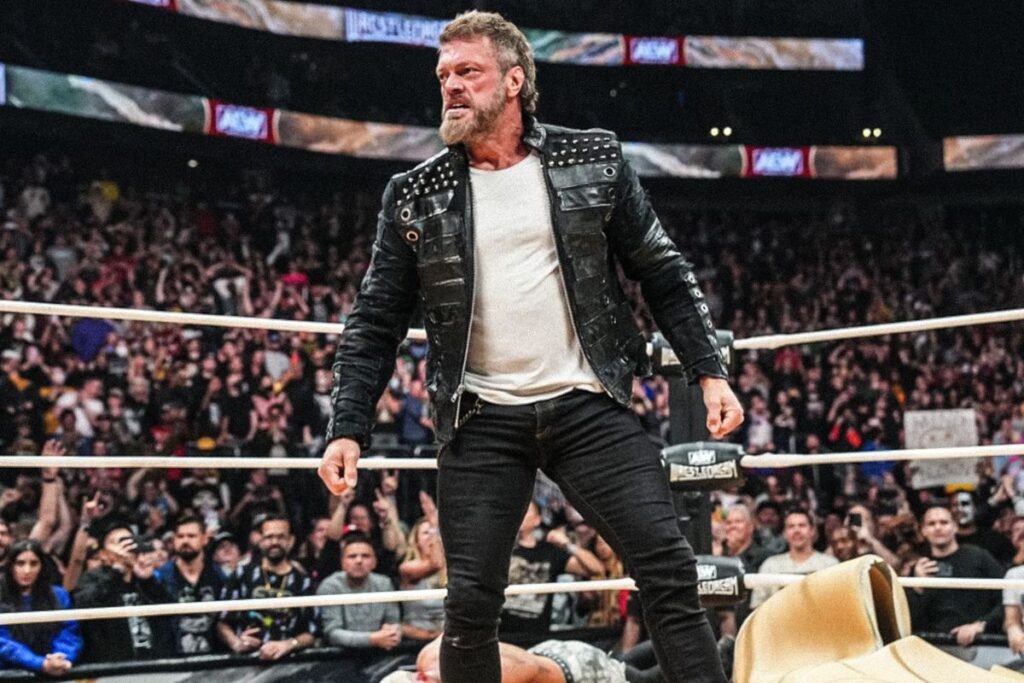 The 'Rated-R Superstar' discusses his schedule and creative freedom in AEW.
On October 1st at AEW WrestleDream, Adam Copeland made his debut for the company after bringing an end to his 25-year career with WWE as Edge following the expiration of his contract in September.
Speaking to Joseph Staszewski of the New York Post, Copeland shared an insight into the differences between WWE and AEW's creative processes.
"What I've noticed is the creative process and some of the freedom that comes along with that and I think that's been really fun. Not that I haven't had creative freedom, I've been very lucky in that regard over the years. But it's different when there are not shareholders and it's different when there is a different structure in that regard,"

-Adam Copeland
When asked what he hopes to do with the increased creative freedom, Copeland noted that telling stories is his primary objective in AEW.
"Tell stories and I think have more input into those stories, too. That to me is what I always thought we are is storytellers. To be able to have more of a voice in that regard is exciting. That's not to say that I didn't have that to a degree. Twenty-five years in a place (WWE) you are gonna have that trust and all of those things, but I also understood it's a different animal. There's more to answer to. With this, it feels like maybe just a few more chances taken in order to see what is gonna stick to the wall. Sometimes some isn't gonna stick. It's exciting the process to see what does. To sit down with a guy like Jey, with Christian and kind of start mapping out this story when we are at this stage of our careers, it's just fun."

-Adam Copeland
During his final run as Edge, Copeland worked limited dates, often returning for major premium live events and select TV tapings. Thus far in AEW, Copeland has largely worked a full-time schedule, occasionally appearing on both Dynamite and Collision throughout the week.
Discussing the change in schedule, Copeland noted that whilst he understood WWE's perspective of trying to make sure he remained an attraction, the reduced dates limited his ability to tell meaningful stories, and thus the move to AEW allowed him to take the reins of his own creative direction.
"I think from their perspective and I see their perspective entirely, if we bring you out too much then it's not special anymore. I get that. I really do. So it was for limited dates. With that though, you can't really get into a proper story. You can't really dive into what this thing could be. For me looking at it, it's like I'm 49. I got a very, very limited time to capitalize on what I have left. Because three months off, that's three months where I could have done some stuff. And I know it sounds great on paper and don't get me wrong it wasn't a horrible place to be. But, if I'm gonna do this man. I want to do it. I want to try to craft some stories and do what I can while I can. So limited time, yeah, because I'm far closer to the end of my career than I am to the beginning. But still think I got some good stories that I can tell and a whole new roster of people who I've never touched before,"

-Adam Copeland
At this upcoming Saturday's Full Gear show, Copeland will make his AEW pay-per-view debut as he teams with Darby Allin & Sting to take on the team of Christian Cage, Luchasaurus, and Nick Wayne.
Elsewhere on the card, MJF will put his AEW World Championship on the line against Jay White, whilst Toni Storm looks to reclaim the AEW Women's World Championship against Hikaru Shida.