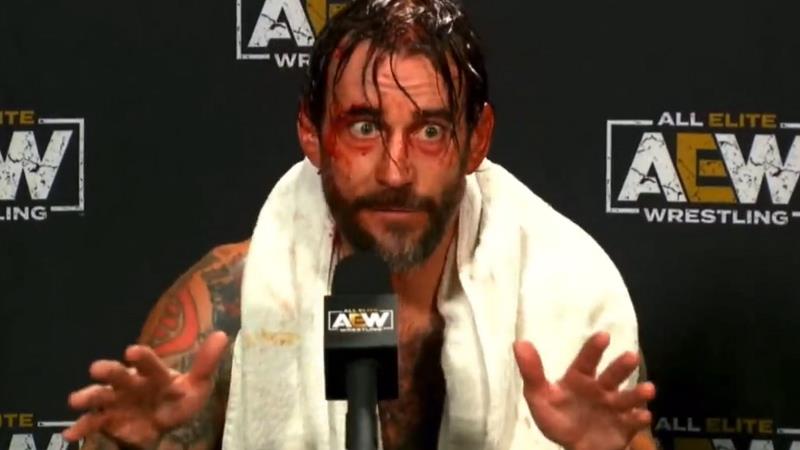 This past Sunday saw CM Punk recapture the AEW World Championship from Jon Moxley at All Out in his hometown of Chicago, Illinois, although Punk has unfortunately dominated headlines for his actions outside of the ring in the aftermath of the show, due to an alleged backstage confrontation between himself, Ace Steel, and The Elite following his scathing comments aimed at the AEW EVPs during the All Out post-event press conference.
Multiple reports have emerged over the past two days detailing the the fight between the aforementioned names, with Ace Steel said to have bitten Kenny Omega during the brawl, as well as Nick Jackson of the Young Bucks supposedly sporting a black eye as a result of the conflict.
Fightful Select have now provided further insight into situation, initially confirming earlier reports regarding the nature of the backstage brawl.
"It was confirmed to us that Ace Steel bit Kenny Omega, CM Punk threw punches, and a chair hit Nick Jackson in the eye."

-Fightful
The report then turns it's attention towards the believed instigators in this situation, with various sources disagreeing on who was to blame for the melee taking place. Fightful noted that some sources within AEW felt as though Punk should have expected to be confronted after the things he said during the press conference, whilst another source claimed that Omega and Young Bucks aggressively approached the locker room in what Punk could have construed as a 3-on-1 attack.
The report additionally states that the situation lasted for "about six minutes", as well as noting that Brandon Cutler, Pat Buck, and Christopher Daniels were all present in an attempt to diffuse the situation.
Fightful stated that they reached out to multiple sources regarding AEW President Tony Khan's response to the situation, although none admitted to hearing from him, with the belief being that possible legal action is preventing several names involved from discussing the situation.
With regards to said legal issues, Fightful stated that they reached out to Hoffman Estates Police Department, who were responded by revealing that no police reports or documentation was requested during the AEW All Out PPV as far as the reported backstage conflict goes.
"Hoffman States Police Department does not have any police reports, nor any documentation that police were requested, during AEW All Out event for anything that allegedly occurred backstage. The only police response at the event was regarding a family issue in the audience."

-Hoffman Estates Police Department
In terms of the backstage response from AEW talent following the melee, Fightful Select are reporting that "almost unanimously", talent haven't been in favor of the way CM Punk handled things at all that evening. Fightful also noted that this applies to some talent who would typically side with Punk, stating that that's not how they would've handled the situation.
Numerous reports have also emerged lately regarding Punk sustaining an injury during the melee. Fightful were unable to confirm these reports at this time, with Punk's injury standing as nothing more than an unconfirmed rumour as it stands.
Further touching on how some members of the AEW locker room have reacted to the backstage brawl, several wrestlers are said to be unsure of their creative plans for tomorrow's Dynamite as a result of this situation.
Many have questioned how AEW would navigate this situation in regards to punishing those involved. Fightful noted in their recent report that the belief is backstage that Punk should lose his job as a result of his actions.
"Several longtime AEW stars said they don't understand how Punk couldn't be let go after this. "

-Fightful
Closing the report, Fightful Select moved ro dispell a number of rumours circulating regarding this situation. Firstly, Fightful stated that the belief currently is that Punk's heat with Hangman Adam Page has nothing to do with previous reports of Page working stiff. The report also notes that Fightful heard last year that Arn Anderson spoke with Page and let him know to lighten up. As of this Spring, Punk and Page were believed to be on good terms, with the former AEW World Champion considered well liked backstage outside of of that situation that saw a couple of wrestlers end up injured.
In terms of MJF, who made his return to AEW this Sunday by winning the Casino Ladder Match before unveiling himself to the Chicago crowd following the main event, Fightful haven't heard of any heat between MJF and Punk prior to Punk basically mentioning MJF as one of the stubborn kids he had to work with.
As always, we'll aim to provide any updates on this developing situation as soon as we hear more.