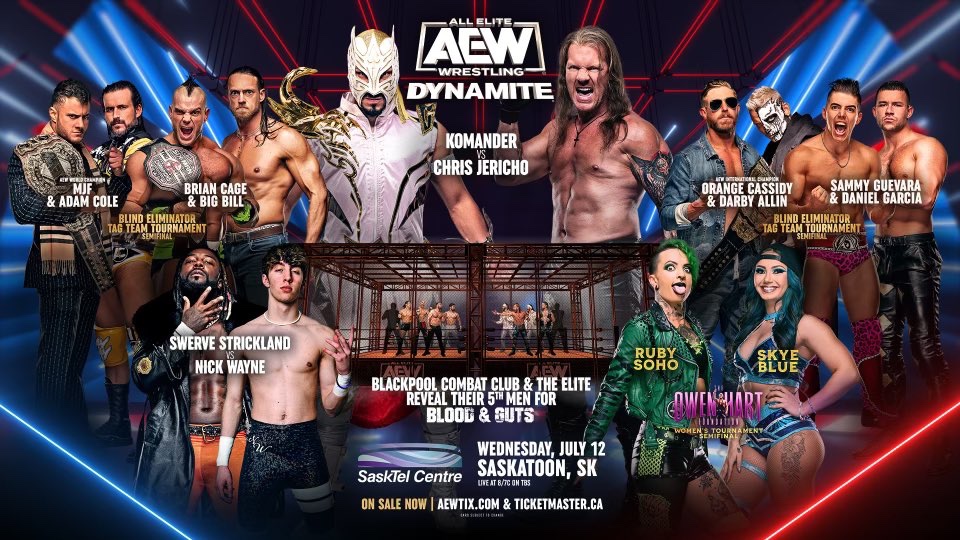 Welcome to WrestlePurists' coverage of the July 12 2023 episode of AEW Dynamite!
Chris Jericho Defeats Komander:
Jericho won via submission with the Walls of Jericho. Nice opener, Jericho allowed Komander to do all his impressive spots that got over really well with the crowd.
After the match, Don Callis came out and continued to try and convince Jericho to join his Don Callis Family. He then showed him a video which was highlights of them teaming together from 1995. They both reminisce about Bad News Allen, and Callis says Allen would be smiling down on the possibility of them teaming back together, trying to manipulate Jericho.
Jack Perry Backstage Interview:
Jack Perry is hiding in his car and says it's an unsafe working environment at AEW, but little does Perry know, HOOK is in the car next to him and then attacks him. Jack Perry then squeamishly gets away.
Don Callis Backstage Interview:
Don Callis is asked about announcing the 5th Member of the Blackpool Combat Club for Blood & Guts. Callis says he will be announcing the 5th man later tonight.
MJF & Adam Cole At The Bar:
MJF & Adam Cole are at the bar, MJF is in his "Better Than You Bay Bay" but Cole isn't, so he asks why he isnt wearing it. 4 girls then walk past and say hi to Cole & MJF, MJF then leans into Cole and says there 2 for him and 2 for Cole. Cole shoots this down because he cares about his girlfriend Britt Baker. MJF then goes off with 4 girls by himself. When he returns, Cole says he will wear the matching shirt with MJF if they can do what he wants to do next, MJF agrees & the two are then playing AEW Fight Forever.
Whilst playing Fight Forever, MJF points out games are much more fun when you have buddies to play with , Cole asks if he has ever played a multiplayer game before to which MJF replies "you need friends for that". Cole then looks concerned and ask MJF to pause the game. The two then have a moment as Cole tells MJF that he was planning to blindside him but now he thinks cool, to which MJF laughs about and says the same thing.
Sammy Guevara & Daniel Garcia Defeat Orange Cassidy & Darby Allin (Tag Team Blind Eliminator Tournament):
Sammy Guevara pinned Darby Allin. Sammy Guevara was definitely hinting babyface a lot in this. Towards the end of the match, Prince Nana came down to outside of the ring and hands Garcia Darby's skateboard. Garcia is about to hit Cassidy with it but Darby stops him by reaching through the ropes from inside the ring and grabbing the skateboard from behind. The referee then notices the commotion on the outside and gets out the ring to eject Prince Nana. Then out of nowhere, Swerve takes out Darby Allin with a flying knee and disappears through the crowd. Sammy Guevara turns around to see Darby Allin laid out with seemingly no idea how it happened. He then hits his finisher and pins Darby Allin.
After the match, Sammy Guevara offers to shakes Darby's hand as Daniel Garcia walks away. Darby reluctantly accepts Sammy Guevara's handshake.
Nick Wayne Video Package:
Video package with Nick Wayne telling us some of his background story, touching on his father, Buddy Wayne who passed away when he was younger and how he wants to pursue professional wrestling.
Backstage Interview With Adam Cole:
Renee Paquette is waiting to interview Adam Cole but he is on the phone. He finally gets off the phone and Renee asks him about his match tonight, they are then interrupted by Roderick Strong who questions if Adam Cole is serious being friends with MJF. Adam Cole tells Strong that MJF isn't that bad before being interrupted by a text message from MJF saying he feels ill and cant compete tonight, Cole then hurries away to go and get MJF for their match coming up next.
Adam Cole & MJF defeat Big Bill & Brian Cage (Tag Team Blind Eliminator Tournament):
Adam Cole pinned Brian Cage. After the match, MJF & Adam Cole both cut babyface promos with MJF especially putting over their team, joint merch, and friendship. He gets the crowd to chant "double clothesline". Cole then says he never expected the team to work but they're doing pretty damn good and that he has high hopes for winning the whole tournament. Cole promises that if MJF and Cole stay on the same page, they will be the new Tag Team Champions. We are also shown Roderick Strong in the back disapprovingly watching this all go on.
Backstage Interview With Jake Hager:
Renee Paquette and Jake Hager are outside Chris Jericho's locker room. Hager and Renee then both go inside and Hager immediately asks Jericho if he is seriously considering linking up with Don Callis. Jericho says he doesn't know and that there is a lot of history there. Hager responds by saying that they also have a lot of history and references multiple things. Hager says he needs Jericho to be straight with him, and if he cant, Hager cant give him 100. He then hands Jericho his famous purple hat and walks away.
Ruby Soho Defeats Skye Blue (Womens Owen Hart Tournament):
During the match, the referee catches Toni Storm and Saraya getting involved with the match and ejects them. After the match, they come back out to celebrate Ruby Soho making the final of the Tournament.
QTV Premiere Harley Cameron Music Video:
Swerve Strickland Defeats Nick Wayne:
Lance Archer Video Package:
Video package showing Lance Archer wrestling in Japan and England, mentioning that he will be returning soon refocused.
Don Callis In-Ring Promo:
Don Callis says he excited to announce his 5th member for Blood & Guts to take on the Elite, and that they will slaughter the Elite. Callis says that Kenny Omega deserves this and starts to cut a promo on him. Kenny Omega then starts to make his way to the ring but he is then attacked by Konosuke Takeshita and Jon Moxley. Whilst Kenny Omega is fighting them off, he is blindsided by a returning PAC, revealing himself as Don Callis' 5th man. The 4 men then take turns beating up Kenny Omega. PAC grabs a microphone and reminds Kenny Omega of when Omega broke his nose and ruined his championship goals. The 4 men then set Omega up with a chair wrapped around his neck as PAC climbs to the top rope. Jon Moxley asks Kenny Omega if he has any last words to which Kenny Omega tells them to check the screen as they have a 5th man also. The lights go out and a video package plays that reveals that Kota Ibushi is officially The Elite's 5th man for Blood & Guts to a huge pop from the crowd. The lights come back on and the Young Bucks & Adam Page save Kenny Omega, a brawl breaks out with the Elite getting the upper hand. Kenny Omega then cuts a promo putting over the Blood and Guts match next week.