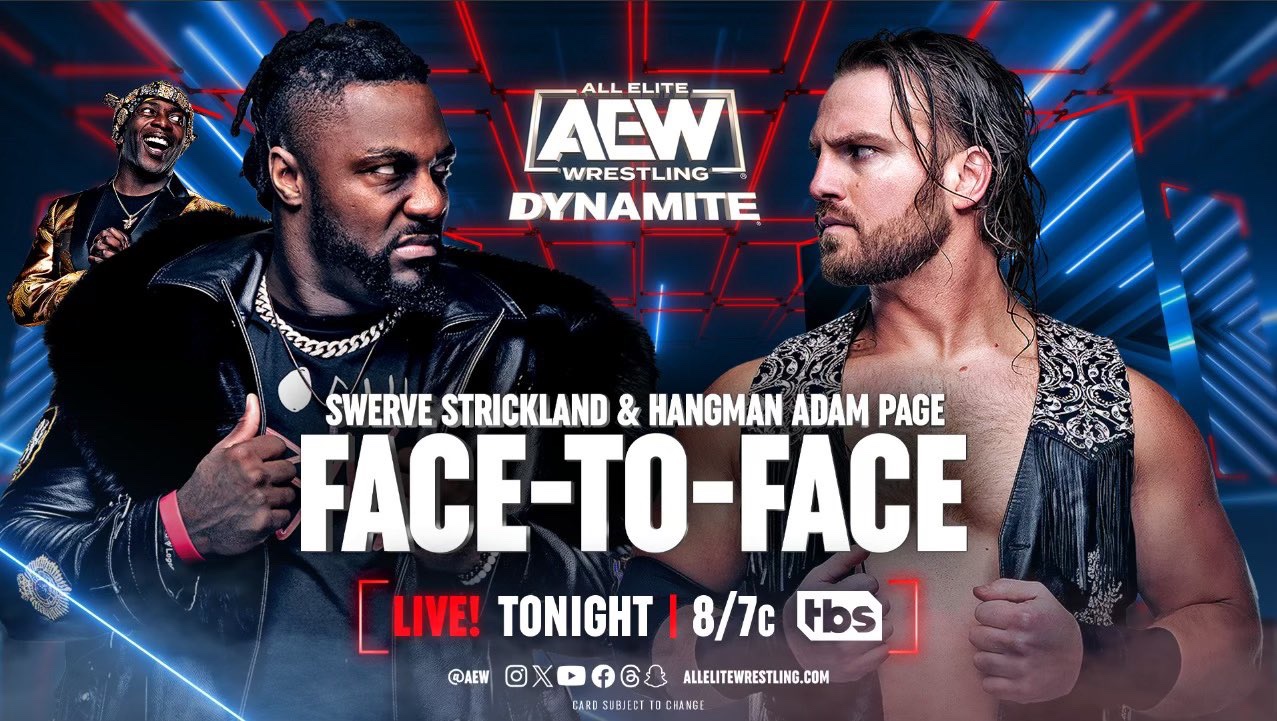 It's Wednesday and you know what that means. Dynamite is headlined with "The Man Who Erased His Name" Street Fight featuring a variety of wrestlers we'd never expect to be in a match together. Kenny Omega, Kota Ibushi, Chris Jericho, and Paul Wight face off against Brian Cage, Kyle Fletcher, Powerhouse Hobbs, and Konosuke Takeshita. The Young Bucks, in their home state, face off against one half of their greatest rivals in Penta El Zero Miedo and his partner for the nigh, Komander. Jon Moxley & Wheeler Yuta go head to head with Orange Cassidy and Hook ahead of the long awaited International Championship rematch, this Saturday at Full Gear.
Jon Moxley & Wheeler Yuta defeat Orange Cassidy & Hook
Before the bell even rang, Cassidy and Hook went into the crowd to blindside Moxley and Yuta. Throughout the whole match, it's clear how much Moxley and Cassidy hate each other. Moxley's injury from a couple months ago was unfortunate but it has set up a feud with a lot of heat. Moxley and Yuta in the match were able to eliminate Cassidy from the equation during the match. A death rider followed by a seatbelt pin gave the Blackpool Combat Club the victory. A fiery post-match promo from Moxley only added to the heat for this feud.
Adam Page & Swerve Strickland In-Ring Segment
Going from on fiery angle to another, Page and Strickland has been immense. Page did not hold back and did not waste any time. When Hangman is in form like this, nobody can match him. Strickland did not say a word, it was all Page. He warned Strickland that at Full Gear he will be his judge, his jury, and his executioner. Page and Strickland could not touch or else they would get suspended but that didn't stop Page from going after Prince Nana before security had to break it up.
Roderick Strong and The Kingdom Backstage Segment
Backstage, Roderick Strong made his weekly call to Adam Cole. Strong once again accused MJF of being the devil. Cole, who seemed annoyed, accused Strong of possibly being the devil before hanging up. These segments are the same every week, it is lacking creativity at this point.
Skye Blue defeats Red Velvet
This was a well worked match as Skye Blue continues to impress. Red Velvet also carried her own. The crowd were up for it and the wrestlers gave them a good match to get behind. Skye Blue ended up getting the victory with a Code-Blue to insert herself in the TBS title three-way against the Champion Kris Statlander and Julia Hart.
Miro Vignette
Miro spoke about his ongoing problems with his wife, CJ Perry. He previewed his upcoming match on Collision against Daniel Garcia which will take place on a special start time of Friday at 8 pm eastern.
Mariah May & Toni Storm Backstage Segment
RJ City with Mariah May were outside Toni Storm's locker room. They knocked on the door, Dr. Luther answered. As he answered, the screen turned black and white with the audio becoming muffled. May was able to get in to meet her hero Toni Storm. Storm was laying on her couch seeming uninterested as May was star-struck.
Samoa Joe defeats Jon Cruz
Samoa Joe defeated Jon Cruz in a squash match. Joe after the match once again offered his services to MJF, as MJF is still without a partner for the ROH tag team match for Full Gear against The Gunns.
The Young Bucks defeat Penta El Zero Miedo & Komander
The Young Bucks have been leaning heel for the past few weeks but they played more of a babyface role in front of their home crowd for most of the match. Komander was highlighted very well with a few very exciting high spots. Penta could wrestle with a blindfold on when he's in the ring with the Bucks, their chemistry is unmatched. The Bucks finally leaned heel in the last moments of the match as Nick Jackson went for the low blow on his opponents, before hitting a Judas Effect, taunting Chris Jericho ahead of this Saturday. A BTE trigger on Komander then gave the Bucks the victory.
The Young Bucks Backstage Interview
The Bucks were asked about why they cheated in their match earlier, Matt Jackson said that he doesn't care anymore. Kenny Omega then confronted his friends as he was disappointed that they cheated in their hometown with their family in the crowd. The Bucks said that their gripe is with Jericho and not with him. Jericho came into the shot and told Omega that they need to prepare for their match, this was before Matt Jackson attacked him in the back. This prompted security to break them up.
The Gunn Club Squash Match
Just like last week, the Gunns squashed some jobbers before getting on the mic and warning MJF about Saturday ahead of their ROH tag team title match.
Wardlow Vignette
Wardlow, similar to last week, told MJF to count his days. It's interesting to see what's next for this new-look Wardlow.
Kenny Omega, Kota Ibushi, Chris Jericho & Paul Wight defeat Konosuke Takeshita, Kyle Fletcher, Powerhouse Hobbs & Brian Cage
This match was chaos. Almost instantly, Paul Wight choke slammed Kyle Fletcher off the stage into two tables. Kota Ibushi rode a bike down the ramp, and used a lead pipe to take out his opponents before Brian Cage gave a stiff lariat to Ibushi which caused him to flip off the bike and land on his head. Takeshita then began to swing the bicycle to take out Omega and Jericho in the ring. The camera cut to the back, Hobbs, while on a platform picked up Wight and slammed him into a car, breaking the glass windshield. Takeshita and Jericho were then seen fighting near the concession stands.
One of the highlight spots then followed as Brian Cage while standing on the second rope, deadlifted Kenny Omega into a suplex onto the outside, slamming into two tables in a nasty landing. Another highlight spot quickly followed as Kyle Fletcher did a tombstone pile driver from the ring apron on Kota Ibushi landing onto a Japanese take-out sign carried by a bunch of steel chairs. In the ring, Jericho and Omega double teamed Hobbs. The pair taped Hobbs to the ropes as they began their assault on him, getting revenge from a few weeks back. Kenny Omega was put through hell but was still able to do an extraordinary One-Winged Angel onto Brian Cage for the victory.
MJF & Jay White Promo
MJF came out looking dejected, he told the audience that he felt cursed. He apologized to the Acclaimed for the attack that happened to them last week by the mystery group. MJF said that he reached the mountain top of Pro Wrestling and he's afraid of losing everything he's earned. However, a fired-up MJF said that it will take an army to take him off the mountain top. Jay White then came out to confront his Full Gear opponent. White ran down his opponent before prompting his Bullet Club Gold cronies to take out MJF. After MJF was taken out, White hit him with a Blade-Runner before pinning him 1-2-3. Samoa Joe looked on in the back.