With perhaps the year's strongest week of television wrestling, it's an exciting time to be writing match guides. Granted, that won't affect many but I'm happy regardless, with AEW returning to Arthur Ashe for two blockbuster title tilts. That's not their only host either, also producing a loaded lineup for Collision, with Bryan Danielson and Ricky Starks' rematch leading the way. WWE are in on the act also, producing hits on each of their three televised shows.
Finally, Will Ospreay adds another noteworthy bout to his 2023 campaign, meeting Yota Tsuji in the Destruction in Kobe main event. Much to cover and no time to waste, so let's get to that Ivar match!
Ivar vs. Kofi Kingston (WWE RAW)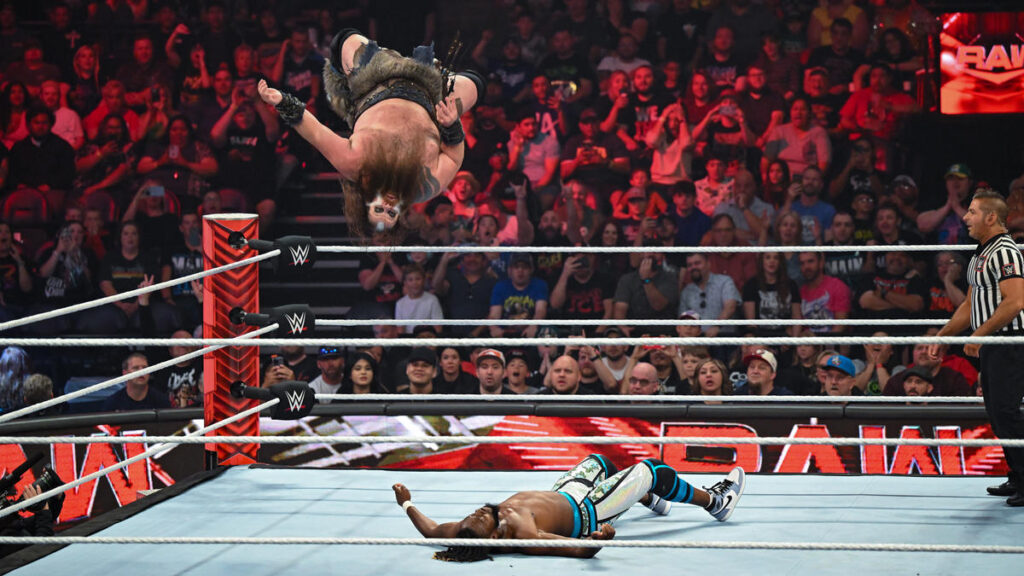 Since returning from injury, Kofi Kingston has reunited with Xavier Woods, picking up where they left off as the beloved New Day. In fact, they've actually felt somewhat rejuvenated by that unfortunate time apart, being very much missed in their months away. In recent years, New Day have been slightly taken for granted, even stopping through NXT last year after being such constants on the main roster. Three matches into their latest run though, plans changed again.
Booked for a 2-out-of-3 falls match opposite The Viking Raiders, that bout was forced to change, with Kingston instead meeting Ivar on rather late notice. Last month, these two teams went almost twenty minutes, with their stipulation sequel likely being pencilled in to expand on that runtime. As a result, Ivar and Kingston were left with some time to fill, coming together for a matchup that didn't exactly jump off the page. In addition, Kingston hadn't wrestled a singles match since February.
In an instant though, it's clear that this bout is trending in the right direction. At the bell, they establish Ivar's size and strength advantage, not budging for Kingston's headlock takeover and instead muscling him around. In response, Kingston flurries with speed, stressing his own advantage before charging into a seated senton. Within seconds, "let's go Kofi" chants emerge as he briefly fights from underneath, almost immediately making a comeback.
Ivar fires back as they head to an ad break though, splashing Kingston on the outside. That first chunk sets the tone and they seldom look back, working an action match that barely settles along the way. Ivar's heat segment is already complete as they return, with Kingston rallying as they go into a back and forth finishing stretch. It's quickly apparent how well that formula suits Ivar, embracing the opportunity and spreading his wings for some explosive offerings.
I don't think anyone is rushing to celebrate The Viking Raiders' main roster stint exactly, but they really do remain very capable. Ivar is quite spectacular at times here, and Kingston's energy is almost staggering. At 42 years old, he still wrestles with palpable enthusiasm, showing some serious burst after minimal ring time under his belt in 2023. In the dying moments, they produce a substantial near fall or two, organically escalating the crowd's initial interest.
That's an important piece of this puzzle too, as Salt Lake City is immediately invested in this matchup. Ivar and Kingston actively build on that also, producing one of the year's weirder hits. Honestly though, it's a simple recipe and before long, leaves you uncertain as to your own surprise. Of course this is good, it's thirteen minutes of offensive exchanges between two offensively capable wrestlers. Sprinkle in some polished big man – little man logic and suddenly, you have a show stealer.
Genuinely good match and engaging television to boot, a reminder of this roster's talent as well as more specifically, Kofi Kingston's brilliance. After all these years, he's still capable of rocking RAW, injecting that same excitement that allowed him to explode fifteen years ago.
Butch vs. Tyler Bate (WWE NXT)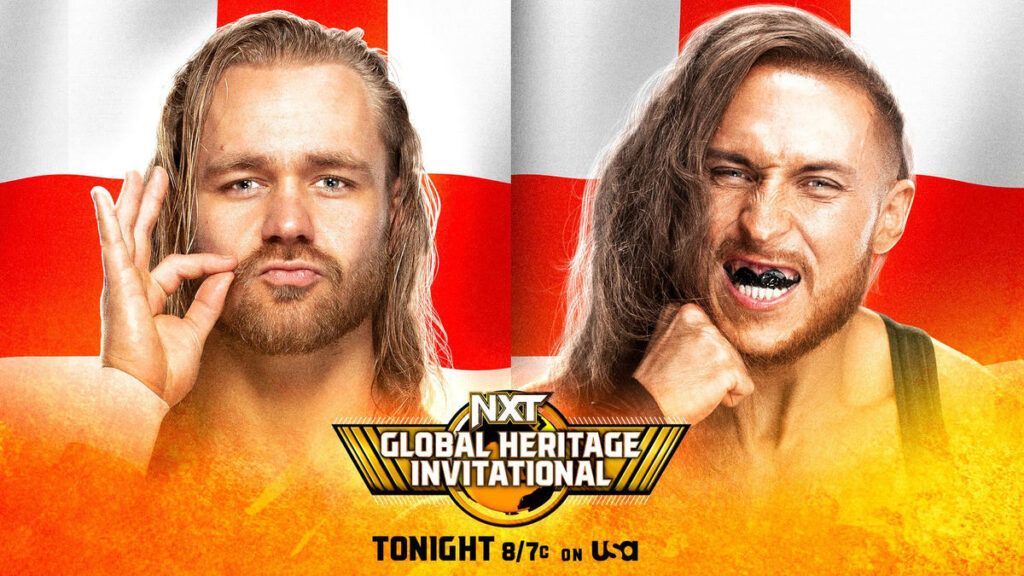 It's been over four years since Pete Dunne and Tyler Bate last shared the ring. Once frequent foes, these two produced a famous series for the NXT UK Title, even wrestling to crown the inaugural champion. In recent years though, they've taken very different paths, with Dunne moving up to the main roster as 'Butch,' standing alongside Sheamus. That repackaging seemed alarming but has actually gone okay, with a timely shift in regime mostly returning Butch to his roots.
On the other hand, Bate's ascent has plateaued, staying in NXT UK until the brand's demise in summer 2022. Stateside, Bate has delivered consistently inside the ropes for WWE's third brand but has slightly struggled to regain his prior relevance. He did flirt with a main roster move in April, working Dolph Ziggler on Main Event in one of the year's quieter major league hits. He's still awaiting that callup but in the meantime, is a perfect fit for the Global Heritage Invitational.
Butch is similarly at home, stopping through NXT for this tournament and last week, producing a thriller opposite Axiom. Here, they meet in an anticipated Group A decider, wrestling their first singles match since December 2018. As with all other group matches in this tournament, they were working with a twelve minute time-limit on Tuesday. That ensured its place as a greatest hits cut of those prior epics, presenting snapshots of their rivalry to the television audience.
It proves to be an almost perfect fit, trimming some of the excess and really focusing this pairing on their inherent chemistry with one another. As you'd expect, they immediately hit the mat, with Butch targeting the hand and fingers as usual. They quickly offer some range though also, as Bate's creative counter earns him a heavy slap across the face. In response, Bate drops Butch via left hand, then unleashing a punch combination in the corner.
These portions really highlight how much Butch's work has tightened up in recent years, bringing far more physicality than I recall in those initial bouts. There's quality throughout from him in that regard, dropping Bate with a meaty forearm and frequently clubbing Bate as he attempts his usual sequences and such. Bate isn't far behind on that front either in fairness, also bringing his always impressive power offence and resetting things via delayed superplex.
They are visibly enjoying themselves here, even producing some incredible action within picture-in-picture, returning from the break to "this is awesome" chants. Admittedly, that includes their incredibly unfortunate punch exchange duel, but you can't win them all, I suppose. In better news, Bate's airplane spin makes the party too, setting the stage for another strike exchange as they pass ten minutes. From there, they sprint into an outright race to the finish.
Ironically, it's the opposite end of the scale from Butch's draw with Axiom, going from one extreme to the other. In that match, they worked something far too vague for that finish to pack a punch where as here, they ramp things up so much that it feels excessive a mere minute or so later. This approach is far better to be clear, as it's a crowd-pleaser even if I didn't personally need the stolen finishers and such. Either way, the work is physically sharp and rocks the PC.
It does feel a touch like its own match on some level, with the time limit effecting their ability to build a suitable bridge to that finishing stretch. Ideally, the greatest hits version of this pairing would simply go without that chunk, but it was necessary to put over the tournament and again, still absolutely worked anyway. Either way, it's a really good match, featuring some truly gorgeous work through the first two acts in particular.
These two are such natural dance partners and it's a treat to watch their chemistry in simpler sequences, making magic with sheer physicality and skill. It's not the environment to maximise the matchup obviously but in some ways, their dynamic is even more seamlessly displayed by these snapshots. Another addition to NXT's increasing 2023 catalogue, twelve thrilling minutes with frequent flashes of greatness.
Claudio Castagnoli vs. Eddie Kingston (AEW Dynamite: Grand Slam)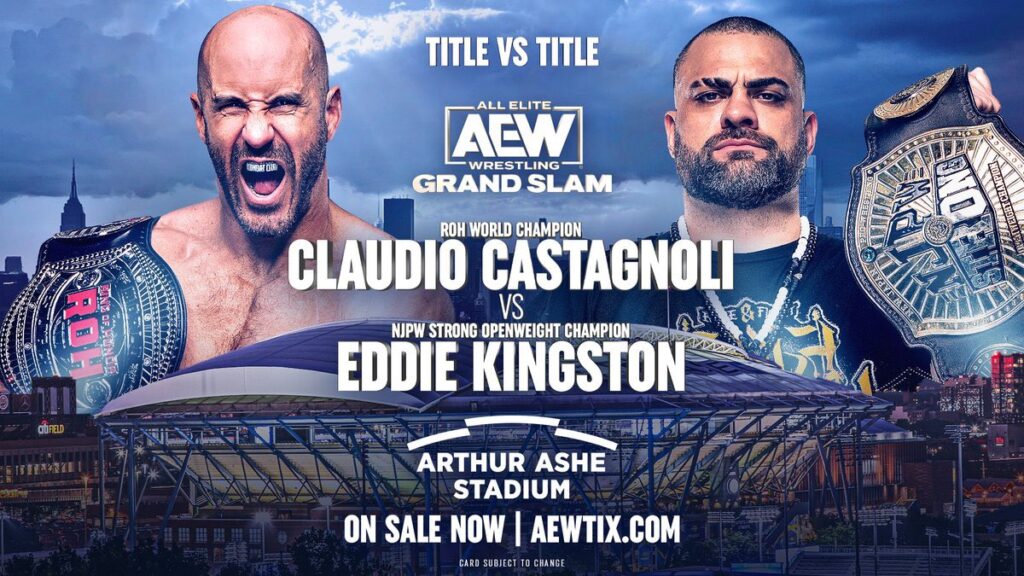 At Supercard of Honor, Claudio Castagnoli and Eddie Kingston produced one of the year's finest main events. Even without an exactly electric atmosphere, the familiar rivals recaptured their old magic, doing the dance for Ring of Honor gold. That night, Castagnoli remained champion, with Kingston stepping away for hernia surgery afterwards. Since returning in June, Kingston's focus has remained on Castagnoli, meeting in three multi-man matches over the summer.
Admittedly, their rivalry has felt slightly underserved at times on television. As entertaining as an angry Eddie Kingston can be, it's seldom gone beyond that within AEW's weekly programming, containing their magic below its ultimate ceiling. On Collision though, Kingston did his best to remedy that, cutting one of the promos of his career to set the stage for their sequel. The host would be Arthur Ashe Stadium, as Kingston returned home to kick off this television special opposite Castagnoli.
Certainly, the limitations of that scenario are evident too, as television allows for less freedom than their PPV encounter. Fortunately, those subtle limitations are mostly drowned out by a breathtaking atmosphere, as Kingston receives a hero's welcome in New York. They embrace that excitement too, leaving the formalities behind and getting right to some extended physicality. It's a simple and direct approach, setting the tone for the fifteen minutes that follow.
There's more nuance to their March match but this is virtually perfect for television, a compact, crunchy shootout. They still have some space to play with also, settling into a Castagnoli heat segment for a sizeable chunk of the runtime. Kingston does flirt with a more tactical approach, returning to the knee only for Castagnoli to have an almost immediate answer. He steers the ship from there with that aforementioned control segment, still wearing Kingston's initial burst.
Castagnoli continues to play with fire however, wrestling emotion in the fashion that's often decided Kingston's fate. This time, he feels equally effected by their conflict, wrestling angry and riding the highs and lows that come with that choice. In fact, Kingston is even able to outsmart Castagnoli at times, fooling him with a backslide that allows for his comeback. At core though, it's simpler than that, as Kingston simply won't be denied at Grand Slam.
That was the message in his pre-match promo and it's present throughout, toughing it out and ultimately outlasting Castagnoli in an emotional firefight. That's his domain after all, with Castagnoli making the mistake of wrestling Kingston's match after all these years. They take an elaborate route towards that destination too, with an expansive finishing stretch earning thunderous "Eddie" chants. As he kicks out late, the people are aware of what's ahead, rising to their feet in response.
In true Eddie Kingston fashion, he uses his career peak to nod towards history, following his hero's advice and putting away Castagnoli via powerbomb. The champion's green tights felt like a clue in that regard but it's a wonderful touch, also working seamlessly without that context. That's been a willing chink in Kingston's armour at times, showing admiration for others in a fashion that almost disconnects his own performance. Here, it's at home regardless, but packs an extra punch for those aware.
This is a great match but more importantly, it's a truly magical moment. Kingston's triumph is genuinely emotional, giving him a moment in the sun after years in the shade. Beyond any victory or defeat, Kingston's happy ending has already been underway for much of the past three years. He not only earned an AEW contract but stuck at that level, climbing the card and emerging as one of their most beloved protagonists.
This year, he even entered the G1 Climax, ticking another item off his bucket list after wrestling alongside and opposite heroes. This was a chance for fans to share that success with Kingston, a victory for Kingston as well as the people that have rooted him to these heights. It's a snapshot of Kingston's entire career, allowing fans to believe as they take that emotional rollercoaster along with him.
That's the skill that has allowed Kingston to thrive at this level, still possessing the rarest skill of all, even within an incredibly talented roster. Clearly, this was Eddie Kingston's night, but Claudio Castagnoli came an awful long way as ROH Champion. Though it didn't always dominate the headlines or garner much attention, Castagnoli really grew into the role of titleholder, doing his best promo work yet as champion. Kingston's win would matter regardless but against Castagnoli, it was twofold.
He wasn't just becoming king, he was beating a great champion and better yet, a career rival. I'm not convinced that this match was better than their Supercard main event, but it was the right route to this fairytale destination. Terrific match and a beautiful moment, one of the year's most memorable outcomes thus far.
MJF vs. Samoa Joe (AEW Dynamite: Grand Slam)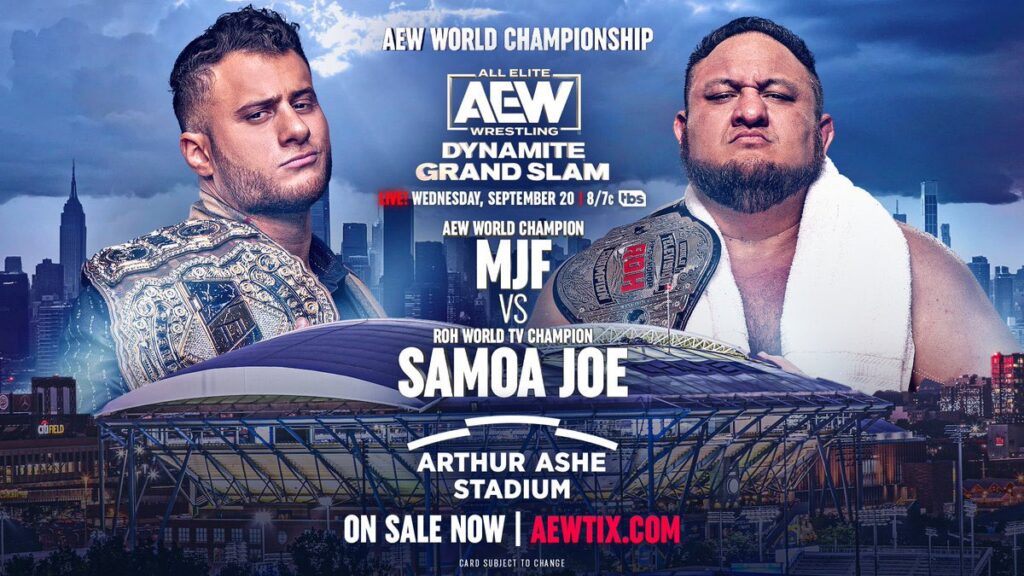 Since leaning babyface, MJF's in-ring work has taken a noticeable shift. Sporting more theatrics than ever, MJF has embraced the audience's adoration with extended crowd work, sprinkling in some physical fireworks along the way. Admittedly, that adjustment has produced mixed results for me personally, though it's success with live crowds is hard to ignore. With that being said, it did make for a unique stylistic matchup opposite Samoa Joe, an increasingly direct bruiser.
Joe has been riding high as of late, producing his best campaign in around fifteen years. He's not who he was but Joe has found increasing confidence and comfort in his current form, placing and playing the hits to perfection. It's a remarkable comeback story, with Joe rebounding well beyond the most optimistic expectations following his second WWE release. At Wembley, he battled CM Punk for the 'Real World Title' but at Grand Slam, he'd get his first shot at the genuine article.
It's a smash hit too, for my money. They find an almost immediate marriage between their current styles, meeting somewhere in the middle for a truly dramatic main event. Armed with a palpable big fight feel, they allow that atmosphere to speak for itself, taking their time before heading towards the obvious direction. Entering with a neck injury, MJF plays punching bag for much of the match, with Joe quickly charging ahead to an early lead.
The champion registers each blow and allows Joe to do the rest, absolutely relishing this occasion. Joe has become such a master of making each explosion count, using his unmatched aura and presence to fill in the gaps. MJF has hope spots throughout too, using some typically cunning tactics to slow Joe along the way. The challenger takes an awful lot here though, navigating things with poise and polish as MJF keeps the people onboard.
MJF's eventual answer feels fitting, an opportunistic rally in which he builds courage in the process. It's staggered too, chipping away at Joe before using his speed to scratch back towards neutral. He does an admirable job of maintaining his quirks within that broader desperation too, earning an eruption via kangaroo kick. Somehow, they use that move to ramp things up, with Joe obliterating MJF on the outside, laughing maniacally at his handywork.
Those touches allow this dynamic to really work, as Joe is smart enough to provide some quirks of his own. He meets Max in the middle on that front, grounding the match with intent and physicality otherwise. Admittedly, MJF's kickouts do stretch things to their limit as the action escalates, sustaining multiple feasible finishes along the way. It's a level of excess that earns inevitable pushback yet in this case, I concede, it just worked here for my money.
I wish I could explain this right from another wrong with more nuance, but it's simpler than that for me. With that excess, they not only make a Joe victory feel believable but almost inevitable. That culminates with an immense false finish late, as Joe scores the Muscle Buster for 2. It's the kind of near fall that even on rewatch, allows you to fool yourself all over again. It helps that MJF's eventual triumph isn't heroic too, taking a shortcut that merely avoids that presumed inevitable.
Psychologically, that does present some issues for me, slightly taking the edge off their finish. This remains a weird dynamic and while it works, that's evident in an unusual conclusion such as this. Joe doesn't feel like the babyface necessarily but with Adam Cole out there too, it doesn't exactly come across as comeuppance. Either way, this rocked, a tremendous main event that comfortably exceeded my already hopeful expectations.
This just worked, going well enough that I was left disappointed by the post-match handshake. There was still meat on the bone here in my view, but I'm thankful for what we got. Even at opposite ends of their respective careers, Joe and MJF are both in the midst of special chapters, coming together for an unlikely marriage of their greatest strengths. Excellent main event, my Grand Slam match of the night.
Asuka vs. IYO SKY (WWE SmackDown)
Regrettably, I haven't loved Asuka's 2023. With a refreshed look and increased focus as a singles star, she's been unusually inconsistent, often falling short of her incredibly high standards. With that being said, this felt like a scenario that'd render the form book irrelevant, with Asuka and IYO SKY meeting for their first televised singles match. Last year, they danced frequently, working tag matches built around their pairing's potential. Along the way, they shared a solitary singles match on the road.
Since becoming champion at SummerSlam, SKY has made just one defence, working a short but lively bout with Zelina Vega. This was something rather different though, being given twenty minutes to play with opposite Asuka. The match had some assistance too, pairing that runtime with a general presentation of importance. It's been awhile for the SmackDown women's division in that regard, but positioned this to succeed, even without an exactly electric atmosphere at the bell.
Part of that is the slightly weird babyface – heel dynamic, with Asuka falling somewhere in the middle while SKY's cheered regardless. They embrace that blend though, allowing for a frankly unique WWE television effort. Without an overly defined role on either side of the match, they work a traditional, almost sport style opening. It has a main event vibe, wrestling in a fashion that almost immediately unlocks that aforementioned atmosphere.
The feeling out process has a refreshing tightness too, featuring visible struggle as they take their time early. It's a wonderful opening, setting the stage for the more expansive work that follows. That includes an exchange of arm drags, with Asuka taking over as they head into a break. As they return, it's clear that a big fight feel is emerging, with SKY flying through the air for two gorgeous dropkicks. Asuka retaliates, uncorking some Kawada kicks.
It's quickly a back and forth offensive showcase, sporting a variety in that domain that you'll seldom see in this setting. With that being said, the work's quality is surprisingly inconsistent, quite violently swinging from hits to misses. It falls off some in truth, with that initial tightness becoming increasing loose as they go through the gears. Everything is placed so perfectly though that it almost doesn't matter, each outburst building on the last.
There's a general aggression to Asuka here too, working with an edge that perfectly walks that line between babyface and heel. They don't force the people to boo SKY, instead giving fans a chance to cheer her as Asuka increases the physicality. That's especially seamless as SKY flies in response, even with those moments that miss. SKY does seem to take a heat segment of sorts in the second ad break, but the back and forth action returns once they're back.
That includes a neat submission sequence, earning drama from the now genuinely excited Arizona crowd. There are duelling chants and even beyond that, a palpable investment that speaks to the match's emerging magnitude. Just as they did in that opening, they allow these false finishes to breathe, maximising the drama and regaining that initial tightness also. It's interesting, the work seems to reach a noticeable hurdle in the middle but they're smooth again after the second break.
Either way, it's a very good match, capturing a really refreshing pace and tone. There's some serious highs to the work too, with gorgeous action on display at times. That element isn't the match's actual strength though, especially with its surprising inconsistency. Instead, this is a match that leans on beautiful pacing and placement, working a classical main event that demands your attention. They're capable of much more but this is a treat in its own way, warts and all.
Bryan Danielson vs. Ricky Starks (AEW Collision)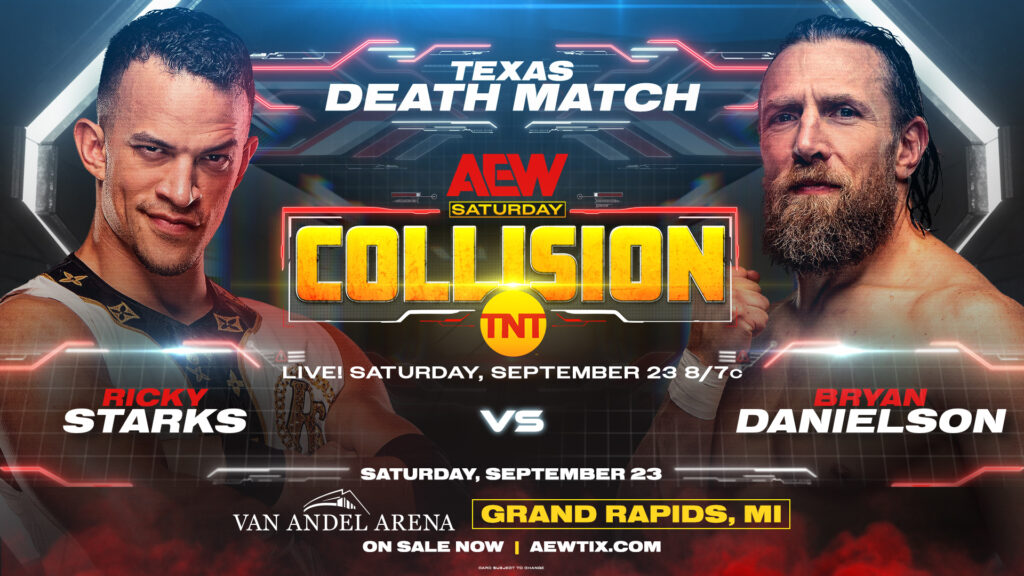 Just weeks removed from their instant classic at All Out, Bryan Danielson and Ricky Starks ran it back. Closing Collision with a Texas Death Match, they had an awful lot to live up to, following both their own bloodbath as well as that stipulation's prior hits within AEW. Thankfully, their chemistry was no one-off fluke however, producing a worth entry on both fronts. This Texas Death Match doesn't quite reach their Strap Match's greatness, though it does come dangerously close.
Once again, they cut to the core of this attraction, delivering immediate violence. They brawl at the bell and just like in Chicago, it's not what they do, but how they do it. Starks' initial punches are immaculate, fighting with the fire of a man simply desperate for revenge. That sets a standard which Danielson gleefully meets, soaking up knocking blows only to uncork some of his own in response. In an instant, it feels alive, being powered by an intoxicating electricity.
Danielson's comfort in this domain remains unfair, immediately producing the year's best crowd brawl. Starks' toughness is more evident than ever in these matches, accelerating his journey across that bridge to main event status. He shows some range too, flying through the air with a dive reminiscent of Danielson's glory days. His original glory days that is, not the many different glory days that have emerged since.
Speaking of such, we may be entering another chapter of that ilk, as Danielson uncorks some horrifying headbutts at ringside. Weaponry emerges in response, feeling like an inevitable result of the organic escalation on display. Minimal setup time is required, it's simply a necessary step for survival. That adjustment brings blood back to Bryan's head, allowing for him to ramp up his own violence in a fashion that feels earned and yet again, necessary.
Danielson brings something really special out of Starks, particularly in those pockets of more instinctual violence. Frequently, these matches just explode for a moment, trading bombs in a fashion that embodies their entire dynamic. It can be quite frightening at times, which is no mean feat considering the content's simplicity. Unfortunately, it's greatness is still not quite enough to avoid fleeting "we want tables" chants, but you can't win them all.
Either way, the strap makes a fitting return, playing a pivotal part in the match's closing chunk. Admittedly, the stipulation slightly hurts this portion, undercutting their drama with knockout teases that feel almost out of place. To really work, those false finishes require the kind of set pieces that are mostly absent from their rivalry thus far. As a result, the count feels like a halt to their momentum rather than a chance to build upon their already substantial drama.
Fortunately, the violence remains, coming in creative forms alongside more of the same horror scene material. The All Out finish returns only to set up a spiteful exchange, which just about sums this dynamic up. It never loses itself to those bigger themes or ideas as the concept is the stipulation itself. It's about brutality and gore, hateful pro wrestling violence. This particular stipulation doesn't allow that approach to quite match their PPV effort, but it's a worthy sequel to say the least.
These two share a special chemistry, somehow reaching the finish line after starting from zero. It's a unique scenario but one that's produced some of the year's best work, with Danielson adding two more classics while ideally, transforming Starks' career. Either way, they've produced two timeless thrillers, finding a formula shaped by chemistry and intent. These aren't complex matches, they are an embrace of wrestling's most timeless ingredients.
Bloodbaths shaped by hate and spite, horrifying fights for survival.  
Will Ospreay vs. Yota Tsuji (NJPW Destruction in Kobe)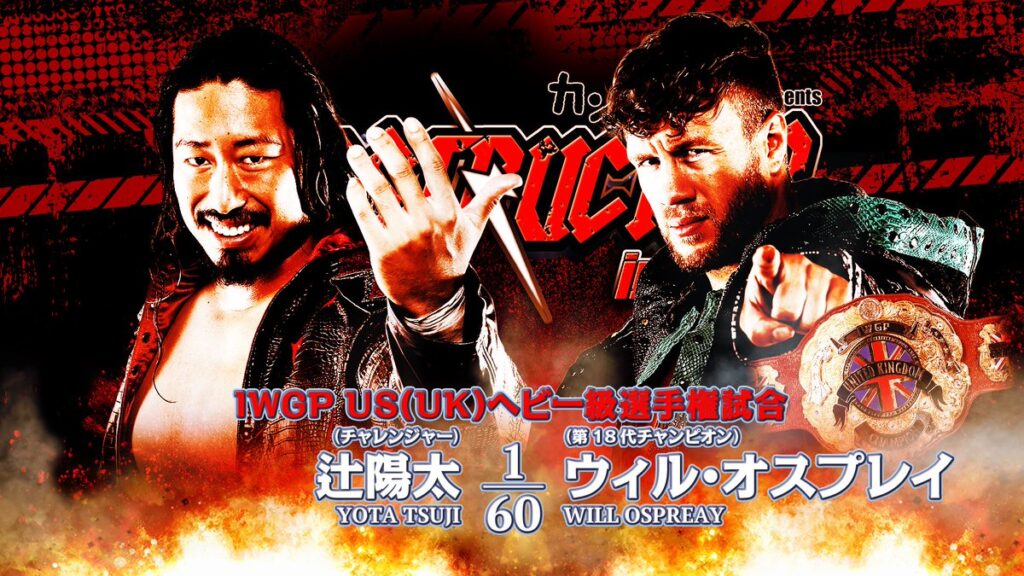 Since returning from excursion, Yota Tsuji has jumped off the page as an immediate player for NJPW. He shone bright against SANADA, building on that triumph with an encouraging G1 and now returning to the main event opposite Will Ospreay. The current IWGP United States and/or United Kingdon Heavyweight Champion, Ospreay has had an extraordinary 2023, adding to his increasingly incomparable catalogue. This is his latest hit, earning match of the year acclaim against Tsuji.
Admittedly, it's a tier below that for me personally, but this is an undeniable hit nonetheless. It feels like a complete view of Tsuji's current game, with Ospreay plugging him into his prolific main event formula. Even with some forgivable growing pains, Tsuji appears remarkably at home, comfortably possessing the firepower required to belong. Elsewhere, it's less of a home run for me but as the action explodes, these two combine for some of the year's most dynamic exchanges.
That potential is obvious throughout too, with an increase in speed coming shortly after their feeling out process. Those bursts really highlight something special in Tsuji, flying through the air for a dive in the opening act. In the first half though, those instances are very much a preview of the storm ahead, with Tsuji settling things down himself in centre ring by grabbing a hold. Strikes follow, with Ospreay ultimately chopping Tsuji to the floor and going aerial himself afterwards.
He takes a brief portion from there, launching some chops and steadily steering the ship. Tsuji's retort isn't far away, going Fosbury Flop as they continue to trade momentum back and forth. Admittedly, it's not my favourite rhythm in this second act, meandering slightly and taking an almost exhibition feel. That's overstating its faults in truth, they're just drifting a touch for my money, which I find to be a common issue with these broad, expansive NJPW main events.
Even still, there is some wonderfully innovative offence on display, going into a sequence of one-upmanship before reaching a double down. As Ospreay looks to close the show via Hidden Blade though, the intensity escalates, swiftly finding a form that's much more to my taste. As they race towards a finish, those crunchy strikes are increasingly present, with bad intentions emerging at the root of each blow. It's a simpler rhythm, but momentarily grounds the action's obvious potential.
It'd be dramatic to say they reign themselves in but by portraying fatigue, they're able to focus on the core dynamic of these initial Tsuji main events. It's a matter of Tsuji proving that he belongs, backing up his words against the world's best. That's really able to take centre stage as they trade bombs, with Ospreay forcing increasing ferocity from Tsuji. With that in focus, they're able to venture beyond those parameters, packing an extra punch as a result.
They sure do venture far too, producing some of the year's most spectacular sequences. That includes a terrifying top rope spot, quite literally walking a tightrope before crashing and burning in centre ring. Ospreay's offence speaks for itself but Tsuji is quite staggering here, matching the champion at every step of the way. Ultimately, Ospreay stands steady in the winds of change but only barely, surviving as much as anything else.
It feels like a delay of the inevitable, which fits Tsuji's current performance, already feeling on the precipice of gold. This wasn't among my favourite Ospreay matches of 2023, yet it may prove to be one of the most valuable. Yota Tsuji is still finding his way in these more extensive epics but the potential is obvious, already producing at a world class rate. I'd probably like this more with a slight trim, though it's importance to Tsuji's development is likely worth conceding on that front.
Very good match, an extraordinary offensive showcase.