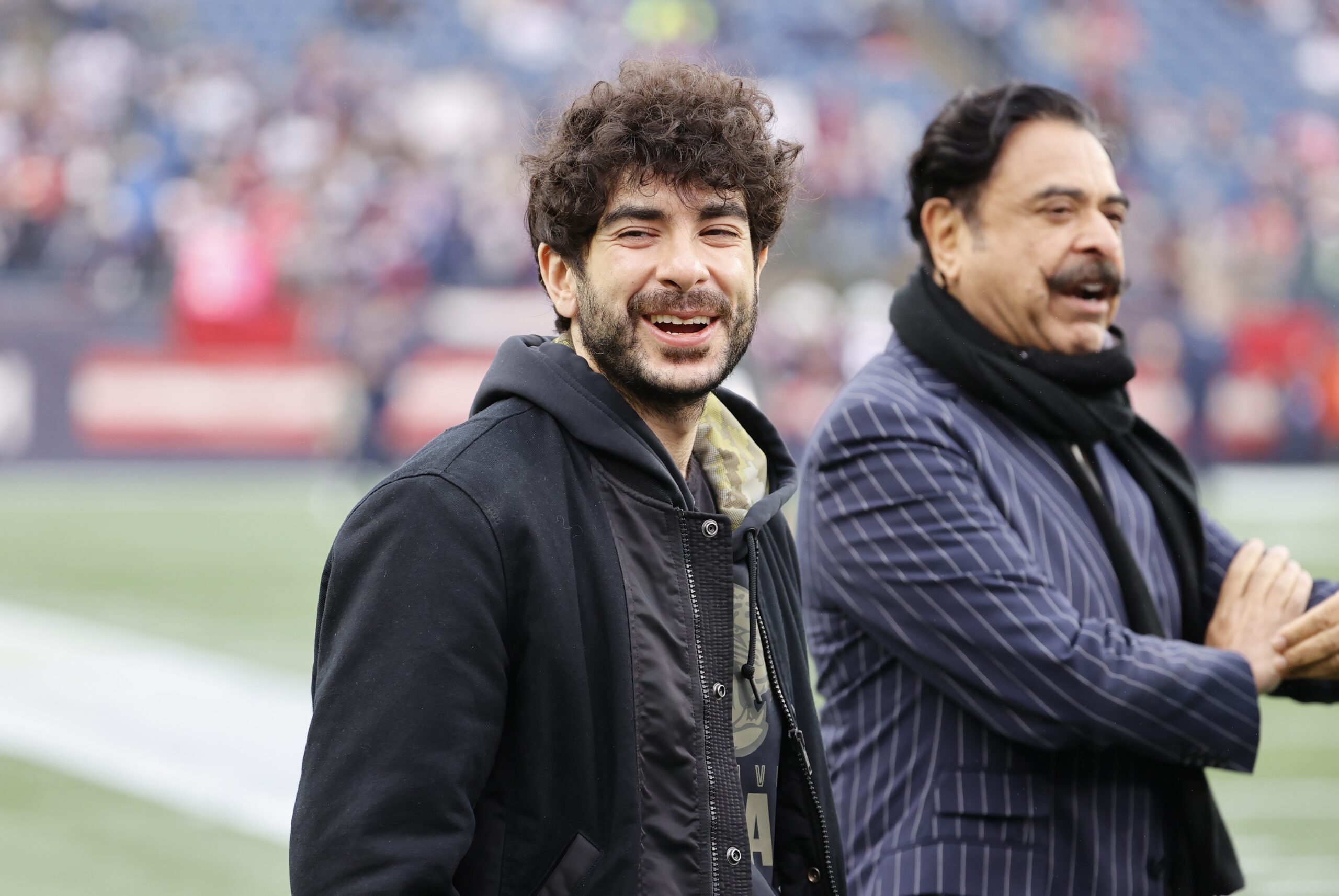 Heading into last year's AEW All Out PPV, multiple reports from the likes of Fightful Select and PWInsider revealed that a talent meeting had been held by AEW President Tony Khan in order to address his unsettled locker room, as well as noting that the company's Chief Legal Officer Megha Parekh had sent an email to WWE's Stephanie McMahon and Nick Khan saying not to tamper with AEW talent.
Tony Khan recently appeared on The Dan Le Batard Show with Stugotz as a part of the Super Bowl LVII Radio Row, where he had the chance to publicly address the rumors of WWE tampering with the contracts of his talent. Whilst he admitted he is unable to confirm these rumors independently, Khan reiterated that a lot of staff and wrestlers of AEW have told him about the tampering.
"I can't really comment on what their (WWE) internal struggles, internal strife's are because I don't work there and I'm not there. I can only speak to the challenges we've had and I got a lot of wrestlers come to me and allege that WWE reached out to them to tamper with their contracts and ask them to break their contracts. I can't confirm that specifically. I can only tell you what the wrestlers have come to me and said. But I've had multiple wrestlers and staff report that to me. It was very disturbing, and I've had to go out and try to put on good shows despite this alleged tampering, stuff like that. But frankly, I don't think it's stopped us because the quality of the product and the quality of the shows is at an all-time high right now."

-Tony Khan
Further explaining the dynamic between the two companies, Khan stated that he believes AEW and WWE are at war, with the hatred between both sides making for great television in the eyes of the AEW President.
Khan also noted that the original aim when starting All Elite Wrestling was to create a free agent market, something he now believes is a reality thanks to the competition between both sides.
"The wrestling business is very dirty. I can't speak to the fight business but certainly, I think it's more organized than the fight business, as far as there's two, I think, well-organized promotions competing with each other. Again, I don't know if these things have happened. I only know what people have come to me and alleged. But, I do know it's a real war between AEW and WWE and the fans are interested in it and that was part of the original business model of AEW was I knew wrestling fans, frankly, are very interested in wrestling free agency and wrestling wars and I believe we could create a free agent market that is definitely a real thing now and that would be a big part of the story. I think wrestling fans, at the end of the day, that a lot of what happens in wrestling shows is sometimes story and that's why people like watching the shows. They like stories and the exciting matches and especially, the combination of the two when the stories lead to exciting matches and vice versa. Now, what's interesting is the story that is the most real, the most intense and the most hatred in all of pro wrestling is that between the two wrestling promotions. I think we truly, truly hate each other and I think it makes for really exciting TV and it makes for an exciting wrestling war."

-Tony Khan
Another reported attempt from WWE to stifle AEW's success came in 2021, as WWE CEO Nick Khan is believed to have reached out to New Japan Pro Wrestling in order to establish a partnership, a move that would've likely put an end to the one AEW already has with the Japanese promotion.
Tony Khan highlighted the incident as an example of the tension between the two companies, stating that he was told by NJPW executives that they didn't trust WWE and wished to continue working with AEW.
"I'll give you a good example (of the hatred between our two companies). About two years ago, there was a rumor I read on the internet that my business partner, New Japan Pro-Wrestling, had gotten a phone call from Nick Khan about switching over to work with them and I was really just getting started with New Japan. We only had been working together a short time and that also had been, frankly, a tumultuous relationship. But, it was getting pretty good and to this day, it is an amazing partnership and I called the New Japan executives and said, 'Is this true? Did WWE call you and try to get you to turn on me?' And they said, 'Yeah' and I said, 'Okay, well are we still doing the stuff we have planned?' Because at the time, we had a match set up for Wednesday night Dynamite where there was gonna be a New Japan Title match in AEW. It was the first of many of those such matches and they told me, 'No, we don't trust them. We wanna work with you and we wanna stay with you' and ever since, our relationship has been incredibly positive and it gave me motivation to say, okay, again, I don't know if that's true or not. I only know what my business partner alleged to me and what I read on the internet and they were both the same thing so, following up on that, if that's the case, I know they're out there to get me, I know they're out there to hurt AEW's relationships with our business partners if that's the case allegedly and you know, it made me want to work that much harder to make AEW stronger and then that probably ended up being the biggest year for growth we've ever had."

-Tony Khan
Moving away from the battle between AEW and WWE, Khan took the opportunity to address the recent Bloomberg AEW profile that was published. The AEW President stated that he's very happy with the feedback he's been receiving, noting that he's never had more interest in the company from a partnership, sponsorship or licensing standpoint than he has now.
"I've never had this kind of support and interest in AEW on a business level, sponsorship and licensing since this Bloomberg story came out about AEW last week… I think it is the best coverage we've had in the business world and I think it really raised a lot of eyebrows and I've never had more interest in partnership and sponsorship and licensing for AEW."

-Tony Khan
Next Wednesday's episode of AEW Dynamite is set to feature Jon Moxley and Claudio Castagnoli of the Blackpool Combat Club taking on Rush and Preston Vance of La Faccion Ingobernable, Mark Briscoe VS Josh Woods, and Hangman Adam Page squaring off against Kip Sabian, as well as much more.
As always, we'll aim to provide any further updates on the supposed "war" between AEW and WWE as soon as we hear more.
H/T to POST Wrestling for the transcription.