It's a slightly quieter week for the wrestling world, but only slightly. WWE's World Heavyweight Title tournament gets underway, AEW takes us back to January with a virtual PPV card on Dynamite and NJPW's Best of the Super Junior gets rolling also. Better yet, Ring of Honor returns to Universal Studios after an extended run on the road as AEW's opening (and closing) act. Upon thought, perhaps it's not particularly quiet after all.
Either way, a reminder that these are NOT necessarily the week's best bouts, but instead a mere collection of matches that I'll be covering in more detail.
Finn Balor vs. Seth Rollins (WWE RAW)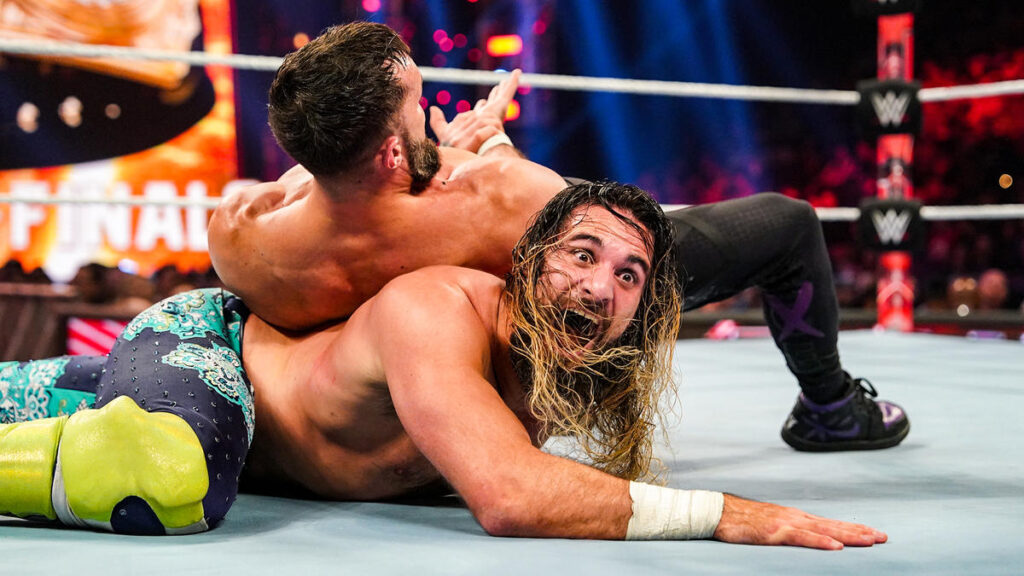 The RAW portion of WWE's World Heavyweight Title tournament shaped much of Monday's episode, with Seth Rollins ultimately securing his spot at Night of Champions. That much was never really in doubt, especially once Brock Lesnar halted Cody Rhodes' route to the gold, allowing Finn Balor to reach the semi-final. Though predictable, these two still delivered something solid, closing a strong episode of RAW in fitting fashion. Obviously, Rollins is currently in the form of his life, but this is a Balor bout beyond anything else.
Since turning heel, Balor has very much embraced his supporting role, giving RAW good in-ring action almost weekly. With that being said, he is operating in a fashion that's not necessarily suited to producing the expansive, epic encounters that have defined Rollins as of late. Instead, Balor has become the embodiment of that frequent "solid pro" praise, always producing something sound without necessarily roaring his way into anyone's spreadsheet. To be clear, I certainly don't mean that as a criticism, either.
I personally enjoy the recent mould of 'Finn Balor match' and this is no different, even if slightly undone by the lack of genuine heat. The people warm up some as the closing stretch arrives, but this isn't blessed by much of an atmosphere beforehand, with fans likely aware of the outcome's inevitability. Even still, they lead with a big match opening before settling into some heat on Rollins' shoulder, as Balor launches him into the barricade for a SummerSlam 2016 call-back.
Much of that work is hidden in the break but they keep it alive afterwards at least, with Balor returning to the target frequently as Rollins sells throughout. Rollins' eventual comeback is fiery enough too, and they then transition to the aforementioned finish, going back and forth in neat, even if not thunderous fashion. That portion is the headline though, picking things up without erasing Rollins' shoulder injury. It's really not much before that, but they get there in the end, especially with Rollins' creative inverted Stomp.
It's not a great match in my view, but it's a professional offering that does the job, especially after both men had worked earlier on the same night. The latest in a long line of Finn Balor television bouts that delivered and kept you engaged, but is unlikely to live long in your memory. That's fine and frankly, there's even a charm to it for me during such an era of excess. A good match that set out to be exactly that, rock solid pro wrestling.
Daniel Garcia vs. Orange Cassidy (AEW Dynamite)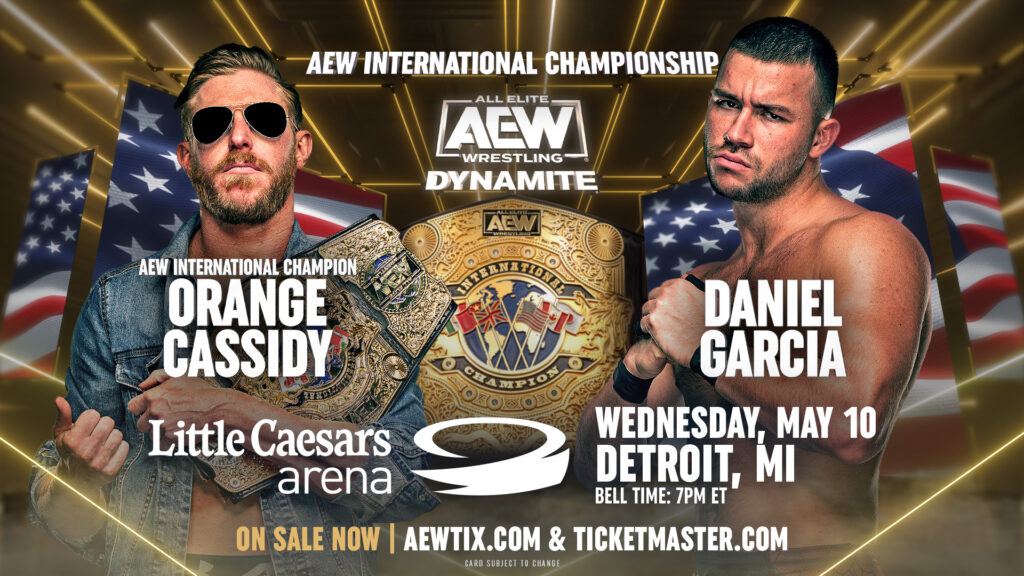 The latest defence for Orange Cassidy as AEW International Champion, this was yet another hit in a reign that's exceeded all expectations. In many ways, Cassidy's claiming of the then-All-Atlantic belt felt like a moment more than anything else. That's not a reflection of Cassidy's ability but more his character which to me at least, felt more suited to chasing champions than being one. Clearly, I couldn't have been more wrong, as Cassidy continues to build upon one of AEW's finest reigns.
His challenger on Wednesday has had an interesting year. Last fall, Daniel Garcia was one of the programme's hottest characters, a central figure in Blackpool Combat Club's war with The Jericho Appreciation Society. Ultimately, AEW went against the grain, reiterating Garcia's place as a "sports entertainer" and admittedly cooling him off. In recent months though, there have been increasing signs that the right move was made, with this presentation allowing Garcia to add further strings to his bow.
Naturally, that is the story of this match: two wrestlers going in opposite directions. More and more, Cassidy is relying on his fundamentals to remain champion, trimming the antics with each and every defence. By contrast, Garcia is trying to validate his aforementioned decision, adding an ostentatious flair in response to the ongoing "you're a wrestler" chants. On Dynamite, those respective tales met seamlessly, as two of the promotion's smartest wrestlers combined for a compelling title tilt.
At the bell, Garcia is prepared for a certain type of match, mocking Cassidy's pockets play and being taken to the mat for his troubles. Cassidy almost forces Garcia back to his roots, initially outwrestling the challenger, finding room for a trademark quirk or two along the way. After such a long reign though, Cassidy is slowly but surely breaking down, which ultimately allows Garcia to turn the tide. As always, Garcia is a menace in control, effortlessly going through the gears where necessary.
At times however, it's as though Garcia is wrestling the crowd, rather than just Cassidy. The more he wrestles, the more they're unconvinced by his tomfoolery. In response, Garcia veers further in that direction, undoing his own good work. He still takes much of the match, with Cassidy's retorts being limited to increasingly brief outbursts. By the bout's conclusion, they're simply wrestling and in that domain, Cassidy scores the pin, though Garcia is left to ponder if it ever should've even reached that point.
Eventually, Garcia will embrace his wrestling roots and he'll be better for the ride. This extended arc has made him a better performer and at just 24 years old, there's no rush, either. That being said, the next chapter of this story is fast approaching and I'm excited to see Garcia's adjustments when the time comes. He's such a rewarding watch, just a wonderfully smart wrestler. As for Cassidy, there's little left to say, this is a quite remarkable reign, one of the highlights of AEW's 2023 thus far.
Jon Moxley vs. Kenny Omega (AEW Dynamite)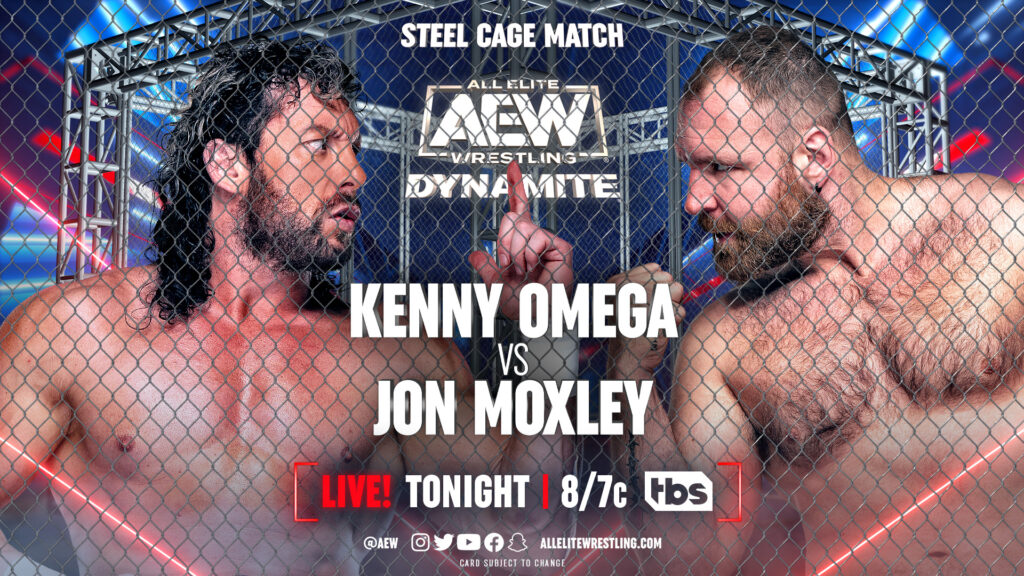 This is one of AEW's defining feuds, a conflict born at the promotion's very first show. This combination closed two PPVs, as well as the original Winter is Coming episode of Dynamite. Even still, this entry may be my personal favourite of the series thus far, as they reignited their rivalry inside a Steel Cage. There was a novelty to this, a true box office match that after over two years apart, felt fresh while still being assisted by the shared history referenced above.
The heat of this Blackpool Combat Club – Elite angle certainly didn't hurt either, seeming like a natural evolution of the violence already unfolding. Speaking of such, there's a chaos to this before the bell even rings, with the factions fighting from ringside to the ramp. Soon enough though, it's left to just Moxley and Omega, locking the cage door behind them. There's an immediate intensity, picking up where they left off with the pre-match and trading bombs in centre ring.
There's a crunch to the chops, a fire to the fight. If that isn't enough, there's gore on the way too, as this thing quickly heads in deathmatch directions. The barbed wire leaves both men bloodied and it's a gruesome affair before long, earning gasps as more weaponry is introduced. I'm always amazed by Omega's comfort in settings such as this. It's not surprising by any means, just stunning to see his usual offence and style adapt to the carnage surrounding him.
Moxley is of course at home, to say the least, gleefully pursuing anything that he can stagger his way into. He was incredible last year, steering the ship admirably as AEW's ace but this latest version is quickly becoming a near-perfect incarnation. Moxley's bizarre quirks feel truly unlocked as a heel, able to be wild and woolly without any heroic pretence, just out there fighting. These two are smart enough to use their insanity for some gripping drama also, earning a great pop for Moxley's inevitable bump into the glass.
His retaliation is almost cinematic too, as Moxley comes back to life like some kind of horror movie monster. There's something wonderfully organic about Omega's answers, they feel instinctual, shaped by Moxley's vile intentions. The eventual cage-killing V-Trigger is a level of highlight that even in AEW, should live long in the memory, something absurd enough to be replayed forever. That sets the stage for our dramatic finish, as Don Callis betrays Omega to an audibly stunned response.
There's nothing like a shock inside the steel, that cage is wrestling's ultimate home for betrayal, after all. This programme has been AEW's finest effort in recent months and Wednesday was a new high, a simply exceptional piece of business. The cage match is an instant classic for the Dynamite catalogue, just about perfect for this particular spot. After all, this isn't the blowoff by any means and in actual fact, was just an admittedly large stop along the way. With that in mind, it's even more impressive.
This was, as advertised, an extreme display of violence between two of AEW's biggest stars. In fact, I'd argue they even overdelivered on that front, especially considering the larger story at play. Yet, this still managed to leave me wanting more. The flashes of horror here didn't exhaust me but instead, only elevated the faction warfare's significance. I'm left desperate for a sequel of some kind but to say this piece was satisfying would be a comical understatement. This was immense, an extraordinary Dynamite main event.
Athena vs. Skye Blue (ROH on HonorClub)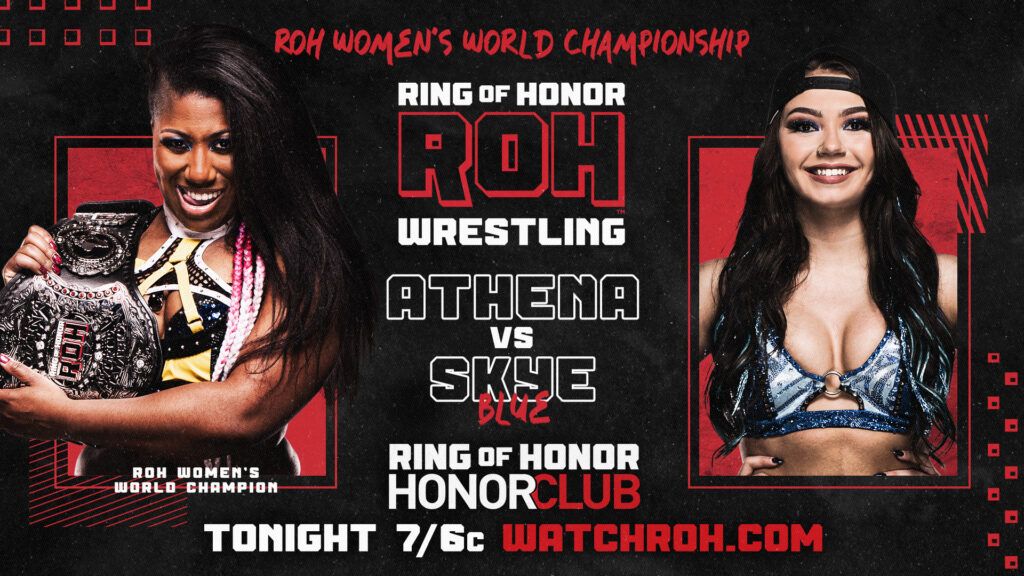 The World's Champion was back in action on Thursday, closing the episode with a title defence against Skye Blue. This was an interesting matchup to me, as it seemed like the natural successor to Athena's television main event with Willow Nightingale. Certainly, Blue feels like a less polished prospect than Nightingale but opposite Athena at least, they seem similarly at home. Currently in the form of her life, Athena is thriving as a bullying bruiser, with Blue's traditional babyface presentation providing natural opposition.
Blue has been improving steadily also, making the most of her relatively consistent television time in recent months. Even still, this is borderline unfathomable in its quality, a quite preposterous glance at Blue's potential. Athena makes the absolute most of her current skill-set, almost to a fault. It mostly feels organic too, as Athena enters with a palpable arrogance. The reality of this matchup is unavoidable, Blue has been impressive but often in defeat and so naturally, it's tough to buy a potential title change.
That is an issue, but Athena's aforementioned arrogance opens the door. This match is built upon the idea that while Blue may be indeed outgunned, it's not nearly the mismatch that the champion presumes. Athena simply refuses to learn that lesson however, repeatedly getting herself in trouble by underestimating Blue. That's a theme throughout but to me at least, it's not the headline. That's reserved for the sheer physicality on display, as Blue comes surprisingly close to matching Athena's intensity.
This isn't one-way traffic or anything close to it. Blue is throwing bombs throughout and as a result, the exchanges feel earned, rather than undercutting Athena's aura. That's a credit to Blue, but Athena certainly protects herself in that regard also, projecting absolute menace at every opportunity. She's such a spiteful striker, always a mere second away from flattening her foe. Blue certainly provides a worthy target too, possessing an inherent knack for earning sympathy.
That's rather useful here, as Athena is more than willing to hold up her end of the bargain. Increasingly rattled by Blue's resistance, Athena is eventually overwhelmed by a tidy comeback, transitioning the bout to its rather expansive finishing stretch. Parts of this felt as though they'd be better served to a sequel, honestly, as their job here was done long before Blue's dramatic defiance late. Athena had already elevated her seamlessly with the meat of the match, the rest felt like a step or two far for this particular trip.
Even still, Blue produced the best performance of her career thus far, making a real statement in defeat. Her offence isn't always the cleanest but that was often rendered irrelevant by Athena, who makes the most innocuous blow seem devastating. Admittedly, some of the early exchanges do feel overly co-operative but the match quickly heads in a far simpler direction, leaning on a raw physicality that ultimately defines its quality. That's when the match is at its best, frankly.
This type of defence remains Athena's greatest feat as World's Champion. The more obvious matchups with established stars are wonderfully fun in their own right, of course, but these are the efforts that most encapsulate Athena's current brilliance. This elevated Blue immensely without even slightly harming the persona that Athena has built. On the contrary, she's become such a formidable force that just by capably standing up to her, Blue felt heroic.
To translate, the World's Champion gave another contender the match of their life, because that's what World's Champions do.
DOUKI vs. KUSHIDA (NJPW Best of the Super Juniors)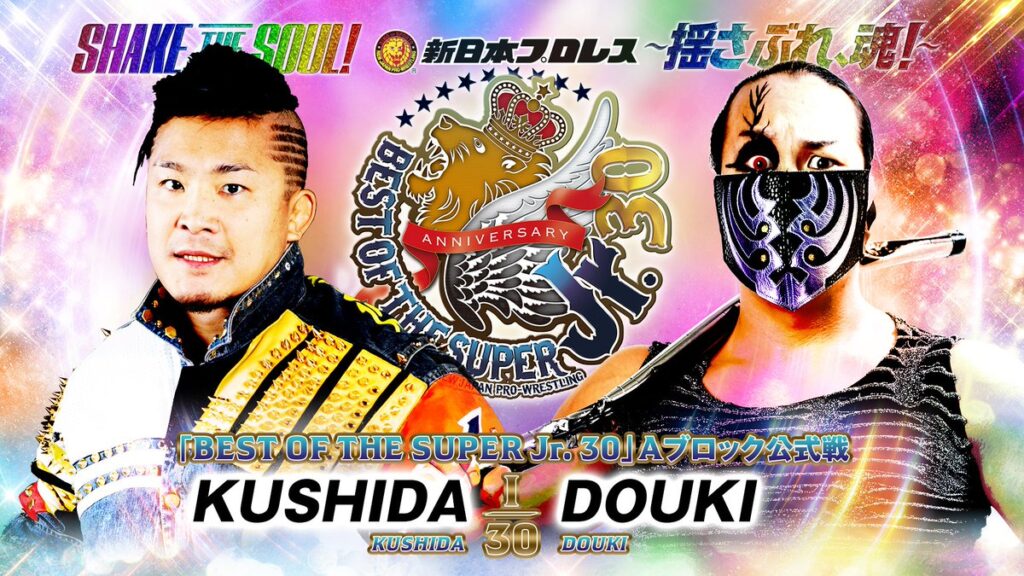 Believe it or not, I really haven't seen much of DOUKI. Upon thought, I'm slightly unsure as to why you'd not believe that but regardless, here we are. It's the first day of NJPW's Best of the Super Juniors tournament and Korakuen Hall is our host, as the aforementioned DOUKI takes on KUSHIDA. The division's former ace is one of my personal favourites and this feels like a good place to expand my knowledge of DOUKI beyond multi-man tags and the odd singles bout.
In the end, that wasn't really the case, but this match is an absolute thriller nonetheless. They pick a lane here and stick with it for the bout's entire eight minutes or so, with KUSHIDA quite maliciously taking advantage of a seemingly favourable stylistic matchup. The current Junior Heavyweight Tag Team titleholder takes DOUKI to the mat immediately, quickly teaching him an unrelenting grappling lesson. There's a striking cockiness that comes with KUSHIDA's success too, visibly relishing his dominance on the mat.
It doesn't take away from his aggression by any means however, operating with a roughness that earns jeers from the Tokyo crowd. KUSHIDA even encourages those reactions, which quickly evolve into "DOUKI" chants. Kevin Kelly describes DOUKI as an "effort guy," which is the kind of compliment that even in its sincerest form, feels insulting, but certainly works here. Though outmatched, DOUKI scraps his way towards something more competitive, even giving KUSHIDA a scare or two on the mat.
As usual, KUSHIDA eventually targets the arm specifically, doing so in especially violent fashion on this particular occasion. The tide never truly turns either, it's more a case of DOUKI adjusting well enough to answer some of KUSHIDA's questions, before asking a few of his own. That only unsettles KUSHIDA, eventually setting the stage for an upset win as DOUKI snatches the quick pin. In truth, this match didn't showcase much of DOUKI's skill-set, but it did quite perfectly capture his identity.
The audience gets with DOUKI here because he's a trier to his core, and that was ultimately enough to get his campaign underway with a win. It seems to me that KUSHIDA is entering an arc of some kind with his start to this tournament, but his work remains gorgeous. Mechanically, this is a showcase of his technical brilliance, which comfortably secured its place as a hit in my book. Not even nine minutes of simply rapid pro wrestling, a perfect snapshot of this tournament's appeal.
AJ Styles vs. Edge vs. Rey Mysterio (WWE SmackDown)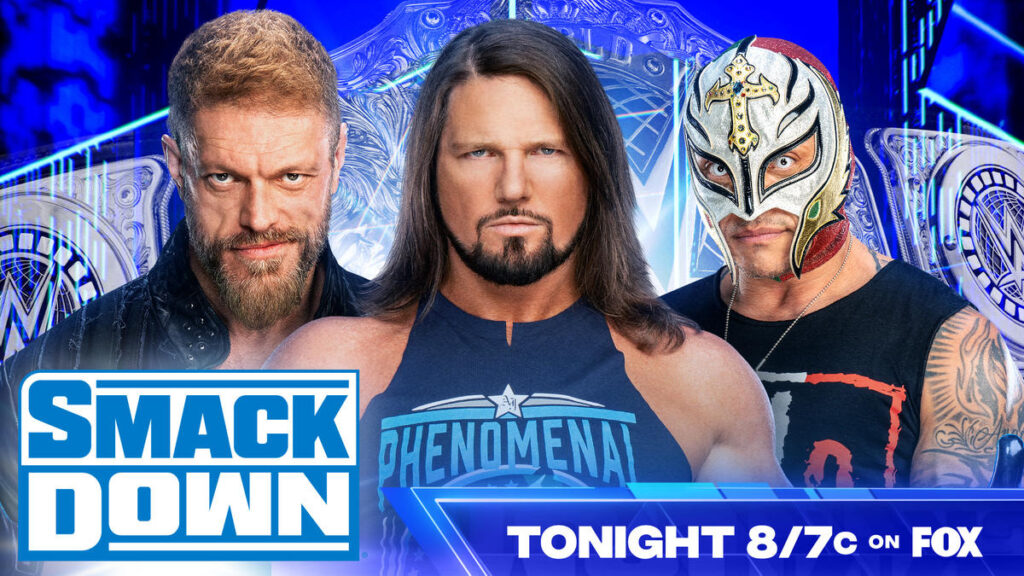 If you've enjoyed SmackDown at almost any point during its existence, there is probably something comforting about the picture above. Edge and Rey Mysterio helped define SmackDown's most idyllic identity following WWE's initial brand split, with AJ Styles producing something similar after the 2016 draft. Here, they meet in 2023, sharing a Triple Threat in pursuit of the new World Heavyweight Title. Together, they sport a combined age of 142 but with that, an awful lot of experience to boot.
Paired with their popularity, that alone could've allowed for an easy ride, especially on a night where the victor had another match ahead. To their credit though, these three didn't merely play it safe here but instead, produced something rather creative. There is almost constant motion, with each legend feeling truly involved throughout. This is the type of three-way that thanks in no small part to Styles himself, once became famous on a planet far, far away.
Don't get me wrong, this isn't Unbreakable 2005 but that isn't really the point, it's more about the novelty of seeing their wily take on this outline. That novelty alone certainly gets them a decent distance along too, but it's genuine inventiveness that allows this to ultimately exceed expectations. In fact, their approach is ideal for this particular matchup, allowing each man to play their respective hits in a rather rare all-babyface triple threat.
WWE's usual formula would've demanded a foil or some kind, with Styles being the likeliest choice. That would've worked just fine, I'm sure, but it wouldn't have been nearly the crowd-pleaser that this was. Packed with creative combinations and slick sequences, this is a smooth, yet satisfying watch. It's easy to follow and the pace is just about perfect, allowing for consistent action without going in circles. Everything still counts and has a chance to breathe, with a logical escalation throughout.
They barely rely on the promotion's typical rotation trope, even when slowing things down for the bout's seesaw rhythm. It flows seamlessly in that regard, transitioning effortlessly from one blockbuster exchange to the next. You do indeed still get those exchanges too, neatly preserved in this impressively fluid format. Granted, they are in snapshot form, but they're present nonetheless. Admittedly, the action itself isn't always the most explosive, as all three men have understandably slowed. Even Rey, though it's hard to tell at times.
Luckily, they do share that uniquely insane ingredient that most headline acts of this ilk do, though. That's especially on display as Edge flies through the ropes to Spear both Mysterio and Styles off the apron. Generally, it's more neat than electric but that suits the matchup just fine, with their collective experience being a theme throughout. They've done the dance with one another before and that feels relevant, as each major moment requires an extra beat or two along the way.
Unfortunately, there is a quite uncharacteristic mishap in the bout's closing sequence, but that doesn't undo the good work that comes beforehand. This isn't mere nostalgia but a genuinely compelling three-way, defined by an enthusiasm that frankly, all three men could've quite reasonably left at home. It's an admirable effort in that regard, featuring a refreshing format in a spot where something more familiar would've been acceptable and frankly, even expected.
This was AJ Styles' first match in 2023, and his second came just over an hour later. Including the Royal Rumble, this was still only Edge's fifth. As for Rey Mysterio, well, he's Rey Mysterio so never mind. Regardless, these three ensured that this piece of SmackDown history would be remembered fondly, producing a fitting showcase of each man's unwavering wrestling brain.
Hiromu Takahashi vs. Lio Rush (NJPW Best of the Super Juniors)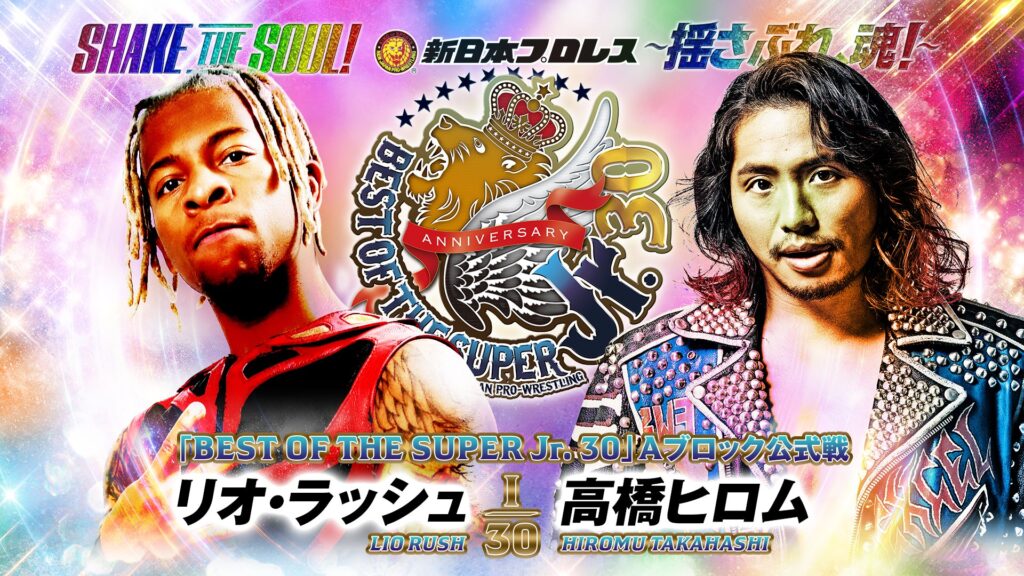 Almost two months ago, these two shared one of my favourite matches of 2023 thus far. On that night, Lio Rush was the story, unsuccessfully challenging Hiromu Takahashi for his IWGP Junior Heavyweight Title. That bout felt like much more than a mere failed title shot however, as Rush fought uphill throughout before ultimately falling short. There was a palpable gravity to that match and Rush's performance specifically, showing courage and heart as he simply refused to concede.
In a strange way, it felt like an embodiment of Rush's topsy turvy career journey, struggling through the lows but for now at least, still leaving without his fairy-tale ending. Now, on day three of this year's Best of Super Juniors, Rush looks to avenge that loss after getting his campaign underway with two rapid wins. Meanwhile Takahashi enters at 1-1, the title still around his waist. Just one of nine tournament bouts for each man though, that prior gravity isn't especially present at the bell.
Instead, their initial stalemates feel almost comedic in this setting, with Rush's usual speed advantage swiftly revealing itself. The intensity does soon increase, with Takahashi violently launching Rush onto a chair via Belly to Belly Suplex. That sends the match in a familiar direction, as just as he was in March, Rush is once again forced to fight through an emerging back injury. Takahashi is really impressive when working a control segment over Rush, seamlessly stripping away some of his usual flair and utilising a more workmanlike approach.
This time though, that direction is only established, with Rush rebounding before long. He does so in desperate fashion, hitting three consecutive dives, each one terrifying Kevin Kelly more than the last. That dramatic rally resets things, leaving both men visibly depleted before the 10-minute mark. It's a shootout from there, an offensive showcase that's paced with respect to the work that came beforehand. Rush's back remains an issue, Takahashi is still too spent to build any prolonged momentum.
That allows a pacing that ensures each bomb continues to count, even as the momentum swings back and forth violently. In the end, it's Rush who stands tall, ultimately closing the show via Final Hour. This is a very good match, exciting throughout and packed with the innovation that you'd expect from this pairing. With that being said, it has a slight exhibition feel that was absent from their match in March. In truth, it's the match that without context, your imagination would expect when seeing these two names alongside each other.
Moreover, it's the right match for this moment, building on its predecessor just enough while operating more broadly as a modern crowd-pleaser. Simply put, day three of this tournament wasn't the place for something more substantial. While his performance certainly won them over, this crowd isn't with Rush in the same way, nor are the stakes comparable. Their more direct sequel will likely emerge in an eventual title rematch but for now, this is a spectacular fireworks display, even if without the unique magic of March's match.