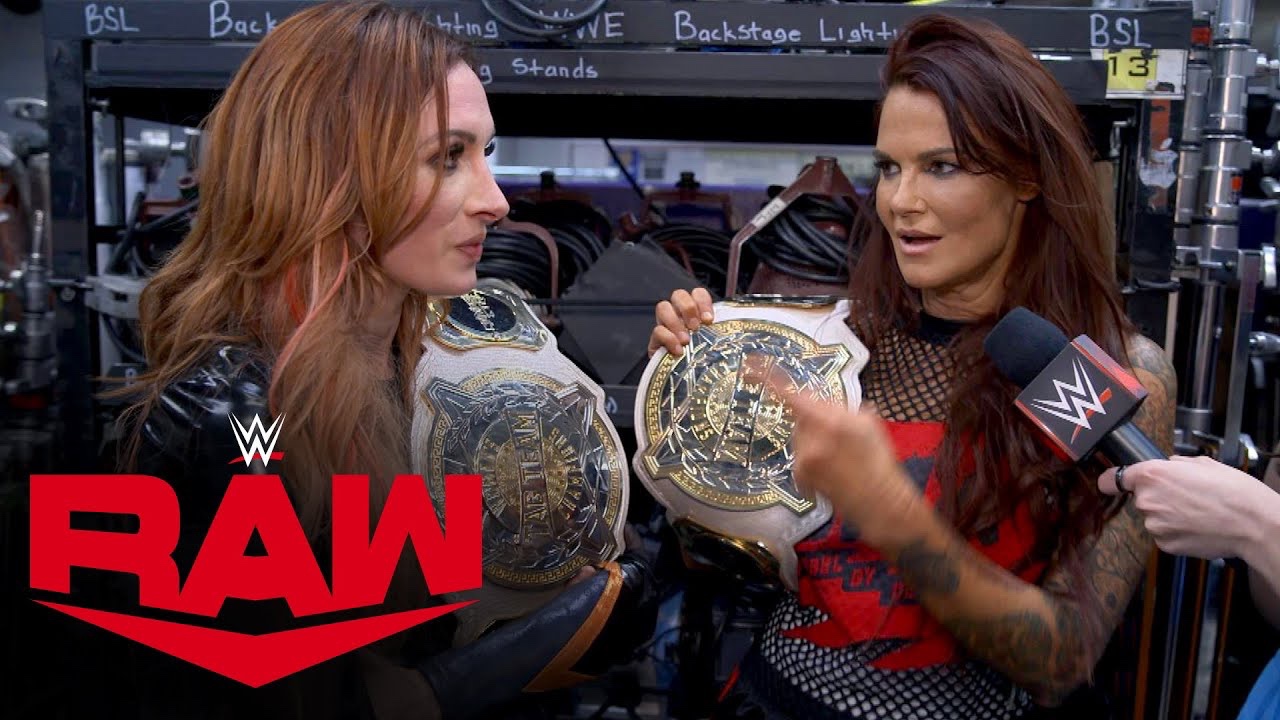 On the February 27 edition of WWE Raw, Becky Lynch and Lita teamed up to capture the Women's Tag Team Championships from Damage CTRL just over a month away from WrestleMania. The pair sided with Trish Stratus to battle Bayley's trio at The Show Of Shows but it wasn't long before the Canadian turned on Lynch, losing the tag team titles in the process.
The company's treatment of its WWE Women's Tag Team Titles has been questioned by many and, while speaking on My Love Love Letter to Wrestling with Mark Andrews, Lynch has discussed winning the championships with Lita while admitting that she doesn't think that the company didn't envision the pair winning the gold as part of a long term plan.
"It was all a bit crazy. When that was decided, I think that was never meant to be the plan, and then they just took a side road and decided that would be the best outcome. What was so great going into that match was that nobody knew what was going to happen. People had ideas 'and this could happen, and then we could go this way or that way.' There were so many ways we could go. To be standing side by side with the woman who inspired you to get into this in the first place, and we talk about that grassroots and being back. I was coming down with my dyed red hair and my baggy pants and wearing my thong outside my clothes and trying to look like Lita, and here I was standing side by side as an equal about to go capture the tag titles. If you're telling your teenage self that's going to happen when you're older, your teenage self would slap you across the face and tell you to be realistic. It was really awesome. Over the years, she's become such a great friend and mentor. She was that misfit, the rock n roll grunger that had big dreams, and she recognized that in me, that I didn't necessarily fit the mold, but I had that love for the business. We've been kind of kindred spirits in that way,"

-Becky Lynch
The Irish star would go on to explain that she finds it really important to make decisions that make sense with what her character would do. She elaborated by discussing how she is often unsure how to navigate friendly interactions with other wrestlers given the amount of times her character has been turned on in the past, though, she has admitted that when it comes to a legend like Lita the team comes more naturally.
"Sometimes, as a babyface, I almost don't know how to interact with other babyfaces because The Man is so untrusting of everybody because she's been burned so many times. I'm like, 'Hello, friend.' I feel very awkward in that setting. If I was going to have a tag team partner like that, you just couldn't ask for better. Even having to get to do the story with her last year, as short as it was, it was one of the stories in wrestling that I'm most proud of, and one of the matches I'm most proud of. Now, I have a lot of history with the woman who inspired me the most."

-Becky Lynch
However, this isn't to say that Lynch has never had a confrontation with Lita as the pair did battle at Elimination Chamber in 2022. Here, The Man successfully defended her Raw Women's Championship against the returning legend.
As always, we'll aim to provide any updates on Becky Lynch and the plans for the WWE Women's Tag Team Championships as we hear more.
H/T to Fightful for the transcription.