After such an eventful few days, this week feels like a collective exhale. NJPW's Dominion aside, it's a quieter collection of graps, but that can produce some of my personal favourite offerings. These are the weeks where you're given the time to enjoy a Gates of Agony TV match, or perhaps head to All Japan Pro Wrestling for the day. It's a chance to experiment slightly, maybe even sitting down for a 45-minute professional wrestling match.
I'm talking broadly of course, as I am clearly not writing this with the benefit of hindsight. Either way, you know the deal, this isn't the week's best matches, it's just the seven that I've decided to write about.
Atsuki Aoyagi vs. Naruki Doi (AJPW Super Power Series)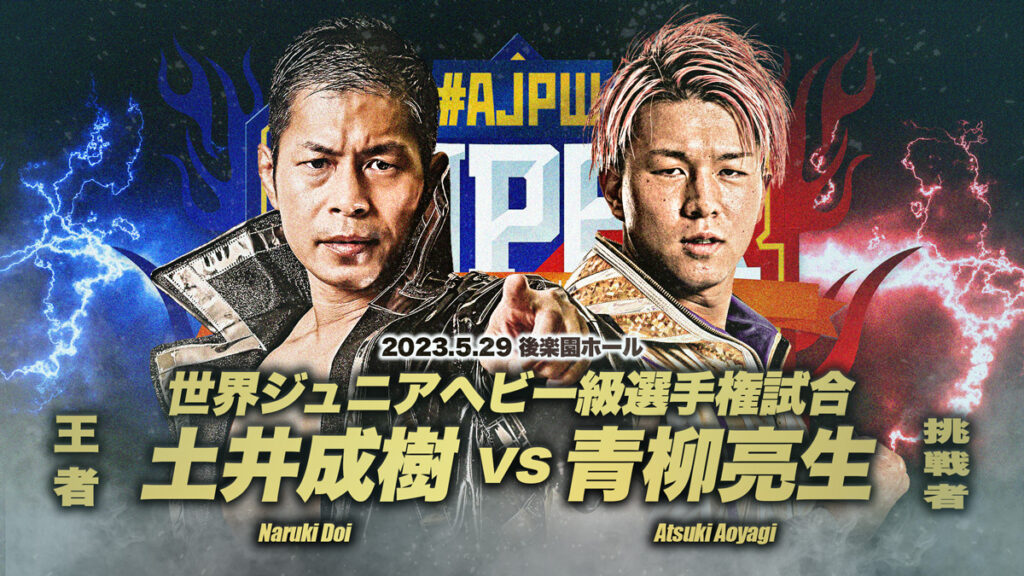 There is always something comforting about seeing Naruki Doi's name on a list of recent recommendations. A rare constant in that regard, Doi has been a regular for All Japan in 2023, making his promotional debut in January for a tag bout alongside Minoru Suzuki. The following month, Doi defeated Atsuki Aoyagi for the Junior Heavyweight Title, with this serving as their rematch. That first meeting, as well as Doi's two successful title defences since, earned mostly positive reviews.
Yuma Aoyagi's little brother, Atsuki is just 23 years old, almost two decades younger than Doi. A precocious talent, Aoyagi was swiftly pencilled in as the promotion's eventual junior ace, claiming that role with his first title win last September. In this particular matchup though, he's still very much the young upstart, seeking redemption against a grizzled pro who knows every trick. It's a classic case of the "styles make fights" cliché, simple pro wrestling executed with a striking snap.
Though still rapid in his own right, Doi's obvious route to victory isn't a high speed shootout but instead, something more deliberate. Again, his work remains remarkably sharp but against the much younger man, Doi is best-served trying to "old man" the challenger. That's apparent early, as he struggles to set the tone early, with Aoyagi bouncing up from the mat for a dynamic offensive flurry. Throughout much of the match though, Doi has his way, finding an answer more often than not.
In fact, he claims control quite emphatically, dumping Aoyagi for a violent fall on the apron. There's a real knowhow to Doi in control, relishing the chance to rough up his fresh-faced foe. He mostly does so successfully but Aoyagi is perfect in his retorts throughout, resetting things via gorgeous springboard dropkick. That transitions the match into a more direct fireworks display, with Doi seamlessly adjusting to match Aoyagi in that regard, still armed with some genuine weaponry.
Even still, they don't lose that core idea and so, it quickly becomes Aoyagi's match, eventually overwhelming Doi to regain the belt. Even without much context beyond a loose awareness of the scenario, this works a treat, feeling like a genuine feat for Aoyagi. It's such a natural outline and never to the detriment of the match's quality. Instead, it's exactly what you'd expect and predict, just performed so sharply that you're thankful for the logic on display.
AJ Styles & Seth Rollins vs. Damian Priest & Finn Balor (WWE RAW)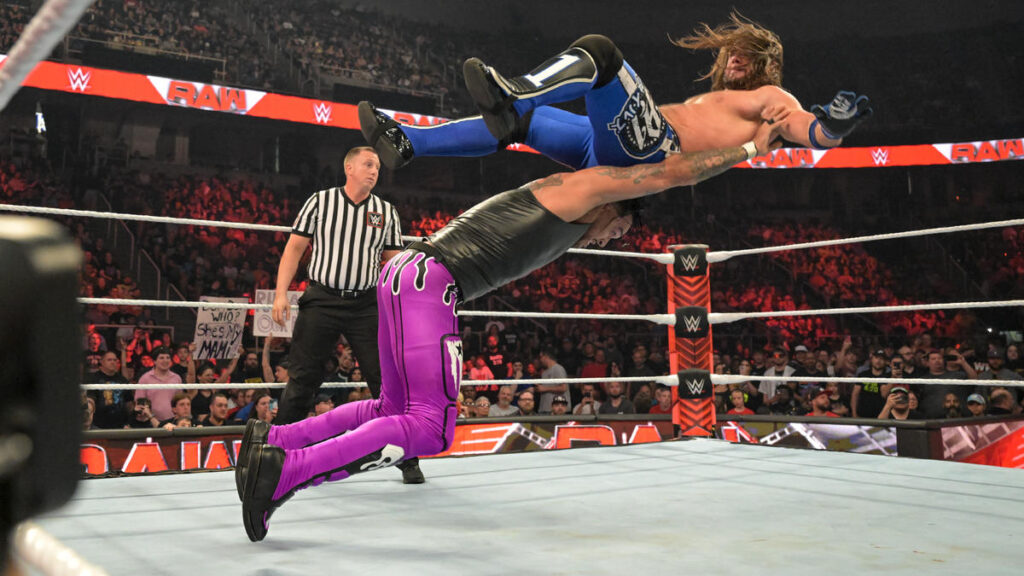 While it certainly wasn't without flaws, I ultimately enjoyed Seth Rollins' World Title win over AJ Styles. Here, we have the television follow-up, as they combine for an all-star tag team opposite The Judgment Day. Now, this match is an almost immediate brand split infringement but thankfully, I can avoid such topics with this project and instead, simply say that this rules. There was a certain zip to this at the bell, a sense that it'd separate itself from the pack.
That's indeed the case, plugging terrific talent into a genuinely creative layout. They immediately set the tone in that regard, as Dominik plays decoy while Balor jumps Rollins from behind. I remember being struck by Balor and Priest's chemistry at last year's Clash at the Castle, so it's nice to see them get a more extended run in this domain. Dominik and Rhea add an awful lot from ringside also, with the latter accompanying Rollins for a familiar tune early.
Structurally, this match had a few surprises up its sleeve, teasing some heat on Rollins before ultimately cutting off Styles. They even went into the break with a quasi-finishing stretch, involving each man until Priest finally sent Styles flying over the announce desk. Though they aren't as frequent as they once were, Styles still takes one of the business' finest bumps when necessary. They keep things moving during the control segment, giving the people their weekly referee ejection pop.
Rollins' hot tag soon follows, with Styles setting the stage via Pele kick. Even then, they maintain some uncertainty, going into a little more back and forth action, reaching another double down for Styles' own hot tag. The penultimate Stomp is placed creatively too and that just about encapsulates this match, a seemingly standard play call executed with noticeable inspiration. Going just over thirteen minutes, it's not especially long either, they simply made an effort to make each moment count.
Don't get me wrong, it's no RAW classic but this is a genuine hoot, the ideal television main event. It's nice to see Styles getting back into a rhythm and this Judgement Day pairing continues to impress me as a team, with Priest benefitting immensely. He's come a long way in general, but this team is especially flattering, as Balor's selflessness preserves Priest for more highs than lows. Just a good time all round, the type of tag that makes any TV better.
Katsuhiko Nakajima vs. Kenoh (NOAH Sunny Voyage)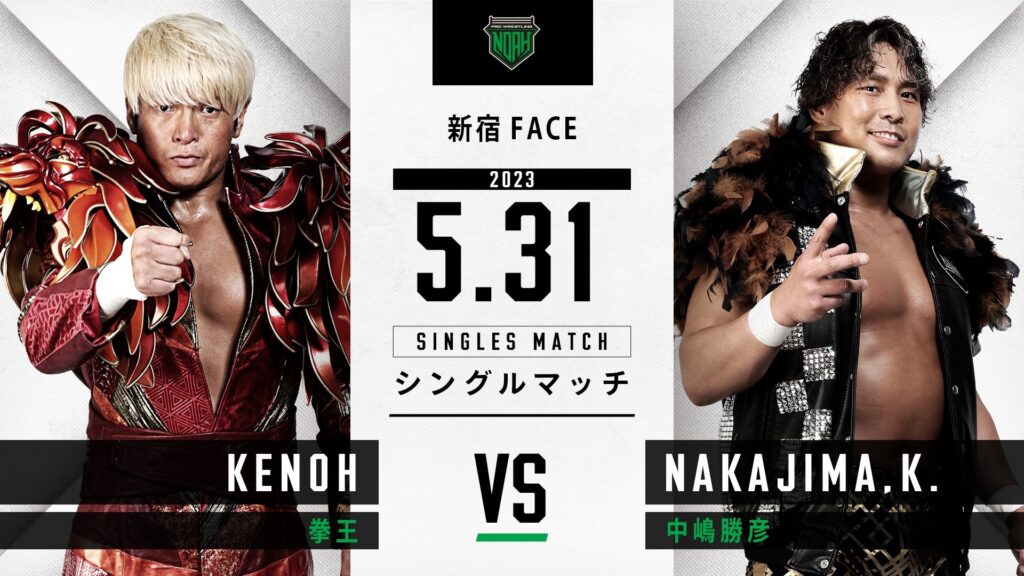 In November 2021, Katsuhiko Nakajima and Kenoh shared a double-title 60-minute draw. The match earned widespread praise but wasn't without critics, with some dismissing the bout as one-note. Eighteen months later, this is the sequel, as these two battle again after Nakajima's recent departure from Kongo. Concluding with a mere 45-minute draw, it's clearly a much more modest affair but in all seriousness, you know what you're getting when you see these two names alongside one another on the marquee.
If you don't, the swiftest explanation that I can provide is well, kicks. There are lots and lots of kicks, and not just any kicks either, these are the crunchiest kicks in pro wrestling. That consistent quality is a defining trait too, the sharp edge that brings you back as your mind even dares to wander. It's hard to look away for long as another thud is always just seconds away. Before the outright bombs though, there's a really nice opening standoff that sets the stage.
There's a palpable tension to the feeling out process, the kind of caution befitting a bout with such knockout power at play. It's an actual kickboxing bout early, with feints, low kicks and everything in-between. They even exchange jabs at times, with Kenoh steadily pulling ahead in that domain. In response, Nakajima rushes into a clinch, eventually pulling Nakajima to the mat. It's hard to portray the jeopardy of a fistfight with much accuracy but in that regard, these two are almost unparalleled.
That initial patience inevitably fades however, with a more heated shootout emerging. From there, they frequently return to this ongoing duel, trading sickening kicks in centre ring. Admittedly, they hit that note often enough that eventually, it's impact on me begins to decrease. As good as each kick looks and sounds, they can only carry so much weight after seeing such an onslaught stood up to without incident. With that being said, there is a stubborn charm to that trend.
It fits both wrestlers as well as the complex dynamic between them. It's a matter of bravado, a refusal to concede. They're testing one another, quite brutally seeing just how far their former stablemate can go. There's a resentment behind every blow, but an undeniable respect that shapes each prolonged exchange. In the final act, that initial sense of danger returns, with the bout's heaviest hits finally breaking through, earning violent momentum swings via back and forth knockdowns.
They transition to that final act with a noticeable increase in pace also, only needing a couple near falls to greatly elevate the excitement. That serves as a signal of sorts, organically evolving the match towards its conclusive race to the finish. Personally though, I'm not convinced that the effectiveness of that third act is reliant on the extended middle chunk that precedes it. It's not bad by any means, the work is still immense, they just go in circles slightly for me.
It's a shame too, as there are some interesting ideas that emerge along the way. Early on, Nakajima finds his first stretch of success with an onslaught of low kicks, making a target of Kenoh's left knee. That becomes a rather subtle theme, as he seemingly returns to that weakness whenever necessary. Then at around twenty minutes, Nakajima explodes in that direction, absolutely brutalising the knee in what felt like a potential shift. Instead, he seldom returns to it again.
Ultimately though, it's not about the match that I'd like them to have and instead, the one that they actually produced. In the end, it's a match that I like very much, armed with compelling enough opening and closing acts that I'd deem it great. Personally, I don't quite have it among the year's absolute finest efforts because while its executed wonderfully, the content's repetitiveness did challenge my interest at times. Then again, this probably hits much harder with a deeper, more raw investment.
They've done it twice now and most seem to have loved the results but personally, I'm just not sure that I love the way this style suits such an extensive runtime. The beauty of that opening to me is this sense that they're throwing with such fire that at any point, someone could go to sleep. That atmosphere can only live so long though and while their efforts test that theory, I think this match showcased that, personally.
Even still, it's a very worthwhile watch on the physicality alone, let alone the interesting personality quirks that tie these two together. A great match, even if I'd like to see a 30-minute cut of the same concept. I don't usually like making a critique as cliché as that, but it's all I could think here, as this is great even with that somewhat hollow middle act. Again though, the match that I'd prefer is irrelevant to the match they had.
Beyond anything else, there's an awful lot to like here, and it's all weirdly enhanced by this particular show's intimate setting. The place rocks when it's time to but otherwise, this understated backdrop is accompanied by an almost hushed suspense. As a result, the match is left feeling like a secretive glance into something far more personal than your ordinary wrestling bout. It's simply something that these two have to do, we're just sneaking in to watch.
Darby Allin & Orange Cassidy vs. Gates of Agony (AEW Dynamite)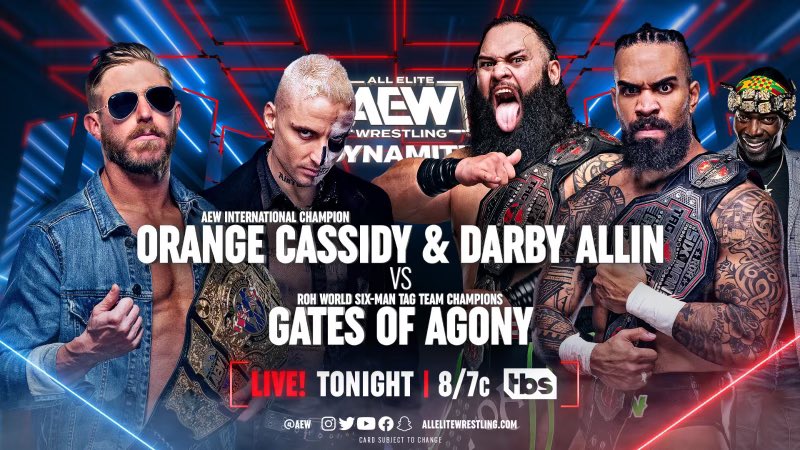 Folks, the Gates of Agony are at it again. Last October, I comically overrated this team's tag title tilt with The FTR but all bits aside, I genuinely like this pairing. Kaun has always jumped off the page for me, with his Soldiers of Savagery tandem alongside Moses being a highlight of late ROH. Meanwhile, it was love at first sight with Toa Liona, immediately standing out in a memorable Dark encounter opposite the aforementioned FTR.
Here, they make their return to television action in a Dynamite showcase against Darby Allin and Orange Cassidy, two of AEW's lead babyfaces. The result is staggeringly awesome. Don't get me wrong, I was confident that this'd be a good time but Gates of Agony levelled up on Wednesday, thanks in no small part to their dance-partners. Allin and Cassidy do everything in their power to elevate this team, but Kaun and Liona ensure that those efforts are worthwhile, too.
They bring an immediate intensity, operating with an aggression that frankly, is too often absent from acts filling this role. Gates of Agony are a mere hurdle on Cassidy's road to Swerve while Allin gets a rebound victory, yet they wrestle as though they're about to score AEW's quickest win ever. It's a matter of intent, they just outright bring it, making their every move count. Kaun and Liona share that ferocity but equally maintain a noticeable contrast, which adds some colour to their pairing.
Kaun is the more polished pro, often directing traffic while Liona feels almost animalistic, a refreshing sense of danger accompanying his work. He's also freakishly athletic, which only helps. Kaun has some weaponry of his own in that regard though, launching Allin around in particular. They're truly dynamic in that shootout-style first act, and Kaun shines bright in the control segment that follows, also. There's a real polish to his game, a prospect very much worth watching.
Eventually, they're outsmarted as every good monster team should be, with Allin bringing in Cassidy for his typically cool "hot" tag. The finishing stretch isn't quite as sharp as that electric opening, but it's still fun, putting the finishing touches on a television tag that greatly exceeded expectations. To be clear, this is no epic encounter or whatever but it is 11 minutes of alarmingly real graps, an absolute hoot. The big lads shine bright here and their counterparts don't lose a thing, as that's what top babyfaces do.
Others have already made the comparison but indeed, AEW may have found their very own Faces of Fear. To translate, real music ahead.
Motor City Machine Guns vs. Subculture (IMPACT Wrestling)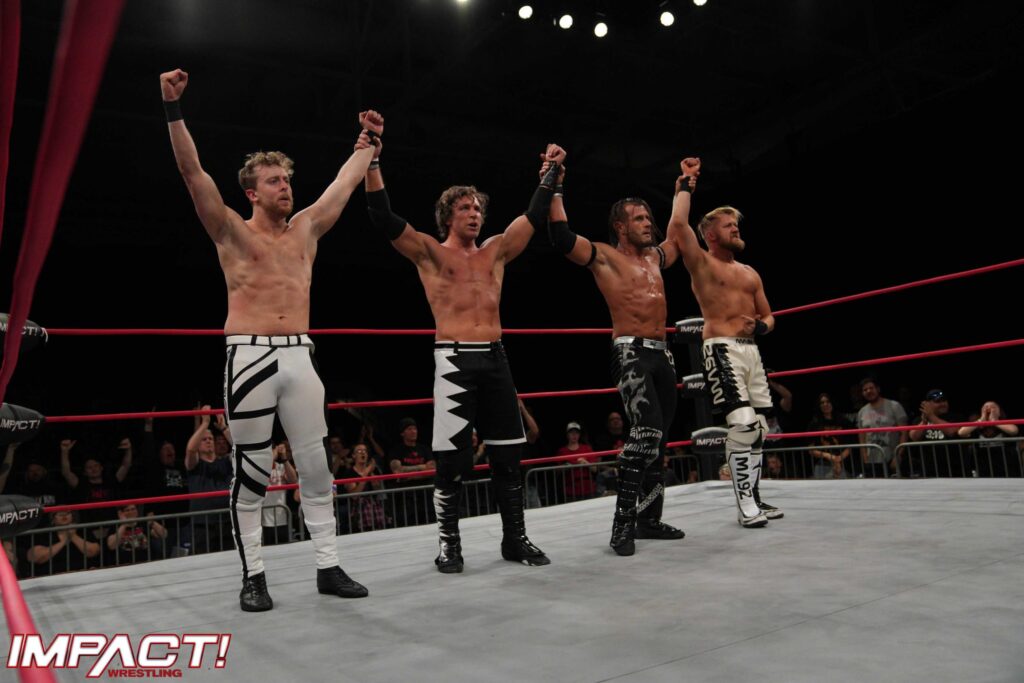 With NXT UK now behind them (and everyone else), Flash Morgan Webster and Mark Andrews joined IMPACT Wrestling for a weekend in Ontario. On the Under Siege special, they challenged Ace Austin and Chris Bey for the World's Tag Team Titles, then facing Motor City Machine Guns at the following day's television tapings. The first of those matches earned high praise and so did this one, airing last Thursday as an episode's main event. The Motor City Machine Guns are, well, The Motor City Machine Guns.
I'm sure that in some form or fashion, they've slowed over the last fifteen years, but it's not apparent to my personal eyesight, thus far. In fact, I seem to enjoy them more and more, with Shelley especially finding his finest form in recent years for my money. The setup here is simple, a "dream match" scenario in which a babyface team gets the chance to face a pairing that greatly inspired them. It's almost exhibition-like in that sense, but this has some juice, also.
Indeed, it has the trappings of the traditional babyface tag match, especially one with this particular slant. There's a frequent sense of mirror imaging on display, a back and forth one-upmanship throughout. In fact, the early sequencing is rapid enough that one fan seemingly shouts that "Ric Flair said slow it down," which I believe to be a lie. Either way, they give you those combinations as well as an enthralling finishing stretch to boot, but Sabin and Shelley are smart enough to sprinkle in some contrast, also.
Their cut-off leans heel and they tease a control segment before getting some heat on Andrews. They're masters at conducting such a portion without losing their core identity, still finding a home for some of their flashy tandem offence along the way. That doesn't stop them from executing the fundamentals either, cutting the ring off seamlessly as ever. They both feed Webster's eventual hot tag too, shining up the guests before ultimately winning en route to Against All Odds.
Subculture were good here though, noticeably inspired by the opportunity to wrestle one of the industry's all-time great teams. They remain on that current list also, which I'm reminded of just about every time I see them these days. Really nice television main event, with MCMG adjusting gorgeously to showcase a team playing a cover of their own hits.
Emi Sakura vs. Willow Nightingale (AEW Rampage)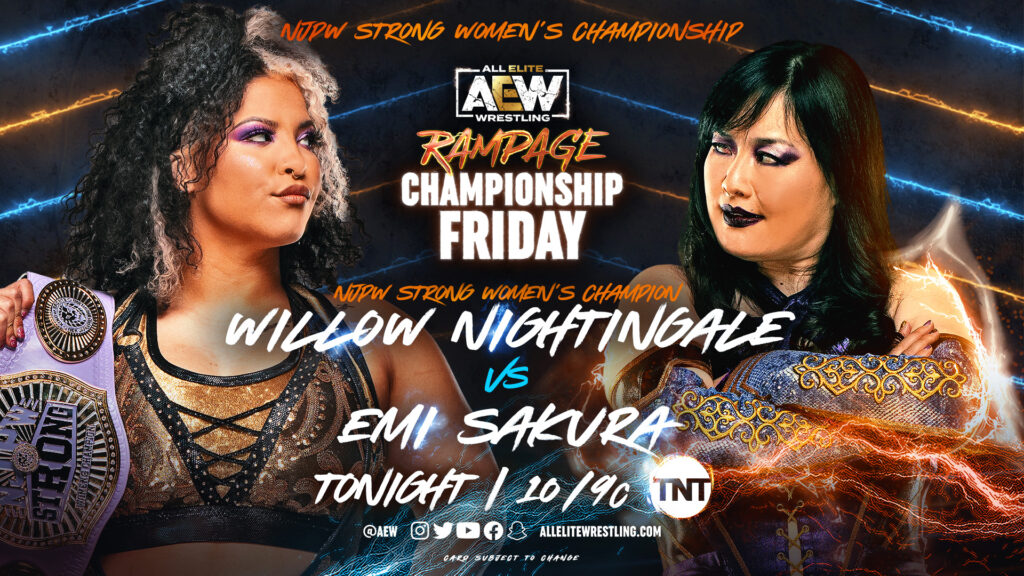 While her babyface charm and infectious energy remain the headlines, Willow Nightingale is improving at a quite rapid rate. I was blown away by Nightingale's work in control of her match with Mercedes Mone, dictating the pace seamlessly in a role that I think she'd have understandably struggled with not long ago. Every time I see Willow, she seems to have progressed, adding further strings to her bow and quickly cementing herself as a rare complete package.
This match was another example of that process, as Nightingale shared the ring with Emi Sakura. Though she's certainly not on television as much as anyone would like, Sakura is remarkably consistent for AEW, delivering again on Friday's Rampage. Sakura is such a smart veteran and she plays her role to perfection here, testing Nightingale without swarming her. Instead, Willow is given ample opportunity to shine and thankfully, once again rises to the occasion.
At just eight minutes, this is all-action, operating with palpable purpose throughout. There's immediate physicality, with Sakura setting a standard that Nightingale quickly ascends to. She doesn't take much encouragement either, finding the time for her endearing quirks but remaining all over Sakura, which is one of Willow's biggest strengths. Her touches of personality never feel at odds with her intent to win the match, which makes her much easier to cheer for than this archetype's more naïve loser.
Instead, Nightingale feels like an absolute winner, she just does her best work with a smile on her face. That smile is neatly contrasted by Sakura's devilish grin also, but beyond anything else, there's an awful lot of clobbering on display. For much of this match, these two just whack each other, and it's striking how comfortable Nightingale is in that domain. As always, Sakura seems at home, going through the gears as she senses a noticeably worthy foe.
Speaking of such, Jim Ross is having a blast here and actively adds to the experience. I don't usually note such things but I enjoyed typing those words in 2023, so here we are. Either way, Nightingale showcases some athleticism for her comeback, with Sakura expanding her own offence in response. At core though, it remains a knock-down drag-out affair, and an absolute hoot at that. This is terrific television wrestling, with the babyface showing her toughness before winning emphatically.
Ideally, Collision's emergence will allow Sakura to be a Rampage regular moving forward. She won't have matches of this calibre with every fresh face in the division, but they'll all benefit from the experience nonetheless. As for Nightingale, I'm running out of superlatives. This a megastar in the making, plain and simple.
Claudio Castagnoli, Jon Moxley & Shota Umino vs. Hiroshi Tanahashi, Kazuchika Okada & Tomohiro Ishii (NJPW Dominion)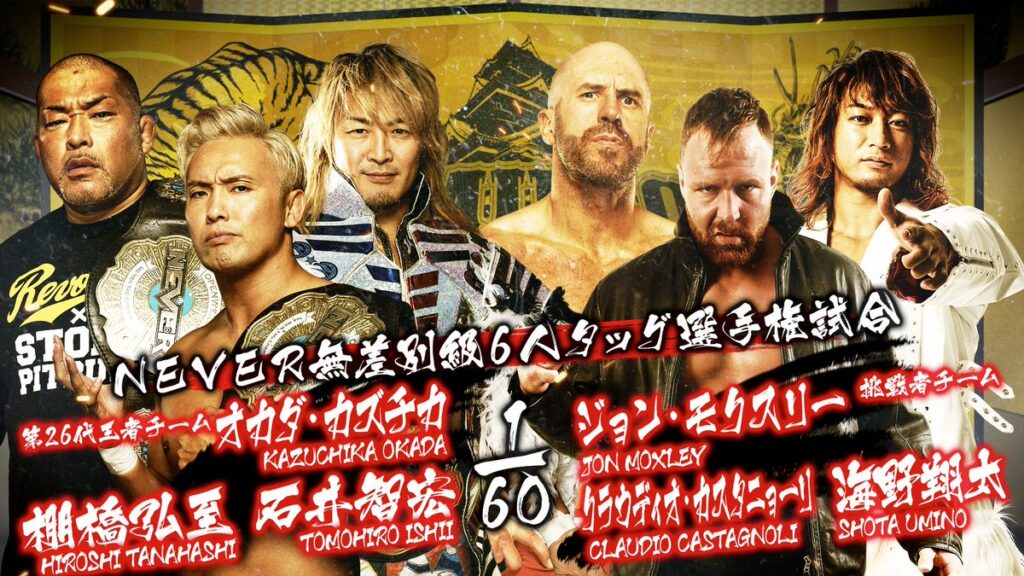 As much as I loved Dominion, there was only one match that I'll be citing when it's time to recognize the year's best bouts. It isn't a surprising standout either, as this trios match legitimately features five of the finest pro wrestlers in recent memory. The sixth man is no mere passenger either, actually giving the match it's central story, as Shota Umino attempts to make a statement at the increasingly grumpy Kazuchika Okada's expense.
Even within this all-star line-up though, I find myself in awe of Claudio Castagnoli, an outright force of nature. Under any circumstances, his performance here is immaculate, but it's especially impressive considering that he hadn't even arrived as the show got underway. As always though, Castagnoli is just about perfect, astonishing in the most effortless, stylish way. He's certainly not alone however, as everyone brings it here, producing a match befitting this collection of talent.
They find this middle ground between two different matches, marrying them seamlessly. At times, the match is a hectic race to the finish, but they equally allow things to breathe, making the space for something more prestigious. There's an inherent gravity to these kind of duels and each one is positioned accordingly, instantly setting the tone in that regard as Castagnoli does the dance with Hiroshi Tanahashi. Similar weight accompanies Jon Moxley's rather violent reunion with Tomohiro Ishii.
Fabulous as those pairings are though, the match is ultimately about Okada and Umino's aforementioned issue, with 'The Rainmaker' resenting the latter's growing confidence. It's a wonderful trend with Okada, who had felt slightly uninteresting prior to this development. Suddenly, he's the status quo, turning back fresh faces with an increasingly bitter spite. That dynamic is present throughout and ultimately provides the match with its conclusion, but only after a few fireworks first.
There are some spectacular sequences that feel so strikingly organic, each seeming as though it's merely emerged as an inevitable result of the talent on display. Those individual pairings remain also, but we aren't deprived of some Moxley – Okada and Castagnoli – Ishii along the way. It's a unique experience in that regard, giving glimpses of a different mouth-watering matchup every few minutes. You're left wondering if we even deserve such a dish, but can only embrace the treat while it's there.
Sprinkle in some blood on Moxley's head and you have the kind of match that immediately feels like a snapshot of its time. It's such a singular cast, an ensemble of the era's finest, most of which are at their absolute best. Matches like this are to be cherished, the all-star multi-man tag that feels more suited to a video game screen. Best of all, it plays out as exactly as you'd imagine too, one of the year's most enjoyable bouts thus far.