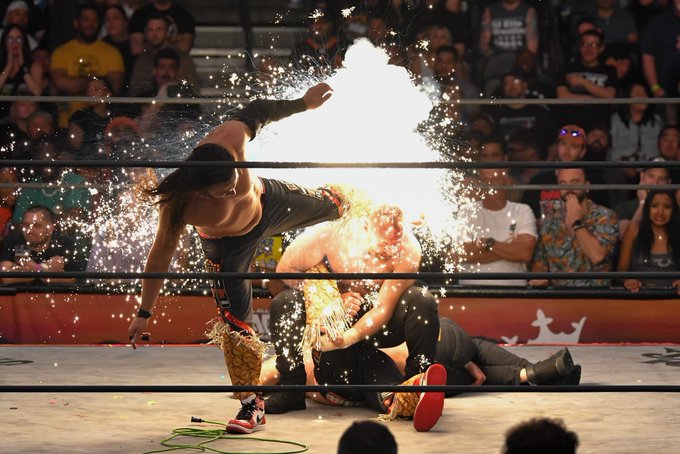 Double or Nothing.
Where it all started. Where it will continue. Where it will always be. The rivalry between Jon Moxley and Kenny Omega. Under the Las Vegas sky in 2019, it began atop a pile of poker chips. Under the Las Vegas night sky, their story came to a head in 2023, in a bout of controlled insanity in the best of ways. On this night, chaos and blood reigned in dominion over all.
I am actually writing this an hour after the match transpired. My blood is absolutely pumping, and my heart is still racing. Whatever the night had prior, good or bad, most of it doesn't stick out in my mind as much as Anarchy in the Arena. But how did we get here?
The menace of The Blackpool Combat Club so tormented The Elite in ways that wrought heartbreak and agony. In a way, it brought them back together full circle, but The Sons of Regal demanded penance over the declarative name such as "The Elite". Double or Nothing then became the stage for what this chapter was to be written in, and it was to be written in blood.
Who would have thought that the statement-making moment almost five years ago would have elicited a blood feud on this level? In ways, this match improved on its successor in wondrous storytelling as brutal and as nuts as these two groups are. When ranked with the top superstars in the industry, there was no way this wasn't destined for greatness. This storyline was too red-hot to not capitalize on.
From Japan to WWE, from Reseda to AEW, from bloodshed to drama. That's what you get when wrestling culminates in something special.
So let's get into it, shall we?
The four men that have made The Elite what it is made their way to the ring as per usual to Kansas' "Carry On Wayward Son". In a beautiful moment of pure, unadulterated bromance, Kenny Omega and friend-turned-rival-turned-friend-again "Hangman" Adam Page lip-sync the song in perfect silent harmony among a sea of cheers and classic rock. This is the serotonin boost that fans of the group need.
The image of the four is unique, not uniform. Adam Page crawls out of a mixture of John Wayne's True Grit and Kurt Russel's Escape from New York with five butterflies on his pants, no doubt symbolic of what may be to come. Kenny Omega looks like an anime superhero. The Young Bucks are fiery.
As for the Blackpool Combat Club, they gain entry by way of the industrial alternative rock band Violent Idols' live cover of "Wild Thing", the starving squadron descended the stairs of the T-Mobile Arena like the Shield in the days of old, like Scott Hall the night he changed the trajectory of the industry. They are singular, uniform in gear, and in vision. Though they wear black, they live for the red. Jon Moxley, unhinged, adorned with his auburn beard. Bryan Danielson, shaggy-haired and filled with gremlin delight. Claudio Castagnoli, bald and pure and fine-tuned in his human machinery. Wheeler Yuta, young and plucky and brimming with energy.
Jon Moxley and Bryan Danielson are the only ones familiar with this match – they teamed with Eddie Kingston, Santana, and Ortiz against the Jericho Appreciation Society the year prior in a losing effort. Yuta and Castagnoli are strangers to this, but not to the cruelty and sadism that embodies what the Blackpool Combat Club is all about. They are ready.
They are met by the Young Bucks, Page, and Omega – and so the match begins. For most of the match, the song does not stop. We are living by New Jack rules here, folks.
The entire environment was a weapon – rails, trash cans, and the ground itself – are fair game. Even the referee gets bloodied. Don Callis joins the commentary team in the midst of the bedlam, much to the chagrin of Exalibur, Tony Schiavone, and probably Taz.
The Hangman corners Danielson, dramatically removing his eyepatch as he brandishes a screwdriver, only to be ganged up on until his Winnipeg compatriot and the Jackson brothers come to his aid, simultaneously raining down fists on their selected dance partners. Finally, The Elite is fully in-sync. They are whole and they are fine.
The lead singer of Violent Idols (with the unfortunate mask) revealed himself to be a supporter of the BCC and found himself on the receiving end of a superkick, and so ends the jovial soundtrack and the drama and action carries from there.
Moxley is already soaked in the face with blood, and Page is strangled by chains as he is flogged with belts. Erstwhile, Claudio Castagnoli carries off Matt Jackson, soon to drop him on his neck in the bed of a white truck. Bryan Danielson drags his fists into the skull of Nick.
This is what carnage is. Broken glass embedded in the skin of your back. Knuckles caked in blood. Chairs to the spine. Unregulated violence on the big stage.
As Danielson's fists drip with the claret of Nick Jackson, it serves as a reminder – what happens in Vegas stays in Vegas, but Reseda stays with you forever.
The Blackpool Combat Club is a cackle of hyenas, while The Elite are the lions.
Nick is finally dispatched by Danielson and Page lies picked apart on the outside, leaving Kenny Omega to fend for himself as he wields an aluminum trash can lid like Captain America's shield, only to be caught by the Winter Soldier that is Claudio Castagnoli, who is simply not human. For such a silly spot in a crazy match, this is among my favourite moments.
Claudio is too perfect, too refined to be felled easily, and his young scrapper friend Wheeler Yuta is filled with nothing but fire and spirit at his young age. Danielson is professional wrestling, pure and simple. Moxley, he's just a sick motherfucker who lives in pain.
In a show of badassery, Moxley holds Nick Jackson in a hold while Wheeler Yuta holds him by the head until his corpse lies still.
Holding his head up by a thread, Matt Jackson comes to the ring in pure desperation and superkicks Jon Moxley with an exploding dynamite of a superkick that ends the defiance of the Death Rider, but he too has his bones picked apart with his foot serving recompense for its transgressions. Probably because Moxley's sick and tired of having stuff blow up in his face; I certainly wouldn't blame him.
When they are done, Moxley rolls out a blanket of thumbtacks, dropping Matt on his foot on it, piercing it, going so far as to feed it to him for breaking up the signature simultaneous Blackpool Combat Club beatdown sequence.
Now on the same page, Omega and Page return to give The Young Bucks relief, with the tag team chemistry still alive. The two veterans chip down the health of Wheeler Yuta, almost finished off by a V-Trigger/Buckshot Lariat spot when Don Callis costs Omega the chance, distracting him just enough for a silhouette figure to drop The Best Bout Machine where he stands.
Konosuke Takeshita.
He has completed his transformation. After months of scouting from Bryan Danielson and Don Callis, he belongs to them. The Elite is broken as The BCC wins. Reunited, but outgunned, outmatched, and outclassed. Another prospect, groomed and secured. As "Wild Things" plays once more, might wins out over right.
There are matches that hinge on emotion, brutality, or absolute energy. Then there is this, a combination of the three, sealed within a chaotic envelope. I loved this, despite my underwhelming feelings on the first one. Where I was not in the magical moment to appreciate the match as everyone else did, I was here for this one.
Anarchy in the Arena this year was fantastic. Immensely entertaining, this match simultaneously allows viewers to turn their brain off and enjoy the bedlam while keeping the focus and attention on the finer details within. Eight men entered with the intent of ripping everything out of each other with no remorse and no regard. They achieved that. The bears have danced, but the war will never die – it is dancing and shouting in celebration that it will never die..
It can only be quelled by placing it in a cage and watching as it tears itself apart, leaving two things.
Blood and Guts.