On a week seemingly dominated by just about everything but the action itself, some wrestling took place too. This time out, we head to NXT for their biggest main event in years, as Becky Lynch stops by for a shot at Tiffany Stratton's Women's Title. Meanwhile in Gotham, Rocky Romero challenges Claudio Castagnoli on HonorClub as elsewhere, AJ Styles and Finn Balor quietly do the dance following The Rock's triumphant return.
In addition, IMPACT celebrates its thousandth episode of television while Jade Cargill wrestles her final match in AEW. The weekend dominates proceedings however, as CMLL produces their biggest show of the year mere hours before Naomichi Marufuji's own anniversary celebration. Upon thought, there was quite a bit of wrestling after all so with that in mind, let's get to some limb work analysis, or whatever.
Becky Lynch vs. Tiffany Stratton (NXT TV)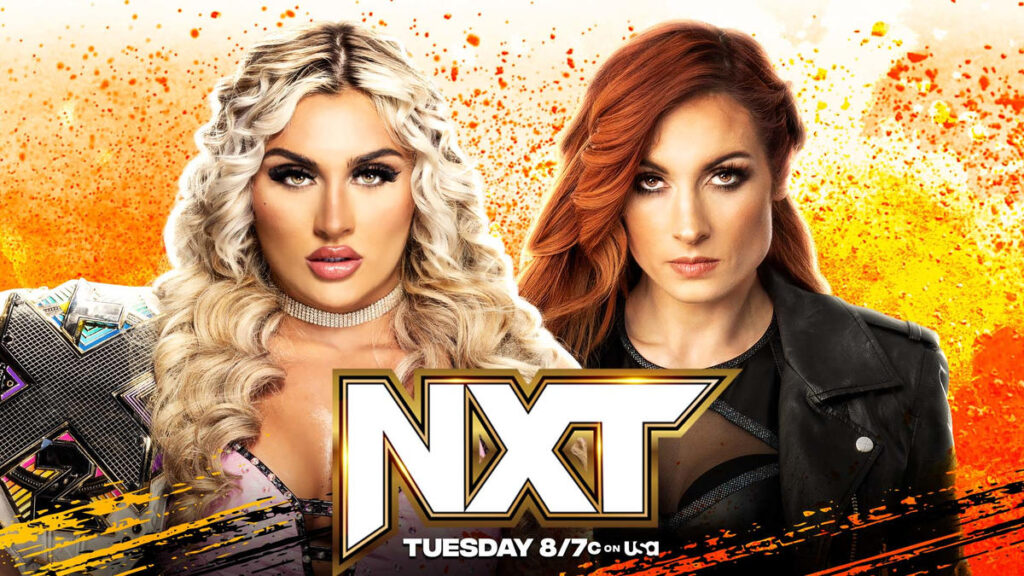 After a quiet rebuild in recent months, last week's NXT felt significant. Though main roster cameos have been more frequent as of late, even including a World Heavyweight Title match, this packed the biggest punch yet. Pursuing the one belt that had eluded her, Becky Lynch was in town, bringing a big fight feel along with her. Tiffany Stratton was no mere passenger in that regard either, feeling like a champion well beyond her relative inexperience.
That's a major story, especially with how the match ultimately panned out. In history, this could've so easily been a singular tale, as Lynch simply added the last belt to her collection. It didn't feel that way going in though and is even less present coming out, as Stratton leaves the experience with significant credit. It's a triumph that she seemingly belonged on the match graphic, let alone in its brief promotion and most importantly, the match itself.
Beyond anything else, the atmosphere for this is quite special. At the bell, there is a genuine excitement that feels miles beyond the NXT norm. That's not a knock either, this is a small building, few can transform such a setting as Lynch's presence did here. I've always loved this play call anyway, as major stars seldom feel more major than when stop through an intimate environment such as this. That's the case here but again, Stratton never seems like the non-descript hurdle in Lynch's way.
They embrace that energy too, taking their time and working a traditional opening. That quietly becomes a theme, as it feels as though they're actively wrestling in response to the people, which I'd imagine was a slightly newer experience for Stratton. Her more flashy sequences are still in attendance and mostly look great, but there's some connective tissue here too, following Lynch's lead and seeming at home with those more conventional offerings.
There's some decent physicality on display before long too, establishing an intensity as Stratton scores first heading into an ad break. That allows for a brief heat segment during picture-in-picture, with Lynch making a comeback as we return. With that, they transition into extended back and forth action, trading signature offence for the rest of the runtime. That remains Stratton's in-ring strong suit, with her athleticism allowing for some really impressive offence.
In that domain, she more than belongs, even boasting more dynamic offence than Lynch herself. That's not lost on Lynch either, who happily gives Stratton an awful lot and merely plays a hit or two along the way. It's not flawless, including a particularly clunky table spot late, but it doesn't really need or try to be. Mechanically, there isn't much meat on the bone here, as it's mostly momentum swings. In fairness, those momentum swings are wonderfully well done, especially the closing sequence.
None of that is really the story though as inside the ropes, this settled at about good for me. The triumph here is that beyond the action itself, this felt major league. That speaks to Lynch's popularity as well as again, Stratton's rapid ascent of WWE's ranks. In history, this match could wind up being as much about her as it immediately is about Lynch, already feeling like an obvious stepping stone on her road to superstardom.
Time will tell in that regard but for now, a genuinely good match that made for superb television. This packed a serious punch, escaping the setting's limitations and seeming like a legitimate happening, which is no mean feat.
Claudio Castagnoli vs. Rocky Romero (ROH on HonorClub)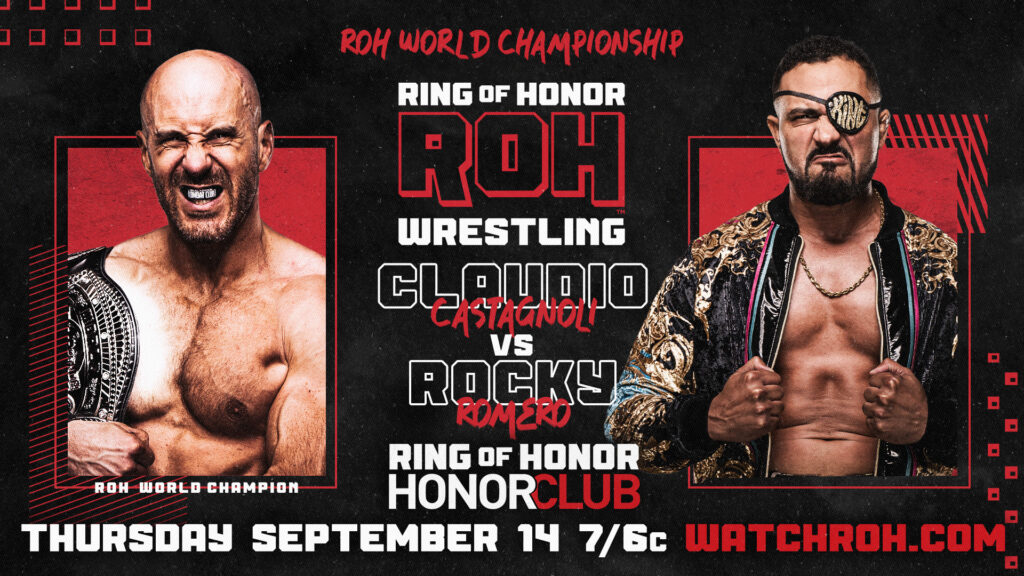 It's been almost eighteen years since Claudio Castagnoli and Rocky Romero first did the dance. That night, Romero teamed up with Puma, taking on The Kings of Wrestling combination of Castagnoli and Hero. Their first singles match would take place in March 2007, going fifteen minutes in PWG, running it back just a month later for ROH. With a win each, they now meet in their ever so slightly delayed rubber match, settling the score over sixteen years later.
Castagnoli and Romero shared the ring on Dynamite in June, meeting in a trios match for their first clash of any kind since 2010. This most recent interaction kicked off ROH's latest television offering, serving as Castagnoli's final title defence before Grand Slam. I always find these scenarios to be curious, as it'd be generous to say this was a predictable addition to Castagnoli's reign. In addition, these tapings are some of the industry's most heatless, resulting in almost always cold matches.
That's not a reflection of either talent or frankly, anyone else booked for that matter. It's just the reality of this particular situation, but does allow for a glance at how talent navigates such a challenge. Here, they show their poise early, wrestling for positioning and simply competing, trusting that their work will get things trending in the right direction. Romero takes a brief but dynamic shine, soon feeding a sudden European uppercut for Castagnoli's cutoff.
The champion is hurling Romero around within seconds, charging ahead but carrying a slight stagger from the challenger's initial success. They don't exactly get onboard with Romero as Castagnoli settles into a hold, forcing a slight adjustment. Romero rallies early, feeding a swing that earns some response and then increasing the intensity. Though not without a moment's clunkiness, this helps, roughing things up some and sprinkling in a collection of crisp strikes.
Romero is smart enough to maintain his underdog status along the way, mostly sticking and moving with snappy salvos. Admittedly, there's only so much heat to be garnered here, but they do manage a touch of jeopardy. Obviously, the result is never truly in doubt, but it steadily achieves something credible, becoming a worthwhile title tilt. It's not Castagnoli's finest performance of 2023 by any means but when the time comes, he's nasty as ever, regaining the edge that's defined his reign.
The challenger is given a defiant last stand too, including a couple near falls that are wonderfully placed, even if limited by circumstance. This is such an assured little match, two polished pros who embrace what's available without overreaching beyond that. The reality is that this could only be so much, even with such immense talent involved. That's okay though and they maximised that potential, combining for something worthwhile on knowhow and quality.
Chris Sabin vs. Lio Rush (IMPACT 1000)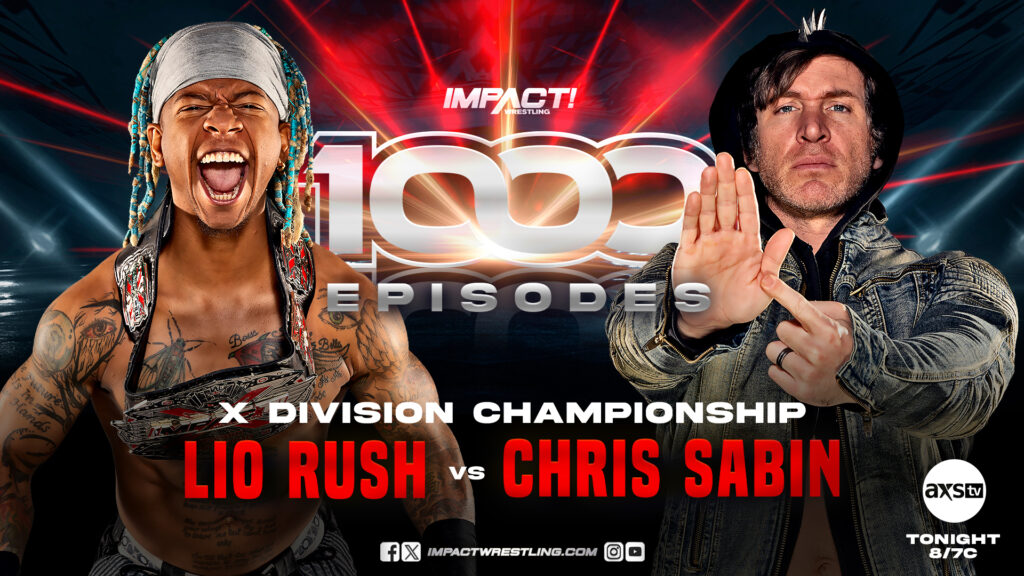 Tasked with closing the first half (I know, just go with it) of IMPACT's thousandth episode of television, Chris Sabin and Lio Rush were destined to deliver. Over nineteen years ago, Sabin was part of this programme's very first main event, sharing a four way with AJ Styles, Elix Skipper and Michael Shane. This was as much about revenge as it was history though, as Sabin walked back into the fire that so violently burnt him at Slammiversary.
That night, Rush blitzed Sabin, attacking him before the bell and becoming X-Division Champion in under ninety seconds. They actively play with that memory too, as Sabin again struggles to handle Rush's pace. Even before that, there's a jeopardy at play too, with Tom Hannifan painting that picture seamlessly on the call. Though he's not a conventional fit for the role, Rush embodies a sense of danger here, feeling like a knockout artist riding high on his latest first round win.
He threatens a repeat victory here too, only for Sabin to survive, setting up a trap as he seeks an early pinfall of his own. He takes over from there, setting a more sustainable pace and finally wrestling his match, rather than Rush's. The X-Division Champion adjusts accordingly however, remaining a step ahead and turning the tide, uncorking some right hands. He settles into a hold from there, allowing the audience to tell a tale with their increasing duelling chants.
I appreciate this shift in approach, as it embraces an atmosphere that's above the promotion's norm. With that being said, it does feel slightly distant from the first chunk, even if not exactly requiring much explanation as a tactical adjustment. It's more of a tonal disconnect, though they certainly don't lose the live crowd. Either way, it's a brief diversion, with another uptick in pace not far behind. That allows for some back and forth action, ultimately reaching a double down via superplex.
There's a refreshing grit to this match, with speaks to the versatility of Rush's 2023 campaign. That includes a heated brawl in the midst of their expansive finishing stretch, desperately trading blows within the flashier bursts. It's certainly still flashy too, including a false finish that threatens to overextend, yet they stick the landing regardless. Beyond that booming climax though, it's actually a quite conventional match, settling at a traditional pace outside of those explosive exchanges.
In a vacuum, I adore that pace, but I'm less in love with it in this particular context. That's not necessarily fair, as they still had to produce a match befitting this occasion, which they unquestionably did. With that being said, I do think that they flirted with something truly inspired in that first act, playing with their prior match in a fashion that showed immense potential. The rest feels almost divorced from that magic, but is still comfortably good in its own right.
Even if not quite maximising its potential, this is a really strong main event, featuring two terrific performances that marry neatly. Rush is a great heel here, pairing character work with his dynamism. That's present throughout, even with something as simple as an eye gouge once they begin to trade bombs. Sabin remains quite remarkable, finding a really impressive rhythm for this latest act of his career. While not as spectacular, Sabin is arguably more consistent than ever in 2023.
A triumphant conclusion to the first half of a special night (again, go with it) for IMPACT, who have truly embraced their unique history as of late. I've found that to be rather charming and after over twenty years, why not? Credit to them, they've always survived and warts and all, added an awful lot to a pro wrestling generation. Chris Sabin has played a significant role in that, very much deserving this moment on IMPACT 1000.
AJ Styles vs. Finn Balor (WWE SmackDown)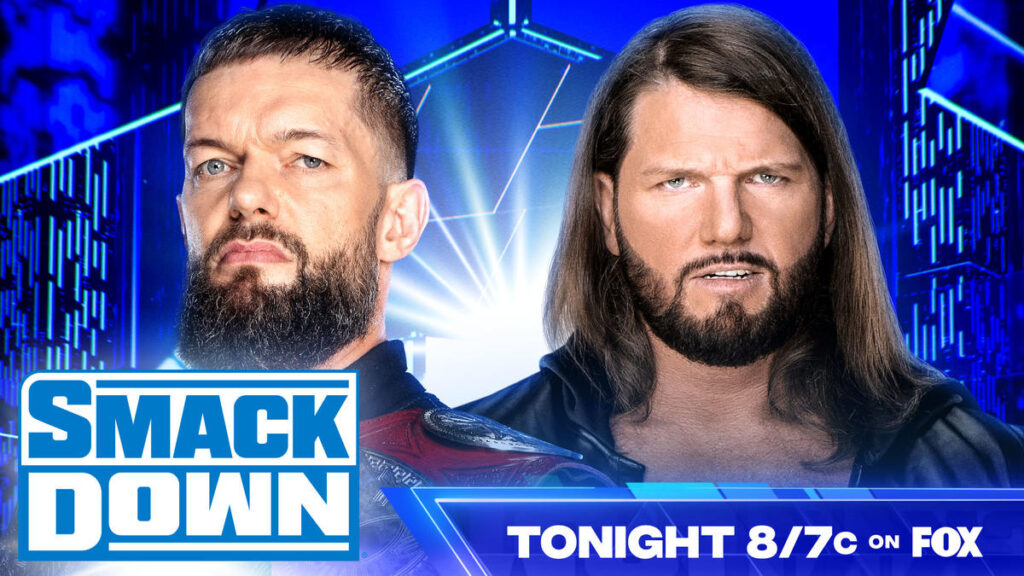 Unfortunately, AJ Styles' 2023 comeback hasn't been quite the home run that I'd been hoping for. Since returning from injury in May, Styles has slightly struggled for rhythm thus far, being somewhat hit and miss bell to bell. There are many factors that have shaped those differing results, most of which are out of Styles' control. With that being said, there is a noticeable decline that at 46 years old, is very much excusable after two decades of excellence.
By contrast, Balor has seemingly found a more sustainable approach, wrestling a more gritty, grounded style as he's aged. I've thoroughly enjoyed his last year or so, even if it's not exactly loaded with classics or epics. Instead, Balor mostly lives a couple tiers below that, still producing engaging action almost weekly. Balor is at his best in those more uniform affairs, maximising television time with sharp, efficient work. Friday's SmackDown provided another example of that, as he and Styles shared a spirited opener.
They establish an intensity at the bell, with Balor using the numbers game for an immediate jumpstart. That instantly highlights Styles' ultimately pivotal disadvantage, riding solo opposite The Judgment Day. He looks incredibly sharp early, briefly rallying with some familiar offence. Balor maintains control though, settling into a hold as some strikes emerge afterwards. That includes Styles' signature dropkick, resetting things as they go into an ad break.
We return to a double crossbody, leaving both men down after Balor took some heat beforehand. Styles flurries as they fight upright, operating with noticeable pep in his step as he goes through the gears. That leads to a nice little set piece on the top rope, with Balor blocking Styles' rana only to be cut off prior to his Coup de Grace anyway. Styles continues to roll from there, following Balor to the floor via forearm and then dropping Dominik Mysterio to boot.
Damian Priest retaliates, getting both men ejected but taking Styles' eyes off the prize in the process. Balor takes advantage of that respite, avoiding the Phenomenal Forearm and surviving until Jimmy Uso's timely distraction, stealing one as a result. That direction reiterates Styles' apparent destination opposite Roman Reigns, finally revisiting their memorable programme from 2016. It's unclear whether they can do those matches justice, though this was an encouraging watch as far as Styles' current ceiling.
It's not a great match by any means but physically, he looks noticeably sharp here. The silky smooth opponent obviously helped but even on that front, this had a zip that was absent from their bout at last year's Survivor Series. That's even more apparent at just eight minutes or so, but it felt as though they were just getting started here in fairness. Either way, this was a really nice little television match, featuring energetic work throughout and hardly any spare parts.
This has had some fire, the work of two veterans who remain motivated in 2023.
Jade Cargill vs. Kris Statlander (AEW Rampage)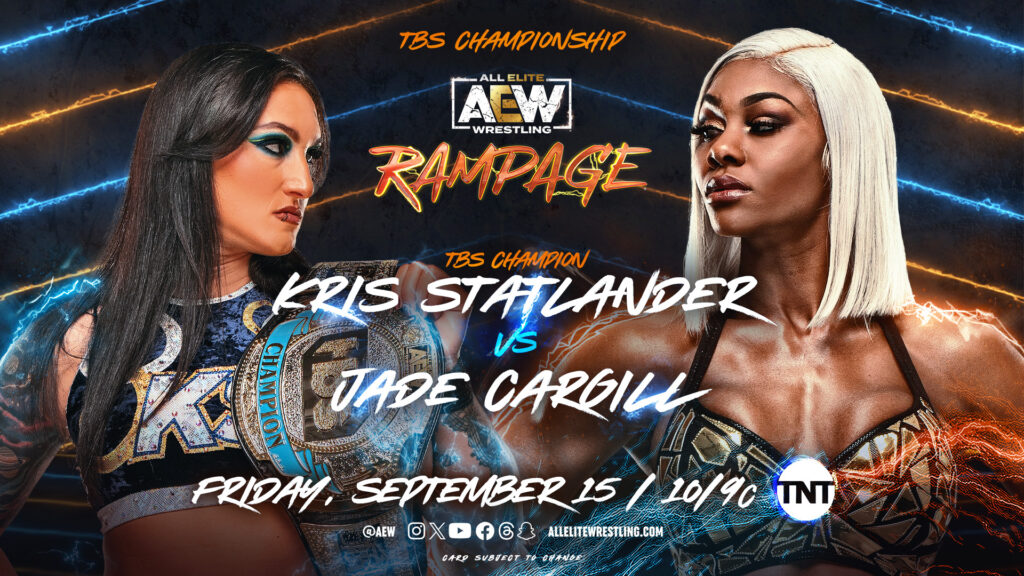 Dominating the headlines with an emerging move to WWE, Jade Cargill concluded her AEW run on Rampage. After returning on the prior Collision, Cargill tied up a loose end on her way out, targeting Kris Statlander and the TBS Title. Statlander ended Cargill's undefeated streak at Double or Nothing, becoming champion and making nine defences in Jade's absence. Closing the taped show, this was very much overshadowed by Cargill's looming departure but quietly, was comfortably the match of her career thus far.
They basically work a heavyweight main event, trading power offence while maintaining the established babyface – heel dynamic. That gets underway at the bell, as they share a purposeful lockup or two, actively tussling for position. It's a little thing and won't make many highlight reels, but that kind of intensity quickly sets the stage, establishing an immediate struggle and for that matter, outright physicality. Even as the night's last match, the people are with them too, some duelling chants accompanying that initial standoff.
Before long, they go into a pretty slick sequence in which they tease offence from both champion and challenger, with Statlander ultimately scoring first. It's a virtual decoy however, as Cargill catches her mere moments later for an emphatic slam to the apron. Perhaps I'm looking for something that's not truly there but even during the action, Cargill appears visibly emotional to me here. In a strange way, it seems to free up her performance some, embracing the moment and just feeling it.
That's an enjoyable watch as Cargill steers the ship through an ad break, sporting the confidence in-ring that understandably, hasn't always been present. It's just one match obviously and Cargill remains a relative novice, but her comfort here is encouraging. Even still, that heat segment isn't anything particularly pivotal, mostly serving as a pause in the more explosive action. After initially throwing Statlander around at ringside, Cargill offers some crowd work inside the ropes.
Back from the break, they return to that initial form, sharing a bruising duel before reaching a double down. Statlander builds on that neutral position, rallying big for a ride that remains surprisingly smooth. It's not too far in that direction either, with the offence still packing a substantial punch along the way. It's tightly agented but feasibly flows, maintaining an organic feel to accompany that defining physicality, hardly ever feeling noticeably contrived.
Late, there's a perfectly placed Mark Sterling spot, setting up a sequence in which the live crowd genuinely buys a title change. Nonetheless, Statlander's conclusive combination is emphatic and leaves no doubt, closing the chapter on Cargill's AEW stint. Post-match, Cargill left the building as a babyface, sharing a hug with Statlander and allowing that emotion to pour out. Time will tell in terms of her WWE run but certainly, she went out with a bang here.
This was clearly Cargill's best match yet, reiterating the potential that made her such an exciting prospect to begin with. Statlander is certainly relevant to that also, having a big time week as TBS Champion. On Collision, Statlander closed another television show in victory, toppling Britt Baker in yet another hit main event. She appears to be fully back now, frequently operating at the level that she memorably flirted with before her injury.
While secondary to the bigger story within Cargill's career, this is a worthy sendoff for the former TBS Champion. It's a genuinely good match, maximising her current skillset and providing Rampage with a thoroughly engaging main event.
Angel de Oro vs. Volador Jr. (CMLL 90 Aniversario)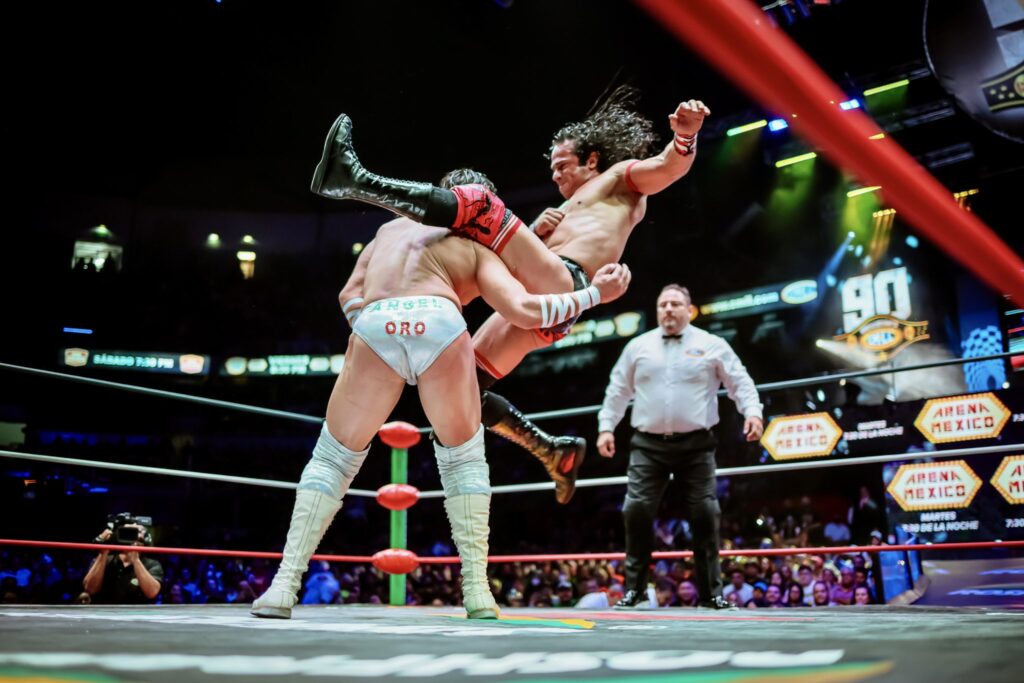 It's been a significant year for CMLL and this past weekend, the promotion produced their biggest event of 2023. Celebrating ninety years in existence, CMLL had a packed house for their annual anniversary event, delivering a show of the year contender in the process. Leading the way in that regard was the co-main event, as Angel de Oro and Volador Jr. met in a Hair vs. Hair match. This bout was set up by the prior tag match, as those two battled Averno and Ultimo Guerrero.
The winning team would advance, working the hair match immediately afterwards. That was an enjoyable watch in its own right, going an exciting eight minutes or so. Angel de Oro and Volador Jr. shined bright for much of that runtime, briefly being isolated for a portion in the middle. In the end though, their newer conflict prevailed, closing as they opened and combining dynamically en route to victory. Well, that's part of the story anyway, with miscommunication convincing Averno to turn on Guerrero first.
As the losing team brawled in centre ring, Angel de Oro and Volador Jr. stepped aside to a corner each, barely even looking in the other's direction. As the smoke cleared, an electric atmosphere told the tell, with Angel suggesting some sportsmanship in response. He uses that offer to take an immediate shortcut though, bumping Volador to the floor and wrestling with fitting urgency at ringside. Along the way, Volador seemingly injures his shoulder, instantly transforming the match.
As a doctor enters to check on Volador, Angel de Oro buys his hurting foe some time, working the live crowd before restarting his onslaught. There's a great deal of concern on Volador's face as they get back underway, inexplicably managing a comeback mere moments later. Holding his arm as though it's in a sling, Volador's retort is short-lived, being booted to the floor by Angel who follows him via dive. The doctor returns, providing some tape as Angel de Oro patiently stands tall.
It's an intoxicating watch, with the emerging jeopardy being very apparent to this live crowd. There was already gravity to the scenario beforehand but now, the drama is twofold. At one point, Volador can barely kick out, yet Angel de Oro navigates the situation admirably. He allows his opponent as much space as possible without sacrificing his own presentation. After all, this began with a frantic jumpstart on his part, forcing quite the adjustment just seconds later.
Either way, Volador finds a way to hang in there, sprinkling in sporadic offence throughout. Those offerings somehow remain spectacular too, still impossibly flying through the air. He steadily gets more comfortable also, soon allowing for increasingly expansive feats on both offence and defence. The latter allows for a unique appeal, placing a bizarre focus on the way that Volador simply lands throughout. Better yet, they actively use the injury for further drama late, briefly trading submissions.
Ultimately, they find a believable finish to boot, concluding one of the year's most distinct hits. It's a match almost entirely shaped by Volador's shoulder injury and yet, that allows it to become something truly singular. In so many ways, that's what makes wrestling so beautiful and horrifying all at once. No two matches can ever be truly identical, with each entry walking the tightrope between those extremes. Every bout is different, that's the magic of this medium.
Sometimes, matches like this come to life in a fashion that you could never foresee, providing very particular memories. More often than not, that surprise isn't about the destination so much as the route to that place. Understandably, the immediate focus will be on Volador's gritty showing, stealing the headlines with something quite remarkable here. Angel de Oro makes that effort possible though, producing one of my favourite performances of 2023 thus far. Extraordinary match.
Naomichi Marufuji vs. Will Ospreay (NOAH Naomichi Marufuji Debut 25th Anniversary Show)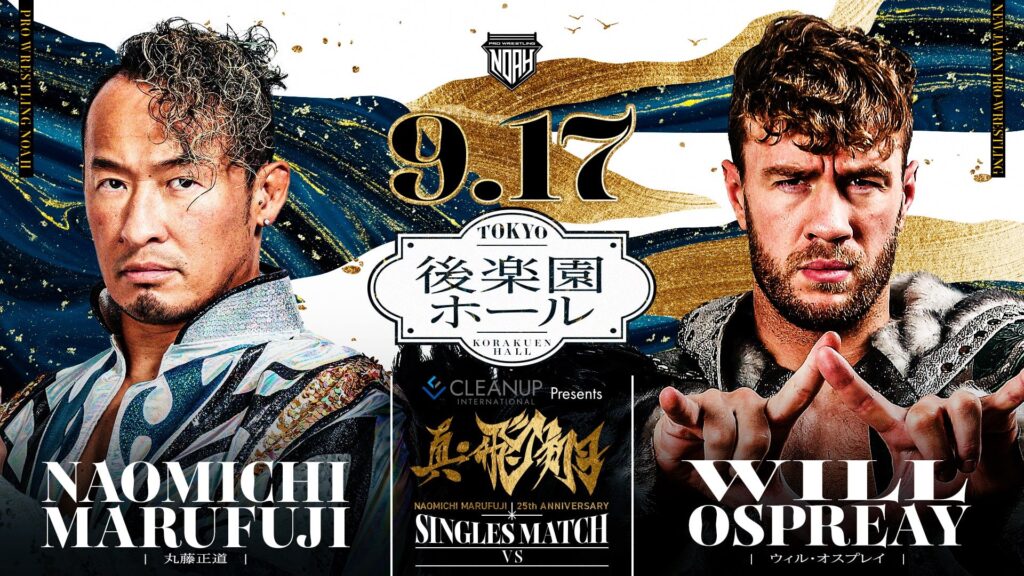 Celebrating 25 years in pro wrestling, Naomichi Marufuji added another main event to his resume on Sunday. Headlining Korakuen Hall in a dream match with Will Ospreay, Marufuji managed to produce another classic for his catalogue too. It had been awhile since Marufuji's last addition on that front, though he did navigate his GHC Heavyweight Title match with Jake Lee admirably in May. Broadly, it's still been a slimmer stretch for Marufuji though and after 25 years, understandably so.
This kind of occasion goes beyond form anyway, particularly with Marufuji's choice of opponent. Given the chance to help his hero celebrate an anniversary, Ospreay seemed certain to deliver, building on his quite remarkable 2023 campaign. These two have only shared the ring just once before, teaming up for trios competition in Taiwan. Toru Yano served as their third man, collectively battling Juice Robinson, Ryusuke Taguchi and Tomoaki Honma. That was October 2016, just six months into Ospreay's New Japan run.
That unique scenario is very much present at the bell too, allowing for an almost exhibition feel in the opening act. Marufuji quite politely initiates the chop war, landing a thunderous blow only for Ospreay to respectfully reject his first invitation. Instead, he wrestles clean, battling for position and testing technique. The action is still competitive, it just arrives in good spirits, feeling like a high level spar as they reach their first big standoff.
It's quickly clear that in a clean, fluid bout, Marufuji is only delaying the inevitable. He adjusts accordingly, grounding Ospreay and controlling the pace. He works away at the hand and fingers, firing a heavy chop and eating a suitable response for his troubles, as Ospreay whacks him from the top rope to the floor. More bombs follow at ringside, with Ospreay relishing Marufuji's attempt to increase the intensity. Admittedly, there a few slight stutter steps that emerge along the way.
Those moments of miscommunication can always be excused between two brand new foes, with most being concealed well enough anyway. Either way, Marufuji's offence still has some range, rolling back the years as he erases Ospreay's increasing advantage. Now in a shootout though, Marufuji's aforementioned speed disadvantage is present again, quickly being overwhelmed as a result. Marufuji is an incredibly sympathetic figure in these sequences, which is only helped by those slightly clunkier instances.
He appears to be actively drowning at times, fighting desperately to stay afloat as Ospreay goes through the gears. On sheer knowhow though, he stays alive, keeping Ospreay honest with retorts throughout. It's still only a delay of that apparent inevitable however, with Ospreay frequently stringing together spectacular offence. Marufuji isn't without his own offerings in that regard though, producing some highlights himself as they approach the finish line.
With both men depleted, it momentarily returns to a match more suited to Marufuji, trading chops in a raw test of toughness. Marufuji thrives in that department, almost immediately paying the price as the pace increases again. He swims a little longer regardless, even using headbutts to set up his next response. Marufuji remains valiant throughout, his entire demeanour wearing the war as he chases after the surging Ospreay, playing some hits along the way.
It's not enough though, as Marufuji engages in one last shootout before having his night brought to a sudden end. It's a beautiful match and yet another example of how to age gracefully inside the ropes. These two men are at very different stops of their respective careers and that's the point, serving as a central theme rather than being ignored. Physically, Marufuji is outgunned opposite Ospreay but has the smarts to make him sweat, finding openings and making them count.
It never feels artificial or false though, using this matchup's current reality to tell a fitting tale. The work is still great too, and that's not all Ospreay, as Marufuji remains armed with some firepower of his own. At core though, it's a simple story of a legend finding a way to test his spiritual successor, who ultimately finds an answer to every question. It's the perfect match for an occasion such as this, a dignified defeat that celebrates who Marufuji has been for the past 25 years.