All Japan, New Japan and NOAH are all together again, but that isn't the match guide's headline. With two matches each, IMPACT and RAW inexplicably dominate this entry, but that isn't our headline either. Instead, it's a far rarer occasion than the examples above, as Major League Wrestling makes it match guide debut. Seriously though, Against All Odds earned noticeable hype for an IMPACT Plus special, in no small part due to the main event's outcome.
RAW wasn't without buzz among ardent fans either, producing a first-time singles meeting between two modern greats. Meanwhile in AEW, it was yet another week in which Orange Cassidy led the way. Clearly, a strangely uneven lineup awaits and so, let's get to it but first, a reminder that these aren't the week's best matches, just a collection of bouts that I've decided to review in detail.
Gunther vs. Kevin Owens (WWE RAW)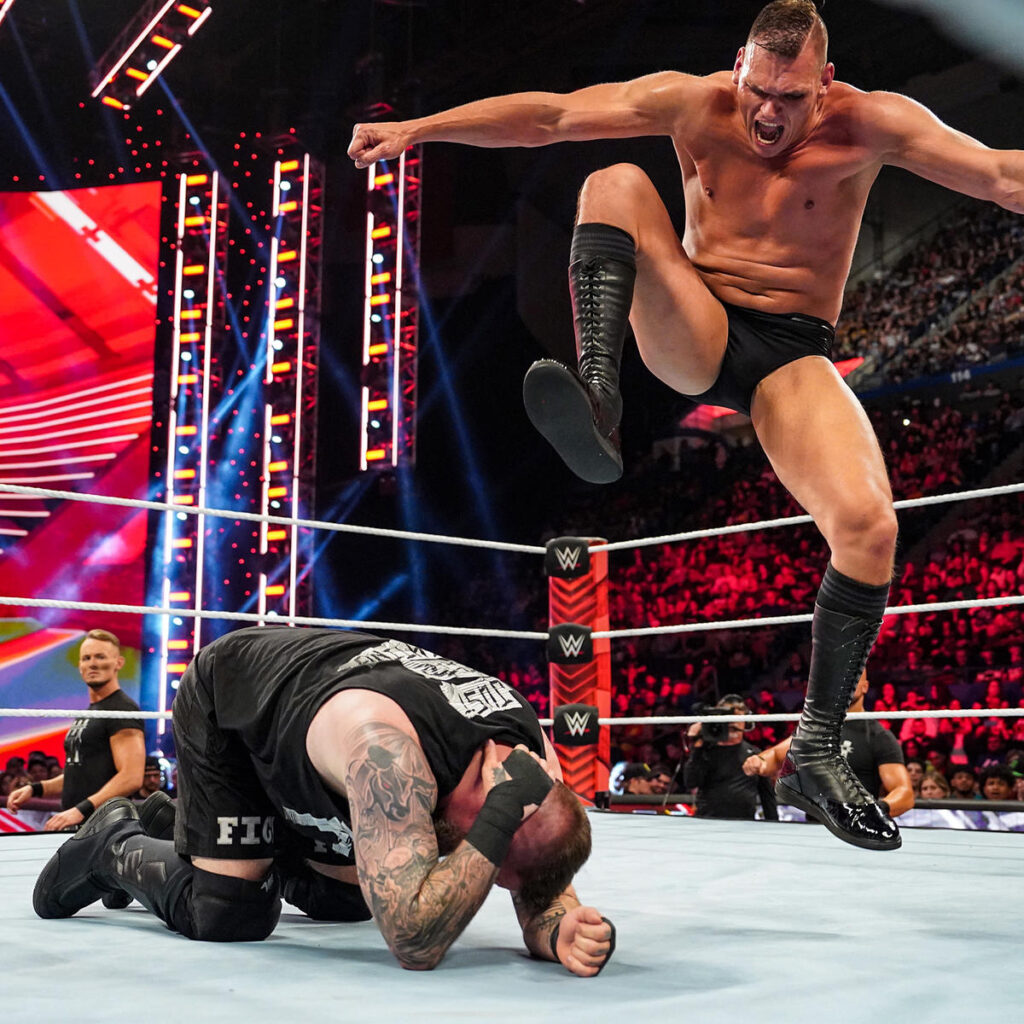 Ever since the latest draft, this match has jumped off the page for me as RAW's most promising pairing. Admittedly, I didn't expect it to emerge in this impromptu fashion, but it's a treat that I'm delighted to accept nonetheless. This isn't a complicated formula and the exact ingredients that made such a matchup enticing are immediately apparent. At core, it's an all-time destroyer dishing out punishment on one of the great pro wrestling punchbags, soaking up a beating as only he can.
That's a seamless marriage, but the real magic here is in the stylistic overlap that accompanies that combination. There's a shared grit between these two, an inherent toughness that feels increasingly absent from today's norm. At the bell, that element is on display, giving this match a very specific feel. It's a feel that seems especially striking in this setting, as both operate with a palpable purpose, aggressively wrestling for position. With that intensity, they swiftly establish that every moment matters.
With that tonal overlap unveiled, they are then able to explore the stylistic contrasts underneath that. Technically outmatched, Owens uses every opening to make things rough and tough, encouraging a brawl throughout. There's this captivating sense that in making that choice, Owens is accepting his fate. There's no guarantee that he can outfight Gunther, who still owns obvious physical advantages, but it's his only route to victory and as usual, Owens is willing to walk through that fire.
With that decision, the match is instantly armed with an air of danger, unlocking a few violent flashes as this threatens to become an outright slugfest. More than almost any wrestler other than the man opposite him here though, Gunther truly knows who he is, taking an extended heat segment that allows for his usual control. Beyond anything else, this character is a textbook tactician and while he can win a brawl with Owens, he's best-served making this his match, dishing out deliberate punishment on the mat.
Owens is, of course, perfect on the receiving end of that beating, pairing scary bumps with more colourful stagger sells. The match's middle act is an example of two greats in their absolute comfort zone, as Gunther works an immaculate control segment while Owens embraces that output gleefully. Just as Owens finds a home for hope spots throughout, Gunther maintains the match's initial brutality also, at one point quite literally stomping further fight out of his foe.
Eventually, Owens toughs it out long enough to turn the tide, or at least make things competitive again, with an exchange of suplexes transitioning the bout to its finish. The match is generally restrained, stripped to its raw ingredients in the best way, but this closing stretch gives you a glance at a very different, but equally sublime match that these two can have. It's a thrilling final act, with Owens' increasing desperation allowing for an organic shootout as those prior flashes come to fruition.
Ultimately, Owens' defiance is so unwavering that the perfect wrestler requires a shortcut to survive, completing a virtually flawless television tilt. Gunther took so much of this that he looks golden anyway, mostly dominating an undeniable top guy. Meanwhile, Owens didn't lose a thing, even earning success in the championship rounds. It's such a fabulous match, managing to feel totally unique in tone and style but yet, somehow still operating seamlessly as the bout that merely transitions RAW from one hour to the next.
This match still very much stands out in its own right, even if you're left only more desperate for a PPV cut. These two are so comfortable in their own skin that without even overly striving for greatness, they manage it with ease anyway, producing one of the year's finest television bouts yet.
Damian Priest vs. Seth Rollins (WWE RAW)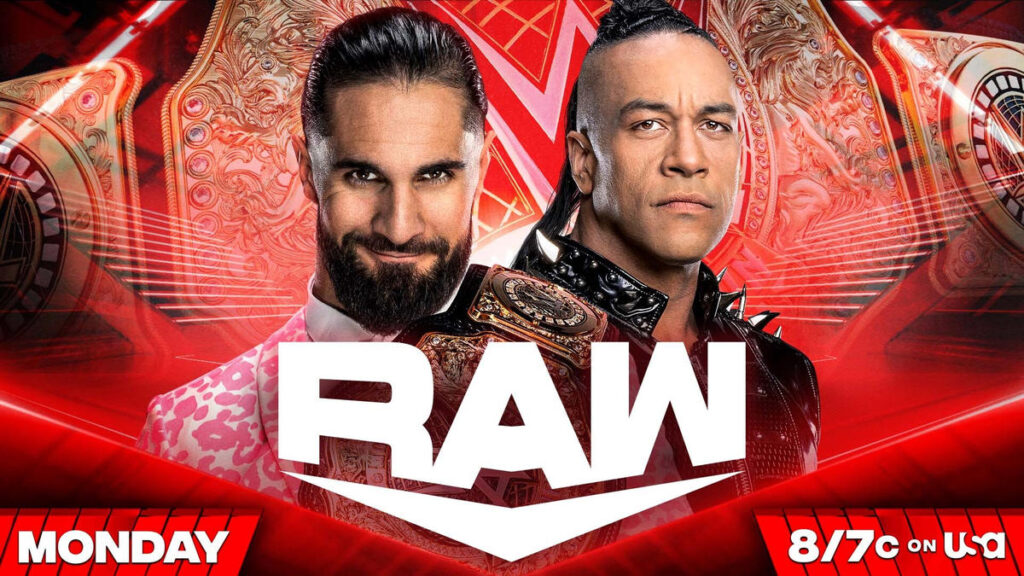 The main event of a RAW episode featuring Gunther vs. Kevin Owens, this was Seth Rollins' first defence of his World Heavyweight Title. As with most first defences, this isn't armed with a great deal of doubt, particularly as Priest hasn't been overly protected in recent weeks. Even still, he has consistently delivered on the main roster, especially since The Judgment Day's formation. This is another triumph in that regard, as Priest rises to the occasion for an undeniable hit to close RAW.
He's greatly assisted by Rollins' popularity of course, which is a constant as of late. I think that Rollins' actual work has been sharper previously and understandably so, but his connection with the crowd is such that a loose forearm is hard to dwell on. Moreover, they are so invested in Rollins right now that it's an easy night for any heel, let alone someone with Priest's offensive weaponry. Eventually, it becomes the match that you'd expect these two to have, even if an extended cut.
That's the right choice and works a treat but even before the fireworks display, Priest's recent strides are on display. At 40 years old, it seems very apparent that Priest is still improving and it's most obvious when he's tasked with steering the ship in control. Don't get me wrong, he's not Gunther by any means but Priest has found an approach that works for him, making a frequent home for his snappier strikes. His timing has noticeably sharpened also, especially on those knockout blows.
This is the most intense I've seen him in command too, wrestling with an aggression befitting this matchup's magnitude. Ultimately though, none of that is the point as they inevitably wind up about where you'd expect, going back and forth for an undeniably exciting shootout. Again though, the belt allows them to get even more expansive in that regard, basically producing a ten minute finish. That was the right call, as the crowd has an absolute blast with these constant momentum swings.
It doesn't hurt that the execution is crisp of course, with Rollins turning in one of his more physical outings as of late. That gives the match a nice, slightly unexpected element, with both men sustaining some big bumps, including a "barricade bomb" that looks especially devastating. Even if mostly reliant on disposable action, it's a fun watch and more importantly, almost certainly the best possible product of this particular pairing. They elevate Priest, and even get the people to bite on a near fall or two late.
It's the kind of match that Rollins clearly wants to define this reign, an all-action affair that earns the audience's attention with sheer energy and output. Based on Rollins' year thus far, it's hard to argue with that choice, with this being a very encouraging start to that process.
Orange Cassidy vs. Swerve Strickland (AEW Dynamite)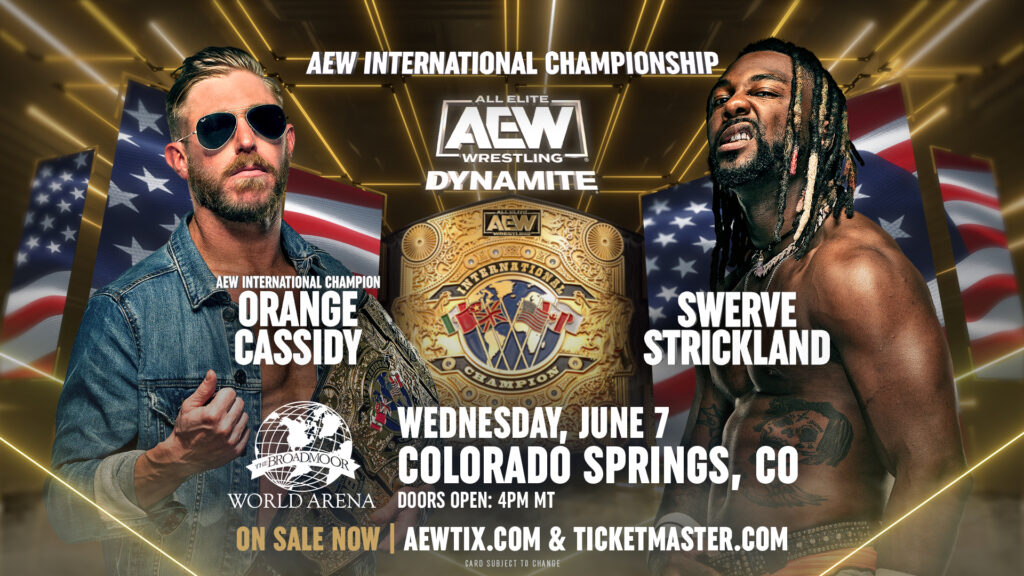 As good as Orange Cassidy's International Title reign has been, there can only be so much jeopardy to certain defences. After such an extensive run, it's clear that this moment is being reserved for someone who truly matters and so, it's easy to dismiss some of the latest challengers. This was not one of those cases, however. In fact, it was quite the opposite, as many circled Swerve as a potential endgame long ago, with his recent Blackjack Battle Royal showing only cementing the thought.
That provided this match with a palpable gravity, the sense that this truly mattered beyond just another title defence. In the end, Cassidy again survives with his belt anyway, but that uncertainty adds an awful lot to the match. That's especially noticeable late, as they embrace the audience's doubt with an electric closing stretch. Before that, I'm not quite as enthused by the match as I had imagined I would be, especially after it's been stripped of that live viewing thrill.
Their timing isn't as immediate as it was in the aforementioned battle royal. It's not noticeably off or anything, there are just a few hitches that feel slightly at odds with the more slick picture they're attempting to paint. That's particularly apparent as they exchange evasive tactics early, with Strickland seemingly adjusting to his bulkier frame at times. On the other hand, that increase in size allows for some extra physicality also, which neatly assists his typical mean-streak.
When it comes time to go through the gears, he remains incredibly dynamic, too. These two have such unique rhythms that when they truly click, it's a quite absurd time. Beyond those quirky sequences, both men have rock solid fundamentals also, which allows them to ground things where necessary. Admittedly, I didn't find the match's foundations to be especially focused, but the heat is such that when the finish arrives, the live crowd is no less engaged anyway.
Even if they were though, these two would've quickly won them back. There are multiple near falls late that feel like certain finishes, each kickout forcing an adjustment to your prediction. It's an enthralling watch, feeling truly unpredictable and perhaps more importantly, legitimately significant too. Cassidy's work has ensured that this belt matters and as a result, his eventual title loss should pack a tremendous punch. This loss certainly didn't erase Swerve as a leading candidate for that role, either.
If he's indeed the endgame after all, I firmly believe they've got a better match in them than what we saw here. That's saying something too, as this was very good, featuring an especially electric final act. More than anything else, I think they're capable of something more complete but either way, yet another hit for Cassidy's almost perfect reign. Going in, I viewed this as a must-win for Swerve but his performance was such that even in defeat, he left feeling much closer to his presumed destination.
John Hennigan vs. Willie Mack (MLW Fusion)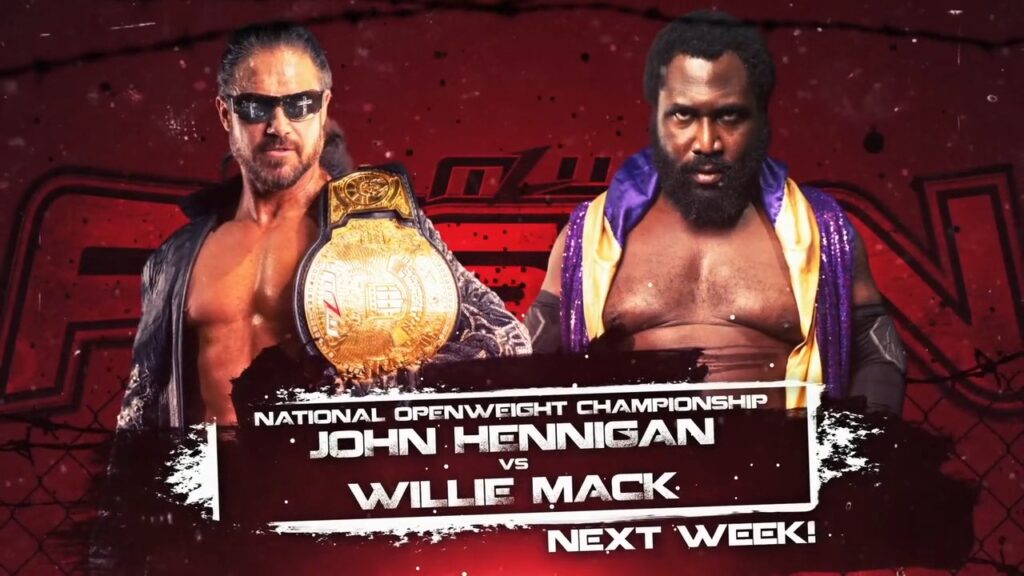 This match was taped on February 4th, and aired as last Thursday's television main event. Yes, seriously. Famously, these two shared a bout that went almost forty minutes in Lucha Underground. Well, famously is probably a slight overstatement, but it was a pretty noteworthy deal nonetheless. Now seven years removed from that taping, these two are doing the dance for MLW's National Openweight Title, closing an episode emanating from the famed 2300 Arena and folks, they rock it.
I'm not trying to be dramatic in declaring this as some can't-miss affair but I've watched enough MLW to know that this kind of response isn't exactly common. They have some fun with this and the audience comes along with them, earning excitement by simply committing to a simple formula. Though I'd personally prefer Johnny Major or Johnny League, he is simply John Hennigan in MLW. It remains a suitably extravagant act anyway, as Hennigan enters with Sam Adonis and Taya Valkyrie alongside him.
He basically plays an old school heel, being cowardly where necessary and taking some comical bumps along the way. That positions Willie Mack as the likeable protagonist, which doesn't require extensive method acting from the big man. He maintains that infectious charm and charisma, still working with an enthusiasm that only enhances his offensive range. Though I love Mack, I've noticed increasing inconsistency in his latest work. Thankfully, he's positioned just about perfectly here and very much delivers.
Whenever it's time to fire back and rally, Mack brings his usual physicality, with Hennigan playing willing punching bag in response. He also matches Mack on occasion, throwing some decent strikes and showing the edge that's been far more present in this second half of his career. In addition, Hennigan's still more than athletic enough to plug in some signature high spots, joining Mack in giving this some range. It's really a very simple twelve minutes or so, but that doesn't make it any less effective.
From the outset, this crowd is onboard, rooting Mack on and immediately embracing Hennigan's antagonistic antics. That's the actual secret sauce, as there's not much to it beyond two guys who to MLW's credit, are positioned in their ideal roles. The crowd gives this routine the life that it needs though, with Hennigan and Mack keeping them engaged from there. As you'd expect from the throwback formula that I've listed above, you won't be surprised to know that this finish features every possible shenanigan.
Taya eats a superkick, Adonis takes a Stunner, almost everyone swings the title belt and yep, you guessed it, Philadelphia happily takes the ride. It's a good time, this bizarre reminder that MLW or not, some simple pro wrestling can still get fans on their feet, even in a setting known for its cynicism. I don't know, there's just a charm to this, especially coming from two guys who are so obviously capable of something more expansive.
Don't let my romanticism fool you, it's no spreadsheet epic but I still enjoyed this, a genuinely fun piece of business.
Hiroshi Tanahashi, Kaito Kiyamiya & Kento Miyahara vs. Kazuchika Okada, Kenoh & Yuma Aoyagi (All Together Again)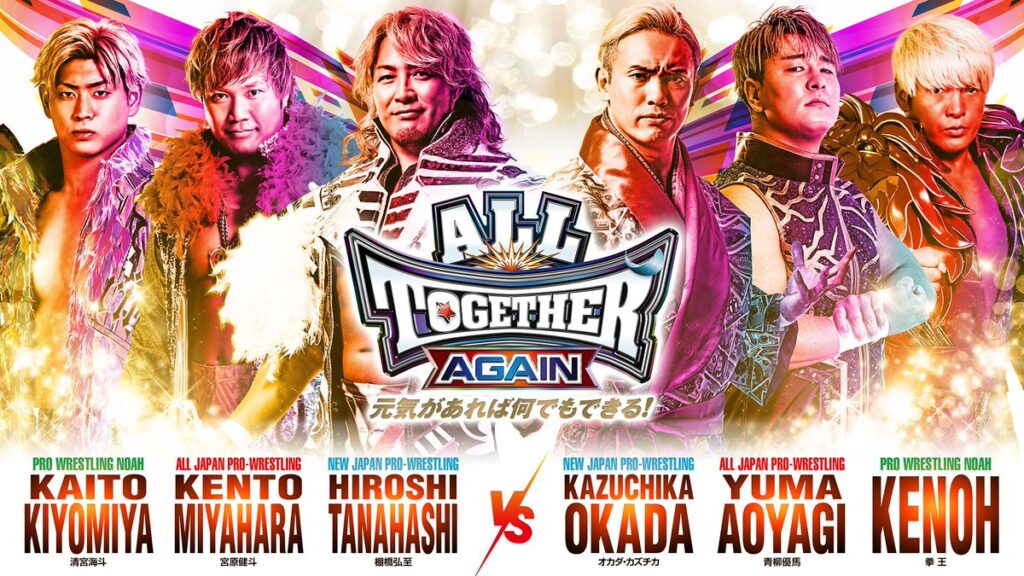 On concept alone, last week's All Together Again event was immediately one of the year's coolest happenings. This particular main event levelled things up though, producing a true pro wrestling all-star game. On both sides of this trios match, AJPW, NJPW and NOAH are represented, their promotional friend and/or foe opposite them. Each case lands in a different place on that scale of course but in truth, those more direct pairings barely scratch the surface.
In fact, Kazuchika Okada's continued irritation with Kaito Kiyamiya is the bout's unofficial centrepiece. It's not the only contender however, with Kenoh also targeting Hiroshi Tanahashi, especially early. That pairing is greeted by simply electric duelling chants, which is a common trend throughout. The crowd's initial excitement for this match is immense but yet, noticeably ascends, responding to the many layers that emerge throughout. It's such a carefully orchestrated match in that regard, packed with set-pieces that so seamlessly connect to one another.
They work a match that in execution, is every bit as unfathomable as it appears on paper, capturing something truly surreal. Each unlikely combination is armed with a fitting gravity, every encounter placed to perfection. The most obvious example comes early, as Okada meets Miyahara in centre ring. Once again, Kento's star power is striking in a setting such as this, feeling like Okada's equal at the very least. It's a superstar showdown in every which way, a clash of aces and egos.
That element of ego is rich throughout, with each feeling out process quickly becoming a dangerous firefight. Speaking of such, Okada is extraordinary here, reaching new heights in the role that's made him more interesting than ever in 2023. Okada not only targets Kiyomiya, but even bails from the ring rather than face his response, visibly relishing the home he's made in Kaito's head. Unable to get his hands on Okada, Kiyomiya settles for a gorgeous exchange with Yuma Aoyagi, who brings it in his own right.
Certainly, he's the odd man out in terms of the bout's blockbuster conflicts, yet still executes fabulously, finding room for some flair in the process. Aoyagi is generally antagonistic towards Tanahashi in particular, but shines brightest when playing peacemaker between Kenoh and Okada. Unsurprisingly, those two aren't exactly a marriage made in heaven, getting more and more frustrated at each disconnected attempt at tandem offence. Either way, Kiyomiya's receipt eventually lands, rattling Okada with an onslaught at ringside.
For the most part, Kaito's team works together more harmoniously, though Tanahashi does eat a Miyahara boot along the way. In the bout's final act, Okada and Tanahashi even reignite their iconic rivalry, putting aside any alliance as they share a familiar duel. As you'd expect, that inevitably veers the way that it often has in recent years, with Tanahashi's fate being sealed as much to Aoyagi's delight, Kenoh and Okada finally put their differences aside, dynamically combining at last.
While it certainly shares strengths with Dominion's trios bout, this is a very unique affair. Even with the animosity on display, there is something inherently feelgood about its mere existence. It feels celebratory, a triumphant scene from the outset. They absolutely produce a match that fits that description too, even with the fireworks that these egos organically unveil. It's a masterpiece in that regard, the perfect match for this occasion, a snappy showcase of each surreal scenario at play.
While there's an undeniable novelty to those titanic clashes, the match is also armed with a central theme in Kiyomiya and Okada's conflict. Their rivalry provides a raw resentment to the glossier interactions. Even in an almost exhibition situation, that intensity defines the bout, all four other stars adjusting accordingly. It's a special match for a special occasion, a singular epic even within an era of trios hits.
ABC vs. The Good Hands (IMPACT Against All Odds)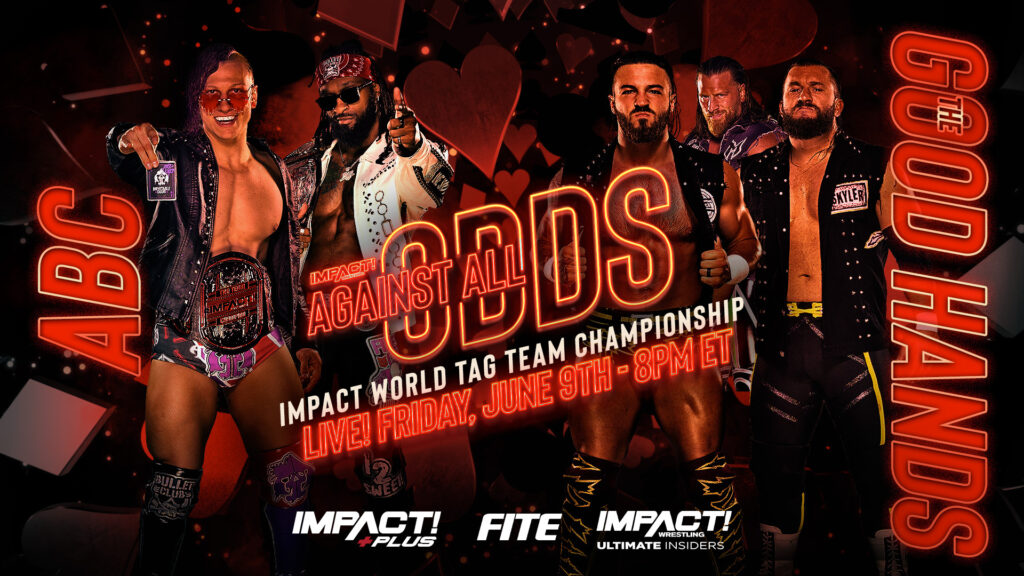 Since becoming a tag team within BULLET Club, Ace Austin and Chris Bey have shown palpable chemistry alongside one another, entering this match as World's Tag Team Champions. They are very much in the Motor City Machine Guns mould, an athletic pairing that brings dynamic tandem offence. Even though I'd never seen The Good Hands in action, it didn't require the most daring guess to assume that they'd fit a slightly different description.
Indeed, that assumption would be accurate, as Brian Myers' men are very much a traditional team, or currently designed that way at least. I am familiar with John Skyler, who I'm delighted to see find a role as fitting as this. His partner Jason Hotch fits too, feeling natural alongside Skyler while giving the team just enough variety also. Now, this isn't a great match necessarily, nor is it trying to be, but at not even ten minutes, this is an absolute triumph.
That limited runtime could've so easily erased the aforementioned stylistic clash but instead, these teams find a really impressive middle ground. They set the stage with more simple athletic exchanges before The Good Hands take control via cunning cut-off. That's the kind of transition spot that establishes this team's identity beyond the branding. Their work in control goes a step further in that regard also, cutting the ring off beautifully and sprinkling in some steady tandem offence.
Unfortunately, they don't have enough time to make that portion truly stick but the challengers maximise their moment anyway, ultimately feeding Bey's hot tag. At this point, the match heads in ABC's direction, becoming a more expansive fireworks display. This not only spotlights the champion's strengths neatly, but also feels logical, a result of the pivotal tag to Bey. In addition, The Good Hands adjust seamlessly in response, with Hotch even flying late.
While that's clearly not this team's usual approach, it's certainly beneficial that where necessary, they're capable of that range. Even still, it's ABC's type of match and that always feels apparent, with the champs shining especially bright on the finish. Again, while not exactly a year-end list candidate, I really appreciate matches like this and what they provide to an event's undercard. Every minute of this match had purpose, finding the room to showcase both teams' strengths.
They found an exciting middle ground in that regard, producing thrills without erasing The Good Hands' appeal. Really fun match, one of many on Against All Odds, in fact.
Alex Shelley vs. Steve Maclin (IMPACT Against All Odds)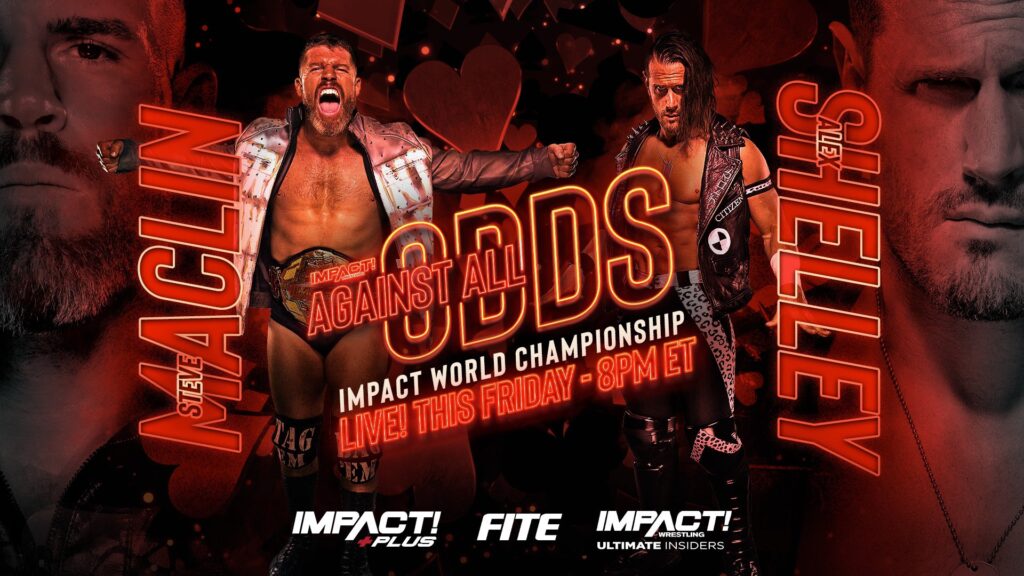 As a fan of both champion and challenger here, I personally expected a lot. Last year, Alex Shelley had a single shot at the brand's top title and turned in an promotional classic opposite Josh Alexander. While still new to the headline role, Maclin has consistently exceeded expectations in IMPACT also, defending the belt in a bloodbath with PCO just two weeks ago. The result itself never seemed in question, which felt likely to hurt the match, but I expected something mechanically superb anyway.
Ironically, I ended up experiencing the opposite. Watching live, I thought the match was decent, but not quite to the levels that I'd been hoping for, only to be stunned by the result itself. Shelley's title win is the headline here, giving a virtual B-Show about as big a moment as IMPACT can currently muster. It's a feelgood outcome and has earned almost universal acclaim, finishing a story that seemed destined to remain an incomplete draft. As for the match itself, I remain torn.
Though they eventually get them where they need to be, or as close as possible anyway, the lack of heat hurts this match's first half. That was an issue throughout the show but they get underway with an especially deliberate pace here, which doesn't initially help their case. As usual though, Shelley is remarkably focused, soon going to work on Maclin's arm and leg. The work is sharp as ever, chipping away at the bigger man with the tactical flair that's defined so many of Shelley's greatest hits.
Unfortunately, my issue is on the other side of the ball. For as direct as Shelley's work is, Maclin is mostly unchanged by his efforts, going about his business as usual. It's strange too, as he initially sells wonderfully, turning southpaw and holding his arm as though it's in a sling. The further they get from Shelley's control segment however, the less Maclin sells. It won't bother everyone and certainly, can be explained away easily enough but in my view, Shelley's work is just too good to be thrown away as it is here.
That issue hampers the match's middle portion for me, but Maclin's always solid when steering the ship, showcasing some nice power offence after turning the tide. The raw physicality is where Maclin's most at home, pairing that striking roughness with textbook fundamentals. As the match unfolds, they delve into that stylistic contrast too, with Shelley effectively having to drag the knockout artist into this one's championship rounds. Maclin portrays that idea much better, showing increasing fatigue as Shelley's tactics begin to pay off.
The aforementioned limb work feels more relevant also, even if it's effectiveness remains slightly inconsistent. Either way, they get about as much out of this crowd as they possibly could in the final act, producing a really compelling closing stretch. Both men go through the gears, scoring some dramatic near falls before finally, in the iconic words of Jim Lampley, "IT HAPPENED." Shelley's win feels instantly special, the kind of surprise that's preceded by seconds of that electric realisation of what's about to unfold.
Ultimately, it's the result that people will remember and now more than ever, that's a compliment to their choice more than anything else. Sometimes, it's nice to surprise people with a gift that they wanted, but wasn't currently expecting. It's a decision that capped off a really enjoyable event from IMPACT, and will hopefully increase the eyeballs on Slammiversary. The match itself is certainly good, but stops at about that level for me personally, though I concede I'm very much in the minority.
Much as I love Maclin, I'm not convinced that this particular subgenre is his strong suit right now, which is understandable considering his inexperience in this domain. Either way, it goes without saying that Shelley deserved this moment, one of that golden generation's most brilliant pros.