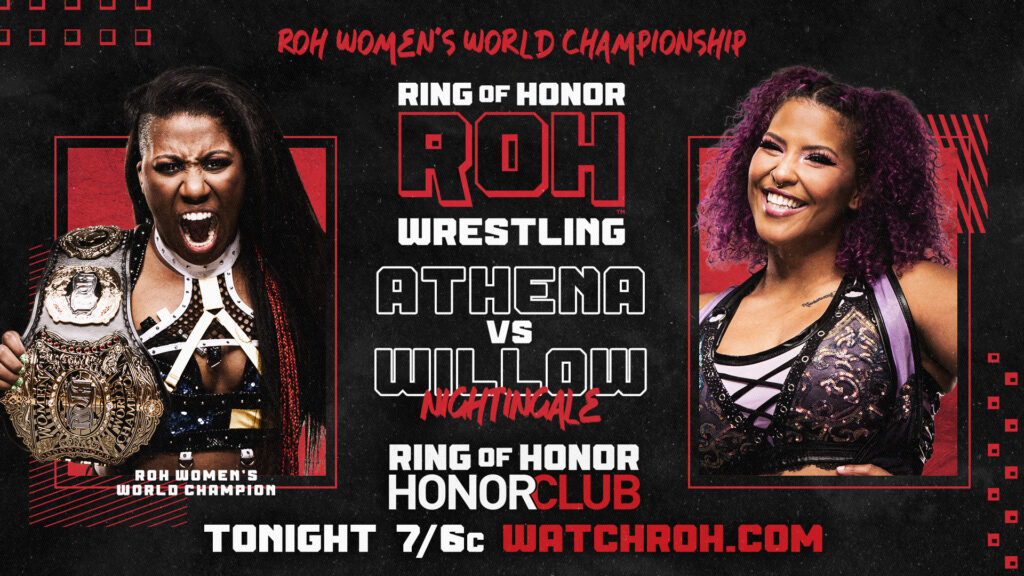 Believe it or not, wrestling isn't complicated. Throughout history, there are simple formulas that have proven themselves time and time again. Maybe it's a natural stylistic fit, perhaps two contrasting personalities or even a betrayal. If it works, it's probably been seen somewhere before, creating obvious overlap between each era's greatest hits. The execution may have evolved but at core, those ideas are timeless, simply being adjusted and updated through the years.
In concept and identity, this week's Ring of Honor television main event is classic pro wrestling. Battling for the Ring of Honor Women's World Title, Athena and Willow Nightingale captured a dynamic that would work on almost any wrestling television show in history. In their hands though, it felt so remarkably fresh, a modern take on this simple tale and template. In truth, they were set to succeed before the first bell, a reminder of how powerful clearly defined roles can be.
In fear of throwing another cliché your way, there's an awful lot more to being champion than the mere matches themselves. That's the endgame obviously, and a truly great champion is defined by their biggest and best bouts. The champions you remember go beyond that though, armed with a presence and poise that adds prestige before the bell even rings. After just three months as ROH champion, Athena already feels like an emerging name on that list.
Mostly living on AEW's YouTube shows since becoming champion, Athena's output has been unchanged. Most weeks, Athena slaughters someone on YouTube, staying dominant as ROH's return tapings approached. Even when seemingly unbeatable, Athena has been gleefully unlikeable since turning heel last November. There is a clear effort to avoid being quite as cool as the offence on display, as Athena often pairs her hardest hits with a mocking arrogance that only elevates the hero's retort.
This week was Athena's first real chance to be champion though, and the results were striking. Athena had a confidence in this setting, even more so than usual, projecting a star power that was truly transformative. At once, it felt as though each showcase win had accumulated, providing a genuine fear factor to Athena. The atmosphere changed upon her arrival, a palpable edge accompanying her presence. Simply put, Athena felt like the World Champion, and the belt was better for it.
Opposite her, Willow Nightingale's usually animated face was now wearing a stern concentration. Nightingale is an emerging star, quickly establishing herself as a standout protagonist. Willow is your classic babyface character, armed with infectious energy and enthusiasm. While nothing new, that's a challenging presentation to portray in 2023 but yet, Nightingale does it with an authentic ease. It seldom feels performative or showy, it's just who she is, bringing a positivity that every live crowd, big or small, reciprocates.
Athena's bullying antics are made for a rival like Nightingale, the challenger who won't be pushed around. Clearly, Willow is capable of testing the champion but when push comes to shove, can she be quite mean enough to conquer a monster as mean as Athena? That core identity is simple pro wrestling but admittedly, its effectiveness relies upon just how perfect both parties are in their role. This isn't just any other match forcefully framed by that contrast, both women absolutely embody these personas.
That's immediately captured in the first few seconds, as Willow playfully matches Athena's early taunts. There is such arrogance to Athena's work, insulted by Nightingale's initial success and demanding a shootout that only gets her floored. The explosive bombs will steal the headlines, but Athena's willingness to be an actual heel is just as important, especially against Willow. Athena will cower when necessary, she'll be punchline at times too, the match just doesn't work otherwise.
Regardless, the champion eventually targets Nightingale's left arm and shoulder, going to work in violent fashion. There's a real spite to Athena's output in control, wrestling with almost resentment at times. Caprice Coleman explores this some, pointing to Athena's long road to this point as a potential motivation. Either way, the intensity is unwavering, even offering a fishhook when settling into a hold. The work on Willow's arm is a mere means to an end in truth, with Athena cherishing the chance to punish her wounded foe.
Athena isn't just sporting a nasty mean-streak either, also exhibiting her experience advantage as she smartly drives Nightingale's throat against the top rope. Her crowd work is fascinating here too, as it very much seems as though beyond the façade, she's actively perplexed by the audience's disapproval. In fact, she seems encouraged by it at times, bemused by the crowd's jeers as she increases her roughhouse approach. Athena doesn't instinctively relish her role as villain, but she embraces it soon enough.
Speaking of such, Athena ups the ante before long, crushing Willow's arm in the steel steps. Nightingale's sells beyond her years throughout, pairing agonised grimaces with stunned dazes as the knockout blows unleash. She soon fires back too, showcasing some of her explosive power offence to reset things. Again, Athena can only talk trash in response, being rocked for her troubles before returning to Willow's left arm.
Much to Athena's chagrin however, Nightingale stays alive, eventually rallying with an incredible Pounce. The champion always makes the most of her opponent's offence but Willow keeps her job easy in that regard, packing a real punch throughout and impressively matching Athena's physicality. In the final moments, this live crowd truly believes that a title change is ahead. She comes awful close too, ultimately forcing Athena to bail.
Willow's instinctive pursuit only ends her night however, chasing Athena but being violently slammed on the ramp as a result. Athena quickly closes the show from there, leaning on her experience and capitalising on Nightingale's momentary naivety. The method of victory enhances Nightingale's standing, forcing Athena to cower and concede defeat, even if only briefly. At the match's conclusion, there's a palpable sense that Willow just reached a new level in front of our very eyes.
Athena's performance is such that as champion, she has that power. This is the type of titleholder that sets a standard each and every time, the kind that challenges every contender. It's really quite simple, you either match Athena's level and belong or you're left wanting. She'll give you every chance to do the former too, but you've still got to rise to the occasion. It's a fight in there, a struggle. Willow Nightingale did that and more here, producing a career best performance thus far.
Frankly, this is high on Athena's list too, and I'm aware of the ground that covers. Physically, Athena's work has always been immaculate but this confidence has really unlocked a new level to her presentation. There are moments in this match, snapshots in which Athena feels truly without peer. Her recent form does an awful lot for this belt too, demanding immediate focus as this emerging weekly show finds its feet.
This was an ideal television main event for any show, elevating both wrestlers as well as the belt they battled for. It's a tale as old as time, the wrestling hero's hunt for gold, their first fall on that climb. In coming so close, Nightingale only added gravity to her inevitable title win. It'll matter too, as the belt is more and more prestigious with each outing for Athena, a villainous veteran who with spite, seemingly defends everything she's earned in this game.
Beautiful pro wrestling, its simplicity only enhanced by the throwback studio crowd that came to life in response. Some stories just work and thankfully, this one is just getting started.