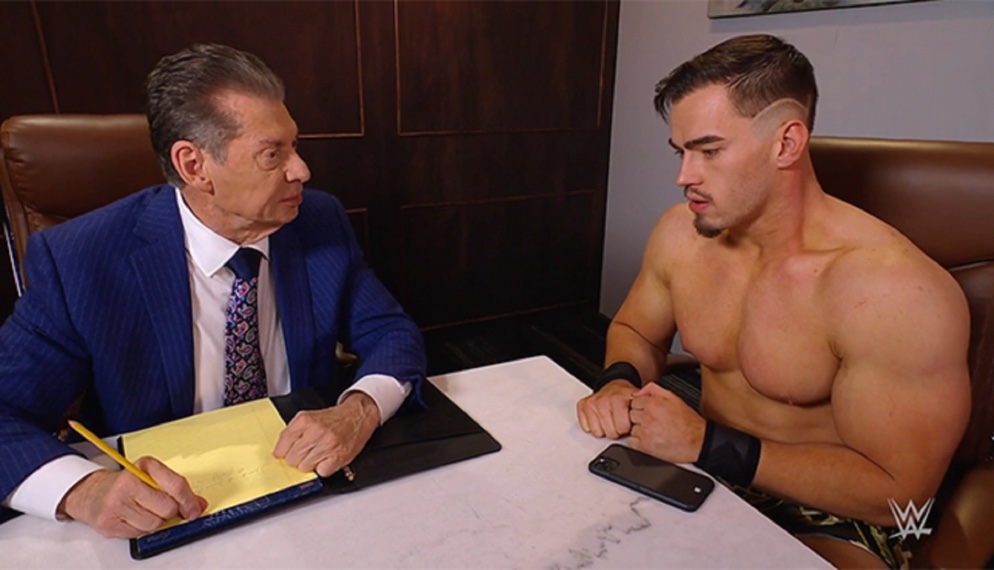 Austin Theory recently shared his thoughts on what it's been like working with WWE Chairman Vince McMahon.
It's no stretch to say that Austin Theory has had an interesting, one-of-a-kind journey in the WWE. From being introduced by Paul Heyman on the WWE Network's only EVOLVE special, to competing in an empty WWE Performance Center for his first Wrestlemania, Theory's experiences with the company definitely haven't been what you'd call average.
Seemingly content to continue the trend, Austin Theory has had the rare honor of being paired with the Chairman himself in one of McMahon's increasingly infrequent angles on TV. It's an opportunity Theory is doing his best to take advantage of, as he's stated he's been learning a lot working so closely with the iconic billionaire.
In a recent interview with TVInsider, Austin gave some insight on what he's learned from Vince about being aggressive.
"I'm in a position that anyone who aspired to do anything in WWE would be so honored to have. I understand just how big a deal the position I'm in is. Just how crazy is it for me as a lifelong fan who grew up watching Mr. McMahon and the crazy things he did. It's cool to be put in a position to perform live television with him. The one thing I've learned from him is this respectful aggressiveness. Showing you have that respect, but if you have an idea and are passionate about something, you have to use that aggressiveness to go after it. There are little tips as we perform that I take away from for sure."

-Austin Theory
The young up and comer also spoke about seeing Vince's still fiery passion for the industry after all these years, and how special it is for him.
"For me, there has always been the stigma of Vince McMahon that he is not nice or one-way about stuff. That it's his way or no way. From what I've seen and my experience, he is on another level. All the hats he wears. He is so invested in everybody and somehow makes everything work. I think that's so crazy, to see him doing it for that long and staying sharp. If I have a question or see anybody have a question, and they want to talk to him, they always get an answer. They always get a conversation. I think that is so cool to really see the passion he still has for what he does. It hasn't left him at all. For me personally, it is so cool to know this man's a billionaire and still working like he has a grand in his bank account."

-Austin Theory
Now it's time to see if Theory puts some of this newfound advice to good use. His upcoming match against Pat McAfee, another superstar Vince had recent on-screen dealings with on March 3rd's edition of the Pat McAfee show, is sure to be a battle that will require a lot of aggression, respectful or otherwise.