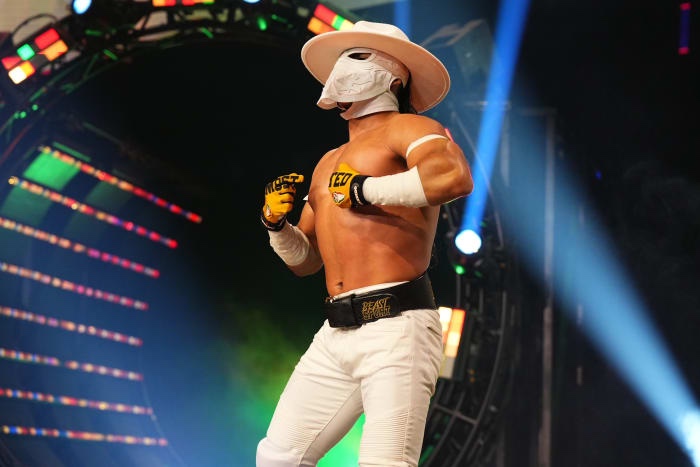 Bandido is still seemingly the hottest free agent in Pro Wrestling right now.
Bandido caught the eyes of many when he made his AEW TV debut last Wednesday when he took on Chris Jericho for the ROH World Championship. Although he was not able to win the Championship, his performance in the match was more than impressive enough to have fans hyped at the potential to see more of him in the future.
It had been reported that Bandido was offered an AEW contract as soon as the Dynamite Main Event vs Chris Jericho had finished, on top of that he, people in WWE were apparently asking for his number before the match had even finished.
It was more recently reportedly by Fightful Select that Bandido had agreed terms with AEW according to those close to him. The report did not state that he had not put pen to paper just yet.
Dave Meltzer in the Wrestling Observer Newsletter now reports he had told friends he was signing the AEW offer, and then the WWE offer came in:
Those close to Bandido believed that he had signed but we are told that is not official yet and it's been confirmed that as of 10/6 pen hasn't been put to paper. He had told friends he was signing, but then got a WWE offer. He has said he will most likely sign with AEW and told Mas Luchas that after his match with Chris Jericho, that both Jericho and Khan came up to him he didn't just want Bandido in AEW, but "I need you in AEW."

– Dave Meltzer
Bandido is the hottest free agent in the world right now, and for very good reason. A truly fantastic in ring performer that has all the flash you could ask for, a great look, and has a magnetic charisma. At this point it would fair to assume that he's leaning towards AEW over WWE, but theres been no pen-to-paper just yet. Which ever company ends up with Bandido's services will almost certainly be better for it.