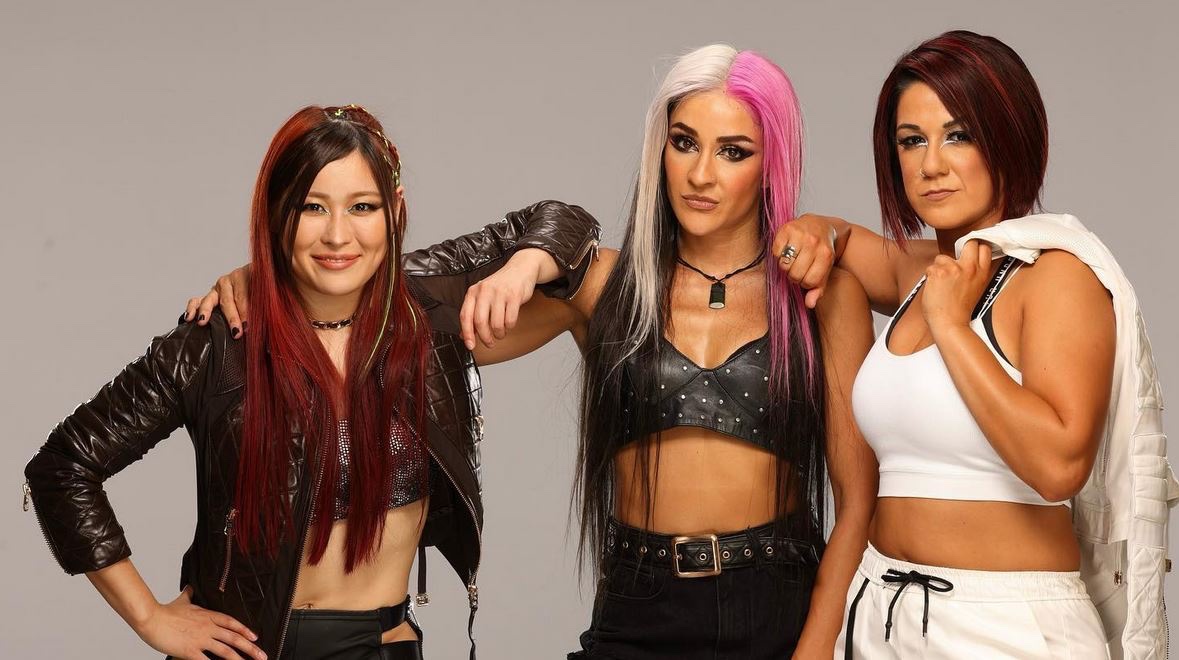 WWE Superstar Bayley is back on the road as she returned from a torn ACL at WWE SummerSlam this past weekend in Nashville.
The former WWE Raw and WWE Smackdown Women's Champion wasn't alone as she brought in Dakota Kai and IYO SKY to form a new stable.
Bayley, who dubbed herself the "Role Model" before her injury, seems to want to live up to that nickname even more behind the scenes after expressing her desire to help lead the locker room.
In an appearance on WWE After The Bell with Corey Graves, Bayley talked about her goals in WWE as a leader.
"It's going to be a long road, just putting things together and trying to show certain people, or trying to get the whole locker room on the same page."

Bayley
Bayley went on to talk about the competitiveness backstage turning talent against each other, how she plans to help navigate the division, and the return of the WWE Women's Tag Team Championships.
"If we worked a little less selfishly if we kind of see the bigger picture. I feel like we've been in this tunnel of, we're trying to show our bosses, 'I have what it takes. No, I have what it takes.' It turns us against each other. No, let's show them all what we can do. If we all show them that we can get along and do a show and we're not going to complain about every little thing, then it will make them want to give us more because we're easier to work with. There is a fine line between fighting for what you believe in and then trying to make the best out of every situation. I think I can help the girls that I bring in navigate these things to further the division. I want the tag titles to come back and play a very important role on the show."

Bayley
The titles have not been used on WWE programming since May when, then reigning champions, Sasha Banks and Naomi walked out of an episode of Monday Night Raw. Soon after, it was announced that Banks and Naomi were indefinitely suspended by the company, thus vacating the championships. While a tournament was announced to crown new champions, no further details or updates about the status of said tournament have been given.
Bayley continued explaining why and how she is capable to help advance the division.
"I am capable to…I get along with most everybody and I think I can help everybody realize that I'm not doing this because I'm selfish and I'm not doing this because I want it all about me, I'm doing this or the bigger picture and it's going to be better in the end. Trust the process. Trust me. Trust what we're doing."

Bayley
She then elaborated on her comments about the division working towards a common goal.
"I'm not saying that's not the case right now. Sometimes, we get so wrapped up in this hamster wheel and we just do our job and it's 'Okay, let me go back and do whatever.' It's going to take a lot more focus to take this to the next level, which I think we're going to get to."

Bayley
The trio of Bayley, Dakota Kai, and IYO SKY made their first post-SummerSlam appearance together on WWE Raw by attacking WWE Raw Women's Champion Bianca Belair, Asuka, Alexa Bliss, and the injured Becky Lynch.
H/T to Fightful for the transcriptions