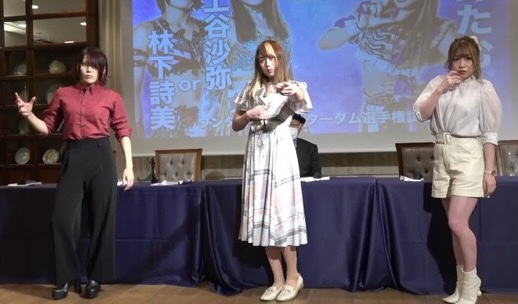 It was a big moment when Saya Kamitani won the Wonder Of Stardom Championship from her arch-rival Tam Nakano at the Stardom Dream Queendom Event in December of last year. "The Golden Phoenix" has been White Belt Champion ever since and is defending her title twice at the Stardom World Climax Shows this Weekend. On Night 1 she will face her Queen's Quest Stable Mate and AphroditE Tag Team Partner Utami Hayashishita and if she overcomes Utami she will face Tam Nakano at Night 2.
The Story between Kamitani and her two challengers goes way back.
Kamitani was like Tam, a former Idol until she realized that her body wasn't made for it as she was perceived as too tall. Saya then joined the Stardom Idols project which was led by Tam Nakano. The project didn't last long and Kamitani decided to join the Stardom Roster full time and made her debut against Momo Watanabe a few months later. Unlike other newer Rookies at that time, Saya didn't just walk to the ring, she danced to it and pulled off various moves like a running shooting star press when the others never went further than a simple dropkick. Due to them sharing the same background, Tam became a mentor for Saya and everything pointed to Kamitani joining STARS down the line. It seemed to be a perfect fit. The typical good girls with shiny gears and Tam being second in command.
This took a shocking turn at the beginning of 2020 when Kamitani challenged Utami for her, back then, Future Of Stardom Title. After a hard-fought and close match, Utami defeated Saya to retain the belt. Afterwards, Hayashishita offered Saya a spot in Queen's Quest which is the total opposite of STARS. QQ is a serious and more focused group that is full of prodigies like Utami. Kamitani gladly accepted the invitation with the sentence, "I've been trying to follow in Utami-san's footsteps since I was a trainee." It makes sense that every Rookie wants to have an early career like the Super Rookie Utami. Saya joining QQ especially hit Tam Nakano like a slap in the face since she helped her student get to this point in her career, just to get betrayed. At that moment the rivalry between the Stardom Dream & the Golden Phoenix started.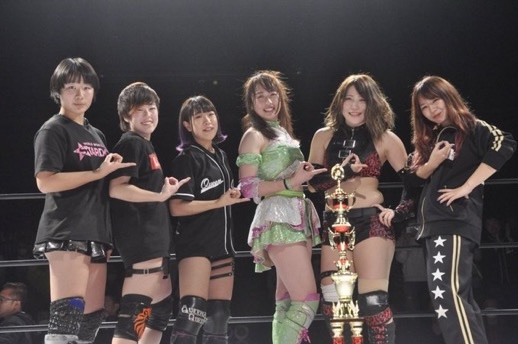 After Kamitani joined Queen's Quest, she formed a Tag Team with Hayashishita called "AphroditE". Together, they won the Goddesses Of Stardom Titles in their third official Tag Team Match. This was Kamitani's first Title 11 months after debuting in the Promotion. While Utami was the clear stand-out in the Tag Team, over the months Saya improved, added new moves to her moveset, started to grow and get closer and closer to Hayashishita's level, even if it was only small steps.
The Tag Team Partners would collide for the second time in the Nippon Budokan for Utami's World Of Stardom Championship. The Show was billed as one of the biggest Stardom Shows of all time. That was at this date Saya's biggest match of her career and many fans felt the opportunity came too early. Kamitani always wanted to be in the center in her Idol days but never got it, so she wasn't going to waste this chance now. While she couldn't defeat Utami, due to her amazing performance, she proved every doubter wrong and came close to the win on multiple occasions.
While already having Tag Team success, the next step for the Golden Phoenix was to win a singles title and her perfect opportunity to get a shot at either belt was the upcoming Cinderella Tournament. Kamitani was one of the favorites to win it. The tournament is often used to push the next big star of the company with Giulia, Arisa Hoshiki and Momo Watanabe all using their Tournament win to win the White Belt. The winner of the tournament gets a dress and a wish, which can be anything you want which is usually a Title shot of the winner's choosing. Saya overcame her competition to be crowned Cinderella in June. While she already challenged for the Red Belt and failed, her attention was on the other Belt that would fit her even more. The Wonder Of Stardom Title was at that point held by non-other than Saya's mentor Tam Nakano.
The White Belt is a title of passion something Nakano & Kamitani have in common. They are both emotional wrestlers and think it is a big part of Pro Wrestling to show emotion & passion in a match. The Match happened in July but Saya's wish of winning the White Belt and overcoming her mentor shattered in a dramatic defeat.
In the 2021 5STAR Grand Prix, Kamitani faced both Utami and Tam. Once again she failed to beat her Tag Team Partner even with all the improvement over the last few months her AphroditE Partner is still leagues ahead of her and it seems like it won't change anytime soon. The Grand Prix Match against Nakano ended in a more positive way for Kamitani when she pinned Tam to win the match.
The Golden Phoenix got another chance at Tam's White Belt in December at Stardom's Queendom event. While Saya improved in every match till then, she couldn't get the job done when it mattered the most. But this time everything should be different and she didn't make the same mistakes as she did in the July Match and wrestle the typical Nakano's match. This time, every time it went too deep into an emotional slugfest, Kamitani pushed the match to a faster pace and Tam never found the match rhythm she used to have in her other defenses. In the end, the Golden Phoenix used this advantage and hit the Phoenix Splash for the title victory.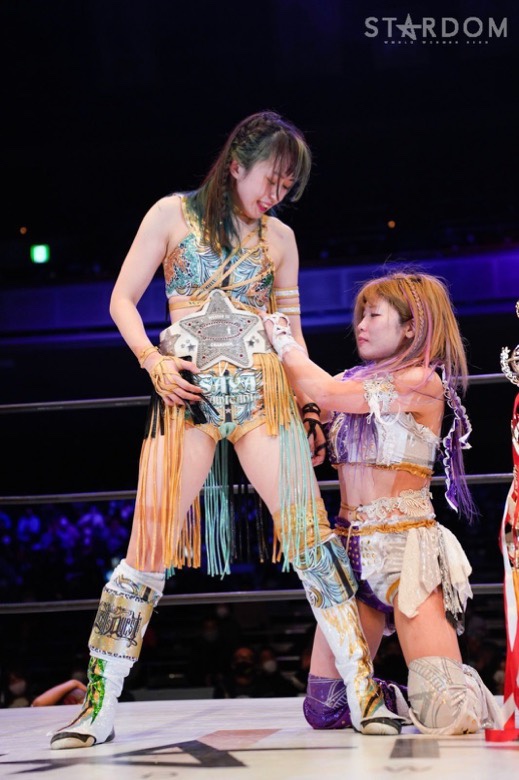 Saya needs to prove herself and show why she deserves to be the Wonder Of Stardom Champion, so after her 2nd defense against Donna Del Mondo's Natsupoi in Nagaoka, Kamitani called out Utami & Tam to be her two challengers at the two Ryōgoku Kokugikan Sumo Hall Shows. Saya has the backstory with both wrestlers in her mind and to overcome both of them two days in a row would be a big step for her being a worthy Champion.
Saya Kamitani has a clear motivation for the weekend. First, on Day 1 she wants to defeat her Tag Team Partner for the first time and show the world that she finally is on the level of Utami after failing to defeat her on multiple occasions. On the second day, she wants to prove that she really overcame her mentor and the Queendom Victory wasn't just a fluke.
She is a different and more complete Wrestler now than she was ever before. She isn't the underdog anymore in the big matches. Furthermore, she is the confident Champion and favorite to win both matches and walk out with the Wonder Of Stardom Title. Saya isn't the future anymore. She is the present.