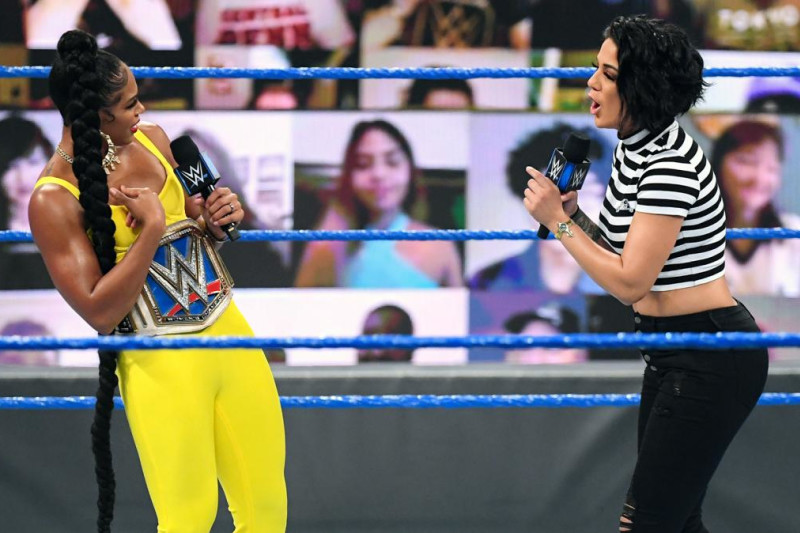 Bianca Belair has heaped tremendous praise onto her longtime rival, and former Women's World Champion, Bayley.
Across her tenure within WWE, Bianca Belair has been intertwined in several great feuds within the women's division. Between show stopping WrestleMania matches with Sasha Banks, and Becky Lynch, she's still had time to rub shoulders with The Role Model, in the former Women's Champion and Tag Team Champion, Bayley.
The two have been no strangers to each other's in-ring presence as they've feuded on again off again since late 2020 in many ways shapes and forms such as; ladder matches, last woman standing matches, and even a War Games match that saw the two enlist the help of Dakota Kai, Iyo Sky, Asuka and Alexa Bliss for the cataclysmic match.
While the two are in fact heated rivals in the ring and on television, Bianca Belair has nothing but high praise for the former hugger, Bayley outside the squared circle. Belair made an appearance on Ryan Satin's Out Of Character podcast, where she would take time to acknowledge Bayley as the Four Horsewoman that doesn't get the credit she deserves.
"I love Bayley. I feel like she's one of the Four Horsewomen that doesn't get as much credit as she should. She does so much that's not for herself. Anybody that she steps in the ring with, she brings the best out of them and that's what she did for me. I remember our Last Woman Standing match in particular. I was watching a lot of other Last Woman, Last Man Standing matches and you have your table spots and you have your ladder spots and your chair spots. We just wanted to make it as creative as possible and different. We've always been able to do that because Bayley is amazing in the ring physically, but when it comes to mentally, her creative mind is so amazing. We were able to create some amazing and iconic moments in that Last Woman Standing match like the golf cart. Like, we're in Saudi Arabia and there's women driving golf carts. That doesn't happen all the time. It was really cool to create these fun and unique moments for these matches. The ladder match as well, that was our goal. Bayley is one of my favorite competitors to go up against."

Bianca Belair
Bianca Belair was recently victorious in a triple threat match on the February 13th edition of Monday Night Raw, her victory would prevent either Bayley or Becky Lynch from being added to the upcoming Elimination Chamber match.
H/T to Fightful for the transcript