It's a special week and so, we're doing something slightly different with the match guide. This is your pre-PPV edition, featuring the week's matches as well as a few bouts that I couldn't get to before our last entry. Then, early next week, I'll be covering the Best of the Super Juniors final as well as the highlights from Night of Champions, Double or Nothing and maybe even Under Siege. We have some business to handle first though and there's no time to waste, so let's overanalyse some graps.
Chris Brookes vs. Kazusada Higuchi (King of DDT Final)
Though I'm still relatively new to Kazusada Higuchi's work, I've fallen deeply in love with him over the last year or so. That journey began for me with 2022's King of DDT tournament tale, as Higuchi finished the story by claiming DDT's top title. By contrast, Chris Brookes has never quite clicked for me. At times, I've liked the idea of Brookes more than I've liked his actual output, but this got genuine match of the year buzz at the bell, which intrigued me.
More specifically, Brookes' part in such a match intrigued me, as I hadn't seen his two previous encounters with Higuchi and on paper at least, they didn't feel like the most natural pairing. In truth, that's the point, as this quickly becomes a classic case of "styles make fights." Early on, there's a certain caution to proceedings, which allows Brookes to dictate the initial pace. Higuchi plays his game for that first chunk, hitting the mat and finding some success but ultimately, letting Brookes settle.
Higuchi eventually alters that approach though, bringing his power advantage into play and going to work with those bruising chops. Brookes' response is almost instant, upping the speed to overwhelm Higuchi just as he threatened to take over. Along the way, Brookes targets Higuchi's shoulder, building on Yuki Ueno's efforts in a moment that proves pivotal. At the time though, it feels secondary to Brookes' following approach, whacking Higuchi over the head to no avail, instead eating a sickening headbutt for his troubles.
That bloodies Brookes, transforming the match as a result. The stylistic clash isn't erased from there, but it's intentionally infrequent, as Higuchi swarms Brookes with violence. It's now very much his match, roughing Brookes up and embracing any hint of a slugfest. Brookes' responses throughout often feel more like mere resistance than any substantial shift in momentum, with Higuchi inevitably clobbering his way back in control before long. He is chipping away though, slowly making Higuchi pay for each show of brazen bravado.
More specifically, Higuchi's damaged shoulder represents a chink in the armour, which is easy to forget in the borderline frightening physicality. They tease a double knockout on more than one occasion, with Higuchi's grip on proceedings being slowly loosened by Brookes' persistence. The more he's wobbled though, the more terrifying Higuchi becomes, becoming a virtual horror villain with quite revolting headbutts being his weapon of choice. He just can't put Brookes away though and with each retort, Brookes' window to victory widens.
With that being said, his eventual triumph still comes drenched in drama, feeling truly momentous in the way that every major tournament win should. It's staggering that these two produced this effort after already working their respective semi-final bouts earlier that night, as this is really quite special. While Higuchi is the inevitable highlight in almost any matchup at this point, Brookes is no mere passenger here, with his babyface performance providing this recipe with its secret sauce.
Higuchi is a fabulous mountaintop but it's Brookes' climb that provides the match with its true hook, an investment beyond the brutality. I've seen him be good before, probably even very good on occasion but this was a quite staggering performance, scrapping like a man possessed. Higuchi is only unlocked by that effort, providing the perfect hurdle to Brookes' pursuit. It's a special match, one of the year's most complete thus far.
El Desperado vs. Francesco Akira (NJPW Best of the Super Juniors)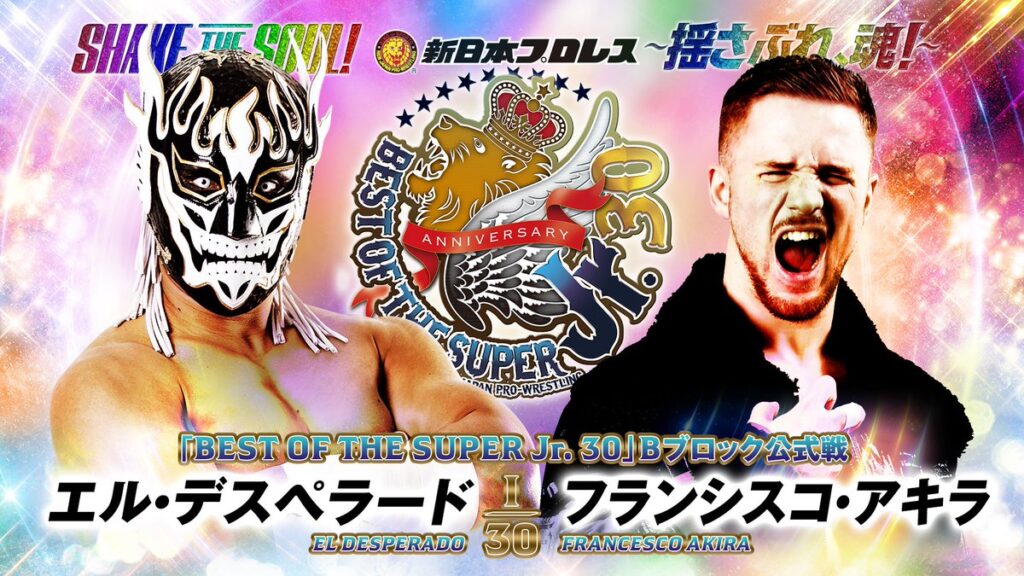 Though I've only caught bits and pieces, it seems to have been a positive year for NJPW's Best of the Super Juniors tournament. There's a general enthusiasm returning to the promotion right now and this tour has only furthered that process, assisted by some fresh faces along the way. Even still, this particular match is something a little different. While the current standings serve as an obvious backdrop, there's a magnitude to this bout beyond that, a palpable gravity.
In truth, it's a simple wrestling tale or more accurately, a seamless marriage of two simple wrestling tales. Francesco Akira is a fiery young wrestler and this is his first NJPW main event as a singles competitor. Given 25 minutes to play with at Korakuen Hall, it's clearly pencilled in as a transformative moment for him, too. It's apparent that this is no happy accident, it's an intended epic in a tournament built on more brisky thrillers.
That doesn't make the final product any less effective though. In fact, this particular play call works better than anyone could've possibly imagined, as Akira leaves this match a different wrestler. Initially at least, the core idea here is that Akira has bitten off more than he can currently chew. Desperado is a different kind of killer, battletested but still at the top of his game. The youth of arrogance is enough to convince Akira otherwise however, actively playing with fire at the first sign of success.
He quickly pays the price, as Desperado swiftly goes through the gears in response to Akira's machismo. That's the bout's initial outline but it isn't the actual point, as Desperado's dominance instead shines a light on Akira's resilience. With the veteran targeting his leg, Akira simply refuses to concede, fighting uphill valiantly. His fire is immense and though the leg injury is inherently undercut by much of his offence, Akira does a nice job of selling in transition where possible, keeping that element relevant throughout.
Desperado comfortably makes up the difference where necessary also, always returning to that target and relishing any opportunity to ramp up the nastiness. He is incredibly sinister here but it's rooted in a unique respect, almost daring Akira to push through the pain. The deeper they get, the more desperate that Akira becomes, each retort coming more frantically as his initial confidence slowly erodes. His injury even hinders a pin attempt or two, but he keeps fighting, and the people respond accordingly.
In the match's final moments, TJP attempts to throw in the towel but Desperado prevents him, with Akira following suit by throwing out the towel himself. That is this match in a nutshell, a veteran answering the call and responding with his own challenge, daring the young contender to be great. Even when facing the inevitable though, Akira rises to the occasion and fights with everything that he currently has to offer. It's not enough, yet, but it may be one day.
In an ideal world, we'll eventually get a chance to find out.
Mercedes Mone vs. Stephanie Vaquer (NJPW Resurgence)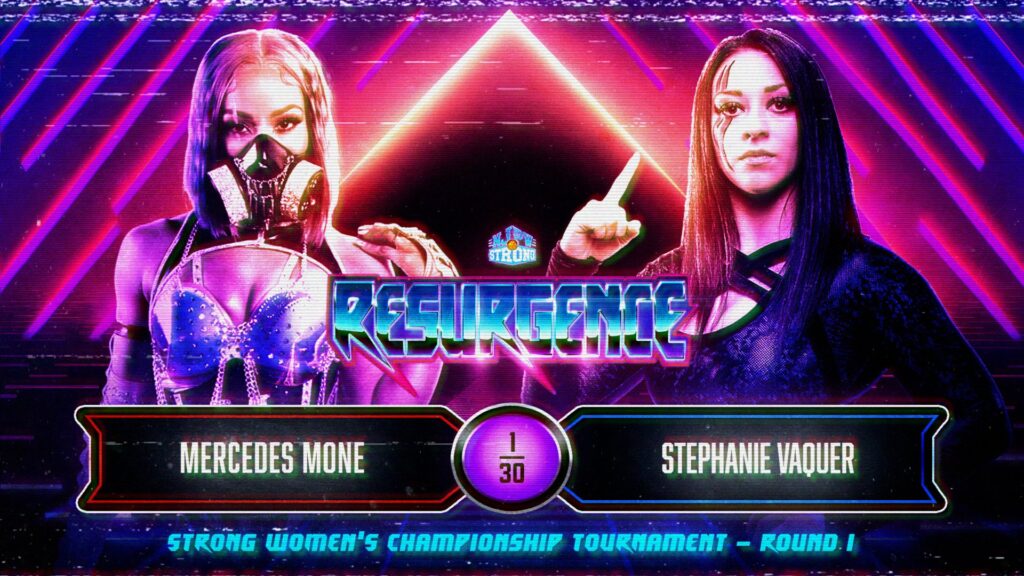 Though her night ended with misfortune, Mercedes Mone was brilliant as ever at NJPW Resurgence. In fact, Mone's first performance in Long Beach may have been her finest effort since leaving WWE, meeting Stephanie Vaquer in the tournament's semi-final bout. Vaquer is a CMLL talent who entered without much of a US profile, but made the absolute most of this opportunity. It certainly was a sizeable opportunity also, especially with Mone's almost prize fighter schedule as of late.
Speaking of such, Mone's star power certainly positions this to succeed, ensuring a palpable crowd investment. In the end, they barely need that assistance, let alone rely on it, quickly setting a quite extraordinary pace. Vaquer is absolutely electric and there's a wonderful sense of cat and mouse early, as Mone is simply trying to get a grip on things. It's not overstated, as Mone is quick enough in her own right, actually showing even more speed here than usual.
That plays nicely into the match's narrative, as it seems as though Mone is simply adjusting to the tempo that Vaquer has already set. The pace is just about perfect too, with the headlines being given a chance to breathe throughout. Vaquer is smart enough to take a slight shortcut or two also, leaning in the direction that embraced this crowd's adoration for Mone. Even with those momentary tactics, Vaquer's offence wins her some fans, showcasing immense snap at every turn.
Mone has always been a remarkable storyteller but years ago, I'm not certain that her offence would've been suited to this type of match. It's an outright fireworks display at times and Mone is totally home, answering the bell and then some with her own world class execution. When they aren't sharing innovative exchanges, they are simply clobbering each other also, with Mone landing a thudding knee in response to Vaquer's frightening salvo of headbutts.
Even after such a dynamic bout, the eventual escalation doesn't feel redundant either, ramping it up for a desperate closing stretch. This was a star-making performance from Stephanie Vaquer, who will almost certainly be receiving further opportunities on stateside stages such as this. It speaks to Mone's quality though that she doesn't feel secondary in that regard, producing possibly her sharpest effort yet in a match that really showcased her technique's constant improvement.
Fabulous match, the ideal semi-final shootout before what was trending towards a truly classic final. It's a shame that this tournament was robbed of its rightful conclusion but Mone will be back and based on everything that we've ever seen from her, she'll be better than ever too.
Lio Rush vs. Mike Bailey (NJPW Best of the Super Juniors)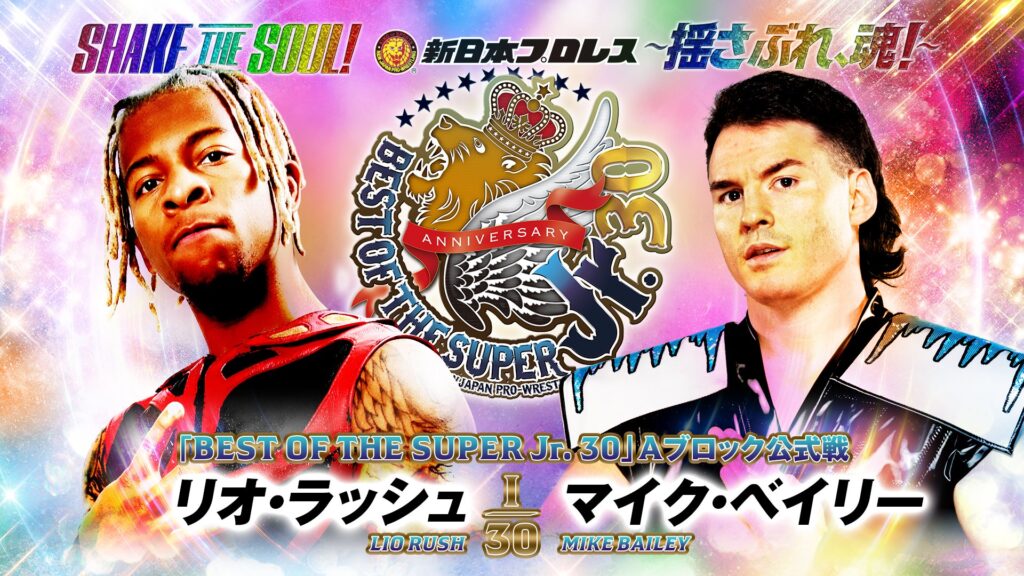 These two have dominated much of the conversation regarding this year's Best of the Super Juniors, so this was an obvious match to circle. It's indeed electric, because of course, but not quite as you'd possibly expect. These two have only met once before in singles competition, battling at November's PWG DINK event. Even without that bout though, there's a sequence that you naturally imagine when seeing these two names paired with one another. It's absolutely here too, almost immediately in fact.
Right away, you get the obvious fireworks of this near-comic book dynamic, as they blend acrobatics and evasion at a simply freakish speed. It's immensely impressive and an undeniable thrill, but the match then evolves into something more interesting to me personally. After showcasing the flash, both men show their increasing polish, with Bailey restraining himself slightly and instead spotlighting his striking game. Obviously, that's always central, but especially so here, as Bailey allows for some stylistic contrast.
That gives Rush some more deliberate blows to sell, where he really thrives, whiplashing himself to the mat and struggling for breath, let alone balance. In addition, Rush's responses feel unlocked by Bailey's approach of quality over quantity. Suddenly, he's the guy injecting motion and pace into the match, each offering placed neatly within Bailey's overwhelming momentum. The more it trends in that direction, the more fire that Rush can show while fighting uphill, only embracing his organic connection with live crowds.
Just as they started with the big cinematic opening, they close with an expansive finishing stretch also, featuring immaculate execution throughout. It's back and forth enough to give you the fireworks that this matchup would forecast, but Rush never undercuts Bailey's established advantages, providing an inevitability to his eventual win. This match is a really good example of how you can give an audience exactly what they want but yet, maintain some unpredictability without being showy about it.
At no point does this feel like Bailey and Rush going against the grain for the sake of it. They aren't aggressively subverting any expectations, they are simple weaving in an idea or two that paints a more complete picture than the alternative. From my vantage point, Rush has made a real point of that in this NJPW run, almost always having a match that's not just exciting, but interesting too. The awe-inspiring athleticism is still there, but it's increasingly paired with a grit that keeps me coming back.
Roxanne Perez vs. Tiffany Stratton (WWE NXT)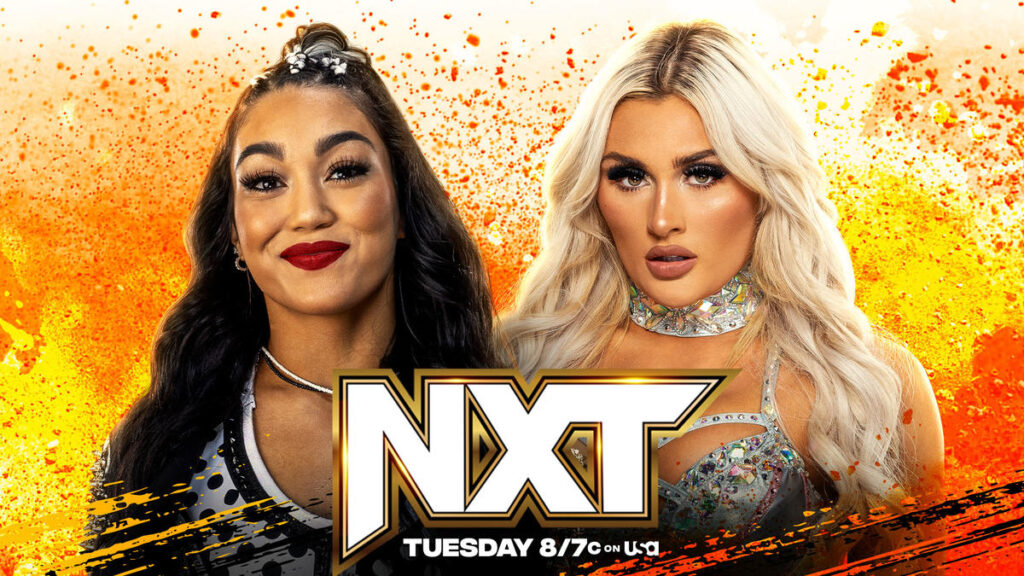 The NXT women's division's two leading prospects, Roxanne Perez and Tiffany Stratton have both been linked with potential call-ups, but for very different reasons. Perez is as advertised, a prodigy, armed with wonderful in-ring fundamentals at just 21 years old. On the other hand, Stratton is a freakish athlete that's really taken to the industry's showbiz side, instantly finding a hit character. Though both precocious talents, these two have contrasting strengths and weaknesses, with similarly distant on-screen presentations.
That contrast is present during the match also, as Perez's traditional babyface persona teaches Stratton's mean girl archetype a brief wrestling lesson early. She takes a really nice extended shine, constantly having the answer as Stratton struggles to muscle her way into control. They still establish that advantage for Stratton, it's just not initially enough to overcome Perez's experience and wrestling IQ. Stratton's eventual cut-off feels like a feat of persistence, finally slashing Perez's tires for a slightly scary fall.
We don't get much of Stratton in control however, as it's instead confined to the picture-in-picture ad break. In truth, such a choice is probably beneficial to the bout's quality, I'm just intrigued by Stratton's comfort in that scenario. Either way, Perez goes into her comeback as we return and they then transition into some back and forth combinations, where Stratton really shines. Physically, she is so staggeringly capable that it's easy to plug her into these sequences, especially when opposite a wrestling brain like Perez.
The former champ is no mere glue gal here either, showcasing some snappy offence of her own. Technically, she's consistently pretty much perfect, though I'd like for some of her stuff to pack a little more punch at times. Stratton certainly doesn't struggle in that regard, even if her transitions remain understandably sticky. Both are incredibly exciting prospects though and at not even ten minutes, this is a nice montage of their respective strengths.
This is the kind of pairing that benefits both parties, as Perez can lead the dance but has the weaponry to take much of a match, also. She did that here, with Stratton's athleticism being such that she made up the difference in no time late anyway. It's a nice match, one not without a hitch or two but a flattering presentation of both women nonetheless. Stick with this dynamic, it'll only make both parties better, both in-ring and out.
Claudio Castagnoli & Wheeler Yuta vs. The Lucha Bros (AEW Dynamite)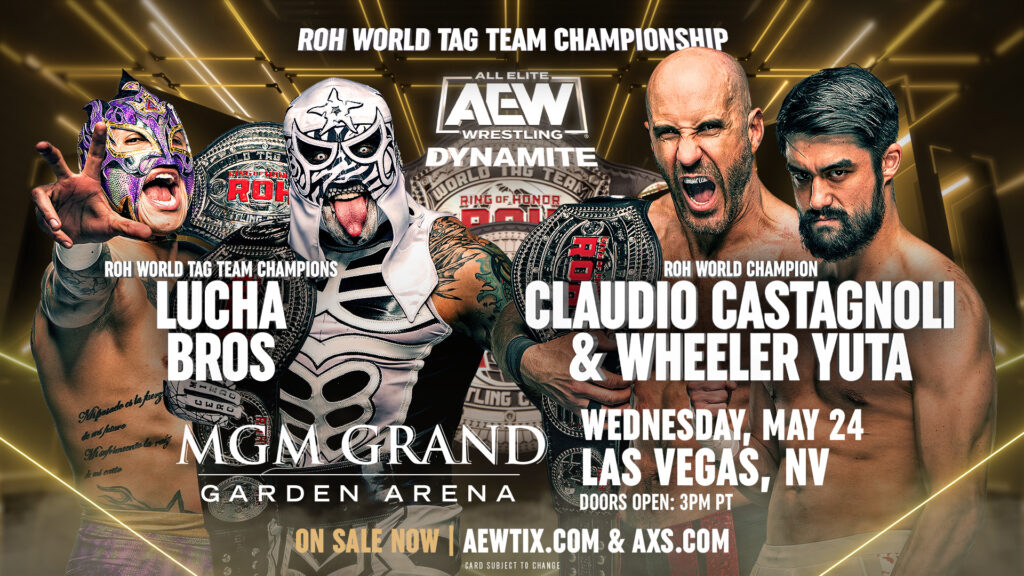 This was the kind of booking play that ideally, would be more frequent in AEW. This not only advanced the promotion's central angle, but also gave their go-home show a main event while showing some love to a somewhat underserved act as of late. Though they are the current Ring of Honor World's Tag Team Champions, The Lucha Bros have been slightly aimless on AEW TV after Death Triangle's game seven defeat. In fact, this was Fenix and Penta's first traditional tag on Dynamite since last September.
This, much like Sunday's Anarchy in the Arena will be, was yet another major moment for Wheeler Yuta, who has recently levelled up as a personality. Blackpool Combat Club's heel turn has benefited him immensely, unlocking a very particular little brother heat. Babyface or heel though, Yuta seldom lets AEW down, which is why these opportunities keep coming. He's typically terrific here, as are The Lucha Bros and yet, it's impossible to leave the match with any conclusion other than the Ring of Honor World's Champion, Claudio Castagnoli.
Since joining AEW and ROH, Castagnoli has shined bright enough as a singles wrestler that it's easy to forget his absolute excellence in the tag team arena. Well, I take that back actually, as it's rather hard to forget a tag team wrestler great enough to have such a collection of partners. From Chris Hero to Tyson Kidd to Sheamus, or even Jack Swagger and Shinsuke Nakamura who popped up along the way, each dynamic was different but Castagnoli was the constant, always adapting accordingly.
With Castagnoli's World's Champion status, it's unlikely to receive an extended focus, but this Yuta team has the potential to be something quite special. Claudio is really let loose by Yuta's willingness to be the cocky kid biting off more than he can chew, often needing the champ to clean up his mess. It's a really refreshing presentation of Castagnoli, who has often been too selfless to portray himself as such a dominant force of nature. Usually, he's just brilliant enough that it's merely implied.
The Lucha Bros are always spectacular on offence, rocking the live crowd early before being slowed by a wonderfully irritating Yuta. It's the control segment where Castagnoli's expertise really shows though, cutting the ring off perfectly and even incorporating Yuta for some tandem offence. The finish itself provides those aforementioned booking benefits, but only after the trademark Penta hot tag in which he somehow goes from standing totally flatfooted to doing something spectacular. It's a thriller late, even if the Bucks interference itself could've gone smoother.
Either way, a really nice main event that achieved multiple things and set the stage for a final Moxley promo. They could almost certainly have a more expansive match, some of which was teased in those closing minutes, but it's a hoot nonetheless. Claudio Castagnoli stands out even among this talent though, seemingly in the absolute form of his life.
JD Drake vs. Mark Briscoe (ROH on HonorClub)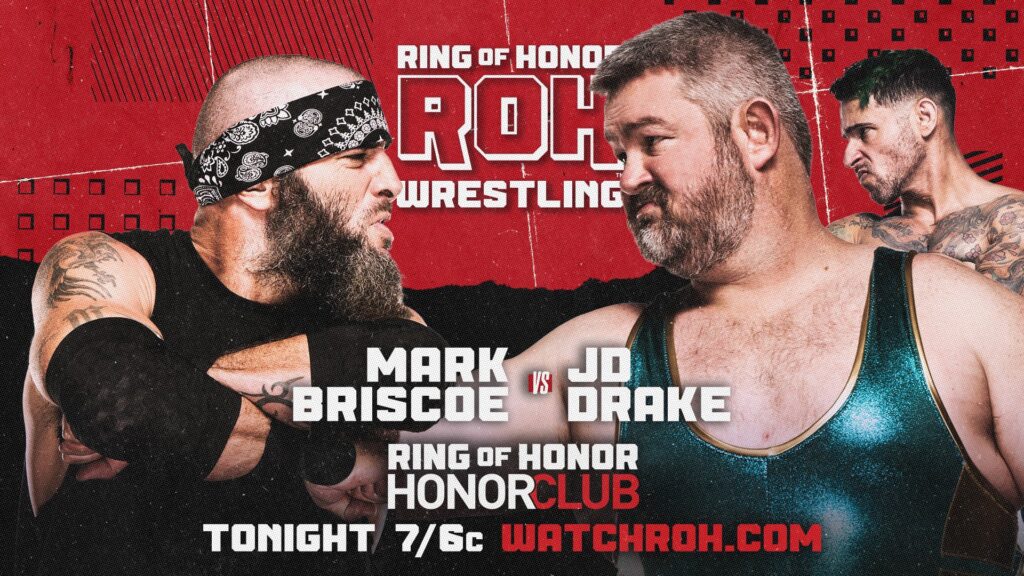 While Athena and Claudio Castagnoli have earned most of the headlines, Mark Briscoe has hardly missed since Ring of Honor's television reboot. The Briscoes' consistency defined their tag team greatness and that trait remains with Mark as a singles, packing each outing with that innate grit and physicality. A few weeks back, he got an episode underway in style with a bruising brawl opposite Shane Taylor, trading knockout blows for just shy of ten minutes.
Now he's back for the spiritual sequel, opening another edition with Taylor's recent ally, JD Drake. They have a similar amount of time here and it's the same kind of shootout, setting an immediate tone as they exchange thudding chops. As Briscoe seemingly works his way back towards Samoa Joe, the general idea of these matches is that he's outright tough enough to erase almost size and strength disadvantage. He's standing toe to toe with these brawlers and living to tell the tale.
Considering that's the endgame though, Briscoe does a canny job of not totally undercutting his foe's shtick, instead mostly selling and giving them room to fill. I thought Taylor navigated that space admirably but Drake may be even further at home, having a more varied arsenal and using that to keep the match moving. Drake's offence is so versatile in fact that you're left wishing this kind of showcase was more common for him but generally, the big man is playing a supporting role on stages as this.
Briscoe is over enough for that not to matter however, showcasing Drake's every single hit, each of which sure sounds good in a match of this ilk. Even with Drake's biggest bombs taking centre stage, there are frequent momentum swings, yet the match maintains a steady rhythm. The back and forth feels organic, with some rather grounded flashiness emerging throughout. Ultimately, it's more of the same from Briscoe, who provides ROH with yet another good old fashioned slugfest that makes the most of its ten minutes or so.
Drake continues to maximise every opportunity under the AEW umbrella also, and it's nice to see the Ring of Honor brand provide such an obvious home to something more substantial for him. This show has allowed his role to steadily expand, which will hopefully continue in the coming months.