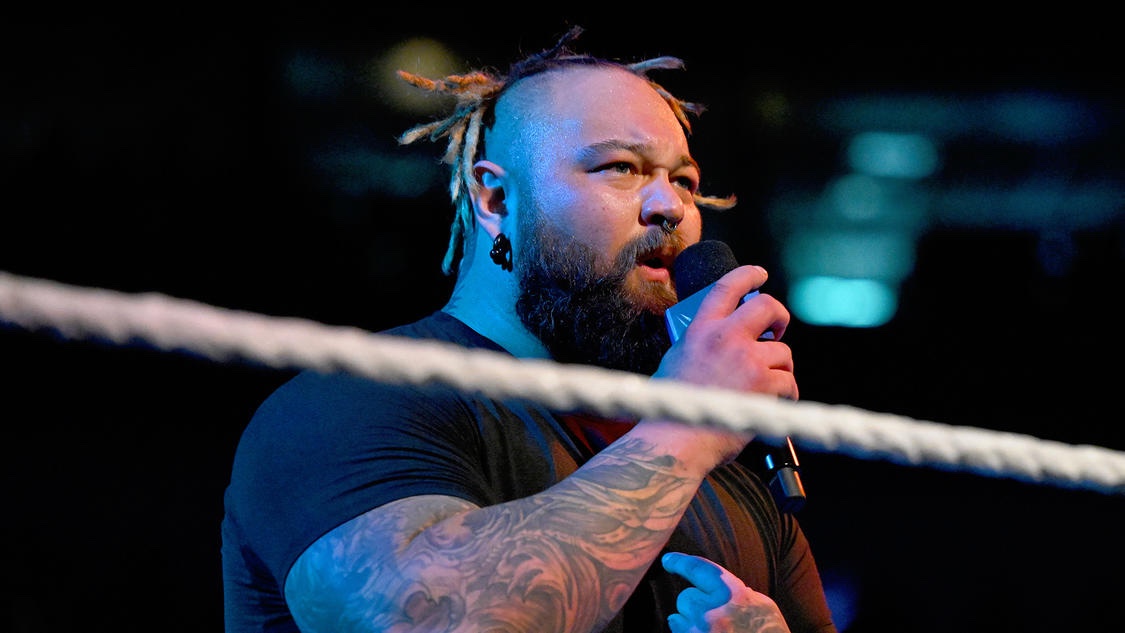 Bray Wyatt had been away from WWE for over a year prior to his comeback in October of 2022. The return was done through a series of teases hidden behind QR codes. The clues left by Bray and the company, dubbed the 'White Rabbit' went viral throughout the internet as people began to piece together the eventual arrival of Wyatt.
As of now, Bray is yet to have his first match back in the company but that is set to change come this weekend. At tomorrow night's Royal Rumble, The New Face of Fear will step into the ring to battle LA Knight in a 'Mountain Dew Pitch Black Match' which has many people stumped as to what they're going to witness.
To discuss his return, Wyatt sat down with Ryan Satin of the Out Of Character Podcast. He opened by talking about his feelings ahead of his in-ring return.
"There is a certain reluctancy to me, where there hasn't been in the past. It's part of any athlete, when you're away from something for so long, there is something in the back of your head that is like, 'Am I still it? Am I still what I am, what I should be?' For the majority since I've been back, I was kind of there, in a sense, and the weeks have progressed, I've started to come into my own again and remember why I do this and how much it means to be out there and perform at things like the Royal Rumble. The closer I've gotten, I've started to sink my teeth into being what I should be,"

-Bray Wyatt.
We've seen a much more humane version of Bray Wyatt since his return. Often, he would have time to talk openly to the fans about his feelings and he would go on to discuss the importance of the fans in getting him to his WWE return, as well as what his return promo was like, later in the podcast.
Genuinely, that moment was not for me. During my time away, I had opportunities to do really cool things, movies and TV shows and stuff, and I wouldn't, because I felt broken. There was something that was shut off and I didn't understand why. It was literally people telling me and keeping me alive and dragging me back, telling me, 'You should still do this, we miss you.' I didn't feel that way at first. I felt damaged. It was that, that gave me the strength to kind of build back out and explode. It was geared for them, it was. I despise the way my mind worked. That's the truth of it all. I'm the first person to ever tell you all of my flaws. I refuse to watch myself back, I've never seen pretty much anything I've done, I can't watch. I'm that kind of headcase, man. It's also kind of my superpower. It's what makes me, me, the obsession. When I'm geared on something, I'm so deep into it that there is no separating life from anything else, it just is. When I dive deep like that, it's what makes me connect and it's the reason that I have fans that are so into what I do, it feels like it's part their life too. If I didn't have such passionate fans, I wouldn't be here, I really wouldn't. It's them that led me back here."

– Bray Wyatt
In his first promo, he would touch on the friends that he had lost in recent times. Of course, the wrestling world still mourns the loss of Brodie Lee, but Wyatt also had another personal friend pass away in recent months.
There was so much going on, and it was out of nowhere. I wasn't prepared for any of that. I lost my childhood best friend, I lost Brodie (Lee), I lost my best friend from college, Mark Olive. It was something that I think I didn't deal with very well. Brodie's wife Amanda and his kids dealt with it better than me and (Erick) Rowan did. There is something there that reminds me of him every single day. That time period was such a conundrum for me, and I wasn't myself. It took me a while to remember what makes me, me. It was a long journey, but it's led me here to this moment. This is the best I've ever felt."

-Bray Wyatt.
Thankfully, Bray clarified that he's feeling much happier now. We look forward to seeing him compete at the Royal Rumble PLE and wish him well for the future.
H/T to Fightful for the transcription