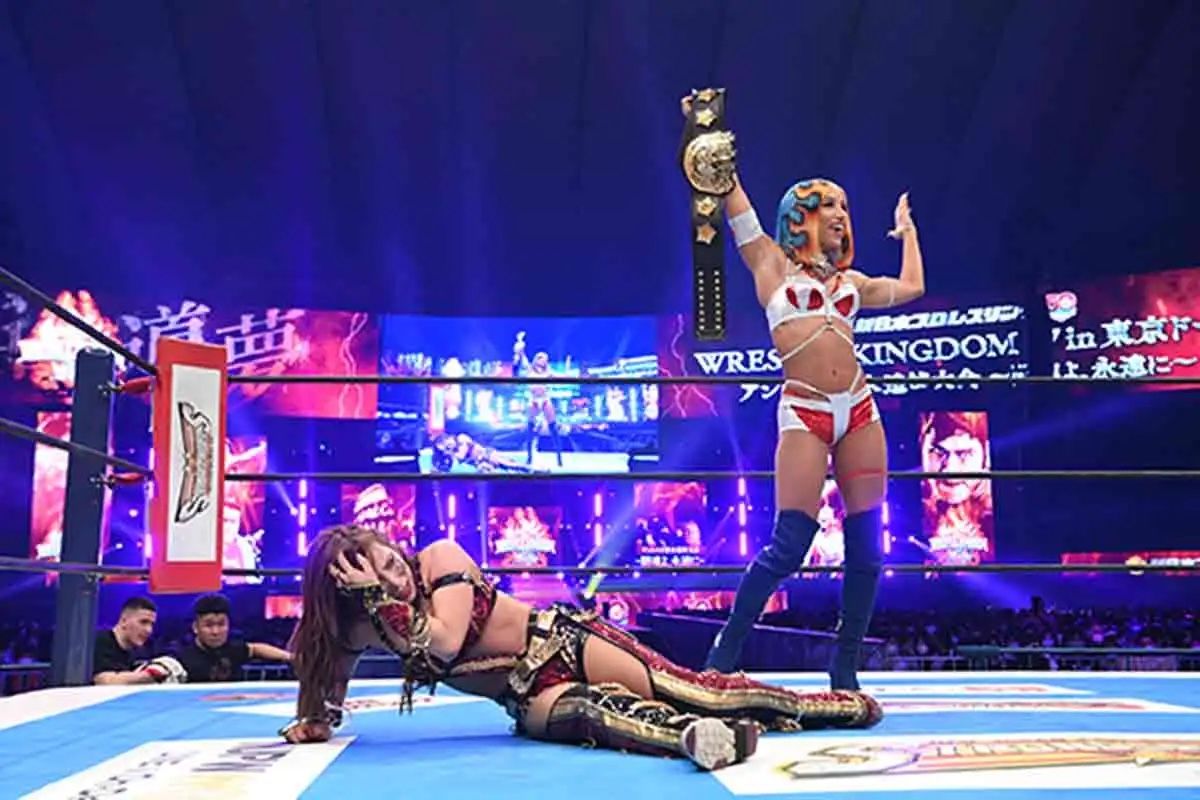 Mercedes Moné fka as Sasha Banks to many has addressed her departure from WWE and discussed her NJPW in-ring debut.
When known as Sasha Banks in WWE, Mercedes Monè was one of the most prolific women's wrestler in the world achieving pretty much everything in WWE. During her 10 year run with the company she managed to win the NXT Women's Title, SmackDown Women's Title, Raw Women's title and lastly the WWE Women's Tag Team Titles with Naomi before departing WWE.
She last wrestled for WWE in May of 2022 before walking out of the company. Mercedes Monè made her historic NJPW debut at Wrestle Kingdom 17 from the Tokyo Dome confronting and laying out the IWGP Women's Champion KAIRI.
In an interview with NJPW, Mercedes Monè went on to discuss her transition from WWE to wrestling in Japan, stating:
"Personally, I always knew I was going to make an impact here. But it's cool to see how quick it was, the turnaround to go from another name and character I've done for ten years to now be Mercedes Moné, and to see that instantly trend… just people obviously caring and wanting to see my match with KAIRI was cool. For it to sell out with that match being the only thing announced at that time was amazing. I know my fans always love and support me, so I knew it was going to do well, but it was kind of a shock to see how quickly it went that well."

– Mercedes Monè
Mercedes would talk about how she has still been training since her WWE departure:
I've been working every single day since I left there. I've been making movies, making TV shows, magazines, modelling, I haven't stopped. But wrestling has always been my number one love, and there was no soul searching involved in coming back to wrestling. I went to Mexico for a month in October and lived there.

– Mercedes Monè
She would also go on to mention some of her female wresting inspirations from Japanese wrestling:
That's what really showed me that it was possible to live this dream. Seeing Manami Toyota and Akira Hokuto, Aja Kong, all these hard hitting matches, and it was like 'wait, there are matches where women are outperforming and having better matches than the men?' They were hitting just as hard as the men, having these 30 minute long five star matches. I was so amazed by them that Japan became my number one goal even before WWE.

– Mercedes Monè
Mercedes also added that she wants to cement a legacy with her fans, mentioning that she believes that STARDOM has the best Womens wrestlers in the world :
"STARDOM, to me, has the best women's wrestlers in the world, and I really want to cement my legacy with my wrestling fans, to cement my name with the greatest of all time. I'm ready to f**king go."

– Mercedes Monè
Mercedes Mine will make her in-ring debut for NJPW on Saturday February 18th at NJPW Battle in the Valley from San Jose, California.