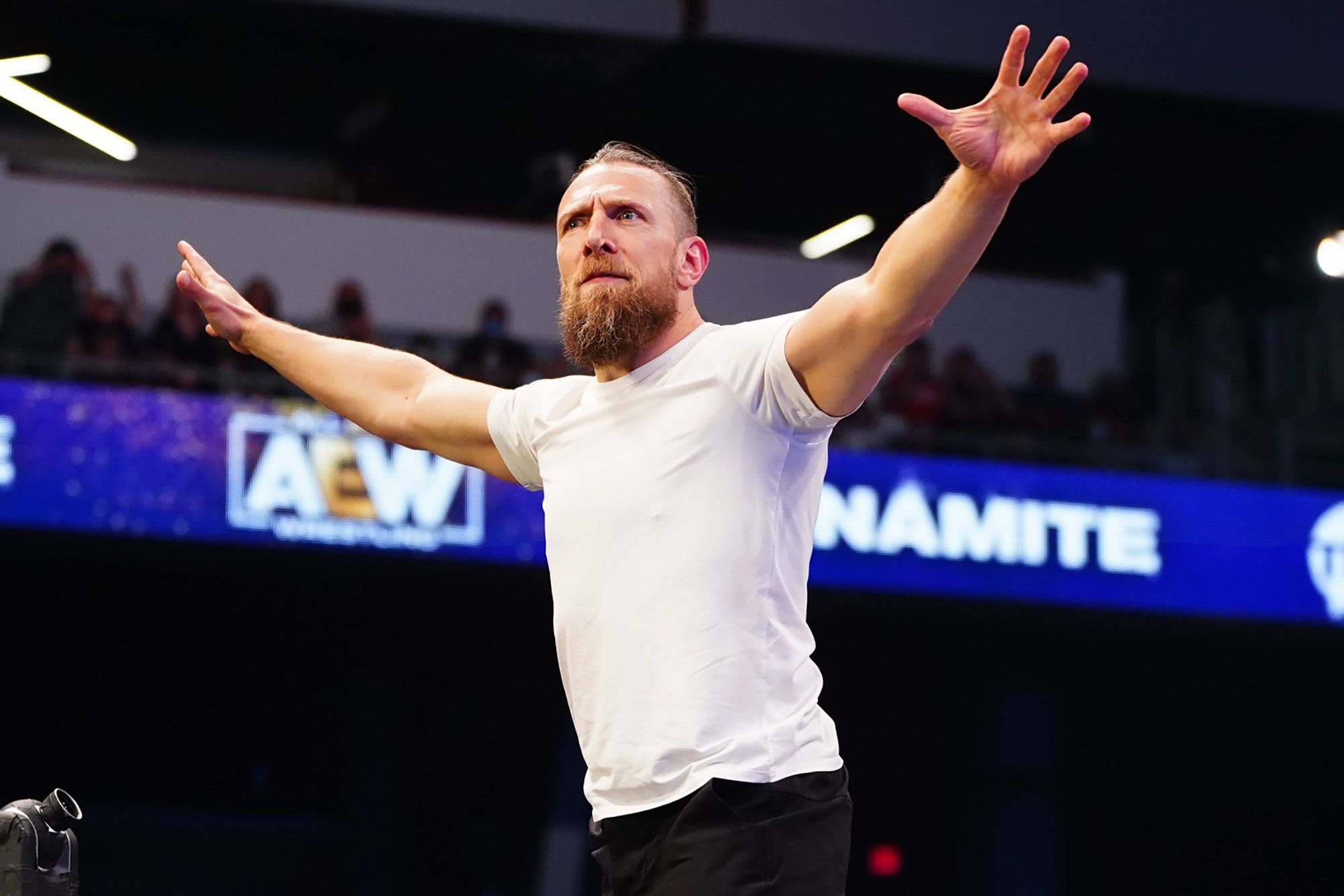 Bryan Danielson is amongst the best wrestlers in the world, that goes without saying these days, but there's no doubt that he's earned that label.
Standing at 5'11 and weighing just under 210 pounds, he isn't the typical sort of profile people are used to seeing at the top of WWE. Yet, with his insanely likeable personality and captivating in-ring work he made himself undeniable to the company's higher-ups.
Many fans will remember the organic fan support surrounding him, which picked up in 2013 after Bryan was screwed out of two titles reigns, SummerSlam 2013 & Night Of Champions 2013. Though, these events only threw coal on the fire in terms of Bryan's fanfare and it eventually grew so overwhelming that even WWE's rigid system couldn't hold him down any longer.
The journey to his Wrestlemania Moment was never easy for him. At Wrestlemania 30, Bryan had to first get through Triple H before securing his spot in the Main Event with Randy Orton & Batista. Two men that have grudges with Bryan, stemming from the seemingly endless rivalry with Orton in 2013, and Batista who was understandably annoyed that his Royal Rumble win had been undermined by the power of the fans.
The closing scenes of WrestleMania 30 will live on forever, but unfortunately what followed was a heartbreak for wrestling fans. Bryan struggled through a history of neck issues and unfortunately had to retire in early 2016.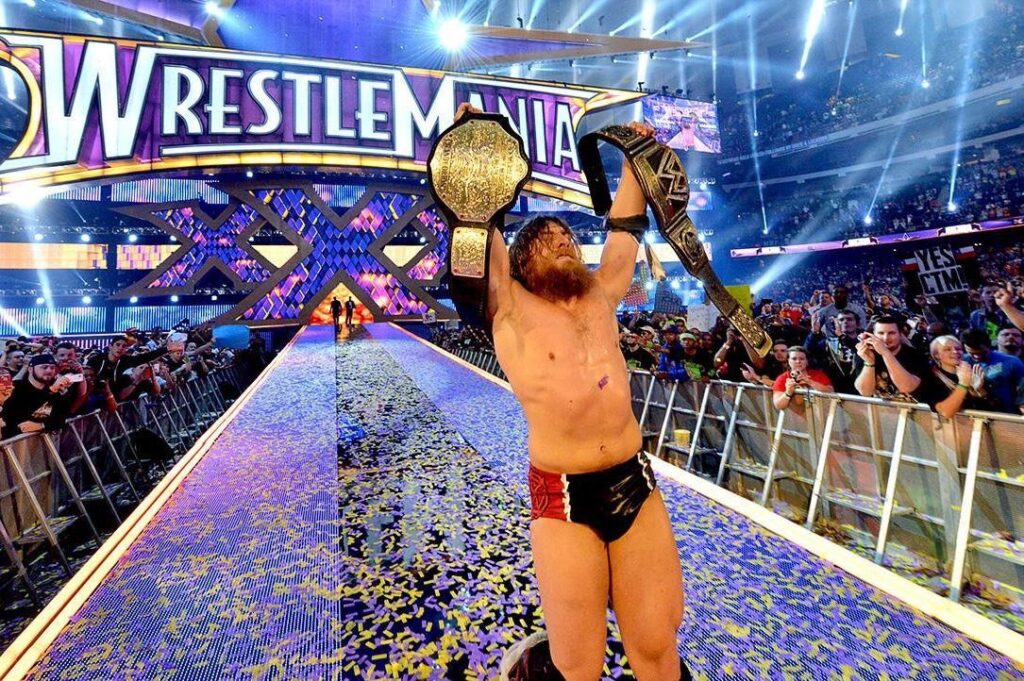 I won't lie to anyone reading this, Bryan Danielson is my favourite wrestler and that's because of his ability to never give up despite everything thrown at him. The road to getting medically cleared personified this to a tee. Though, when he came back he was treated as a much bigger star than his previous run in the company. In the meantime, he'd filled an important onscreen screen role as the SmackDown general manager, so it was easy to slot him into a story when he and Shane McMahon clashed with Kevin Owens and Sami Zayn.
As his return progressed, we reached the era of the Planet's Champion. Bryan's last run with the WWE Championship with an entirely new heel spin. It's looked back on fondly by the majority of wrestling fans and I don't want to dwell on it too much, but, there is one specific thing about this time period that is most interesting to me…
From what we know, Bryan was very much trusted from a creative standpoint here. He even redesigned the WWE Championship to be more eco-friendly which was a huge indication of just how behind him the company was. It was also said that Bryan "begged" to put Kofi Kingston over at WrestleMania 35, which many fans will fondly remember as "KofiMania". A storyline which Bryan played his role as absolutely flawlessly.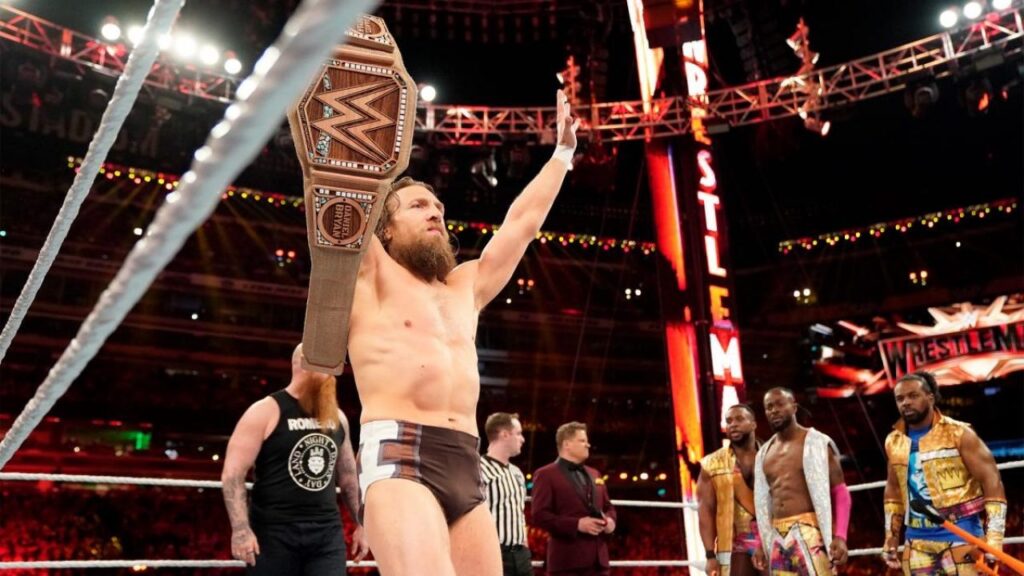 From that point to the end of his WWE days, it seemed like Bryan was able to make his stories more unique to him and enjoy himself more which was a teaser for his freedom in AEW. Now, with it being one year since The American Dragon's shocking debut in Tony Khan's company, let's look back on his body of work in the Elite company and see how his first year in the company went.
When the opening notes of Danielson's remixed theme song hit at All Out 2021, people rightly lost their mind. It was the main event of AEW's biggest show and the company had just pulled the swerve of making fans think the debuting Adam Cole was going to challenge Kenny Omega before siding with him. To then immediately introduce a second new star straight after an earlier debut was a bold move, yet Danielson walked straight into a new environment, stood across the ring from their world champion and no one thought he was out of place.
To any wrestling fan, Bryan Danielson going up against the biggest and best wrestlers in the world shouldn't be a surprise. But, what WAS a welcome surprise was his presentation. He finally felt big time right from the very start and fans were allowed to get carried away with the possibility of the best Bryan Danielson vs the best AEW had to offer. The first match he ever had in All Elite Wrestling was a thirty minute time limit draw with Kenny Omega which in itself was mind blowing to many fans. A match many once thought was impossible, which AEW went straight into it to capitalise on the hype. Some people questioned why this match was leapt into without much build, but for the pure spectacle of the battle, it was certainly worth it.
Danielson's only real goal joining AEW was to deliver good wrestling. He was desperate to reignite his passion and do it in a world where he was free. So, how does this sound? Bryan Danielson vs Minoru Suzuki, for free, streamed live on YouTube. Crazy. Bryan wasn't motivated by championships, he knew he could prove he was the best by challenging the greatest wrestlers he could find and tearing the house down.
Saying that, he did win the AEW World Title Eliminator Tournament defeating Dustin Rhodes, Eddie Kingston and Miro along the way. This set up a monumental clash between the American Dragon and newly crowed AEW Champion 'Hangman' Adam Page which was a mouthwatering prospect for fans. They wrestled twice, originally going sixty minutes in an awesome time limit draw and then Page was able to defeat Danielson in just under thirty minutes handing Bryan a rare loss.
In fact, he has only lost three times in one on one competition in AEW. Something else I'd like to highlight is the nature of the way he was winning the matches in between the showpiece bouts. It became more and more common for Bryan to hold his opponents arms and repeatedly stomp on their head and neck leading to a win via referee stoppage. Slowly but surely Danielson became much more vicious and open about his need for violence.
He became fascinated by Jon Moxley, a man known for having a mean streak. Once Mox had returned, Danielson was seen watching his matches closely. He made a proposition to the now AEW Champion, claiming that they could be better together than they are apart. We now know this to be true but Moxley famously stated that he'd never stand side by side with anyone he hadn't bled with first.
The match was set and at Revolution Danielson had his violent desires answered in an incredible match against Moxley. Bryan ended up on the losing side, but the brawling didn't stop when the match finished. The men couldn't be separated until the debut of William Regal. The highly respected Brit stormed down to the ring with a scowl across his face. Regal walked up to the two men, slapped one and then the other, forcing them to make up and join forces.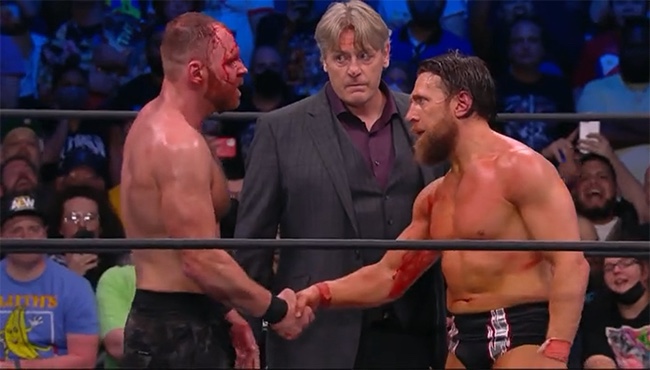 This is where gold was struck. William Regal is the well-respected veteran who is perfect for the role of masterminding the bond between two insane wrestlers. Regal has gone on record to say that Danielson is the 'perfect wrestler' and the wrestler Regal wishes he could've become himself. There's plenty of history between the British legend and each member of the team. I can't stress enough how much this is a match made in heaven.
The Blackpool Combat Club set Moxley and Danielson on a path of destruction. They set a standard of brutality that few could match, scouting the greatest young talent in the company. Wheeler Yuta has so far been the only young talent to pass the initiation without a previous long track record. Moxley put him through his paces in multiple brutal matches in order to make sure he was right for the BCC. Claudio Castagnoli has since joined and they stands as an unshakable force including the ROH Champion, ROH Pure Championship and a soon-to-be-crowned new AEW World Champion.
Danielson himself is yet to hold a championship in the company, but it feels like he hasn't needed one to come across as a legitimate threat to anyone challenging him. His style can be directly contrasted to the Jericho Appreciation Society, who Danielson is currently locked into a feud with. Chris Jericho had taken the 'professional wrestling is everything' attitude in AEW and flipped it on its head to deliver a more 'sports entertainment' focused group.
Bryan Danielson had previously mentioned Daniel Garcia as a guy he'd be interested in scouting for the BCC. Garcia, who many had highlighted as somebody perfect to be mentored by Bryan Danielson, instead has been part of the Jericho Appreciation Society. Under the mentorship of Jericho, Garcia fully embraced his label as a sports entertainer, that was until he completed one bucket list moment. Garcia had the chance to wrestle Danielson, twice! A man he openly admits is his hero. Defeating Bryan the first time, and then going 30+ mins with him in a two-out-of-three falls war.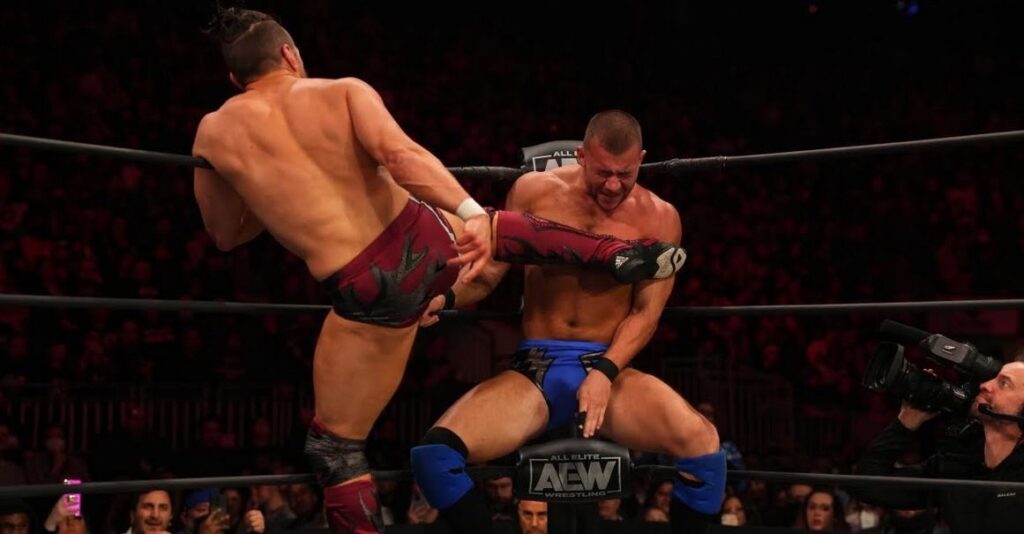 The matches raised Garcia's profile no end and, although Bryan came out on top, he offered a handshake to Garcia as fans chanted "you're a wrestler" following the match. This may seem small but the gesture meant a lot to the young wrestler, who was offended when the moment was taken from him by Chris Jericho ambushing Bryan from behind. Danielson wants to make Garcia realise that being a pure wrestler is the be all and end all in this industry because of his own genuine love for the sport. It's heart warming to see how much Bryan is having fun in AEW and how open he is to working with everyone.
At All Out, Danielson ended up on the losing side. Yet, an opportunity still presented itself. I mentioned earlier that Bryan is yet to hold a championship in AEW and how he doesn't need one, which is true, but the company is in desperate need of someone to step up. We're not here to get into all of the Elite vs CM Punk drama but it certainly left a sizeable hole in the company's main event presentation. As a result, there is currently a vacancy when it came to the AEW World Championship. The title itself has been attached to drama for nearly six months now. It was the feud between Punk and Hangman that allegedly planted the seeds for Punk's explosion at the All Out media scrum and in the meantime we had injuries, an interim champion and a squash match where Moxley unified the titles by pinning Punk in under three minutes. It's been a rough few months for AEW's top title and a tournament was set up to refresh the division with a new champion.
Amidst the backstage chaos it became clear that three men took their place as the locker room leaders to try and steer the ship going forward. Those stars were Jon Moxley, Bryan Danielson and Chris Jericho. So, it's unsurprising when these were three of the four semi-finalists alongside AEW "pillar" Sammy Guevara. Last week on Dynamite we saw Moxley defeat Guevara and Danielson overcome Jericho for the first time in his career. So it is official, this week at AEW Grand Slam Moxley will face Danielson for the vacant AEW Championship. This is a huge vote of confidence to both guys from the company, particularly following the drama of the last few weeks. Many believe that Moxley will win the title back, after having a very short run with the undisputed AEW title. But, I'm of the opposite view.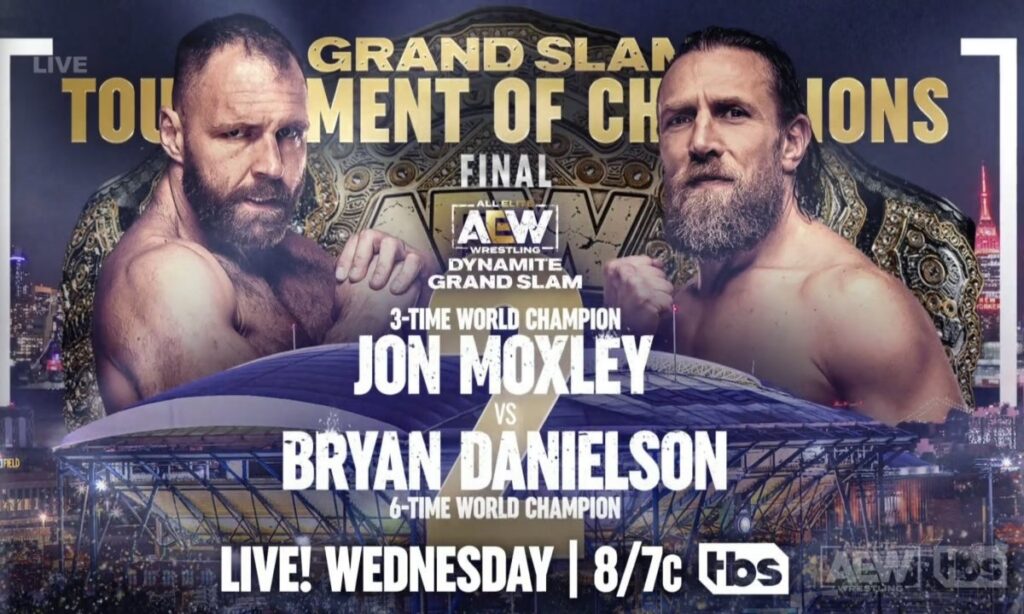 I can agree that Moxley should've had a better, longer run with the title throughout the summer but I think it's time for something fresh. Something that could also legitimately become great. A Bryan Danielson AEW World Championship run could be golden, he doesn't NEED it but if there was anything he could use to show people he's the best in the world that would be it. He could have a 'if you think you're good enough, come and take this off me' attitude as he works his way through the roster having awesome matches.
This can show just how much of a star maker Bryan Danielson is. He's accepted as the best and the biggest challenge for anyone in the company and the title would symbolise that. Wrestlers who step into the ring with Danielson are immediately elevated and he gives a chance to anyone who's willing to get better. He's just here to enjoy wrestling again and I think, as wrestling fans, we can all appreciate that because we never know how long he has left and his in-ring work is special.