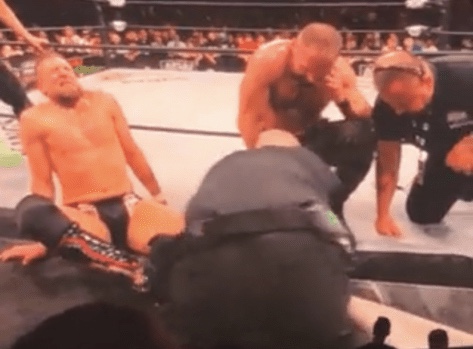 Reportedly, Bryan Danielson does not appear to be injured.
Last night during the AEW Rampage tapings that took place after AEW Dynamite was on air, Bryan Danielson was involved in a brawl between the Blackpool Combat Club & the Jericho Appreciation Society. During said brawl, it appeared Danielson had slipped between the stage and the ring and got his leg stuck.
Fans recorded the incident as they wondered what was happening, and when posting online it of course caused a lot of worry from the online fans:
Luckily in an update from Bryan Alvarez on Wrestling Observer Radio, it appears that this was all a work by Danielson:
"I'm strongly given then impression this was all a work from start to finish but I suppose if we hear otherwise, we'll let you guys know tomorrow but I think he just came up with a whacky idea and thought it'd be funny."

"If you watch the video, it looks like Moxley and everybody are there, i mean they don't seem overly concerned, they appeared to be playing it up with him. And I was told by somebody there that they actually laughed about it. So I think one way or another we can tell you that he's not appeared to be injured, and I think the whole thing was a work"

– Bryan Alvarez
Of course there is still yet be anything official on the matter that comes directly from AEW or Danielson himself, so I guess we will have to wait and see how it all plays out and if Danielson/AEW announce an injury or not.
If you use any of the quotes above, please credit the original source with a h/t and link back to WrestlePurists.com for the transcription.