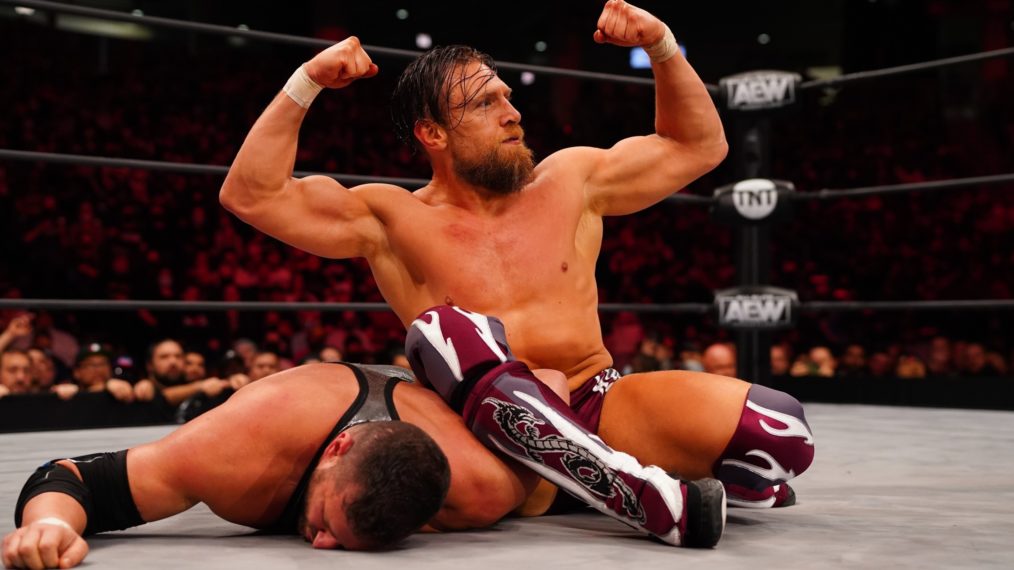 This past Saturday at AEW's annual Full Gear PPV, Bryan Danielson competed in a fatal four-way against Claudio Castagnoli, Sammy Guevara, and Chris Jericho for the latter's ROH World Championship in a terrific match that saw 'The Ocho' walk away with his title. As a result, Danielson is still yet to claim gold in AEW or ROH since signing with All Elite Wrestling on September 5th last year.
Speaking on One Fall with Ron Funches, Danielson revealed that this doesn't bother him at all, as he feels as though he's at a point in his career where his main goal is to help others, noting that he'd be content with wrestling on AEW Dark and Dark: Elevation if Tony Khan asked him to.
"My goal — I don't even know if its a goal. What I feel like my job is in wrestling at this point is service, and that's actually what brings me the most joy… Me being champion or anything like that, if they really wanted me to be champion, if AEW really wanted me to be a champion or whatever it is, I'd do it if they thought it was good for business or whatever it is but that's not what inspires me or brings me joy. Being able to get in the ring with younger talent and being able to give back, all that kind of stuff, that's the stuff that brings value to my life now, especially as an older wrestler, as somebody who's 41. I don't need the spotlight, nor do I even really want the spotlight… I love [that] AEW does AEW Dark and AEW Dark: Elevation on YouTube and I love those platforms and I would love just being on those shows and then, I would love to do that but I think Tony Khan pays me too much money to do that [Danielson laughed]. He wants me to be on their TV show and all that kind of stuff but I would be just as happy if probably not more happy, one, because I love to wrestle still, I love being out there in front of the crowd. But being able to wrestle and also helping people achieve their dreams in wrestling as well. So those are the things that really inspire me and light up my brain and the things that I think about when I'm on the road and that sort of thing that are not family-related or thinking about, oh, okay, this would be cool or this would be cool. Oh, when he approached me about wrestling Daniel Garcia, I was like, 'Man, that sounds great. I would love to do that.'"

-Bryan Danielson
Staying on topic of the phase that Danielson's career is now in, 'The American Dragon' was asked what his final match in wrestling might look like. 
Danielson reiterated that he doesn't intend on being a full-time pro-wrestler for much longer, stating that the expiry of his current AEW contract is likely to signify the beginning of that chapter in his career. As for his last match, Danielson revealed that he doesn't want to know when that day will happen, instead hoping for a natural conclusion to his legendary career to be reached.
"No [I don't have a dream scenario for my final match]… I would like to wrestle a match two weeks before I die, right? And to not know that it's my last match. That would kind of be my ideal situation but I'm not gonna be a full-time wrestler for much longer [Danielson laughed]. That all said, I'm not gonna be a full-time wrestler for much longer. When my AEW contract is up, that's pretty much me being done being a full-time wrestler but I like the way some people like Terry Funk and Jerry Lawler and those kind of guys do it where they do it for fun, right? And don't do it all the time, they do it here or there, that sort of thing. But as long as I have fun doing it and as long as I experience joy doing it, it's something I wanna continue doing for the rest of my life. Now, I wish my passion was something that didn't cause me as much physical pain because for sure, if I was really gonna play the guitar which I could be if I put enough effort into it and if it brought me that kind of passion, I could be playing music or whatever literally the day before I die or whatever it is. But as it is now, it'd probably have to be like at least two weeks, if not a little bit before the day that I die but you know, one of the things that was really brought to my attention when I was forced to retire was that you never know when your last match is gonna be… The last match that I had before I was forced to retire, I didn't know that was gonna be my last match, right? And then, it was and I didn't know it was gonna be my last match until two months later when they were like, 'Okay, yeah, I don't think we're gonna let you come back' and then it turned out to not be my last match. So I went for years thinking that was gonna be my last match and then it wasn't and so, but just to be grateful and then you can even extrapolate that too, you don't know when the last time you're gonna see your kids is. I saw my kids on Tuesday and there's a chance if something happens to me, I may never see them again, right? And all that does, rather than be morbid about it is to not take things for granted. But every time that I get a chance to wrestle, it's beautiful and every time that I get to wake up with my kids and make them breakfast and put them to bed at night is beautiful too and you can even extrapolate that to each individual breath, in it's own way is beautiful and different… I don't have any vision of what I want my last match to be. I certainly don't envision it being some epic match that everybody talks about. In my mind, it would be a match that I would just be doing at some local indie in front of 300 people that are just like, okay, I'm just going out and having some fun and it just turns out to be my last match [he laughed]. So that's kind of how I envision it."

-Bryan Danielson
Danielson's AEW career thus far has been phenomenal in terms of match quality, and thus it will certainly be interesting to see what the future holds for the Blackpool Combat Club member as he seemingly begins to prepare to a new phase in his life.
H/T to POST Wrestling for the transcription.