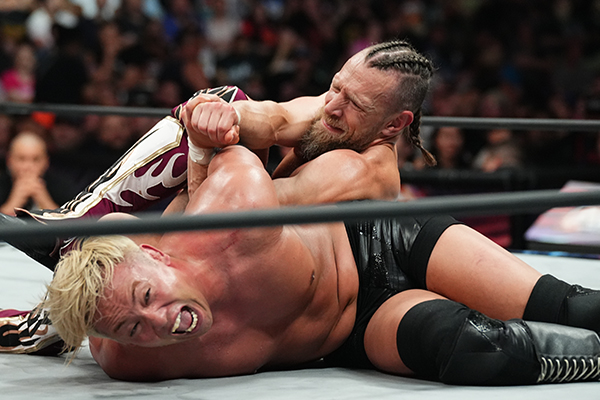 When something in the universe happens that is so striking, so epic, so grand in sheer scope and magnitude, that moment hangs, and it hangs in a way that makes time itself feel obsolete. All that matters is what is happening in front of you. Like Moses to the Burning Bush that spoke to him in the desert, like John Coffey in The Green Mile when he finally saw the 1935 film Top Hat, it elicits a raw emotion that is hard to replicate in life.
For me, and possibly others, that was the main event of Forbidden Door in 2023. A match between two legendary performers that we never thought we would see, a match that really puts into perspective appreciating what we got when we receive it, a match that puts the human experience into a bubble as we soak in something we never thought we would get.
That to me was Kazuchika Okada vs. Bryan Danielson.
It's crazy to think that about five or more years ago, this would never have been a possibility. In the mid-2010s, while Kazuchika Okada was becoming a living legend in Japan with matches against Hiroshi Tanahashi, Shinsuke Nakamura, Katsuyori Shibata, and Tetsuya Naito, Bryan Danielson was retired due to a history of injuries, still signed to the WWE. The once best in the world was taken away, while The Rainmaker was making that moniker all on his own.
Luckily, the stars aligned ever so nicely. Danielson was eventually cleared in 2018 and returned to in-ring action, whilst Okada was continuing his historic rivalry with Tanahashi and having an epic series of matches with Kenny Omega that would come to define the tastes of wrestling fans.
Danielson left WWE in 2021, having lost to Roman Reigns. Daniel Bryan died that night, and Bryan Danielson regained his American Dragon scales. He was ready to breathe fire once more.
After an injury took him out of 2022's Forbidden Door, Danielson remained healthy enough for the chance to lock up with The Rainmaker, claiming that they need to test exactly who is the "best in the world". Chicago wept, but Toronto gained a day.
That was the story going in, and it is a simple enough premise on its own. For anyone in tune with wrestling as a whole and possessing the ability to read a book without asking what the story was after reading just one sentence, this was satisfactory.
The Canadian crowd on June 25 had been put through the wringer. After the best ten-man tag team match of all time and the sequel to Kenny Omega and Will Ospreay's Wrestle Kingdom 17 clash, not even the trios match that preceded Okada vs Danielson was enough to relax the crowd. Granted, if I saw Minoru Suzuki and Sting in the same match together, I'd have a hard time relaxing too.
Once the rising opener of Europe's "The Final Countdown" began, however, it was as though this show started from the very beginning. The crowd was red-hot once more. As the opening notes continued, that trademark grin on the bearded Dragon greeted the arena. Fans were singing and screaming. As the song coalesced into Justin Roberts and Takuro Shibata announcing him into the ring, you can see a brilliant twinkle of emotion as he rests near the ring steps. This is it. This is real. This is happening.
It's small moments like these that drive home how much wrestling means to those who live and breathe it.
Kazuchika Okada's entrance isn't as emotional, but it is still grandiose in its own right. With The Rainmaker and his theme song being synonymous with the notion something great was about to happen, that's all you need and that's all you should get – the welcomed norm in a rain of dollar bills.
Both of these entrances were symbolic in their own ways – Danielson's past theme song cemented the fact that the wait was finally over, and Okada's money-littered ramp signified that this was indeed a drawing match that would fatten the bank for both AEW and NJPW.
"Holy shit!" chants ring through the arena before the bell even starts; the wrestlers do not hear it. They only hear the blood coursing through their veins. All that exists is this instance in time.
Classic technical wrestling starts the match, Okada seeks to meet Danielson on his level. You do not do that. You do not delve into someone else's strengths. Danielson is a tactical warrior who has already picked you apart before he's laid a finger on you. By diving into these infested waters, Okada finds his arm forfeit. Danielson is smart to try and weaken the Rainmaker lariat, if not eliminate it completely.
This is when the brutal Okada comes in, rag-dolling Danielson everywhere. Unfortunately for him, he's a sponge to the pain and he's going to kick Okada's fucking head in.
Not only does he target Okada's arm, but he also takes his shoulder, and he does it like he's a human pretzel factory, all with the calm demeanor and goblin-esque glee that someone of his stature is granted.
The Dragon tempts fate in Okada, who invites him in for some chest-chopping; Danielson breaks this consent with a Yes! Kick that infuriates the violent stoicism from the Japanese Superman. The match then goes into Austin/Hart 87 territory, bringing the fight to the crowd until Okada wrangles Danielson back in, who is still shaking the cobwebs from his brain, feeling the daze of the ultimate human he is fighting.
Okada starts to go after Danielson's weakness, putting pressure on his neck and head with an Air-Raid Neckbreaker, just for an empty pin.
Okada seeks to take Danielson down from on high, only for his shoulder to be elbowed into oblivion, sending him to the mat for a Missile Dropkick. He stays on The Rainmaker, until the latter finds enough breath for a Shotgun Dropkick, which he brings back for Danielson's subsequent dropkicks.
After some more dropkicks, Okada lands an elbow drop that lands gnarly on the arm of Danielson, and that's where this match goes in a different direction. It is here where he seems to be injured.
On the outside, Okada attempts a Rainmaker, Danielson counters it with a dropkick, bleeding into Yes! Kicks that are diverted into a Tombstone right on the unforgiving steel entrance ramp.
Dragging the carcass of Danielson into the ring, it becomes apparent something has gone wrong. He is helpless, twitching, and convulsing while Kazuchika continues to assail him. Danielson cannot fight back, and he's gasping for breath as he continues to shake. His history of injuries catching up to him, making this an uneasy spot to watch.
Kazuchika Okada cares not, for he pushes medical professionals that attend to Danielson and goes in for another Rainmaker, only for Bryan to duck it and lead to a Busaiku Knee, and the damage done to his arm is on full display, as he lets it dangle limply. Okada has suffered too much, about as much as Danielson.
Summoning the Yes! chants, Danielson takes too much time, and Okada nearly tastes victory upon his tongue after a Rainmaker, but Bryan kicks out. The will to survive is too strong for either man to give in, but for all Okada has done, he has never wrestled anyone like Danielson, on Danielson's level.
Just enough life exists, but in a one-armed LaBell Lock and a unique leg lock holding Okada in the throes of agony, Okada taps. For the first time since 2015 to Shinsuke Nakamura, Kazuchika Okada has tapped out to a man with one arm.
The night closes with Bryan celebrating the fact he remains the best wrestler in the world, in the same grin he wore to the ring as the show closes on John Norum's guitar solo.
I loved this match. The details, the different styles, the importance of it all. It's one of those things that makes me glad I became a fan again in 2018. And yet, I know it's not for everyone. The injury, the fakeout seizure that would be obvious to those who work in healthcare, the insanely high expectations… I get it if it personally was not for you. But it was definitely for me.
I hope that the pair lock up again, preferably in Japan's cerulean blue mat, but if this is to happen again, please – no fakeout on serious traumatic health problems. Let it be special in this moment and just keep the story going.
Other than that, this was an amazing thrill. When I watched it live, it felt like it was taking hours and seconds in equal measure, a moment out of time itself. A man who has had one of the best wrestling careers ever and one who has faced one with ups and downs and many doubts.
Okada did not pass the litmus test, and he's liable to be even more pissed and abusive to all of Japan's youth who seek to get under his skin. Bryan's going to come back smug and healed up, adding to the threat that is the Blackpool Combat Club.
This was the beginning chapter that will keep the pages coming until the stories and threads are finished.
And it happened with a fracture under a rainless night.