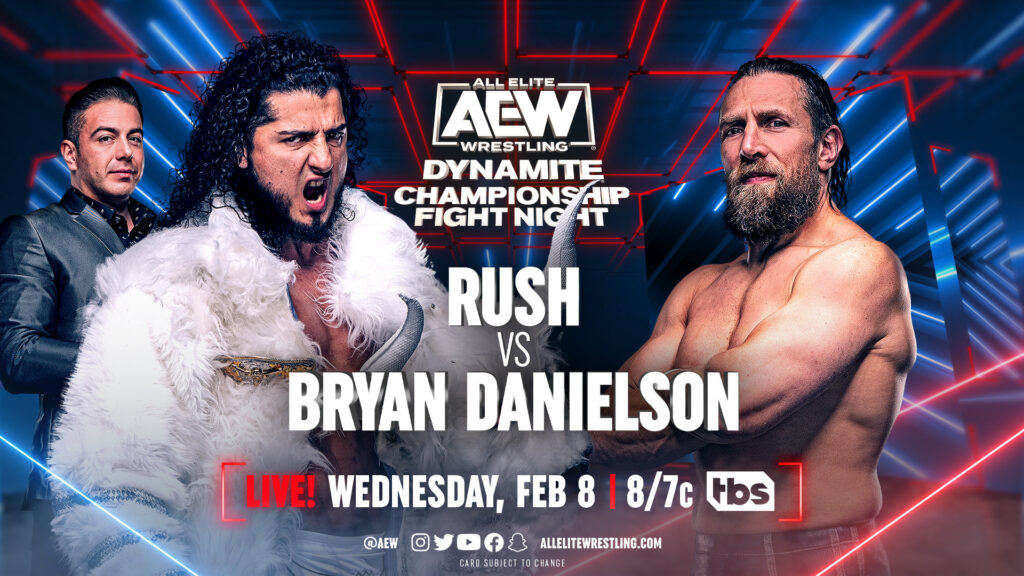 Rush has been a fascinating watch in AEW. In his very first outings for the promotion, the former Ring of Honor World Champion felt immediately at home, seizing his opportunity on the national stage. In just his second Dynamite match, Rush shared a bruising battle with Jon Moxley, matching the company's ace in intensity and physicality. There was an immediate intrigue to Rush's presentation also, with his villainous edge shining through in even the briefest pre-tape promos. There was a palpable nastiness to his demeanour, the kind of mean streak that felt present at every turn.
He's also still Rush though, and with that comes a familiar range of results. At times, Rush's work can flatter to deceive, resulting in somewhat hollow showings, especially in lesser matchups. I don't mean that as a scathing criticism either, it's just who Rush is, wearing his motivation in each moment and move. In many ways, I think there's a great deal of charm to Rush's mercurial nature, especially in an era where in-ring quality is so reliable. Rush isn't churning out epics but when it feels right, he can produce at an almost unparalleled level.
In my view at least, that's what made this match so compelling on paper. Knowing all of the above about Rush, there's a natural conclusion when pairing him with Bryan Danielson, a wrestler who on his most disengaged day, produces objective excellence. While they're different in that regard though, there is overlap also. At his best, Rush brings a degree of danger and violence that's hard to manage without bells and whistles. His trusty cable aside, Rush usually projects a fear factor through sheer physicality, clobbering foes with utter disdain.
Danielson thrives on that contact, actively excited by the pleasure and promise of pain. This felt like a can't miss combination, the kind of recipe that'd inevitably produce enthralling television as Danielson's latest stop on the road to MJF. Ultimately, Danielson and Rush would share something that far exceeded even lofty expectations, creating magic in an instant AEW classic. Early on, it's clear that Rush is in a certain kind of mood, immediately whacking Danielson in a way that quickly erases the pre-match theatrics that came beforehand.
Rush strikes a remarkable balance in his offensive output, at times stringing strikes together in frenetic fashion but then allowing things to breathe, making ample room for his fabulous character work. That ingredient is stronger than ever here, with Rush maximising an already lively crowd, quickly creating a striking atmosphere. There's something increasingly raw about this moment, a visceral nature to the exchanges, with Rush's instincts embracing this emerging opportunity. Before long, Danielson returns fire, barely moving Rush who's almost relishing his retort.
Things are about to escalate too, spilling to the floor as Danielson ultimately finds himself covered in blood. Rush digs his fingers into the wound, offering headbutts as this quickly evolves into the war that it's first minute or two had already threatened to be. Tonight wouldn't be a mere flash of potential though, nor would it be the exciting first act for an eventual programme. Rush wasn't leaving any room for interpretation against Danielson, kicking through this door at the first sign of an opening.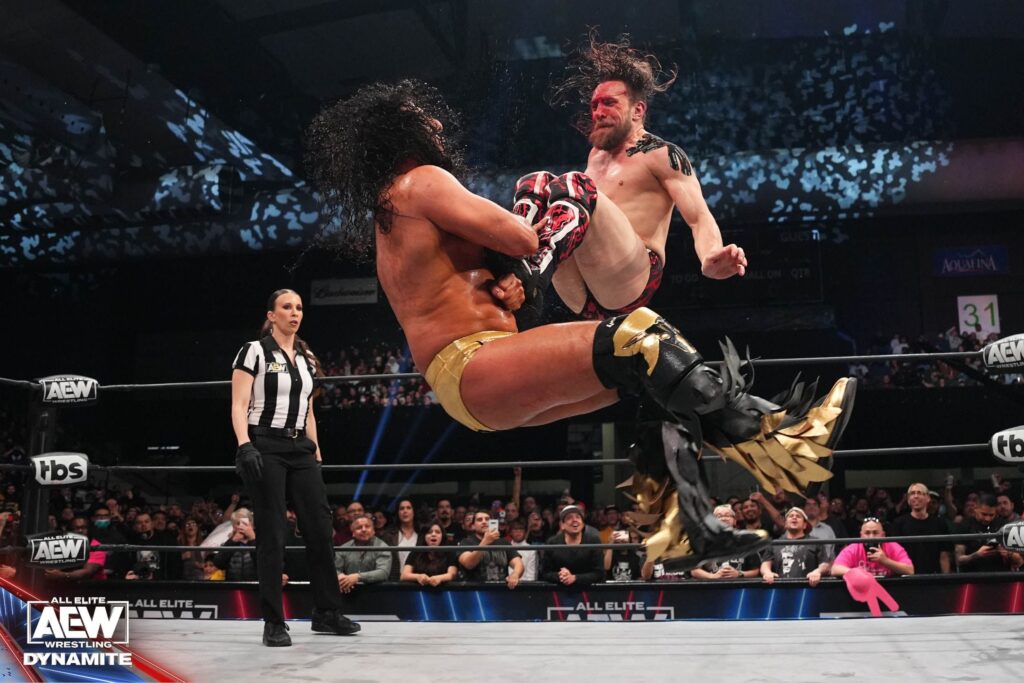 He's not doing so unassisted either, quite the opposite in fact, as Danielson's selling adds immense drama to proceedings. Swaying with each thump, staggering from one drubbing to another. The match feels truly alive, a flowing violence that never falls victim to formula or familiarity. The content isn't anything innovative or unexpected, its execution simply exhilarating. Danielson feels in genuine danger, responding with desperation wherever possible, at one point exploding with horrific elbows to Rush's skull.
These are some of the nastiest strikes that Danielson has thrown in AEW, and consider the ground that covers. Danielson is hitting so hard that Rush momentarily concedes, registering those blows before firing further chops. It's now a shootout on the apron, with Danielson requiring a whole combination to drop Rush, ultimately being dispatched to the floor anyway. At this point, Danielson's crimson mask is only a shade or two redder than his battered chest, visibly wearing Rush's ferocious chops.
No matter the savagery of these exchanges, Rush maintains that aforementioned balance too, still finding the time for his captivating cockiness. Danielson stays alive throughout also, snatching the LeBell Lock but failing to prevent Rush from quickly reaching the ropes. That doesn't slow Danielson's retaliation though, unleashing an absolute onslaught that finally turns the tide, rocking Rush at last. There's a true electricity to this moment, the kind that feels special even on Dynamite, a show that's no stranger to elite action and excited crowds.
There's a noticeable fatigue to the last leg of Danielson's comeback, also still without his previously injured left shoulder. Danielson's weariness adds a gravity to the back and forth action, an ongoing example of the damage being dealt. There's a subtlety alongside those physical wounds too, as Danielson seldom takes a step without reiterating the damage to his shoulder. This was always about making it to the Revolution match with MJF but as Rush's outbursts unfold, Danielson feels increasingly as though he's in the fight of his life, merely trying to survive.
Rush's arrogance always allows an opening or two also, with Danielson taking advantage to score a sudden Busaiku Knee. It's not enough to close the show but the playing field now seems equalled, resulting in a race to the finish, with both men meeting in centre ring, exchanging strikes as Danielson simply refuses to concede. Ultimately, Danielson creates enough space to score the conclusive blow, landing a second Busaiku Knee to bring a sudden but emphatic end to Rush's previously dominant night.
Try as I might, I'm admittedly unable to truly capture this match's magic with the words above. Fittingly, it's just something that you feel, similar to Danielson and Rush's penchant for an environment such as this. Bryan Danielson is arguably the greatest wrestler of all time, brilliant at his rare worst and virtually unmatched at his quite commonly present best. Even still, this tapped into a very specific version of 'The American Dragon,' the champion that destroyed Nigel in Liverpool, the conqueror that toppled Morishima at Hammerstein.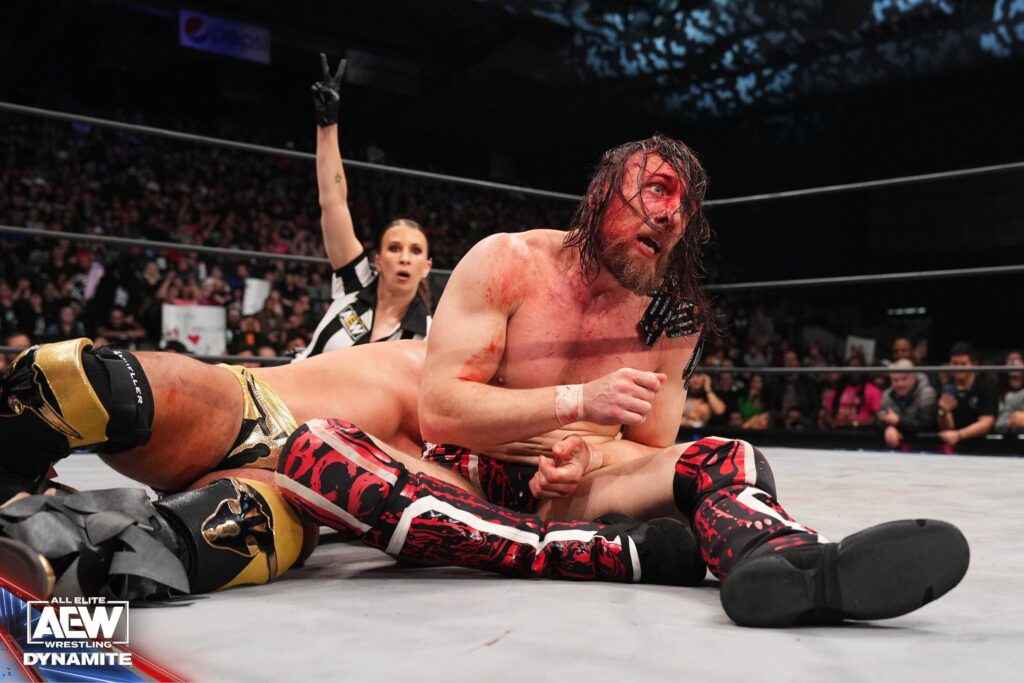 For Rush, this was yet another glance at the wrestler he's capable of being, the most impressive example in AEW thus far. As an inconsistent but instinctive talent, Rush remains a major asset to his new home promotion, an entertaining presence who at his best, can deliver at a main event level. Truly though, if Rush can regularly be just 75% of the monster that he was here, he'd be an immovable headline act. Rush's floor is high but as this match so violently captured, his ceiling could be transformative for all involved.
That's a question to be answered tomorrow and beyond but for now, this match remains the rightful conversation. Bryan Danielson and Rush combined in a fashion that brought the absolute best out of one another, creating one of the most gripping matches in Dynamite history. This wasn't just AEW's latest great match, it was the kind of fight that leaves visuals etched in your memory. Together, Danielson and Rush produced a classic that's tone told the tale.
A match built on brutality, this beautifully walked the line between awe-inspiring excitement and horrifying savagery. To translate, it was Danielson and Rush in rare form, exquisitely magnifying the unique overlap in their finest work.