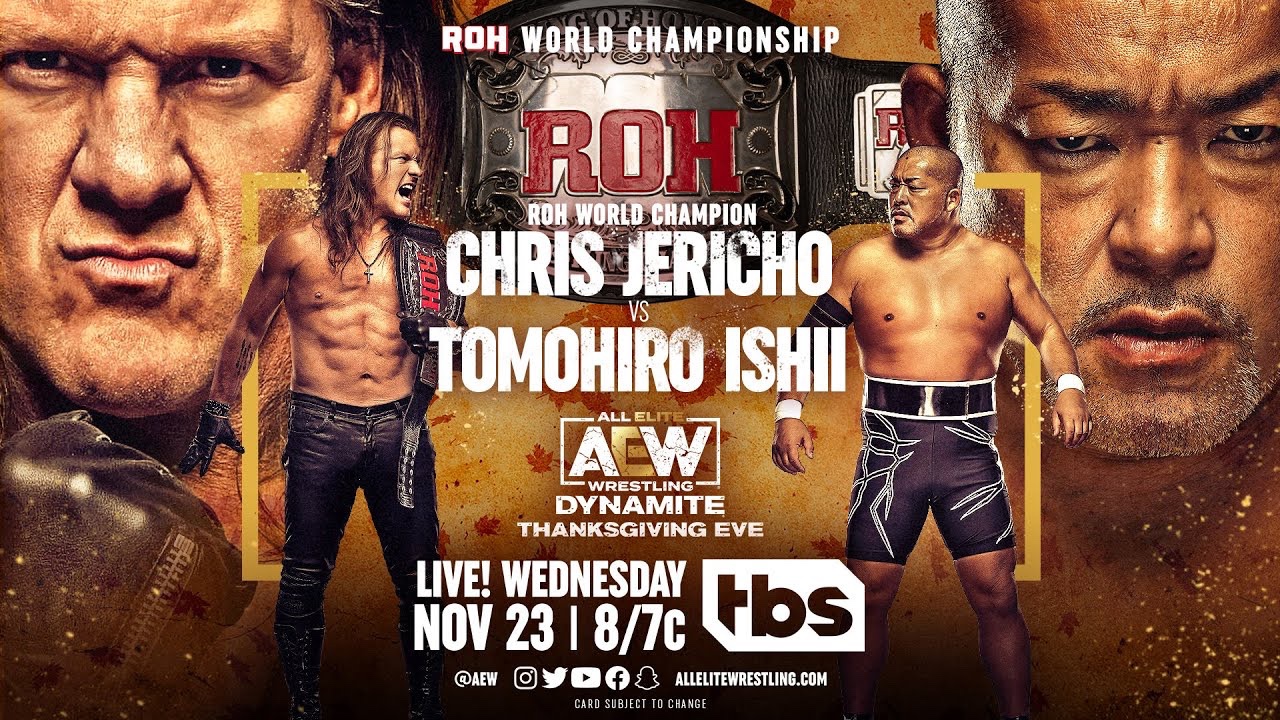 Some people talk about legends, myths and how they wished they witnessed tales of heroics. But we're watching our modern day King Arthur in Chris Jericho. This man is helping to revitalize Ring of Honor back to the glory days. He's having some incredible title defenses. I honestly thought he was going to phone it in and give it minimal effect, but hell no, he's treating this as if every title defense is his last on this earth. Especially this Ishii match. He didn't have to go out there and have the " Ishii match" but Jericho said 'fuck it, let's ride'.
What made this match phenomenal besides it kicking ass, was watching it on the Late Night Grin w/ Joe. We were popping so huge at this match because Jericho was willing to take all that insane offense from Ishii. I'm sure Jericho doesn't care how I feel, but man I'm so excited and happy that he was able to get his dream match with him, and you could just tell he wanted to make this match special to help get Ishii over (who doesn't need help getting over). Jericho doesn't have to go through what he did in his age like past top legends in this business.
Okay, that was a long monologue. I thought I was doing SNL or a talk show host giving an unfunny monologue. Man, I knew we were onto something special when Ishii didn't come out with Rocky or the Best Friends and Jericho didn't come out without the JAS. Both men were about their business and ready to kick ass. Ishii was in his G1 MVP bag, he came out like a ball of fury and it was a spectacle to watch Jericho try to keep up with him.
The first pop of the night besides watching Jericho throw his forearms, was watching Ishii do a hip toss then kicking Jericho in his lower back. I started to yell " I think Chris Jericho just shit himself" on stream. Jericho rolled out of that ring grabbing his butt and stomach. I knew that exact feeling Jericho was feeling, my brother was going through it one time. He just needed a break brother, there was too much intensity going on and his body couldn't contain it.
Jericho wanted his receipt so he started to do a shitty forearm exchange, but Ishii was not selling any of his offense. HELL. HE EVEN COUNTERED THE CODE BREAKER. Bro these dudes didn't give a damn they just started running the ropes and just trying to shoulder tackle each other as hard as they could until someone gave in and that dude was Jericho, he couldn't handle it. Then he started to do slap boxing with Ishii and quickly Jericho changed the sequence to a chop fest. These chops were INSANE. No dude wanted to concede, they wanted to prove they were the top dawg. Nobody's will was going to be broken during this match especially with…
ISHII CHOPPING JERICHO SO HARD HE BUSTED JERICHO'S CHEST OPEN.
I thought this match was gonna be a fun little match where both dudes just hit their famous spots and just go home. But fuck no, they were wrestling like they were the main event of Wrestlemania or the Tokyo Dome. This was G1 MVP Ishii hooping. It was violent.
ISHII HAD JERICHO'S CHEST BLOOD ON HIS FUCKING FACE, IT WAS AN INSANE VISUAL TO SAY THE LEAST.
Then Jericho did what I can only describe as a superhero that holds his enemies head while they break through walls, because Jericho cut off Ishii and did a running lariat to Ishii dragging him to the corner to hit mini lariarts. I wanted to be on my feet so bad but I was on stream so that only led to me screaming a lot in my seat.
That doesn't even describe how much of a savage Ishii looked at this point of the match; he was covered in Jericho's chest blood. Even the hand that Ishii was throwing chops with was soaked in so much blood it was dripping from his hand. It felt to me that Jericho was trying to bust open Ishii the hard way but couldn't, then Ishii said "fuck it" and just lifted him up for a running power bomb. Then Ishii, this mad man, took the most insane ddt pump I've ever seen.
HE FUCKING SPIKED HIMSELF ON HIS FUCKING HEAD ON THE APRON!
He no sells that and they start to freaking brawl on the outside. They go back into the ring and start exchanging germans. Both dudes are just taking head bumps. My room is shaking. I can't contain my excitement. Ishii hits this man with a headbutt, then a sliding lariat. The people are on their feet. The crowd gives Ishii his 4th wind by powering out of Chris's first walls of Jericho and counters that with his own code breaker/ lariat combo. Man my mouth is dry because of my yelling. But Jericho finds a way to survive and get Ishii into the walls again. But my dawg Ishii was on his fucking demon mode he threw up his middle finger like an OG and tapped.
This is the kinda shit that makes you feel, it's just that good shit. I haven't felt a high after a Dynamite in a long time. But man, NJPW aint doing shit with Ishii right now so I need Tony Khan to talk to New Japan so they can keep Ishii for a while and use him for dream my matches. I need this version of Ishii on my TV. I can't believe Jericho has been Ishii's best match so far on AEW. All I can tell you is this match was giving me the same kinda high I think people on heroin or acid look for. I was on another high and now I want more of this euphoria.
GOD BLESS ISHII AND CHRIS JERICHO I HOPE THE TURKEY GODS BLESS THEM WITH GREAT FOOD AND BLESSINGS. (**** ¾)
Just some great wrestling and it has a 8.50 on cagematch but my rating is more important anyways.