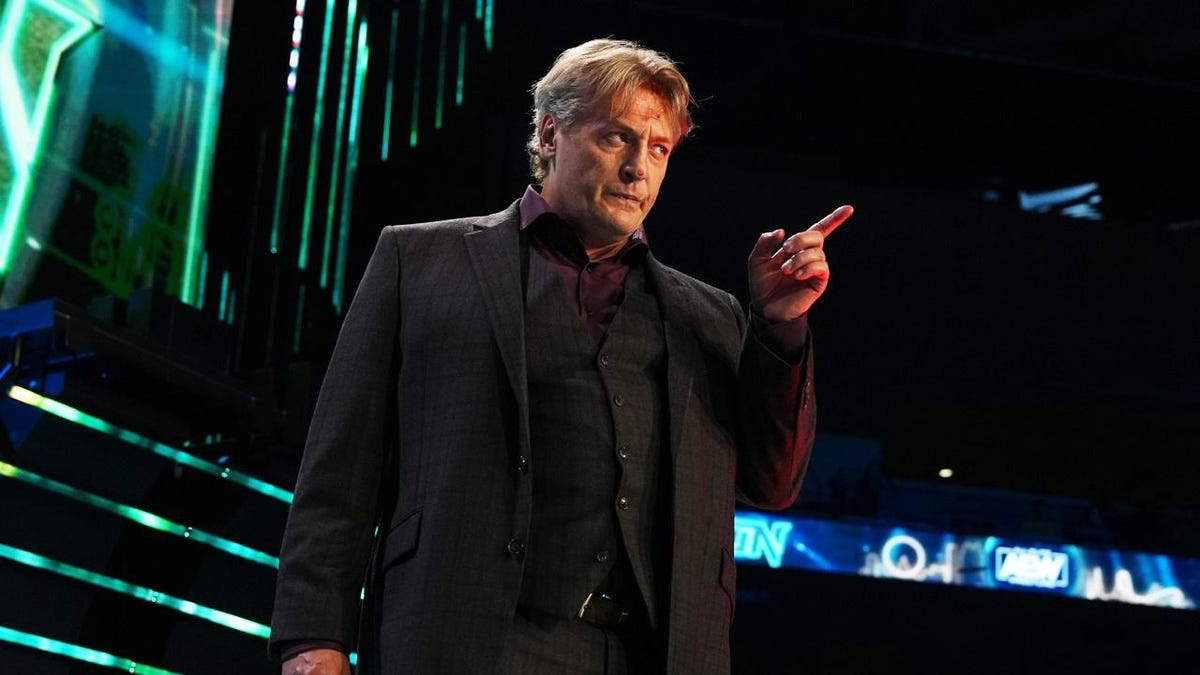 Rumours surrounded William Regal's future have picked up a lot over the past week or so.
William Regal has been a more than welcome addition to the AEW ranks, loved by fans and by his co-workers, there has been nothing but positive things said about Regal coming from AEW. He had been playing the role of a manager/coach in forming and guiding the Blackpool Combat Club until recently.
At AEW's Full Gear PPV that took place earlier this month, William Regal turned on Blackpool Combat Member, Jon Moxley. William Regal sided with Moxley's World Title Challenger, MJF, sliding him some brass knuckles as Moxley & the referee were distracted. MJF of course used this to his advantage and won the AEW World Title.
Last Wednesday on AEW Dynamite, Jon Moxley & William Regal were involved in a very tense in-ring segment where Jon Moxley told Regal to run away and never come back, saying that he never wants o see his face round here again.
After the segment, some fans started to speculate as to whether or not this was legitimately the end for Regal on AEW TV and that he may be heading back to WWE. The WWE/Regal rumours have significantly picked up since Triple H got control over in WWE as the two are known to be good friends that work well together.
In an update from Dave Meltzer on Wrestling Observer Radio, he states theres no guarantees with anything when it comes to William Regal at the moment:
"William Regal when he signed, which was only in April or May, said that he signed for three years. Now, something is going on but I'm not sure of all of the details. Actually I've been told a lot of stuff but most of it was off the record.

But the basic gist of the situation is I don't know what he's doing as far as if he's going (to WWE), if he's staying (with AEW). But I do know that it is something that has been talked about, so either, there's something in the contract… because a three-year deal, Tony Khan has not let anyone out early so far. That doesn't mean he never will, but I don't know what the situation is. But there were people who were talking about how there's stuff being talked about, but I don't know exactly what it is – I don't know if he's staying, I don't know if he's going. The rumours have been out, even before Wednesday's show. The thing on Wednesday's show was just an angle, but there had been talk of that from very early on.

So the fact that he said he was signed for three years, that doesn't mean I'm saying… because some people are like, 'Oh that means he's for sure not leaving and there's no story here' – there's something going on.

But there's no guarantee he's leaving, there's no guarantee he's staying, there's no guarantee he's not staying. As far as how this all works, as far as the contract situation, with Tony and everything like that, I'm not aware of that. But I do know that there's… it's something that's in play. But he said his contract is three years, so in theory, that would tell you that he couldn't do anything until April 2025. So that's basically what I know, – what I can say, put it that way."

– Dave Meltzer
Considering William Regal is under a 3 year contract, some sort of agreement with Tony Khan would have to be made for Regal to even have a chance of getting out of his AEW contract. Whether or not that is something that is in play, I guess we'll have to wait and see.
If you use any of the quotes above, please credit the original source with a h/t and link back to WrestlePurists.com for the transcription.