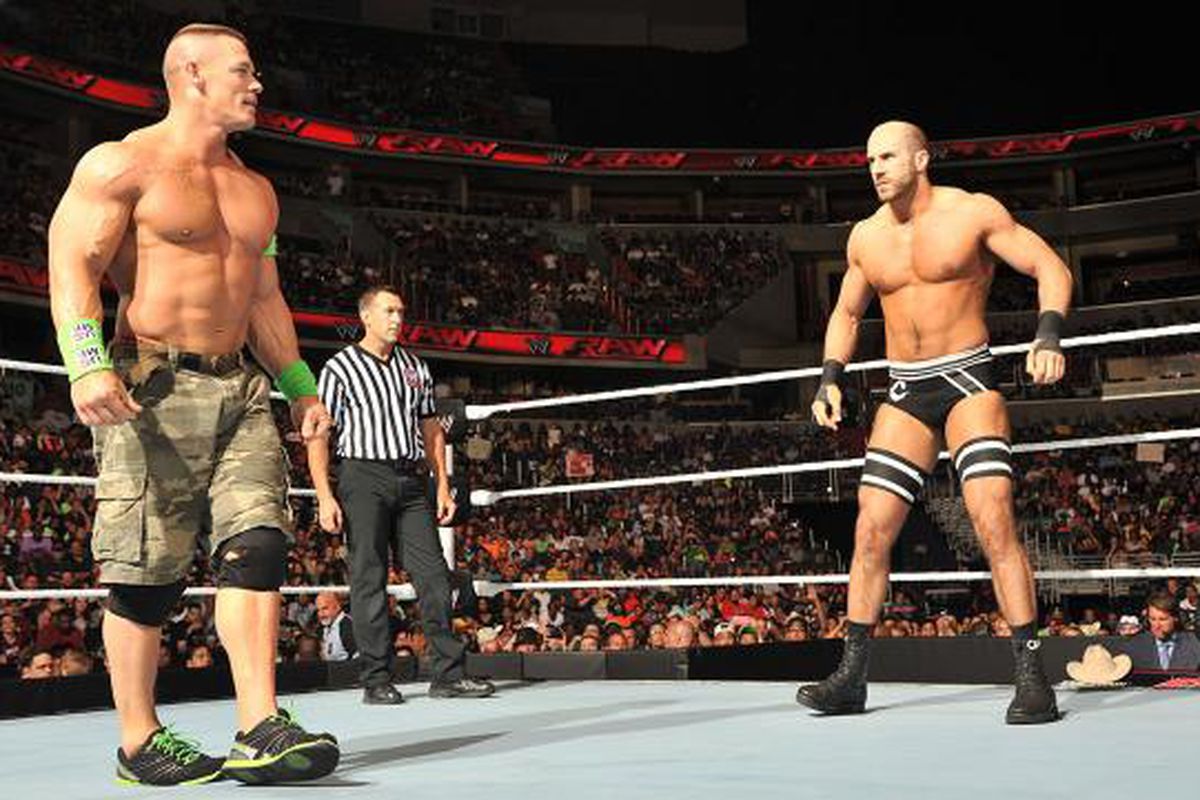 By the time the man formerly known as Antonio Cesaro arrived on WWE TV in 2012, John Cena had already cemented himself as the face of the company, having won multiple World Championships and established himself as a future first ballot Hall of Famer. The Swiss Superman would eventually cross paths with the leader of the Cenation during his WWE tenure, and now the AEW has had the chance to reflect on his experiences with Cena inside and out of the ring.
Appearing as a special guest on the Kurt Angle Show, the man now known once again as Claudio Castagnoli proclaimed he has nothing but respect for the 16-time WWE World Champion, crediting him as someone who leads by example, as well as someone who's always willing to give advice.
"I have nothing but good things to say about John. I mean, John Cena is an awesome person and he has a very high standard for himself. He's one of those people that doesn't just say how you should do it or say how it should be done. He shows you. He does it every day. He lives it, you know what I mean? If he tells you to watch all the matches, he's sitting there at the monitor watching all the matches. If he tells you, you should work out, he is there working out early in the morning. So he's like one of those people who is somebody I deeply respect and that's kind of how I tried to do my career. Whatever I would say, I just do it, and if people want to take notice that's, good. If not, I don't need to. So John has always been super honest with critiques and everything, just super motivating with the way he works out and his work ethic and everything."

-Claudio Castagnoli
Castagnoli continued, going on to recall his experiences in the ring with Cena. The Blackpool Combat Club member revealed that Cena instilled in him the philosophy that "you're only as good as your last match.", a word of advice that has stuck with him to this day.
"Then, being in the ring with him for an open challenge was awesome because I mean, he was a legend at that point, and he still every match he wants to go out there and prove it and we talked about that before, like every match — he is the one who said it, I probably had it always kind of in my brain, but he's the one that said that, 'You're only as good as your last match.' So that's kind of stuck with me because every time you go through that curtain, you want to prove yourself to everybody, so with him to have that open challenge and him working so hard, and having such a fun match for me was absolutely amazing. Then to run it back a couple of weeks later again, in Chicago, it was even better because, to me, here's John Cena and you get to share the ring with him and he has so much knowledge and yeah, it was amazing."

-Claudio Castagnoli
Castagnoli, alongside being a top star on AEW TV, currently holds the Ring of Honor World Championship, a title he defended successfully during this past Friday's episode of Rampage against Dax Harwood of FTR.
H/T to Fightful for the transcription.