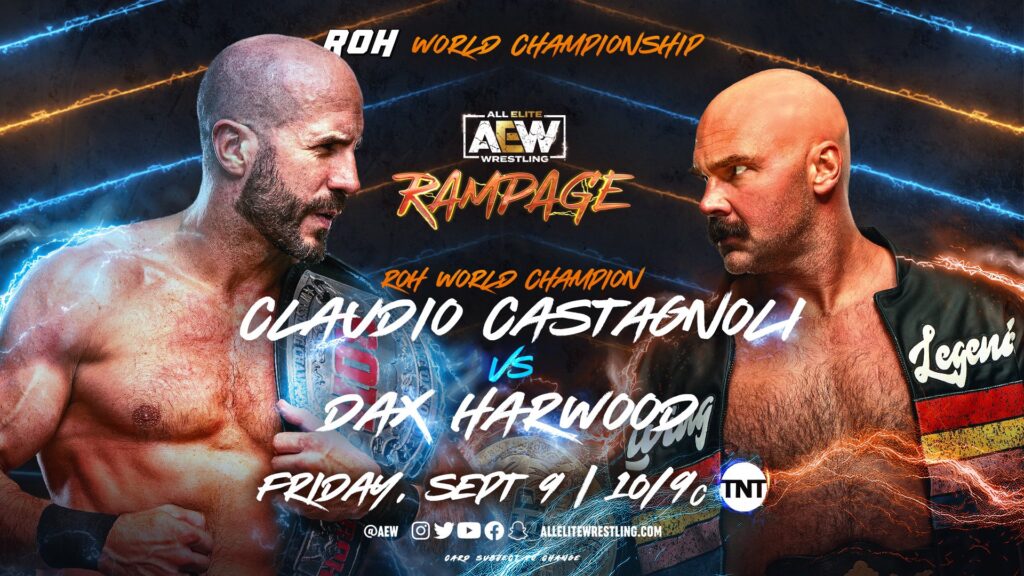 While hardly mirror images of one another, Claudio Castagnoli and Dax Harwood are very much cut from the same cloth. The pair of tag team specialists represent a resurgent genre of the modern wrestling landscape, blending traditional fundamentals with today's innovation and zeal. 'Throwback' feels like a lazy term at the best of times but especially when describing Castagnoli, a wrestler armed with some of the industry's most dynamic offence.
Even still, there's a simplicity to both men at their best, a raw effort and physicality that's timeless. With these two, it's not what they do but more how they do it, wrestling with a commitment that adds an edge to the whole presentation. There's a physicality when these two step through the ropes, an aggression that emphasises competition. With that in mind, it only took a fleeting match graphic to adequately hype the occasion, announced with a brief pre-tape promo exchange on Dynamite.
The pair's first singles clash would be contested for Castagnoli's Ring of Honor Title, the latest defence of his first reign as World Champion. Granted, it's a little more complex than that, as Castagnoli fights for respect as a titleholder, representing a brand that currently lives in a room within AEW's towering mansion. That challenge has brought somewhat mixed results thus far, starting with a classic against Konosuke Takeshita and then dividing fans in slightly less blockbuster outings.
On the other hand, Dax Harwood is celebrating a career year. Again though, it's a little more complex than that. Alongside Cash Wheeler, Harwood has collected tag team gold, cementing FTR's place as one of the greatest tandems in wrestling history. Beyond that, Dax has also built an impressive resume of television thrillers as a singles wrestler, arguably producing the Owen Hart Cup's two strongest bouts. As of late though, FTR have been less central, mostly in the background during All Out's chaotic build.
This was a chance to get FTR's epic year back on track however, potential rebuilding the momentum that previously pushed Harwood towards early 'Wrestler of the Year' contention. In addition, it was an eye-catching headliner for Rampage, which has certainly had its own ups and downs throughout 2022. In many ways, this feels like the perfect match for AEW's secondary television show: inessential but ultimately elite supplementary action, the kind of match that ardent viewers are thankful to see at all.
As for the match itself, it's great because of course, that much felt obvious. There aren't really many variables with a stylistic pairing such as this. Closing out a lengthy taping can be challenging but a matchup like this doesn't really need anything particular from its live crowd, as the recipe is reliable. The work's quality remains typically solid regardless, both guys bringing that aforementioned physicality throughout. There's an effort here that transcends any natural chemistry or noticeable smoothness, it's just good pro wrestling.
The final product is one that achieves all of the above, adding prestige to Castagnoli's ROH Title, reminding the world of Harwood's hot streak and giving Rampage a standout clash all at once. What's impressive though is that even beyond that, this match has a certain substance, exploring the contrasts at play in a fashion that so easily could've been understated. Instead, that's absolutely central here, focusing more on what separates the two than the similarities between them.
That's immediately established in the pre-match promo, as Harwood accepts his status as the main event's clear underdog. That achieves two things: quietly softening the blow of Harwood's eventual defeat but more importantly, giving the match a theme to build itself around. Harwood embodies that underdog mentality immediately too, diving into the contest with an urgency, almost hoping to catch Castagnoli cold. Of course, Regal's 'Ultimate Competitor' is far too good for that, coolly kicking out of Harwood's early pin attempts.
The match's first strike exchange follows and perfectly paints the picture almost immediately, with Claudio's strikes sending Dax flying into the ropes while he stands firm in response to Harwood's famously violent chops. They return to that visual throughout and it's effective every time, neatly representative of the challenge in front of Harwood, forced to build momentum before hoping to even dent Castagnoli. Harwood's performance is unsurprisingly selfless in that way, focusing more on babyface courage and spirit than his usually central striking power.
Against a lesser wrestler, that choice could be ill-advised but against Castagnoli, it's perfect. A perfect physical specimen, Claudio can believably dominate, especially when operating with an edge. That emerges more as the match unfolds, allowing the flow of action to become increasingly one-sided. It just feels as though the champion has an answer at every turn, but Harwood refuses to stop asking questions. Castagnoli's offence is blunt here, more brutal than usual as he embraces the role of de facto antagonist.
Harwood's defiance is the match's centrepiece however, most memorably as he unleashes a salvo of chops from the top rope, simply desperate to earn himself some space. We get an extended cut of Dax's usual offensive arsenal too but it's never enough, Castagnoli's latest European Uppercut always only ever a second away. At times, Harwood just needs to get away, it's his only shot at surviving but ultimately, that's all he can possibly hope to do.
Though his sheer resilience pushes Castagnoli to his limits, Harwood's best is not quite good enough, eventually succumbing to the Ring of Honor Champion's most relentless outburst yet. This match isn't necessarily one for your year-end list, nor is it especially complex or elaborate. Instead, it's simple pro wrestling executed at a truly expert level, masterfully focusing on one particular element of this enticing matchup. Simply put, this is the kind of match that works at any time in any place.
A bruising, gruelling world title tilt, this Rampage main event elevated all involved, maximising the moment without unnecessarily overextending itself along the way.