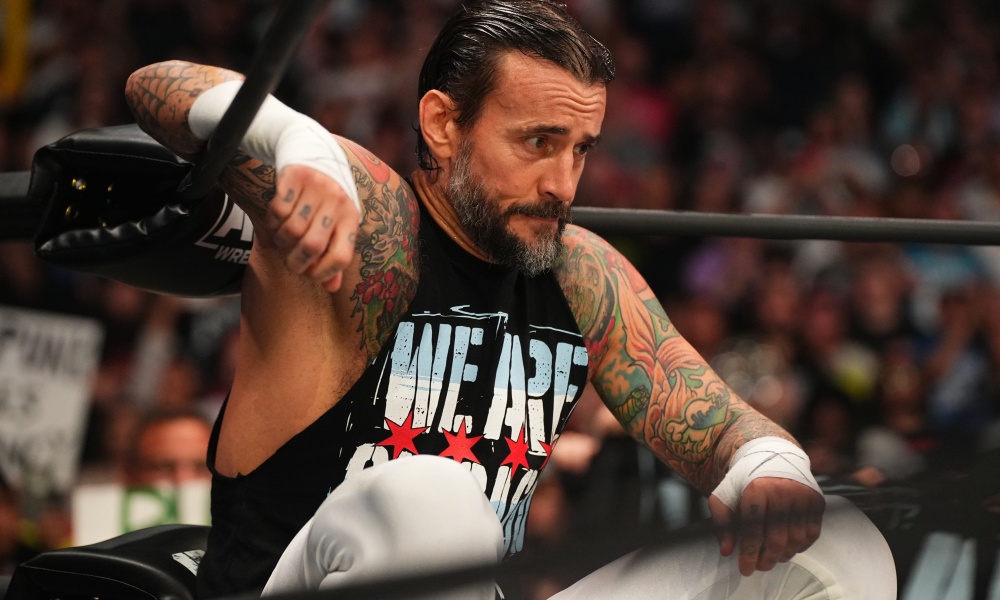 Ahead of his long-awaited return tomorrow night on the debut episode of Collision, CM Punk has commented on a number of subjects.
CM Punk has been absent from All Elite Wrestling since the All Out PPV on September 4th last year due to a left triceps injury, although he was also suspended during a portion of his absence through injury as a result of his involvement in the infamous 'Brawl Out' situation that led to him also being stripped of the AEW World Championship.
Now, ahead of his return to the company on tomorrow night's debut episode of AEW Collision, CM Punk has sat down with ESPN to touch on a number of relevant subjects in what is his first interview since September last year. First addressing his nine month absence, Punk stated that tomorrow's episode of Collision will provide a lot of the answers people may be looking for.
"I know pro wrestling is absolutely the most bizarre form of entertainment on Earth, but to me, I treat it like a business, and I treat it like the television show that it is. So, y'all haven't seen me since I won the belt. I'm coming back. Tune in to find out exactly what I have to say. I'm picking up right where I left off."

-CM Punk
The aforementioned triceps injury Punk suffered during his AEW World Championship bout with Jon Moxley at All Out 2022 resulted in the Chicago native requiring surgery, and thus a subsequent rehabilitation process was in order.
Punk noted that the process took a significant tole on his mental health, particularly as he sustained the injury in just his second bout after returning from breaking his foot earlier in the year. He added, however, that he's now feeling back to 100% fitness, with photos shared on Instagram displaying his impressive physique.
"I think, in wrestling, we always kind of joke how we always get hurt doing the dumb stuff. Fall off a 15-foot ladder through a table and you're fine and you're running 6 miles the next day and you're in the gym. And then it's just always the dumb little things, like some routine thing that I've done a thousand times in my career, and it injures you. And then just the mental aspect of this recovery, it has not been easy. Luckily, I've got a really good support system, my wife [April Mendez, a three-time WWE divas champion under the moniker AJ Lee] and [dog] Larry, and I've got great friends and a super great rehab team that was able to get me back this quickly even though it doesn't feel — it feels like it was 12 years ago."

-CM Punk
On top of his lengthy rehabilitation process, Punk's absence has been dominated by several reports regarding the 'Brawl Out" incident allegedly saw a fight break out in a locker room between Punk, Ace Steel, and The Elite following some unsavoury comments from Punk during the post-show press conference.
Whilst Punk had previously stated that he felt as though his relationship with the quartet was positive, he believes as though division began in spring 2022. Ahead of a promo segment between Punk and then-AEW World Champion Adam Page in the build-up to their match at Double or Nothing, Punk claimed he and Page had discussed the nature of their planned promos, although when they got into the ring, Punk believes Page strayed from what was previously agreed upon.
According to Punk, this led to him confronting Page backstage, to which 'Hangman' responded be telling Punk he did what he did because he had AEW wrestler and coach Colt Cabana fired from the company, or at least tried to. Punk then denied that this was the case, pointing out that Cabana still worked for the company.
Regarding this allegation, Punk told ESPN that whilst he has no relationship with Cabana, he "never" asked AEW President Tony Khan to take his or anyone else's job, however this hasn't stopped others in the company, including The Elite, to believe the contrary per several reports.
ESPN also noted that both Khan and Page were unavailable to comment for their article according to AEW, whilst Cabana responded to ESPN's email stating stating that they should go through AEW "for everything". Additionally, Kenny Omega and The Young Bucks declined to comment via their agent, Barry Bloom.
Punk revealed that Page's comments made him question whether to go through with the match itself, and when he eventually did, he feels as though the match suffered due to him feeling as though Page was trying to intentionally hurt him, with this being what Punk believes to be the spark that ignited the feud between himself and The Elite.
"And I proceed to have what I think is a garbage match because I'm trying to protect myself on stuff instead of actually just working and trying to put on the best performance I can. I'm keeping an eye out. He chopped me in the mouth one time, and I'm just like, 'OK, did you do that on purpose?' You chip my tooth, and I'm like, 'All right, should I give him a receipt?' It changes the dynamic. It poisoned everything for me, and it made it all really, really ugly, and that was what set all of this off, and here we are over a year later and ain't s— been done about it."

-CM Punk
Three days prior to Double or Nothing, Punk, now reigning as the AEW World Champion, broke his foot doing a crowd dive during his entrance. Upon his return to TV on August 18th, Punk unexpectedly called out Page during an in-ring promo.
Things would later escalate during the previously mentioned All Out post-show press conference, with Punk taking jabs at Page, as well as AEW EVPs Kenny Omega and The Young Bucks, who he claimed were "spreading lies and bullshit" about him.
Punk told ESPN that he regrets what transpired in the media scrum, revealing that he immediately apologised to Tony Khan for what was said before adding that their relationship is now "great."
"The first thing I said to Tony when I sat down with him and spoke to him after it was, 'Man, I'm really sorry I put you in that position. I apologize for the scrum. But when you've watched that scrum, you're looking at a very, very frustrated guy who had told people. That's not the first time he heard all that. It's not the first time lawyers were told all that. And I was just looking for something to be done and nothing got done. So, if you want something done right, you got to do it yourself. And I just didn't approach it in the right manner, but tension was high. I was very, very pissed. I pretty much knew that I had just injured myself again. I was hurt, and I was disappointed. Yeah, it's very easy for me to say I regret that and I handled it the wrong way, 100%."

-CM Punk
Regarding the events that transpired after the media scrum, Punk said whilst he doesn't feel like saying "no comment", "we are trying to move past what happened that night specifically." He did add, however, that he feels as though his absence due to injury exacerbated the situation, an issue he also believes hasn't been helped by people spreading lies about what happened.
"I don't think what happened was a big deal…. This has happened in the last 10 months in hockey, in basketball, in baseball, in just about every sport. And it's covered and it's gone the next day. I think because I have injured my tricep and I've been out for so long, I think it has been exacerbated. I think it's been exacerbated by people spreading lies about the whole thing. And when, in reality, my attitude is, well, s— happens."

-CM Punk
Punk claimed he's yet to have a conversation with Omega or the Jacksons since the incident, although that hasn't been for a lack of trying. Upon attempting to reach out, Punk revealed that he'd received "messages from lawyers saying, 'Do not contact this person.'"
Punk then added that he's unclear as to whether these responses came at the request of The Elite's legal representatives or whether a third party was responsible.
Since the incident transpired, many fans have questioned whether the real-life drama between both parties could eventually be spun into a storyline. Punk, however, said that he'd been told using the real-life drama and spinning it into a feud that could draw big money won't be happening.
The former AEW World Champion also commented on how he's been portrayed by the media during his absence, resenting that he's been painted as "the bad guy" despite feeling as though he was simply defending himself. He then doubled down on his stance that he's willing to sit down with everyone involved to hash out their issues, implying that he's tried to make it happen before and has been knocked back.
"Now we all got to roll in the f—ing mud, and that never should have happened and has never been course-corrected. So, I understand people want to say that, 'Oh, man, Punk is a dick.' Well yeah, because I'm defending myself and I will always defend myself. I'm open to have a full-blown f—ing sit-down powwow discussion with everybody about it. But it hasn't happened yet, and it's not because of my lack of trying."

-CM Punk
Upon his return, CM Punk is set to be heavily featured on AEW's new two-hour Saturday night wrestling show on TNT, Collision, with the show also set to feature the likes of Miro, Thunder Rosa, Andrade el Idolo and many more, whilst The Elite are expected to remain a primary focus on AEW Dynamite.
Punk highlighted his excitement for the show's premier during the interview but also added that they'll need to build up depth as they move from episode to episode.
"With more TV time, you're only going to see guys like Hobbs and Starks, people who I think have the potential to do what an MJF [current AEW champion] has done with his television time but they haven't been able to be positioned because a guy like MJF gets a big lion share of television time, because he earned it. We just need to do a better job of spotlighting so many different guys, and this is, for a lot of guys, sink or swim. Now it's just like, well, now's the time. You're going to have to really bust your ass and prove why we're giving you this spotlight and this TV time."

-CM Punk
Operating on Saturday nights will undoubtedly provide a high level of competition for Collision, with the likes of big UFC and WWE events, as well as major college football games taking place leading to a ratings war.
As the poster-boy for the new brand, Punk is welcoming the challenge, adding that the Saturday night slot is also likely to bring its own positives.
"If I'm the poster boy — top guy, whatever — this is what people dream about. You get put in a position like this and, you know, can't take the negative criticism. Personally, I look at it like a challenge. … But as far as ticket sales for a Saturday night compare and contrast, I think it's a lot easier to move a Saturday night ticket to a live event than it is on a workday, on a Wednesday. So, there's positives and negatives, you know what I mean? And I don't look at the negatives as these huge detrimental things."

-CM Punk
Whilst a return to the ring is now locked in, many fans were unclear as to whether we'd see Punk back in AEW following the events in September. Per the man himself, not returning to AEW was never something he was considering despite reports of the contrary.
"I certainly had some low moments, and I won't rule out in those fleeting moments where I just say, 'Ah, f— this, whatever,' But I don't ever think it was a serious intention to say that I'm done. There's still work to do, and I think I'm excited about a lot of stuff that's coming up. So, to just throw the baby out with the bathwater, just because of a little boo-boo, I think would be a little silly."

-CM Punk
Nine months after his last outing, Punk will make his return to the ring in his hometown of Chicago, Illinois, in the United Center, with the wrestling world waiting with high anticipation to find out what his next run will look like.
The main event of tomorrow's debut episode of Collision will see CM Punk team with the AEW World Tag Team Champions, FTR, as they take on Bullet Club Gold and Samoa Joe in six-man tag team action.