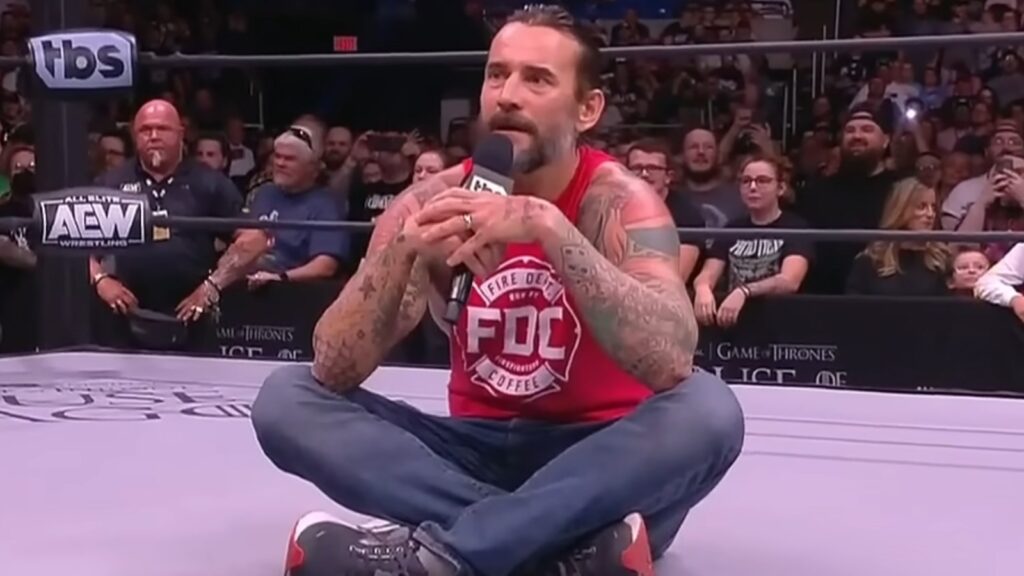 CM Punk opened up the August 17th edition of AEW Dynamite by challenging "Hangman" Adam Page to a rematch for the AEW World Championship, which was apparently not planned.
Today, Fightful Select confirmed the Wrestling Observer's report that this portion of the segment was not planned.
In May of this year, Punk defeated Page for the title at AEW Double or Nothing before he was forced onto the shelf for months due to injury. However, it has been reported that before that, there was word that CM Punk and Hangman Page did not see eye to eye on a portion of the promo material for an episode of Dynamite in the lead up to their match at Double or Nothing.
The Fightful Select report went on to note that they were told by several sources within AEW that they felt as though the situation that occurred on the August 17th episode was "unfair" to Page if he wasn't aware of it. One source went on to say that "even if he was aware of it, what would he have done? Charged to the ring past Tony (Khan)? Interrupted a promo he knew he wasn't supposed to be a part of? There was no way Hangman could have 'won' in that situation."
It was also reported that while Hangman was at the venue, there has not been any word of him responding in any particular way, with those who spoke to Fightful saying that Hangman isn't a confrontational person and is generally-well liked among the roster.
The report then states that the belief among many on the roster (who Fightful spoke to) was that Punk was of the belief that Hangman went into business for himself in the build to their match at Double or Nothing, and that Punk took the opportunity to dish out a "receipt" in his August 17th promo. It has been made clear that that was just locker room speculation as opposed to Punk directly telling anyone that those were his intentions.
From Punk's point of view, the Hangman Page promo in the lead up to Double or Nothing has alluded to Punk's prior issues with Colt Cabana, happening during a week where Punk was not at the show, while Punk's direct shot at Hangman on August 17th occurred with Page present.
Sources familiar with the situation have claimed that CM Punk has often verbally expressed his displeasure, to the point where recently they thought he might end up quitting the company. Those close to him did note that he might have almost decided to stay home instead of showing up to the August 17th Dynamite event, but they do not think he would have quit the company.
The report went on to state that while there has not been any indication that Punk plans on leaving AEW, one veteran said that they have heard of "threats being levied".
Punk, the AEW World Champion, is set to face the interim champion, Jon Moxley, on the August 24th episode of Dynamite for the championship. A match, which the report stated, was a late decision. So far, nothing has been made public about what exactly could have led to Punk's current frustrations that would have led him to not show up to Dynamite.