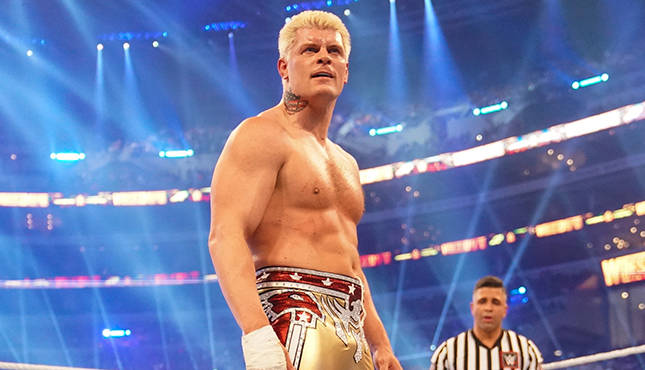 Former AEW TNT Champion Cody Rhodes shocked the wrestling world earlier this year when it was announced that the then-EVP would be departing the company, a departure that eveually led to the American Nightmare showing up at Wrestlemania 39 as Seth Rollins's mystery opponent. Rhodes would go on to feud with Rollins over the next three months, until he unfortunately tore his pectoral muscle ahead of the pair's Hell in a Cell match. Rhodes would indeed go through with the match, although shortly afterwards it was announced that he had undergone successful surgery, and would likely be away from the ring for the remainder of the year.
Speaking recent to TMZ, Rhodes provided an update on his injury status, claiming that he's unsure of a specific timetable due to those in power believing that he'd try and be ready ahead of schedule.
"They haven't really given me one because they know I'm stupid and I'd try to test it. I have in my mind where I want to be and I think a lot of fans have in their mind where I'd like to be. That's hopefully where it's at. What happens next, hopefully, and what we do, this is all speculative and up in the air, hopefully it's a run people will remember and I have to be healthy for it,"

-Cody Rhodes
Rhodes was then asked to comment on how he feels the company have treated him since his return, prompting him to state that the three months following his return were the best three months of his life.
"No complaints. They've treated me like the house that built me, which they were. Honestly, it's amazing. We were back, everything was rolling so fast and then I tore my pec. It was like the best three months of my life. Hopefully, we can get back to that soon."

-Cody Rhodes
As always, we wish Cody Rhodes the best in his recovery from injury, and look forward to his in-ring return when the time is right. Rhodes made it clear upon his return to WWE that his sights were firmly set on becoming the WWE Champion, and thus it's likely that he'll be reinstated into the title scene upon his eventual return.
H/T to Fightful for the transcription.