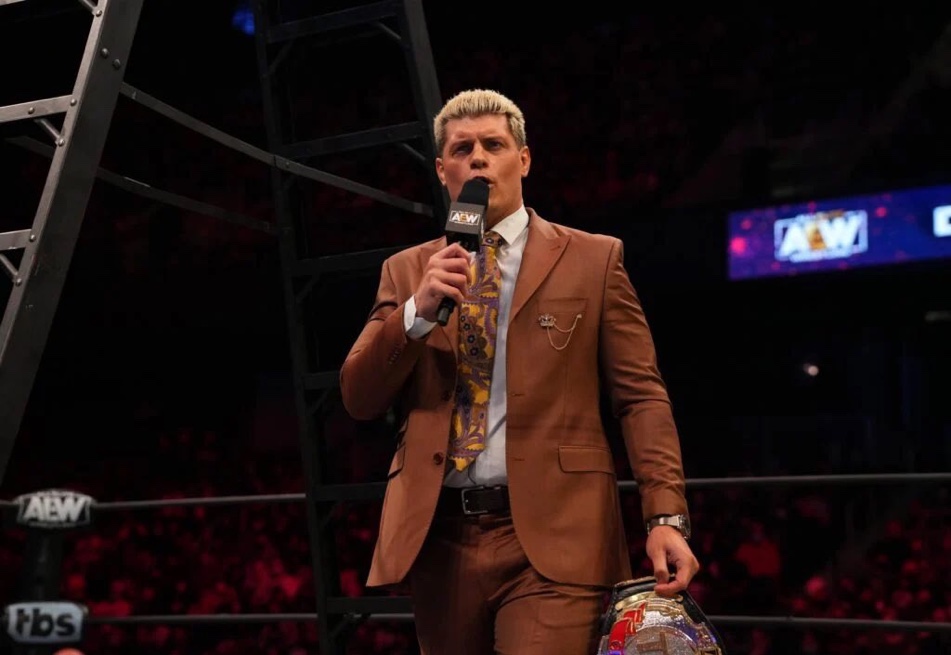 Cody Rhodes definitely had an interested last few months in AEW, including a long divisive promos, matches, leaning heel, plus more.
One of the most interesting moments of those last few months of Cody Rhodes in AEW was his final promo in the company, which we didn't even know would be his last. In this promo, Cody Rhodes talks about the pipebomb promo by CM Punk and the blueprint it laid out, how he achieved those things and talked about a bunch of other, almost random at times, topics.
Cody Rhodes recently addressed his final months in AEW while speaking with Sam Roberts on Not Sam Wrestling.
"I think it's easy for me now to say 'Oh, I definitely knew,' but it wasn't the case. I didn't know. The last thing I did at AEW, no one really knows, the last thing I did was coach a match — and I wasn't the best coach, I'm more of, 'Let you do what you want to' and then we talk about it after — with Ruby (Soho) and Nyla Rose. That was the last thing. I remember walking out the door, they did fine, it wasn't anything to do with them. I remember thinking, 'I think I'm leaving.' That promo, I remember I mentioned it to Punk as well, 'Hey, I think I'm going to say this,' I'm not a fan of blindsiding anybody. Where we're terrible at is social media. 'My opponent just nuked me,' then you nuke him back. Alright, no trust and we're at the peak level of fervor. I look at it now and I call it the 'exit interview.' Maybe, selfishly, egotistically, I wanted to remind them, 'I appreciate the company has changed, I do. Please know though, there is no company had these things not have happened.' Other things had to happen; (Chris) Jericho had to do his stuff, Bucks had to do their stuff, Kenny (Omega) had to do stuff, (Jon) Moxley had to do stuff, he's a big part of it too, I don't give him credit enough. I just wanted to let them know. The other part was sincerely, this is being a heel, saying you're not going to be a heel. It was just too meta,"

-Cody Rhodes
Cody covered various topics with Sam, one of those being the time the fans threw his weight belt back at him during a match in AEW.
"I had fun with it, I did, even when the belt came back in the Target Center, it was perfect. Dax (Harwood) and those guys knew what to do, we leaned into it. I would always tell QT (Marshall) or Tony (Khan) or whoever was there, 'I'm leaning in.' I don't know if anyone knew what that meant. I think that's the story about everything at the end, 'I don't know if there's a plan for this. This is chaos.' Chaos, we did big numbers, one of the last Saturday specials did a killer number and we were doing great business, but chaos, you have to get the reigns on it at some point. Where is this going? The 'exit interview,' selfishly, I wanted fans to know, 'I love you guys so much, and I did all this, and if you have forgotten about it, I don't think that's cool.' It's the nature of it. Me, Matt (Jackson), and Nick (Jackson) talk about that all the time. It's like people don't remember. I'm of the fault that when I'm 80 years old, 'He did do all this.' It's so odd because I was so mad at different journalists in how they discredited my dad, took ideas and took things away from him, and later he passed away, 'He did all of this.' As mad as I was, I felt in that moment, 'it's happening all over again and happening to me.' There are too many egos in wrestling, including my own. I can't take credit for the revolution, there were other people. Was I a big part of it? Sure,"

-Cody Rhodes
Cody Rhodes would make his return to WWE on April 2 2022 at WrestleMania 38 to take on Seth Rollins after leaving AEW that February.
H/T to Fightful for the transcription.