There are no quiet days in the current wrestling landscape, and this latest week is no different. Most noticeably, Stardom's 5STAR Grand Prix gets underway, while NJPW's G1 Climax rolls on. Stateside, Ring of Honor returns to PPV, finally getting Death Before Dishonor in the ring after an unfortunate build. Part of that build occurs within Blood & Guts, as AEW produces its third double-cage affair. Finally, RAW hosts yet another tag title main event, with Kevin Owens and Sami Zayn producing perhaps their finest defence yet.
Clearly, there's an awful lot to cover and little time to waste so folks, let's talk about professional wrestling, and other things of that nature.
Damian Priest & Dominik Mysterio vs. Kevin Owens & Sami Zayn (WWE RAW)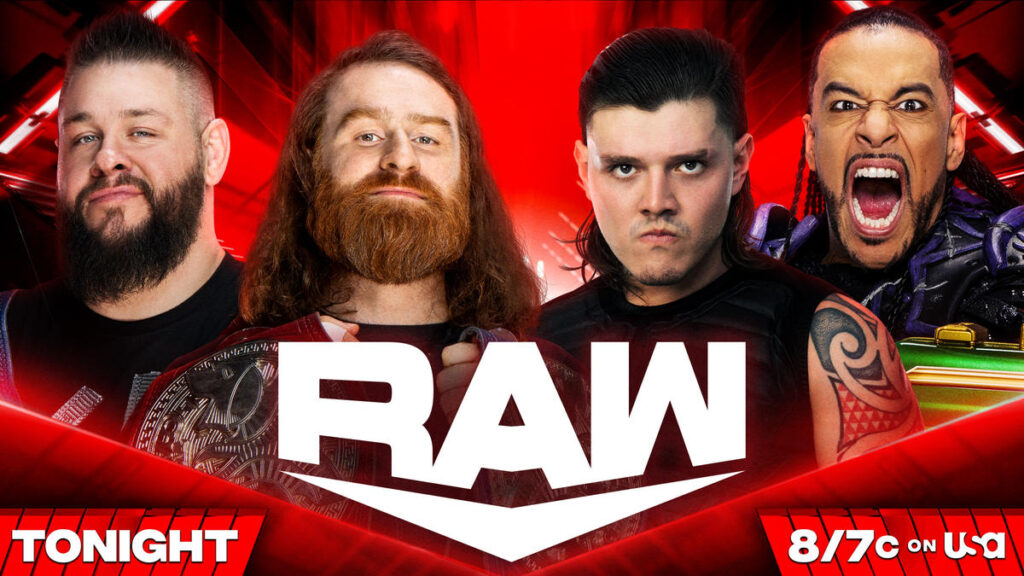 Since becoming Undisputed WWE Tag Team Champions, Kevin Owens and Sami Zayn have frequently closed episodes of Monday Night RAW. That continued last week, as they defended their titles against The Judgment Day duo of Damian Priest and Dominik Mysterio. It's yet another hit for the champions, furthering their case as tag team of the year while quietly reiterating Mysterio's relative comfort in the tag team arena. In that sense, it's more of the same for Judgment Day.
This act has honestly been the actual triumph of Triple H's creative regime, quickly going from lacklustre to pivotal. At this point, they're central to almost every week's RAW, delivering entertainment in-ring and out. This is probably their finest outing yet though, noticeably improving on May's match with Balor in Mysterio's place. On paper, that doesn't quite seem right, but makes much more sense considering their constant trios bouts as of late.
It's an interesting match too, much more expansive than the usual WWE tag. As a unit, Owens and Zayn very much have a formula and while it's not totally absent here, they seemed to be working with even more ambition than usual on Monday. Unlocked by a jumpstart, they really set the tone early, opening things up in exciting, hectic fashion. After catching Mysterio and Priest off-guard, the champions take an extended shine, with heat twice being teased on Zayn.
Each time, he keeps rolling, only for a Rhea Ripley distraction to ultimately turn the tide. Unfortunately, the eventual heat segment is lost to an ad break but clearly works a treat, as the live crowd is rocking as we return. Owens' hot tag soon follows, running wild as only he can at this juncture. Usually, they'd momentarily head towards a finish, ultimately settling in some heat on Owens for Zayn's own hot tag.
Instead, they jump straight to the finish here, firmly living in that region for the final six minutes or so. It's a really expansive stretch too, featuring continuous sequencing as well as some highlight reel near falls. Judgment Day's presentation is such that those 2-counts are generally believable also, going just far enough to very much thrill while still concluding at their peak. It's a really engaging television main event, featuring a finish that'd usually be edited in this setting.
In that sense, it feels like Owens and Zayn unlocked, producing a television tag thriller that only elevates Mysterio and Priest.
HENARE vs. Shingo Takagi (NJPW G1 Climax)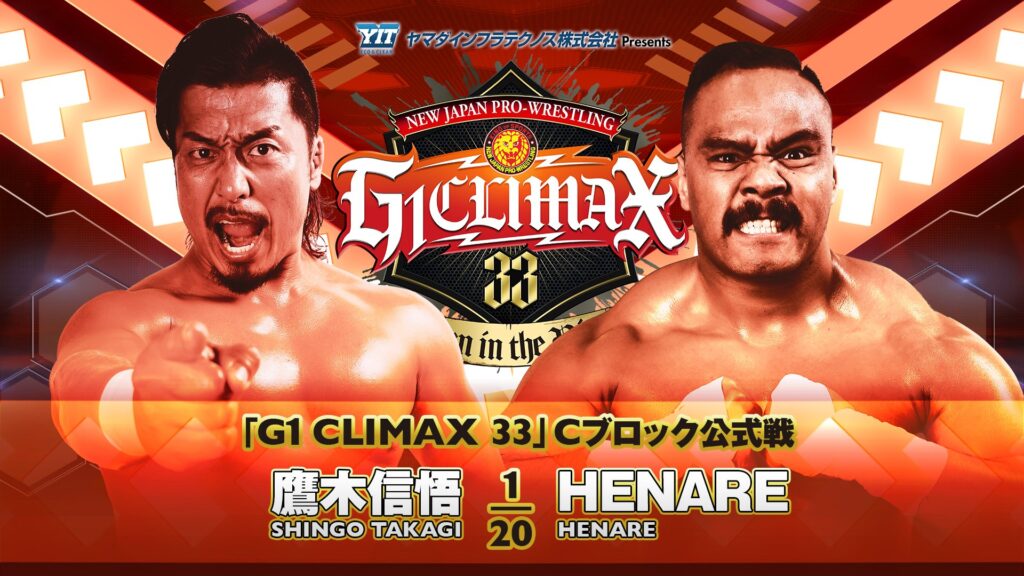 In March, Aaron Henare scored a major win in the New Japan Cup, toppling Shingo Takagi in the first round. Takagi avenged that loss the following month, outlasting Henare in an almost 40-minute firefight. That sequel earned such acclaim that it became a whole topic of its own, with a rubber match now emerging in the G1. In his tournament opener, HENARE made further headlines, sporting a new look and all caps name as he produced the year's most violent 3.5* match.
He builds on that effort here, further establishing himself as a genuine standout. In terms of quality, it's more of the same from Takagi, also adding to his own opener's central theme. Against Eddie Kingston, Takagi opted to engage in an ill-advised shootout, doing the same here after having some early success on the mat. Before those fireworks, Takagi does target HENARE's injured neck, with the United Empire man finding a gritty comeback in response.
Even still, Takagi's work has him headed in the right direction, ultimately getting greedy and allowing HENARE to club his way ahead. That produces the match's signature bursts, as they trade headbutts much like they did in April. Each time Takagi holds his feet, he pays the price, sustaining knockout blows as they exchange bombs in the pocket. It's a choice that proves costly, as the former IWGP Heavyweight Champion again plays with fire and gets burnt for his troubles.
While it doesn't quite take shape at the bell, this one eventually finds itself in emphatic fashion, producing an early tournament-high in grit and intensity. The relatively limited runtime assists them also for my money, forcing the match to embrace its natural conclusion rather than marching beyond that point and falling victim to unnecessary excess. At 19 minutes, it's still substantial anyway, featuring a finishing stretch that's simply electric, absolutely rocking this Sendai crowd.
The early building blocks aren't the most compelling, but suit the match's narrative which ultimately, allows them to go insane for that closing act. Takagi is obviously great here but HENARE really seems to have found something with this latest presentation. He's stripped to his raw ingredients thus far and seems to have embraced his current strengths, bringing immense aggression to his first two G1 outings. This is a blast, a bruising slugfest that thrives once it finds that form.
Blackpool Combat Club, Konosuke Takeshita & PAC vs. The Golden Elite (AEW Dynamite: Blood & Guts)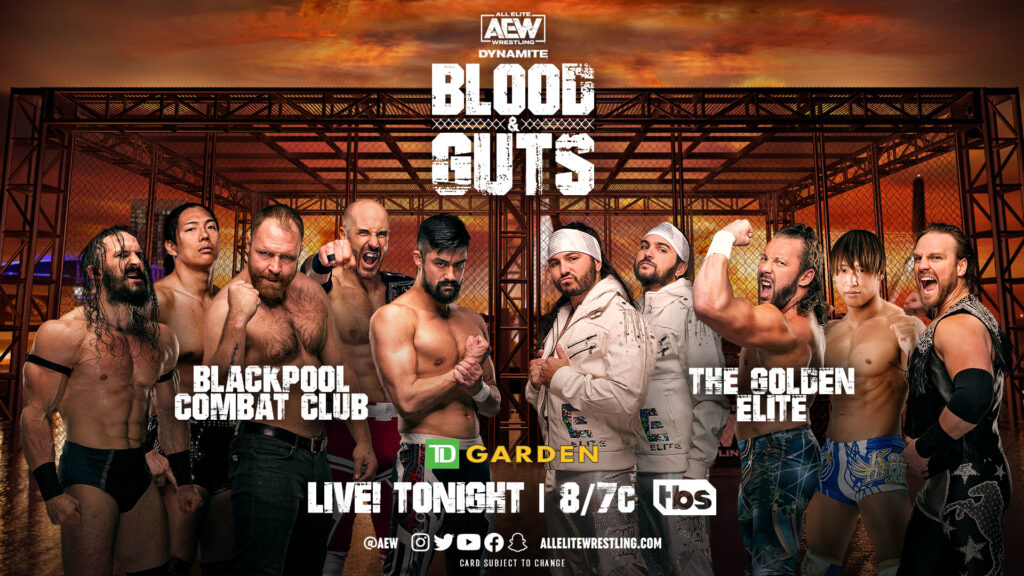 The third Blood & Guts match in AEW's history, this latest entry further established the stipulation's formula. It's not the WarGames of yesteryear, instead operating as an extended stunt-show, featuring set pieces and weaponry. While its distance from that original iteration has been somewhat divisive, it's generally worked for the AEW audience, delivering on violence if nothing else. It's mostly more of the same here, with some strengths and weaknesses emerging en route to thus far, probably their most complete effort yet.
This feud has been central to AEW's 2023, producing consistent quality as a direct sequel to 'Hangman' Adam Page's series opposite Jon Moxley. While this programme will almost certainly spin into similar conflicts, Blood & Guts was presented as the blow-off, concluding this faction war with fitting brutality. On paper, this is comfortably AEW's most talented Blood & Guts lineup also, which absolutely proves to be one of the match's greatest strengths.
That's clear with the initial pairing in fact, as Claudio Castagnoli and Kenny Omega share a glorious opening segment. That all-star pairing sets the tone, with PAC and Page only building upon that pattern. The work's quality ensures that it's a good time, with world class action steering the ship as some early dissension emerges among Castagnoli and PAC. With that being said, there is a lack of outright violence early, laying neat foundations but not extending beyond that.
Thankfully, Jon Moxley is on the way, quickly bringing enough violence for all ten men and more. He is a force of nature in this match, producing a career performance and absolutely relishing the environment throughout. He transforms the atmosphere and in that regard, the match seldom looks back, with increasing chaos emerging from there. Nick Jackson plays his own sizeable part in that escalation, really shining and in the end, probably serving as admirable runner-up to Moxley's effort.
At its best, I think last year's Blood & Guts match contained a more palpable sense of hatred, but it certainly wasn't without contrasting lows. This match is much more even, not quite matching 2022's highs but constantly living close to those levels. The match before the match beyond concludes with Kota Ibushi's arrival which unquestionably, is a moment. Unfortunately, it's increasingly bizarre when revisited without that raw excitement, as Ibushi seems somewhat lost as to the occasion awaiting him.
That becomes a story within the match, as Ibushi slightly struggles to find a role. After battling injury and inactivity in recent years, it's an understandable performance, with enough surrounding talent to protect Ibushi anyway. At over twenty minutes, I do find the match beyond to be a touch long, not even by comparison to those classic WarGames outings, either. Even still, there's an awful lot to like, with them teasing another cage stunt only to deliver something much more creative.
It's carnage, capturing a messiness befitting this setting. Moreover, the constant action allows highlight reel spots to emerge without much noticeable setup, as there's always something to stare at, even if hesitantly. The finish has proven polarising, committing to the concept that at core, this was the story of a true unit overcoming an army bonded by hate. That idea was highlighted in Omega's go-home promo and makes an awful lot of sense, with the violence going far enough to reveal that contrast.
Unfortunately, the execution isn't quite up to scratch. From a performance point of view, there are a few hitches in timing while unfortunately, production struggles to capture the many moving pieces. That considerably detracts from the match's final note, as Moxley's reluctant surrender is almost completely lost in the live viewing. It's a shame as in theory, I actually adore this finish, it's just not portrayed as they'd have hoped. Instead, it somehow winds up feeling flat, even with such violence on display.
It's an undeniable blow, pairing the third Blood & Guts match with a strangely unsatisfying finish. Then again, that's certainly not a new issue within this setting, as the surrender stipulation is generally better in theory than reality anyway. Even still, this is a really good time, packing its runtime with an awful lot to enjoy. In that regard, it's the easiest watch yet, without any major hurdles until the aforementioned issues that emerge in that final minute or two.
With that being said, I don't think it quite produces the memorable set pieces of last year's match, which is understandable considering just how far that one went. Personally, I'll probably remember it most as an embodiment of Moxley at his gory best, producing his very own horror scene within Blood & Guts.
Claudio Castagnoli vs. PAC (ROH Death Before Dishonor)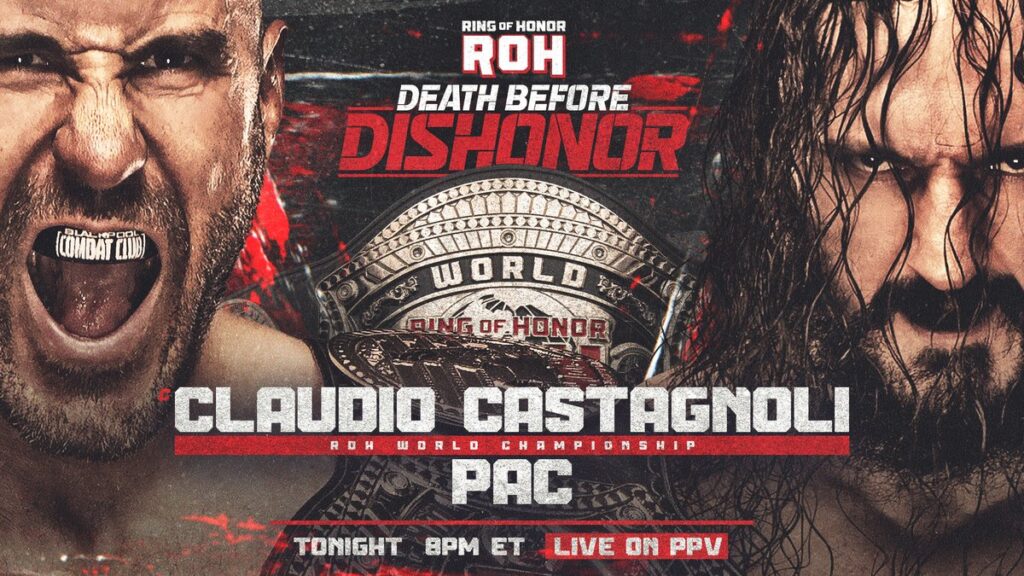 After a tumultuous build or at times, lack thereof, ROH's Death Before Dishonor PPV dramatically overdelivered. Daniel Garcia and Katsuyori Shibata had an engaging Pure Rules match, The Dark Order and The Righteous made a statement and most importantly, the "double main event" fit that bill. The first half of that one-two punch was for Claudio Castagnoli's Ring of Honor World Title, as he met PAC in their first televised singles match since a 2013 episode of NXT.
Born in Blood & Guts, this conflict had less than 48 hours to capture the imagination but on sheer talent, earned some attention. Even still, that lack of runway provided a challenge, as this didn't have the gravity that a matchup of this calibre deserved. While much of Death Before Dishonor's pre-show woes were, this particular situation wasn't anyone's fault, with PAC merely taking Mark Briscoe's place after an injury changed those initial plans.
Without the classical World Title framework though, Castagnoli and PAC adjusted accordingly, getting straight to work and convincing the crowd of this one's magnitude. In an instant, it feels like a more than worthy title tilt, with Castagnoli's violent jumpstart setting the tone. There's an urgency to this, forgetting the formalities and quickly building upon champion and challenger's freakish physicality. Moreover, the urgency feels mostly at home too, believably building upon Wednesday's finish.
They use that early intensity to create some chaos, leaving the ring and almost immediately establishing this as something slightly different. Even with the hatred between them, Castagnoli and Eddie Kingston still worked a traditional main event, which was the point of course, but that's a different match for another review. Nonetheless, my point is that Castagnoli has a general identity as champion, carrying himself and the belt in a timeless fashion, collecting prestige with each outing.
This is not that match, even introducing some furniture as they fight at ringside. That soon produces an extraordinary bump, but only after some explosive exchange in centre ring. At its best, this is an outright meathead shootout, with both men producing feats that only they can muster. It works a treat too, hooking the live crowd and on sheer output, earning increasing investment. That's palpable late, as the slim but lively crowd explodes in response to a particular near fall.
Unfortunately it's without a fitting conclusion, as through no fault of his own, poor Wheeler Yuta is central to yet another flat finish. Even still, this overdelivers for my money as for all their talent, they were virtually working from zero here. Thankfully, they are both extraordinary wrestlers and that was the story, a hectic thriller between two absolute forces of nature.
Athena vs. Willow Nightingale (ROH Death Before Dishonor)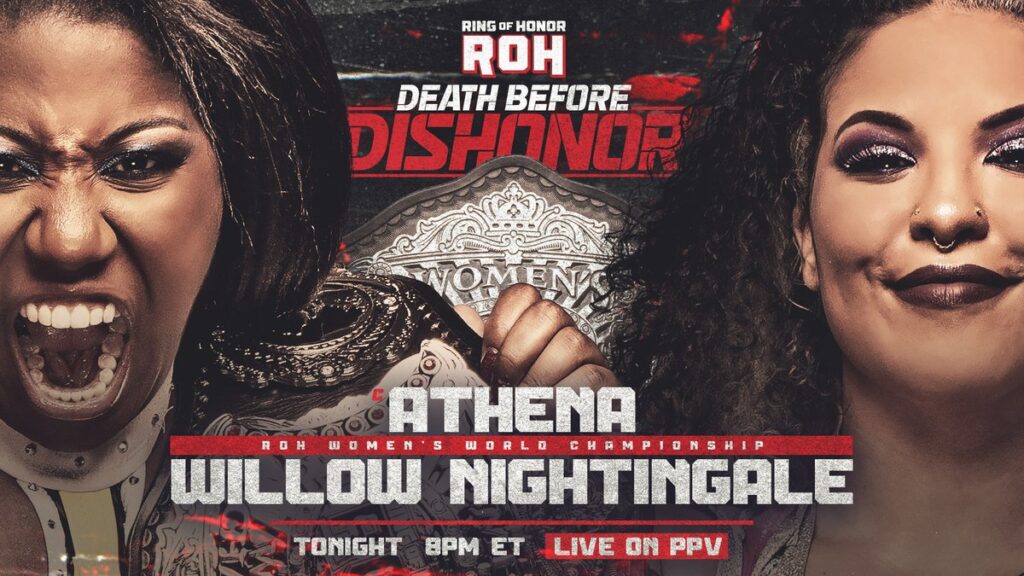 For the first time in ROH history, a women's match served as PPV main event, with Athena and Willow Nightingale very much earning that honour. This was the rubber match, building upon the most memorable match of the brand's television reboot thus far. That outing set the tone for both champion and challenger's 2023, with Athena building an increasing case as the year's premier female worker. Meanwhile, Nightingale has gone from prospect to contender, visibly levelling up as of late.
That guided her to last week's Owen Cup win, with Nightingale avenging her defeat to Athena in the semi-final. Now, just a week later, they settle the score, closing a PPV that appeared cursed on paper only to comfortably overdeliver inside the ropes. In fact, they had a challenge on their hands, following Castagnoli vs. PAC as well as the gutsy Fight Without Honor beforehand. In truth, such hurdles were never getting in Athena and Nightingale's way, simply destined to make magic with this moment.
After having her extraordinary win streak snapped by Nightingale, Athena enters with a different attitude. The usual antics are absent, as Athena concedes her efforts to bully Nightingale, now only focusing on the win. That allows them to work a traditional opening, finding a classic World's Title pace for the initial exchanges. They're wrestling for position, trading jabs before quickly firing knockout blows, with Nightingale building upon her recent momentum. Athena soon responds, establishing a seesaw rhythm early.
It's striking how at home Nightingale is in these back and forth exchanges. While not yet quite as fluid as Athena, her work has come so far, especially in recent months. Together, they do a fabulous job with this first act, sprinkling in fireworks while still operating with such palpable caution. It's the biggest match of their careers and in the best way possible, you can feel that, as the history between them only makes each mistake seem more costly.
There's such a natural sense of escalation too, building blocks emerging with every shift in momentum. They keep that going in the middle, as the match moves into its extended tribute to the women of ROH's past. Certainly, it's not the most subtle gesture but frankly, if ever there was a time to be so loud with such a concept, this was probably it. Ring of Honor took an awful long time to truly accept women's wrestling and with Athena as their champion, they have an embodiment of that tale.
She was there in 2013, just as Sara Del Ray was prior to that, just as Alexis Laree was in those early days. Even as today's best, Athena protects that past, bringing the division to new heights opposite fresh faces such as Nightingale. This is no overnight fairytale but a gradual ascent, one that Athena has experienced firsthand. Since debuting in 2007, she's seen women's wrestling transform, now slowly taking a shape that can truly unlock the potential of her current young contenders.
Beyond anything else, that's part of this match's story and with their very own mid-match love letter, they embraced that. It doesn't hurt that the segment works either, dramatically escalating things as they head towards the genuine finishing stretch. That quickly produces one of the year's great near-falls, as Trenton rises to its feet in response to Nightingale's defiant kickout. The match never looks back, maintaining that magic for a few breathtaking more minutes, delivering simply staggering drama to close.
There is something truly intoxicating about this match, an inherently moving affair. It's such an immediate moment, escaping this PPV's limitations and somehow feeling like the most magnificent main event imaginable. It's a uniquely emotional watch, earning a scale beyond either woman's individual career. This match is about more than that but in truth, Athena and Nightingale are enough, concluding their trilogy by cementing this dynamic as one of the industry's most natural.
These two are simply made for one another, destined to do the dance.
Suzu Suzuki vs. Syuri (Stardom 5STAR Grand Prix)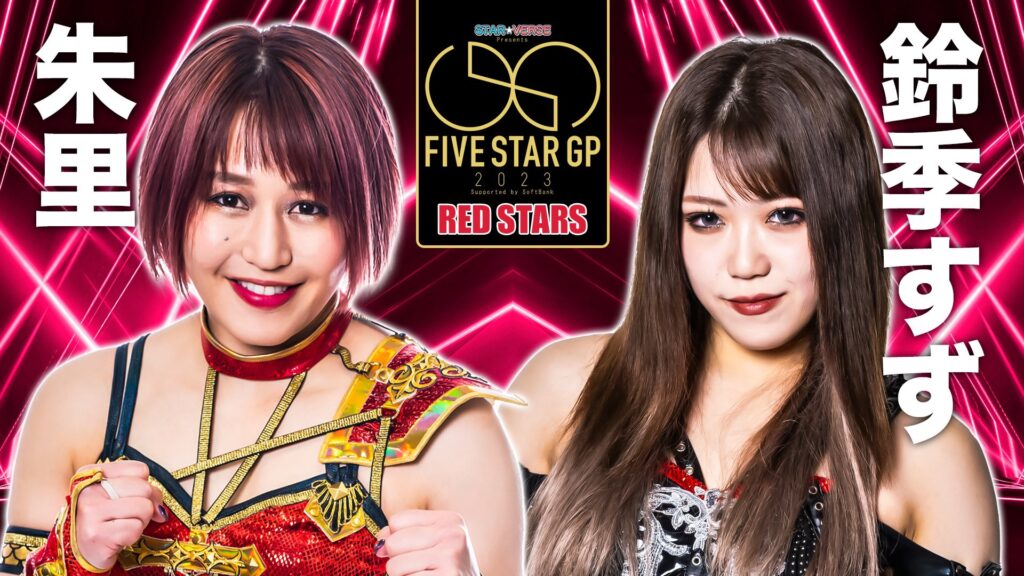 On Sunday, Stardom's 5STAR Grand Prix got underway. For anyone unaware, the tournament is best explained as Stardom's equivalent of the G1 Climax, this year featuring two blocks of ten. Upon thought, it now may be more like the G1 Climax than the actual G1 Climax, but that's another conversation for a different day. Either way, one quirk is that each block match has a 15-minute time limit, resulting in some of the year's most active and energetic outings.
Day one earned critical acclaim, with Suzu Suzuki and Syuri leading the pack in that regard. That's nothing new for Syuri, now firmly established as one of the world's absolute best, producing staggering campaigns in recent years. By contrast, Suzuki is still under five years into her career, quickly announcing herself as a prodigy. Last year, Suzuki went the distance with Giulia on this very tournament's final day, challenging for her World of Stardom Title the following February.
Even still, more educated eyes than mine have already described this opener with Syuri as Suzuki's best match yet. Understandably so too, as this is one of the more exciting bouts in recent memory. At just eleven minutes or so, this is worked like an outright sprint, immediately establishing a pace that barely even fades from there. That's handled in dramatic fashion, as Suzuki uses the offer of a handshake to explode into action, going to rapid pin attempts and threatening an early finish.
Syuri survives that initial onslaught, responding on the outside via DDT to the floor. As they return to the ring, things hint at settling, only for Syuri's work to loudly announce otherwise. She slaughters Suzuki with strikes, relishing her grip on things after being stunned at the bell. Escalating from the prior exchange, Suzuki's retort goes one step further: violently suplexing Syuri to the floor. I really appreciated that one-two punch, twice making it count as the chaotic action spilled to ringside.
Naturally, that leaves them on a somewhat level playing field, with a heated strike exchange emerging from there. That unfolds in similar fashion to the rest, with sudden momentum shifts ultimately leaving both women floored. It's a race to the finish from there, as they battle to their feet for a frantic firefight, with Syuri eventually snatching a choke. Suzuki survives, returning to her initial approach and going back to those pinning combinations.
Syuri still has the answers however, passing the test but doing so with trouble, stressing the inevitability of Suzuki's ascent. This is the first singles bout between these two, only sharing a handful of tag matches previously. Even still, their chemistry is staggering and this one just flows, setting an electric pace and seamlessly maintaining it. This is the ideal tournament opener, shaped by urgency as a first-time matchup produces world class work at a sharp, rapid rate.
Giulia vs. Saori Anou (Stardom 5STAR Grand Prix)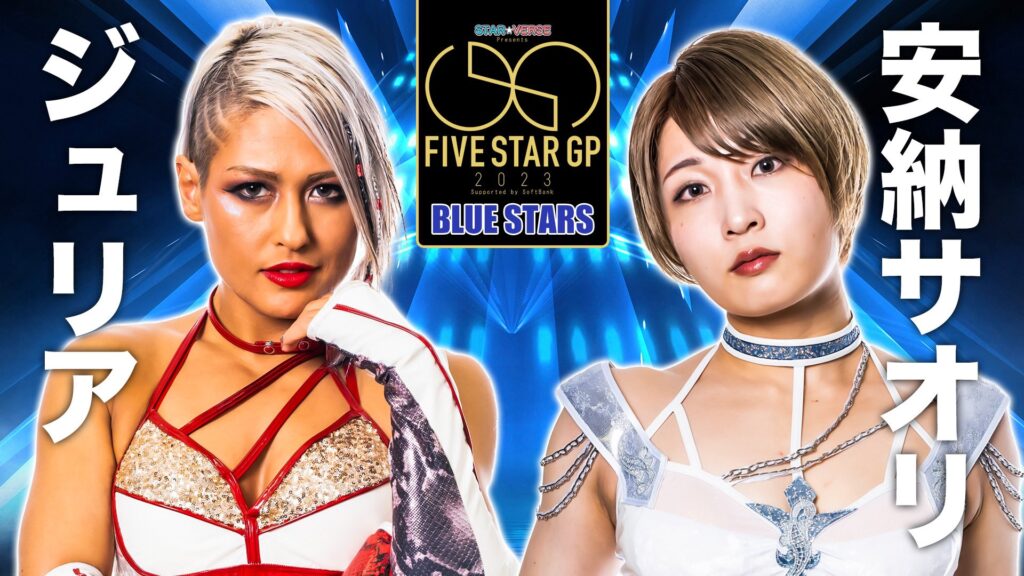 Earlier this year, Saori Anou returned to Stardom after six years away, serving as one of KAIRI's two partners and immediately claiming gold. This is her first 5STAR Grand Prix, opening her campaign opposite Giulia, whom she defeated twice before the current STRONG Champion signed with Stardom. On the same night that Anou became one third of the Artist of Stardom Champions, Giulia lost the World of Stardom crown, concluding her almost four months as the promotion's lead titleholder.
Before long, this is the type of match that Giulia most excels in, swiftly finding a bruising, violent form. Admittedly, I'm not particularly familiar with Anou but she's certainly at home in that regard also, creating a heated, spiteful opening night encounter. Before that, there are some formalities at the bell, sharing a traditional lock-up as they wrestle for position early. That doesn't last long though, as a simple tug of the hair transforms things in an instant.
The sudden escalation only exposes those fleeting formalities as just that, a brief attempt at avoiding the inevitable. The first increase in pace favours Anou, as they then walk and brawl their way up the ramp. This spot emerges in Stardom enough that for a moment, my attention began to wander, but that was quickly fixed by a wild suplex off the stage, with Anou sending Giulia flying in the seats. While not quite reaching those levels, Giulia has a suitably savage response, launching Anou into the crowd as they head back towards ringside.
That's just the start too, building on that effort with a horrifying piledriver through the table. As they return to the ring, that feat briefly keeps Giulia in control, but Anou's response isn't far behind. She threatens to overwhelm Giulia late, scoring multiple near falls as Anou edges towards repeating her prior triumphs in this matchup. This is a different Giulia though, finding an answer and almost closing the show herself, dominating the match's dying moments.
Anou is saved by the bell, bringing this fifteen minute shootout to a close. It's a unique experience, feeling far shorter than its runtime but being packed with enough content for half an hour. They do so much in fact that there's some connective tissue lost along the way, feeling slightly disjoined at times. In that sense, it almost seems like a compilation on occasion, unapologetically transitioning from one highlight to the next. Thankfully, those highlights are impactful enough to mostly overcome any faint flaws.
At core, it's a match built on that output, shaped by an almost frightening intensity. It's ferocious, a brutal brawl that earns a very particular atmosphere. To their credit, they still find a striking finish too, with the bell feeling like an interruption of something special. Giulia was robbed of a potential victory while Anou wasn't allowed to again return fire as she had previously, neatly setting the stage for a rematch.