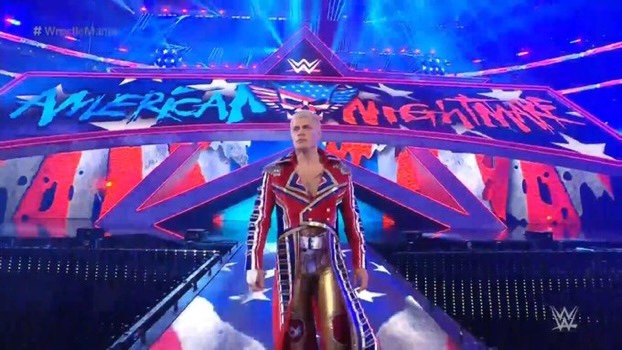 After weeks of speculation following his AEW departure on the 15th of February, Cody Rhodes has made his return to WWE at Night 1 of Wrestlemania 38.
As had previously been reported by a variety of sources, Rhodes was the mystery opponent of Seth Rollins, who had been in search of a pathway to the "Stupendous" two night event in the weeks leading up to the show.
With Rollins awaiting his opponent in the ring, the AT&T stadium erupted at the sound of Rhodes' AEW theme "Kingdom", confirming reports that WWE were looking at keeping Cody's presentation mostly the same from his run in Jacksonville.
This is Rhodes' first WWE appearance since his 2016 release, with Cody portraying the 'Stardust' character at the time. Cody returns to WWE having rebuilt his reputation across ROH, NJPW, and All Elite Wrestling, with Rhodes being a founding member and EVP of the latter.
As far as what the future may hold for Cody Rhodes in WWE, fans can expect to hear more on the Raw after Wrestlemania, with reports circulating that Cody is scheduled to appear on the show.
Rhodes' AEW departure and subsequent WWE links dominated headlines in the weeks leading up to today's event, and he's certain to be a major talking point in the coming weeks as more news emerges regarding his contract and creative plans.
After a long wait for his arrival, we're looking forward to what comes next for Cody, and hope that this upcoming chapter in his career can provide us with as many memorable moments as he has in previous years.