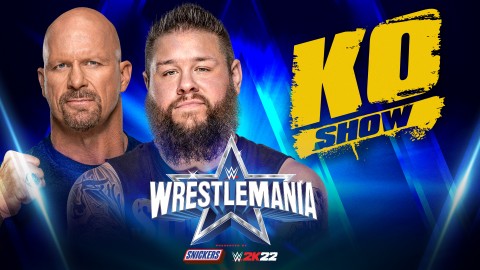 Welcome to WrestlePurists' live coverage of WWE WrestleMania Night 1!
Pre-Show Interview with Seth Rollins
Seth Rollins is interviewed backstage about who his opponent might be tonight. Seth names several possibilities, including Vince McMahon himself, before stating that it doesn't matter, because he's Seth Freakin Rollins and it's about him.
Pre-Show Interview with Xavier Woods and Kofi Kingston
The New Day members talk about teaming up against Sheamus and Ridge Holland, mentioning they're 11 time tag team champs. It's a fun interview that ends in "New Day Rocks" chants.
The Usos(c) defeat Shinsuke Nakamura and Rick Boogs by Pinfall to retain the Smackdown Tag Team Championship
After an initial advantage for the King of Strong Style, the Usos quickly took over and dominated with great tag efficiency. Boogs showed off his crazy strength more than once after he got the tag, the latter of which caused a legitimate quad injury, as later confirmed by Dave Meltzer. This left Nakamura essentially on his own to eventually catch a 1D and a pinfall.
Drew McIntyre defeats Happy Corbin by Pinfall
McIntyre took control early on, clearly displeased by Corbin's comment about his mother. Soon enough Corbin got the upper hand, slowly working Drew over while angering the crowd. Madcap Moss then got on the apron, inadvertently distracting Corbin and giving McIntyre the chance to turn the tide. Lots of intense back and forth action from there eventually led to McIntyre landing the Future Shock DDT and Claymore, followed by the pinfall. After the match, Moss stood on the apron antagonizing Drew, leading to McIntyre swinging his sword at him and slicing through the first two ring ropes.
The Miz and Logan Paul defeat The Mysterios by Pinfall
The match began with a lot of back and forth double team action, with Miz and Paul soon taking over by leaning into dirtier tactics as one would expect. The two teams battled it out, each taking control at different points, before the Miz finally came back with a Skull Crushing Finalé and a pinfall win. As the victors celebrated their win, The Miz suddenly turned on Logan Paul, delivering another finisher and leaving him laying in the ring.
Stephanie McMahon Introduces Gable Steveson to the WrestleMania Crowd
Bianca Bel-Air defeats Becky Lynch(c) by pinfall for the Raw Women Chamionship
The match began with an attempted handshake from Belair and a slap response from Lynch, who got an immediate near-fall following an early Man-Handle Slam. Becky kept the pressure on through the early minutes of the battle, before she missed a moonsault and caused the tide to turn. From there the match was mostly even, with both opponents trading heavy offense and pinfalls throughout. After much back and forth and a near count out for Belair, she managed to hit the KOD and get the pinfall victory over Lynch to win the Raw Women's Title.
Cody Rhodes Revealed as Mystery Opponent of Seth Rollins
Cody Rhodes defeats Seth Freakin' Rollins by Pinfall
The match started at a slower pace, with both competitors testing each other out and showboating in turn. As the intensity started picking up, each went for early finishers and failed, leading back to an even exchange of offensive maneuvers and holds. Cody and Seth seemed very evenly matched throughout, delivering big move after big move to each other, with both somehow managing to kick out after each devastating blow. Finally, Cody hit two Crossroads back to back, a Bionic Elbow, and a third, match ending Crossroads for the pinfall win.
WWE Hall of Fame Class of 2022 Is Recognized, with an Appearance by The Undertaker
Charlotte Flair(c) beats Ronda Rousey to Retain Smackdown Women's Championship
The match began with high intensity, with both competitors going back and forth trading strikes, takedowns, and holds. Flair started to gain the advantage slowly, using a variety of stiff looking strikes and chokeholds. Rousey then used a series of judo throws to change the momentum, bringing them both back to a seemingly level playing field of back and forth offense. The ref then got knocked down after Ronda inadvertently launched Flair into him. This prevented him from seeing Charlotte tap out to an armbar from Rousey, which subsequently gave Charlotte the opportunity to boot Ronda in the face and get the pinfall victory.
KO Show Segment with Stone Cold Steve Austin
The segment began with Owens making it seem like he was going to apologize to Texans for his Texas slander, then insulted them instead. He then stated Steve Austin would show him respect or receive a stunner and a beer poured over his "stupid bald head." Then the glass shattered and Stone Cold Steve Austin, the legend, came out to a huge crowd reaction while KO looked on unimpressed. Austin then disappeared, returning soon after on an ATV he circled the ring with. Owens cut Austin's entrance short and the talk show segment began, with Owens revealing he tricked Stone Cold and was actually looking for a fight then and there. After a long pause, Austin asked the fans what they wanted in true Stone Cold fashion, then called for a ref after their resoonse.
Stone Cold Steve Austin defeats Kevin Owens by Pinfall in No-Holds-Barred Match
The match started with Stone Cold stomping mudholes on Owens in both corners with a beer break in between. After a beating by Austin, KO turned the tides on him long enough to set up a table outside, only to be thrown through it himself. They battled through the crowd and around the ring for a bit, before Owens decided it was time to leave and tried to hijack Austin's ATV, leading Austin to drive him up the ramp on it and suplex him onto the stage repeatedly. They eventually made it back in-ring where Owens hit a stunner and near pinfall, then tried to hit Austin with a chair. Unfortunately for him it hit the ropes and bounced back into his own face. Stone Cold then hit a stunner of his own and got the pinfall win, followed by the traditional Austin celebration and a final stunner to Owens.