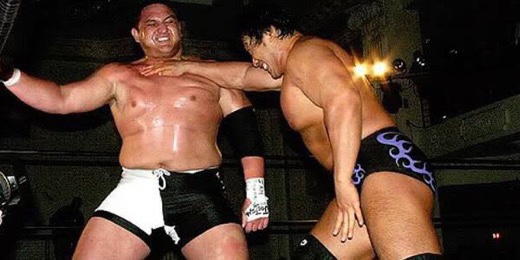 I probably know what you're thinking right now. Why am I writing about Kenta Kobashi vs Samoa Joe? Well, while there's no anniversary coming up or anything like that, Ring of Honor is back in the news as of late. Better yet, for the first time in a long time, a sense of hope has returned to the brand, with Tony Khan recently purchasing not just arguably the best indie promotion to ever exist but honestly, one of the industry's greatest in general.
Personally, I wasn't watching Ring of Honor during its glory days. At the time, my only experience with pro wrestling was watching some random lucha shows on the weekend while my grandpa got the restaurant at our flea market ready. If I wasn't watching those lucha shows, I was watching your typical Raw or SmackDown offerings until around 2012. After all, when Kenta Kobashi battled Samoa Joe, I was only 5 or 6 years old.
Some time later, as I was trying to get back into wrestling in 2018, WWE just wasn't doing it for me. That's when I discovered Chris Jericho vs. Kenny Omega, the Wrestle Kingdom 12 match that in hindsight, changed everything. Even back then, that match opened my eyes to a world bigger than WWE, a world with different kind of styles, particularly of the hard hitting variety.
With that in mind, I went on Twitter at the time and asked for better options in American wrestling. In response, someone recommended Ring of Honor, a familiar answer to that familiar question. Honestly though, I don't know how I got so lucky, as the first ROH match that I found was possibly the greatest American wrestling match that I've ever seen. I'm no historian, nor have I seen everything but in my view, this classic's legacy speaks for itself.
More than that though, this is one of maybe three matches that I saw with my grandpa when he was still with us. I just happened to be in his room on my laptop, and asked if he wanted to watch this with me. He said yes, maybe thinking that I'd leave him alone when it was over. Instead, that match, emanating from the unspectacular New Yorker Hotel, would bring my grandpa and I even closer together.
After watching this together, a match between two guys without that typical WWE look, we'd often wrestle around the house. Well, until my grandma got after us anyway. That first watch, I truly remember it like it was yesterday. First, this big monster came out, sporting the face of man ready to go to war. With the fans chanting his name, Joe screamed "this is my house" and already, I was captivated.
Honestly, that entrance was enough to make me think that Joe was about to mess this Kobashi guy up. That was, of course, until Kobashi made his own entrance. With the calmest demeanour that I can recall in a situation such as this, Kenta Kobashi was stoic. At the time, I wasn't aware that I was watching arguably the greatest wrestler of all time, but those fans knew. Loud "Kobashi" chants commenced, but the man himself remained unmoved.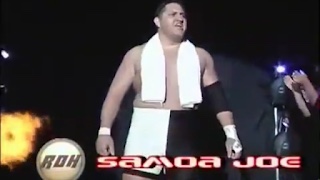 The eye of the storm, Kobashi slowly walked through this explosive atmosphere, not moving a step quicker than originally intended. His presence then engulfed the whole ring, making that canvas feel like the venue's safest place. The fans were rabid in response, chanting both names back and forth, desperate for these bulls to finally lock up. Kobashi was welcomed to America with more than just "fuck him up Kobashi" chants too, receiving streamers for his introduction.
That was a first for me, but it showed that wrestling was more than what went on between the ropes. There was also a pageantry to this sport, something that I would discover more when going down the rabbithole of 90s All Japan Pro Wrestling. Nonetheless, these two mad men quickly brought the violence, immediately throwing bombs at each other. In fact, the match wasn't even three minutes old when Joe went flying through the ropes with an incredible forearm.
In his own way, Kobashi quickly matched Joe's intensity though, firing back as the chop exchanges escalated. Joe had a few tricks up his sleeve however, pulling from one of Kobashi's career rivals and unleashing some Kawada kicks, a move he'd swiftly regret. The fight soon spilled to the floor, setting the stage for Joe's famed 'Ole' kick, with the fans responding accordingly. That was another wrestling first for me, a chant that I'd only heard at soccer games.
Returning to the ring, Joe soon hit the Muscle Buster, later applying his Coquina Clutch. In response, the crowd begged Kobashi to survive, loudly pleading with him not to submit. He obliged, grabbing the bottom rope as exhaustion began to set in. Kobashi's comeback followed, dropping Joe on his head and then firing off those iconic 'Machine Gun' chops. Joe's chest was rapidly reddening but like Kobashi, he survived, beating the count with a rope break of his own.
At this point, both men are battered. Sweat is flying with every strike, the violence still somehow increasing. The crowd is right there with it too, hungrier and hungrier as that bar kept getting raised. All those years later, my grandpa and I felt the same, aware that we were watching something truly special. Meanwhile, the action continues in New York, now reaching its final stretch. Beaten and bruised, Joe has one last show of defiance, but he still can't shift Kobashi.
Instead, Kobashi closed the show, finally toppling Joe with a brutal lariat. After 23 minutes of war, the pair had produced an instant classic, showing their respect for each other after the final bell. The promotional aces had just made history together, sharing the kind of match that'd live forever. Earning five stars from Dave Meltzer and still maintaining a Cagematch rating of 9.66, this match quickly built a unique aura that stays with it to this day.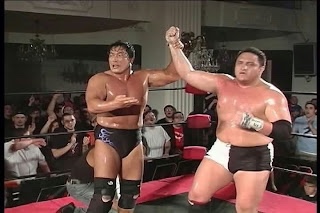 For Kobashi, that night was the ideal encapsulation of what he'd been for a decade and more, the perfect US classic for an already extraordinary match catalogue. For Joe, it was the crown jewel in his greatest year of all, one of wrestling history's finest individual years in general. For almost anyone that's seen it, this is a match close to their heart, one that defined an era which would soon shape the wider wrestling world.
For me though, this match really did change my life, not only transforming my fandom but more importantly, helping me create awesome memories with my grandpa. Much like this match, I'll cherish those memories forever.