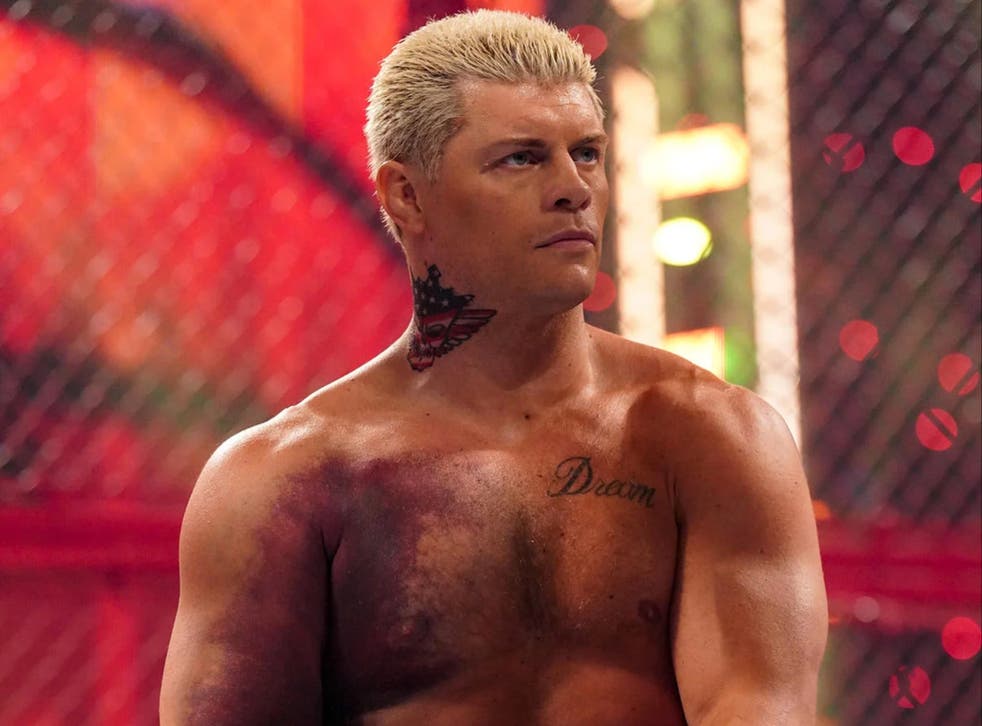 We humans do the most reckless things sometimes. Take something heroic, like running into a flaming building to save the lives of those close to a crisp death inside, or something completely idiotic such as cruelly provoking a frightened and defensive animal.
On June 5, 2022, Cody Rhodes did something reckless.
Following a workout routine gone wrong, The American Nightmare tore his pec, his muscle being split from the bone. While that sounds good on ribs and hot wings, it is not good on a person.
The announcement did rock the scene that night, as there was a Hell in a Cell match, hotly anticipated by the faithful WWE fanbase featuring Rhodes and his rival at that time, Seth "Freakin'" Rollins. And this was supposed to take place within the confines of the dreaded Hell in a Cell.
Even more dreaded was the news that Cody would still be wrestling that night at the behest of the man himself. We did not know the severity of his injury, and we didn't know what to expect. Was he going to hurt himself even worse, or if it was going to be a simple squash, which admittedly would have been a waste of the gimmick, especially given that it was the only match on the card to feature the iconic Cell.
Surely enough, it did happen. For better or for worse, it happened. Seth Rollins entered the ring in black and yellow polka dots, an insult of an attire meant to get in the head of Cody Rhodes in evoking the same pattern of gear his dad once wore in WWF during the 1980s. Like Homelander himself, Cody emerged to fanfare and pyro, and slowly he disrobed, giving us a gnarly and ghastly sight beneath his patriotic cape.
Hues of purple and black and violet immediately drew the eyes of viewers, as it was tucked neatly, yet visibly from his chest to bicep. Cody Rhodes would work that match. It was laced with emotion, as violence was poured like gasoline over the fire of combat. So much significance was placed here, as a wounded hero fought and fought with every ounce, every fiber of his being. From the use of kendo sticks, weight belts, and sledgehammers onto Cody's battered titty, to the bull-rope match spot, to the Pedigree, this match spoke on legacy and emotion, and desperation. Admittedly, it made me feel. These emotions were mixed ones, but we'll get on it later.
Cody won the match with enough Cross Rhodes to make Bone Thugs-N-Harmony feel honored, and the match was over. A real-life problem was worked into the match the night of, and it gave cause to conversation about the match that'll last for a long time to come. 
Here's where my mixed emotions come into play. I've seen many praise Cody's grit in proceeding to work the match, and others bemoaned the unfortunate choice to go through with it. I'm somewhere in the middle. I felt pride, I felt inspiration, I felt strength and all the wonderful things wrestling is meant to elicit. I'm happy Cody got the win.
But I also find the level of judgment in not just postponing the match or replacing Rhodes with another opponent foolish. While the good news is there wasn't much more damage that could be done, it didn't need to happen. Fans would've loved Cody anyway. Cheers would have followed him upon his return. Legitimately, he had nothing to prove to us. He did his time on the indies and in Japan to prove he was every bit of the wrestler he so wished WWE would have seen in him prior to his departure in 2016.
Fans loyal to Cody would have understood, WWE fans that weren't embroiled in traditions of wrestling and shitty, cringeworthy tribalism would have let it be. We've seen the quality of work he could put on, be it the dog collar match with the late Brodie Lee, the cage match with Wardlow, the lashes by MJF, or most notably and memorably, the heart-wrenching and powerful, generational match he had with his older brother Dustin at AEW's Double or Nothing in 2019 (a match I'm not sure either man can top; it's a masterpiece). Cody doesn't have that type of pressure anymore – he's one of the stars where it's up to the promoter to be pressured to do well by the likes of him. With WWE in his corner, it's evident they are behind Cody now. 
The point of this piece is that we, fans of fiction and lovers of stories, do not need the sacrifice of real-life health to satiate us anymore. Not to this degree. Gone are the days of working through concussions and minor injuries. We sure as hell aren't in the era of gladiators fighting to the death in a coliseum. This was wrestling on a product where we hope to see our favorite characters live to continue their stories.
What Cody gave us to remember in the time he'll be out of action is one of pride, respect, and loads and loads of discomfort. This is the length he would go to. He got the validation he craved so dearly, from wrestling fans, from the company he returned to, and from himself.
As I stated above, I'm unsure of what to truly feel. I am in the middle, where I want to revisit this bit of art, but I also do not want this to continue being a standard practice of tradition in the wrestling industry going forward.
In the end though, Cody does what Cody wants, and a part of me thinks he wants to live up to the legacy of Dusty Rhodes, of doing what he once did. Cody, the proud son, will continue to do just that.
After all, he is the meat off the bone.