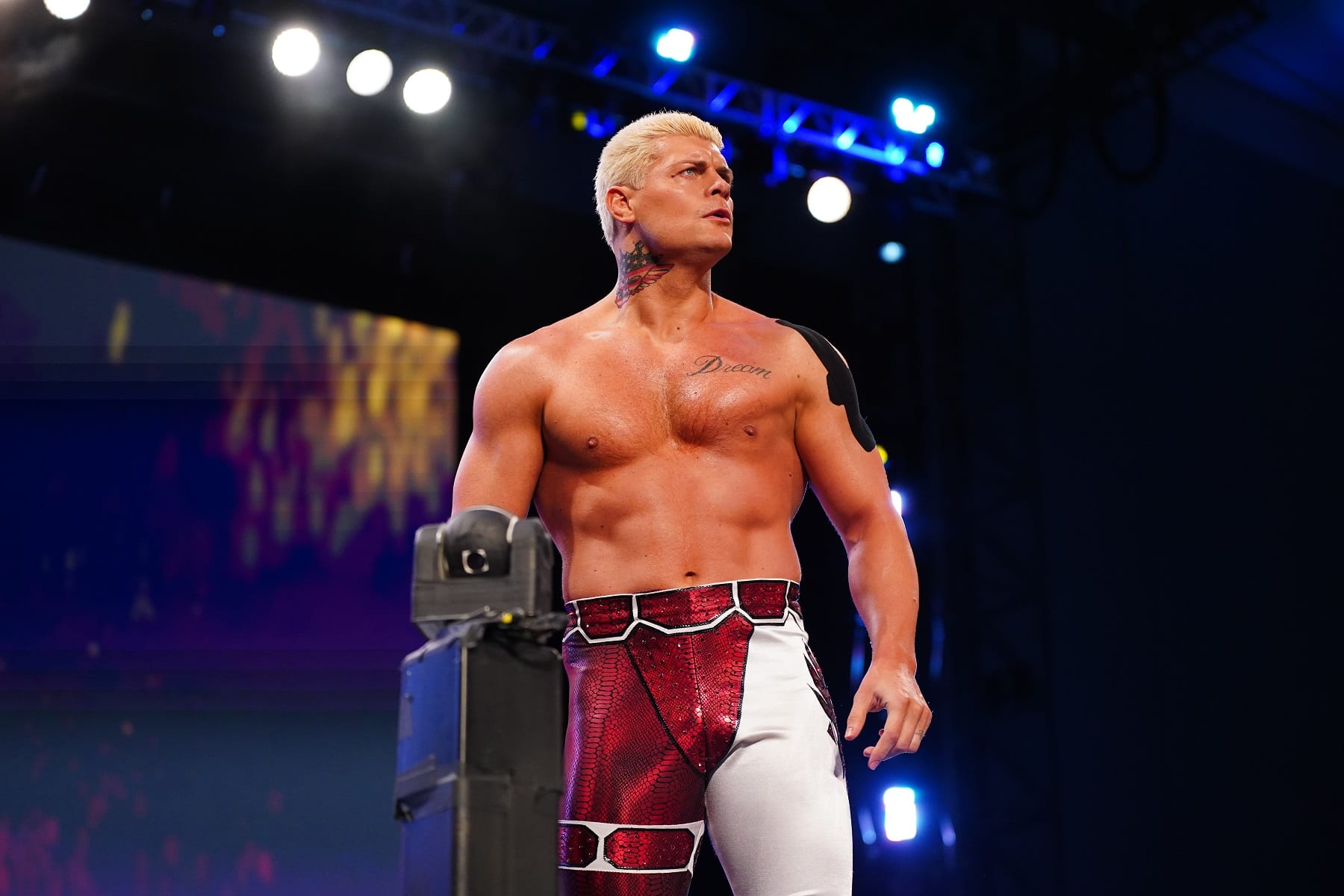 On September 4th last year, CM Punk defeated Jon Moxley in the main event of the All Out PPV to capture the AEW World Championship in his hometown of Chicago, Illinois, however, it would be a post-show press conference that would wind up grabbing the majority of headlines that day. Following the show, Punk didn't hold back when discussing his thoughts on The Elite, Hangman Adam Page, and Colt Cabana, leading to an alleged incident breaking out between the new champion, Ace Steel, and The AEW EVPs.
Ahead of his upcoming WrestleMania 39 main event, WWE's Cody Rhodes joined The MMA Hour with Ariel Helwani, where the former AEW EVP had the chance to comment on the incident for the first time, revealing how he initially heard about what had happened.
"I woke up the next morning and I had no joke, I think 63 messages. So I was very worried that something was said about me or Brandi. I did everything I could. I gave a lot. I have great memories with AEW, I do. So I hope it's respected mutually, right? So I was worried. I was like, 'I hope somebody to take a weird shot, something like that.' That wasn't the case. It was about this press conference and all that."

-Cody Rhodes
Rhodes then went on to talk about his relationship with the members of The Elite, stating that their differing opinions on the industry sometimes tested their bond. The 'American Nightmare' also touched on his relationship with CM Punk, noting that whilst the two didn't talk much, they got along well.
"I had a great relationship with Matt, Nick, and Kenny still do. It definitely was tested by being young executives. It was tested by having different opinions on wrestling, but our different opinions is what made it strong. That's what made us work. I want to do Crockett and old school and they want to do PWG and West Coast and damn, I loved it. That contention is what made us bond. We're bonded forever because of the things we did. I also had a great relationship with Punk. He was my dinner buddy. They'd order dinner for me at AEW every week, it was one of my management perks or whatever. I don't think he knew, I always just put it on my tab because I wanted to make sure he was getting something. So we didn't talk a lot, but I got a great relationship with him. I was so excited to have him back, and like even if you remember when he came back, everyone was fired up about that, everybody. So when I watched it just from me sitting there, I was not — there was some people texting me. I remember somebody texted me, 'Man, you're the smartest guy in the room. I wanted to write back like, 'F— you, man.' I don't feel that way. I feel this thing we built got damaged. I'm not putting any blame on anybody. Sorry, super Switzerland."

-Cody Rhodes
The Royal Rumble winner then went on to highlight that he doesn't place the blame of what happened following last year's All Out PPV on anyone in particular, although he did state that he believes the incident took away from the spirit of All In from AEW.
"I'm not putting any blame on anybody. I just hated seeing that. Because as the company grows, and I hope it continues to grow. I hope people remember the mission in the first place and why we were there. If you bring in people who don't know the mission, then things like that can happen. I'm not saying he didn't know the mission or anything of that nature, but I was just bummed out. That's how I felt, I was bummed out. because I have — you win the title, it's a feather in your cap. You win the Royal Rumble, it's a feather in your cap. Building an alternative wrestling promotion is definitely a feather in the cap. I don't want that to be erased. I don't want that to go away. Plus, there's not as many jobs in wrestling as people think. There's about 1000 people who work there structurally, infrastructure and talent. I'm proud of them. I want to make sure they're able to feed their families and that was a situation that was so big and heavy. I don't think it was helpful. I don't know, maybe you could make it helpful. Maybe you can do something with it. That's how I felt. No heat on Punk. No heat on Matt, Nick, Kenny, or Tony, I was just bummed out when I saw it. That's not how we envisioned it. The spirit of 'All In,' if you ever lose the spirit, you're lost. I think the spirit was gone in that moment, doesn't mean can't get it back, but it was just a bummer."

-Cody Rhodes
The Elite are back to appearing regularly on AEW television following the completion of their suspensions, having also regained the AEW World Trios Championships that they were forced to vacate back in September. Punk on the other hand is yet to return to the company, although it's worth noting that regardless of any suspensions or backstage tension, a lengthy spell on the shelf due to injury is also a major factor in his absence.
WWE are set to present their Elimination Chamber premium live event in Montreal, Quebec, Canada this Saturday, with Roman Reigns scheduled to defend the Undisputed WWE Universal Championship against Sami Zayn. The winner of said match will take on Cody Rhodes in the main event of WrestleMania 39, following the former AEW star's Royal Rumble victory.
H/T to Fightful for the transcription.