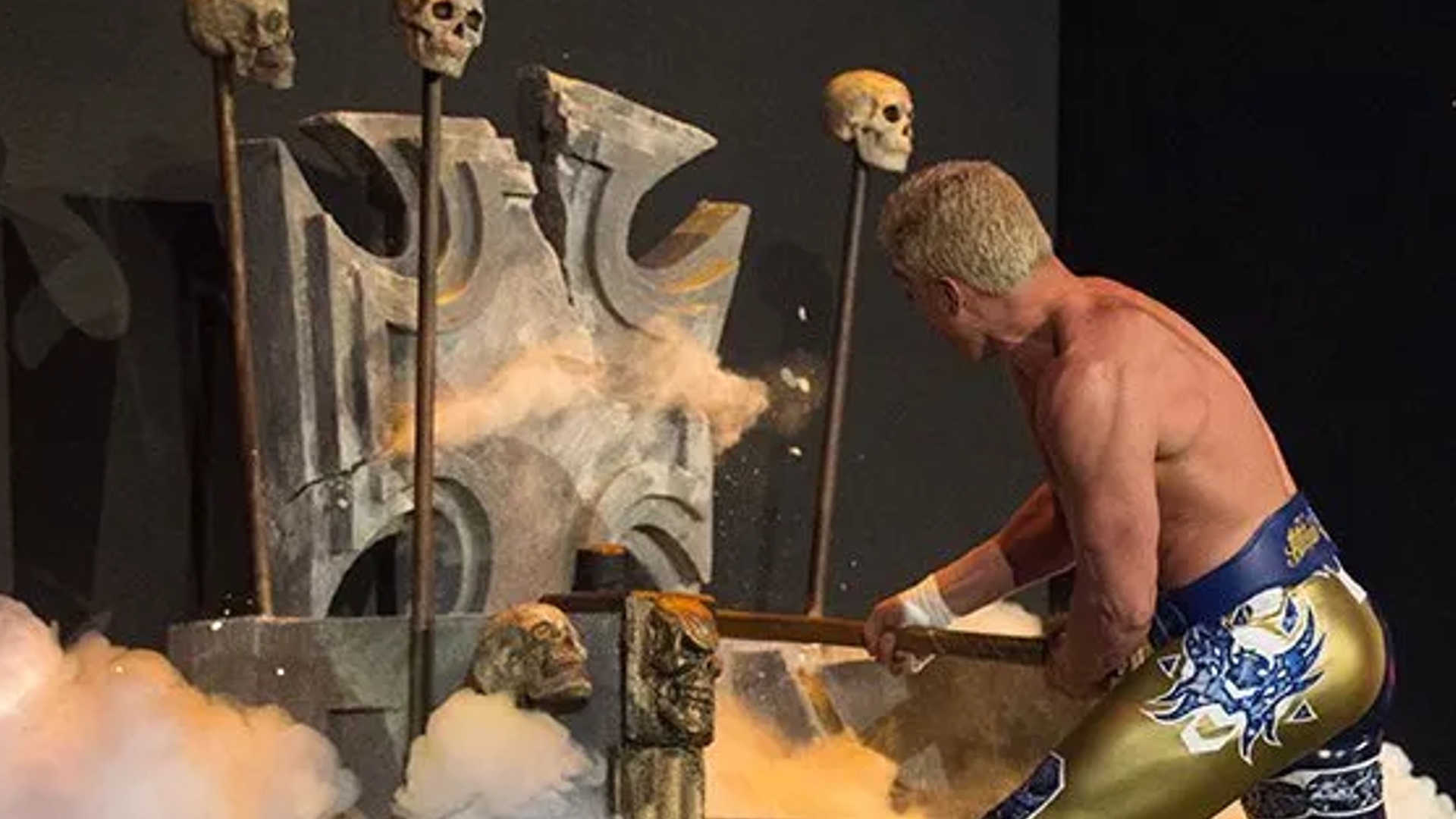 Cody Rhodes is next in line to challenge Roman Reigns for the Undisputed WWE Universal Championships at WrestleMania. It's well-known that The American Nightmare spent three years in AEW before his shocking return to WWE twelve months ago, during which he featured in a lot of moments that could be described as digs aimed at his current employers, particularly Triple H. However, it must be said that Rhodes has gone on record to state how much respect he has for The Game as a man and as a competitor.
Many fans still often wonder whether or not any of the supposed digs have been brought up to Cody by management since he walked back through WWE's doors. In fact, at Double Or Nothing in 2019, Rhodes was involved in perhaps the most infamous dig of them all; smashing a throne with a sledgehammer. In an obvious wink to The King Of Kings, the former AEW EVP got fans talking with his symbolic destruction of one of Triple H's most iconic objects.
Speaking to Jimmy Traina on the SI Media Podcast, The American Nightmare addressed whether or not conversations had taken place over Rhodes' destruction of the throne in AEW, with the star revealing that it isn't something that has been brought up. Interestingly, Cody also stated that Triple H actually got in contact with him to wish him well following Rhodes' capture of the ROH World Championship.
"It's not mentioned. I'd love it to be mentioned eventually because I still have my broken throne at the Nightmare Factory. I was in the warehouse the other day with WWE, and there is the 'throne' throne. Mine is a replica. There is some imagery, some iconography that could be utilized for a show potentially. I'd love for it to eventually be talked about. One thing that was really nice, a conversation that him and I did have, and I didn't share this until recently, was when I won the Ring of Honor World Championship, I hadn't spoken to [Triple H] since I left, and I just got a one word text from him that said 'congrats.' This is a Ring of Honor show, ends at 1 AM, essentially. Working here, there are a bazillion shows and things you're doing. I was glad, I found out later, he watched every bit of it. He kept tabs on me. He has his finger on the pulse of what the young fans and the young roster is in to,"

-Cody Rhodes
It's interesting that Cody suggests that he would like to discuss the throne breakage with Triple H as well as maybe even incorporate it into his future, whether that happens still remains to be seen. As mentioned, Rhodes will next be seen batting Roman Reigns in a bid to be the first in his family to hold WWE's top prize.
As always, we'll aim to update you on Cody Rhodes as well as any plans for him as soon as we hear more.
H/T to Fightful for the transcription.