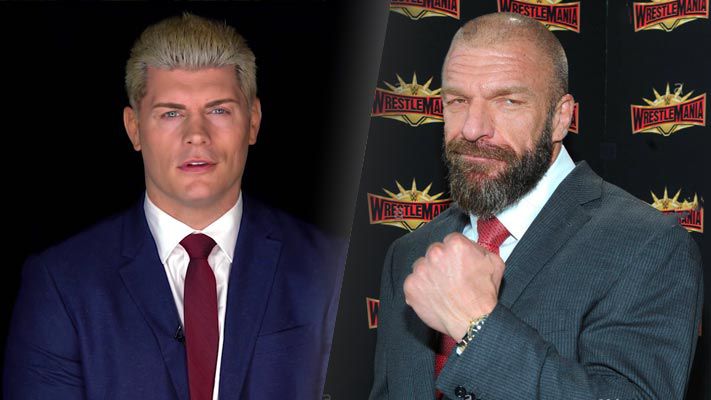 On January 28th, Cody Rhodes made his long-awaited return at the Royal Rumble premium live event, winning the men's Rumble after entering at number 30 to a thunderous ovation. Rhodes had been out of action since WWE's Hell in a Cell show in June of last year after he tore his pectoral muscle prior to his match with Seth Rollins, a match the American Nightmare would go on to still compete in and win to the surprise of many.
During Rhodes' absence, long-time WWE CEO and Chairman Vince McMahon shockingly announced his retirement amid an investigation into accusations of sexual misconduct and the use of company money to hide these claims. As a result, Nick Khan and Stephanie McMahon were named co-CEOs, whilst Paul 'Triple H' Levesque returned to the company as the Chief Content Officer and Head of Talent Relations.
Speaking to Alex McCarthy of the Daily Mail, Rhodes revealed that he appreciated the way the company actively communicated with him during his absence. Additionally, the 37-year-old noted that whilst Vince McMahon and Triple H may have differing creative visions, he's focused on being his best regardless, with the priority being the quality of his onscreen work rather than any backstage politics.
"One of the really nice things was the amount of communication. It's already a downtrodden, melancholy situation when you're injured and you're on your couch. This happened very quickly, I'm not really up and moving and I'm not hitting the weights, I'm not in that process of getting near coming back. At the time when the transition happened, I wasn't even close to coming back and I was communicated with every step of the way. I was communicated with by Vince and by Triple H. That was very nice. I was never left in the dark on anything and obviously, these are different visions, they change. My transaction needs to be simple. I don't need to be caught up in whatever is happening behind the scenes. Those stories can be fun but I need my story on the screen to be the more important story. For that to happen I need to be at the very best. Best as a superstar, best as a wrestler because then the other stuff will come. You won't have to worry about, 'Does he like me, does she like me, do they like me?' It's the best I could be was the best I could be. I did not notice any elements of the transition that were chaotic, everyone communicated with me. As a wrestler in his prime and also a veteran wrestler, that makes you feel very wanted and very needed. It filled me up and gave me confidence in my rehab,"

-Cody Rhodes
Following his triumphant performance at the Royal Rumble, Rhodes is now set to headline WrestleMania 39 in Los Angeles, California, where he'll be challenging either Roman Reigns or Sami Zayn for the Undisputed WWE Universal Championship, depending on who emerges with the gold coming out of the upcoming Elimination Chamber show.
In terms of the corporate side of the company, Vince McMahon returned to WWE on January 6th and was unanimously elected as the Executive Chairman of the Board just four days later, with reports noting that he intends to oversee a sale of the company.