It's a very fleet-centric week for the match guide, as AEW pairs an all-star Dynamite lineup with Collision's much anticipated premiere. The latter signifies a new chapter within a story that's dominated the headlines for much of the last year, as CM Punk once again returns to the ring. Meanwhile, Gunther and Kevin Owens are at it again while elsewhere, All Japan Pro Wrestling continue to quietly announce themselves as home to the sport's finest tag team wrestling.
If that's not enough, Roderick Strong returns to the independent scene, heading to Prestige Wrestling for a bout with Kevin Blackwood. It's a special time for pro wrestling and this week quite perfectly encapsulates why so with that in mind, let's do some overanalysing.
Gunther & Ludwig Kaiser vs. Kevin Owens & Sami Zayn (WWE RAW)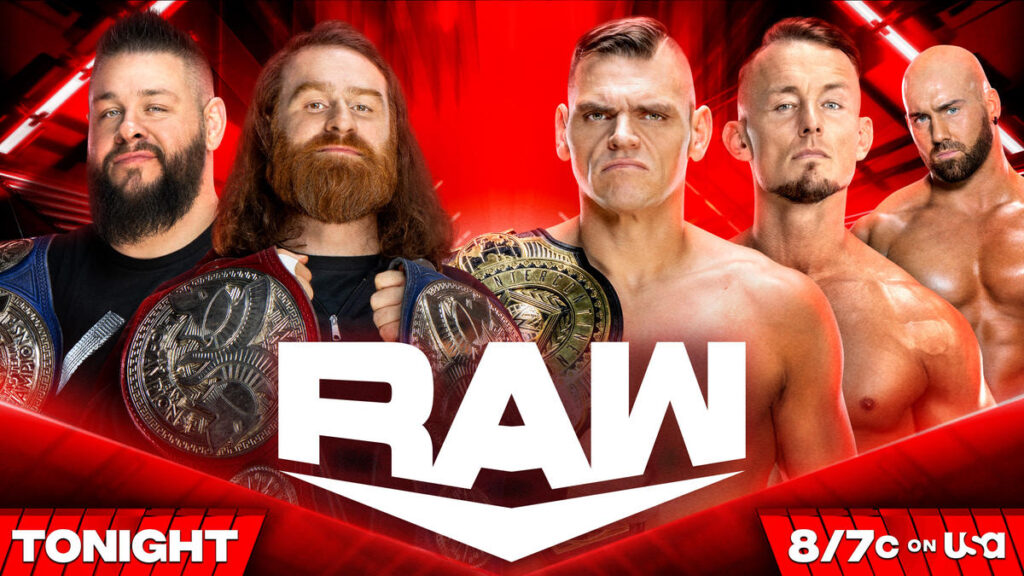 While Ludwig Kaiser's usual usage prevented this from total all-star tag status, it remained an undeniably enticing television main event. In fact, I'd argue it was ultimately assisted by that truth, operating without grand expectations and instead producing something steadier in structure and style. Like much of Gunther's fabulous last year, it's a strikingly un-WWE affair, both on paper and especially in execution. That's quietly been the case for an increasing amount of these tag team title tilts as of late, with the division frequently closing WWE's weekly TV.
This is especially compelling though, pairing its still sizeable star power with a distinct layout and feel. Even if plugged into the usual television tag outline, this'd work a treat, but they actually add a wrinkle or two here. The match gets underway with an extended shine, as Zayn earns an advantage over Gunther that he maintains as Kaiser enters. I have a great deal of admiration for The Usos' reign, especially that last leg of it, but their defences seldom featured shines such as this.
Instead, they'd usually frontload the heat, extending their trademark finishing stretches. Here, the shine is so substantive that we even get to see our babyfaces utilise their own tag team tactics. Once upon a time, this was common, as tag matches got time and it was understood that the protagonists would also know how to cut a wrestling ring off. We only get a glance at that here, but it's still nice to see an ingredient that's almost totally absent from modern television wrestling.
Either way, this match features some gorgeous transitions, with a single boot from Gunther turning the tide. Zayn is oblivious to the tag which sets that up, even with Owens' typically comical attempts at informing him. Unfortunately, much of the heat itself is hidden in an ad break but they're rocking as we return, with Zayn landing a sunset bomb to set up Owens' hot tag. As usual, Owens brings immense intensity but this time, it's matched, being greeted by Gunther in centre ring.
Outside of Owens being dispatched from the apron earlier, this is their first interaction in the match, picking up where they left off last week. They don't go right to the finish from there either, though a near fall or two has you momentarily convinced otherwise. They tease Gunther repeating last week's route to victory, ultimately reaching a double down that sets up Zayn's own hot tag on Kaiser. The obvious pin-eater, Kaiser does get some time to shine late, wiping out Owens as Gunther almost lariats Zayn out of his boots.
That produces a couple truly convincing near falls, momentarily making the inconceivable feel inevitable. Ultimately, they reach the conclusion that you'd expect, but it feels significant after such a captivating route. This really worked for me, offering a structure that subtly separated itself from the pack. It's so tightly constructed that as things explode late, they capture this genuine sense of a race to the finish. Those final near falls are earned and with the groundwork laid, pack a serious punch also.
Much like last week's terrific Gunther – Owens match, it's still somewhat restrained but personally, I thought that was beneficial to this particular bout. It allowed them to focus on something more simplistic, using their extended runtime to quietly tinker with the usual structure more than anything else. I'm not as confident that we'll see this on the PPV stage as I am with the Gunther – Owens singles, but I'd love to be proven wrong in that regard, as this was very much to my television wrestling taste.
Adam Cole vs. MJF (AEW Dynamite)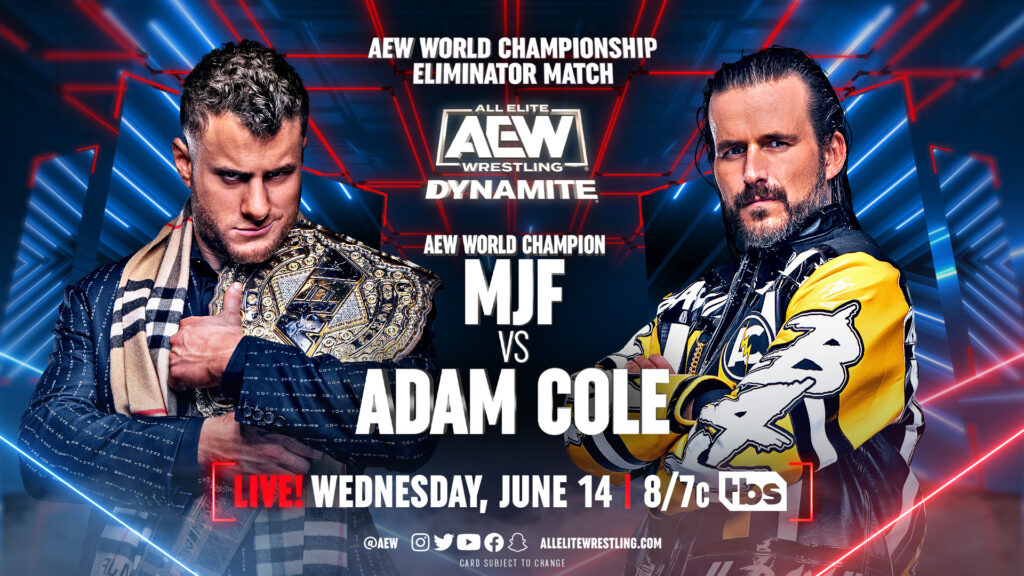 After Adam Cole's recent PPV outing opposite Chris Jericho, it was easy to dismiss him as MJF's next title challenger. Certainly, the timing wasn't ideal, especially for a programme that had felt inevitable since Cole's arrival in 2021. Their extended promo segment convinced some, leaving others more in doubt but thankfully, we wouldn't have to wait long for a more definitive judgment. This week, they opened Dynamite with a previously puzzling eliminator match, answering the bell in emphatic fashion.
This was a complete triumph, as Cole and MJF went the full thirty minutes, transforming my perception of this programme in the process. Before the bell, I'd have actively scoffed at such a play call, particularly considering Cole's form since returning to the ring. In that sense, it was an inspired piece of booking, trusting the talent themselves to prove this direction worthwhile. It worked an absolute treat, rocking an already enthusiastic live crowd and setting the stage for a blockbuster sequel.
Now, that's all well and good but this is the match guide, not the booking breakdown and so, just how high does this thing climb? Well, it's complicated. Don't get me wrong, it's really good, borderline great even, but it's also an encapsulation of MJF's increasing excellence while quietly reiterating his relative inexperience in this role. I don't mean this as a slight towards Cole, but Wednesday's match was unquestionably an MJF match with the contender's hits plugged in throughout.
That makes sense considering the champion's year as well as the fact that as this one's heel, he's often leading the dance anyway. It's an interesting case study in that regard, as this is noticeably different from MJF plugging his own shtick into a Bryan Danielson or Jon Moxley match, those two scenarios obviously producing very differing results. Here, MJF is the World's Champion in its truest form, wrestling his match in a fashion that ideally makes his babyface contender shine brighter than ever.
In my view, he passes with flying colours, even if after revisiting the match, there's an apparent roughness to each edge. To me, the match contains three separate pieces, but not necessarily as we've come to expect. They get underway with a more traditional opening, setting the stage with the content that you'd expect from that prior World's Champion description. The crowd is red hot and allows them to take their time, putting their personalities under the spotlight until MJF targets the arm.
I adore this portion, as even if playing covers, MJF sounds especially great in this domain. Opposite him, Cole is finally able to embrace the audience's adoration, also. No longer tasked with leading a ten minute heat segment, Cole can sell, sell and sell some more as a babyface, comfortably keeping the people on his side. He does an admirable job in that regard, pairing his emerging arm injury with visible fatigue and offering a dazed stagger or two along the way.
Around ten minutes into the match, Cole makes a comeback, transitioning the match into its second chunk as they mostly trade moves. While everything here is executed wonderfully well, it provides them with some challenges in terms of pacing. At this point, there is a remaining sense of escalation but with over fifteen minutes still left, they're forced to slow themselves in a fashion that undercuts the bout's prior flow. The transition itself is solid, they just probably could've placed this portion closer to the finish.
Either way, that stretch does allow Cole to sprinkle in some of his signature spots, thriving in the shift to an almost TakeOver tone. We've seen MJF in similar scenarios previously, most recently against Konosuke Takeshita. I'm always torn when he veers in this direction, as while he's clearly capable of such physicality, it feels slightly disconnected from his core identity as a character and wrestler. Nonetheless, they certainly keep the audience engaged, then closing the show with a unique third act.
It's a portion defined by singular set pieces, emerging as MJF lands a spectacular elbow drop through the table. There's a referee bump, a creative spin on the iconic Eddie spot and even one last twist as MJF's trusty ring doesn't prove pivotal. It's an enthralling watch, concluded by the perfect finish. Considering the action that they packed the middle act with, this more dramatic closing portion felt necessary, allowing them to get a little cute with things after such expansive back and forth action.
Ultimately, it's a really impressive match, even if one that leaves room for improvement in regards to MJF's World's Champion formula. While they reached the intended destination with ease, I do think they're capable of a match with more connective tissue than this one. Part of that is the runtime which is a necessary quirk, obviously, but I also think that one piece could've transitioned to the next more seamlessly. Ideally, the initial work would've felt more consequential late, also.
In the grand scheme of things though, it's hard to be anything but impressed by this match. MJF produced yet another marvellous performance as champion and Cole toughed it out for an especially gritty effort. This is comfortably his best singles match in AEW and frankly, his most authentic portrayal in many years, for my money. When I say that I think these two can have an even better match, I mean that as a compliment that surprises me as much as anyone.
This was terrific, dramatically exceeding expectations and immediately getting this programme on track as the main event attraction that it should be. An absolute homerun, from the talent to the creative, excellent wrestling television.
Blackpool Combat Club vs. The Elite (AEW Dynamite)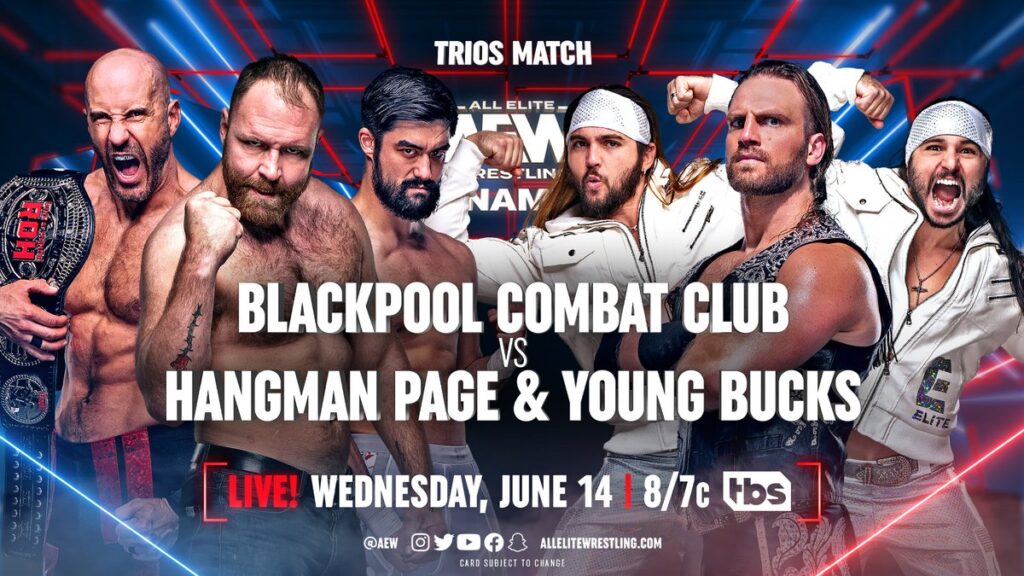 Armed with not even twelve minutes before Dynamite's superb closing angle, this programme delivered again on Wednesday night. Few rivalries in AEW's short but decorated history have produced such quality, an almost guaranteed hit at this juncture. On paper, this incarnation jumped off the page but considering the runtime, I'd argue that it still exceeded expectations. They achieved an awful lot with this entry, seamlessly combining their respective styles for a thriller that made every moment count.
It's bookended by simply staggering action, featuring the thrills of The Elite's usual party match but framing their success more traditionally. In this scenario, 'Hangman' and The Bucks are vengeful babyfaces, adding an extra spark to their typical innovation. The Blackpool Combat Club feed them accordingly also, mostly being overwhelmed whenever the pace increases. In fact, this match gets underway with an outright babyface shine, The Elite pairing their creativity with palpable bad intentions.
The transition towards some heat is immense, as Castagnoli turns the tide in an instant. They've got something really special with Castagnoli's presentation within BCC. He feels like a force of nature, far more dominant than the glue guy that he's selflessly positioned himself as previously. Either way, Moxley operates with desperation in taking advantage, setting the stage for a noticeably lively heat segment. Nick Jackson is a fabulous babyface in peril, taking big bumps and firing back with right hands.
He's certainly not without things to sell either, as the BCC go to work in a major way, forcing something quite heroic for Page's eventual hot tag. As usual, it's immense, bringing the variety that makes Page such a uniquely dynamic wrestler. Yuta feeds with the staggers and stumbles befitting his new persona, being isolated as his trio's obvious weak link. Again, that's beneficial to his current presentation anyway, especially when he finds an underhanded retort.
The finish is a spectacular fireworks display, putting the finishing touches on a match that was wrestled with palpable purpose. It'll be lost in the excitement of what followed, but this really was one of the year's most enjoyable Dynamite main events thus far. The slightly trimmed runtime allowed this to really run wild, an all-action affair that barely stopped to take a breath. Even when it did, we were treated to a glorious little heat segment in picture-in-picture, cementing this one's greatness.
An electric main event that'll almost certainly be forgotten but one that I personally adored, an absolute blast.
Strong BJ vs. Violent Giants (AJPW Dynamite Series)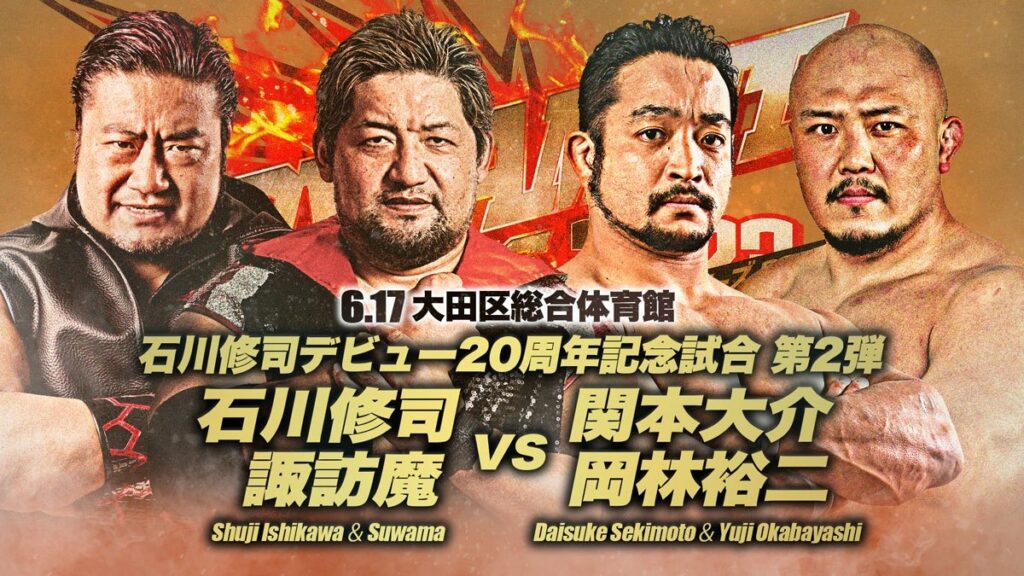 This week, All Japan Pro Wrestling hosted three terrific tag team tilts, two of which furthered Kento Miyahara's increasing case as the world's finest pro wrestler. On this occasion though, neither of those matches are my focus, as Strong BJ do the dance one last time with Violent Giants. These two teams shared two famous matches in 2019, now completing their trilogy over four years later. Beyond that, Strong BJ encountered both Shuji Ishikawa and Suwama frequently in their prior tag team lifetimes.
If you have any familiarity with the four names above, you'll have a type of match in mind and indeed, it's the one that you'll receive here also. It's an outright slugfest, packed with physicality as four powerhouses empty the clip on one another. This particular outing is paired with a uniquely emotional tint however, as Yuji Okabayashi's edges closer and closer towards his upcoming hiatus. In fact, he is now under two weeks away from his final scheduled bout, facing Takuho Kato on June 30th.
Okabayashi hasn't wrestled in AJPW since August 2020, returning for what could very feasibly be his last match in the promotion. As a result, there is a palpable gravity to the hits being played, a sense of appreciation to the occasion. In terms of content, they certainly do play the hits too, producing an unsurprisingly bruising affair. That much is inevitable, as these two teams can only head in one direction before long, even in a more celebratory scenario such as this.
The bout's opening act goes through the formalities of attempting otherwise, setting the stage with a steady feeling out process. They test one another's remaining strength, allowing the audience's excitement to tell the tale as they seek an early advantage. Again though, they're only delaying the inevitable, with things exploding at ringside and transforming the match as a result. At the first sign of trouble, Okabayashi launches the bout's first destructive chop, swifty setting the tone.
Sekimoto follows suit, with Ishikawa soon having a response via ferocious forearms. He and Okabayashi share a shootout of that ilk, exchanging knockout blows in centre ring. Their dynamic becomes a central theme throughout, frequently returning to that duel as the action unfolds. Suwama is no mere passenger either, making up the difference after Strong BJ briefly isolates Ishikawa. He and Sekimoto clobber one another as you'd expect, sharing their own momentum swings along the way.
In truth, this isn't a case of concept or structure though, it's a matter of the physicality on display. My words can't do that ingredient justice, it can only be seen, steadily levelling up as near falls emerge. Even still, there are some neat set pieces on display also, including Sekimoto halting a pinfall via German Suplex at one juncture. Both teams have bursts of tandem offence too, or at least extended control, but it's really not that type of tag. Instead, it's more about the individual standoffs within.
With that in mind, Ishikawa and Okabayashi are the match's undeniable centrepiece, frequently reuniting to throw thunderous blows back and forth. The bout has a wonderful sense of escalation, as most great tag tilts in this setting do, each powerhouse chipping away at the other as they build upon initial 1-counts. That's an increasingly absent art, the idea that each offensive offering is merely another step towards the conclusive pinfall. Ultimately, that's the point, which can be lost at times.
The bout's final bell reveals immense emotion, with the two teams sharing a moment after completing their fabulous trilogy. It's a special match, even without content or investment, as only wrestling can produce such a unique sense of celebration. Only in wrestling can the most triumphant farewell be portrayed via devastating lariat or thunderous chop. Personally, I wouldn't have it any other way.
Andrade El Idolo vs. Buddy Matthews (AEW Collision)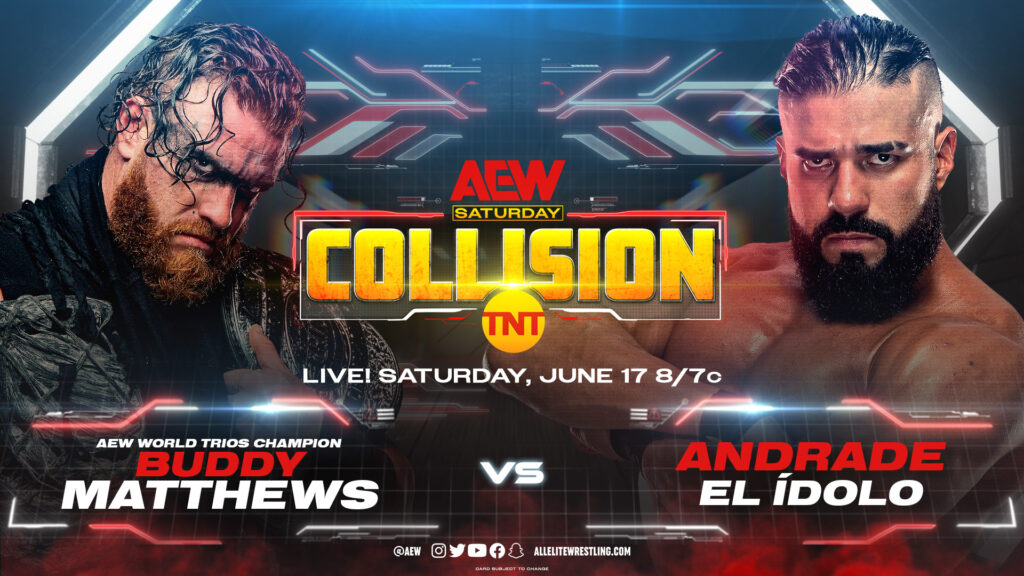 Many years ago, Buddy Matthews was frequently cited as the show stealer of NXT's local live events. Removed from TV and left with those minor events as his only outlet, Matthews quietly did the dance with NXT's finest, earning the quite legitimate moniker of 'Best Kept Secret.' On three occasions, Andrade El Idolo wrestled Matthews on that loop, earning rave reviews from those in attendance and ultimately, landing on the main roster around the same time in 2018.
Admittedly, Matthews made it via 205 Live's increasingly unfashionable shortcut, but he was there nonetheless, even teaming with Andrade on a Buenos Aires house show later that year. The following year, they were tied together from a distance, sharing a video package as two of Paul Heyman's three main projects for his Monday Night RAW regime. Now, not even four years later, they're both elsewhere, sharing their first singles match since 2017 on the premiere of AEW's new Collision programme.
Both men have experienced rather unusual AEW stints, each being reported as unsatisfied at one point or another. Matthews has steadily found his way, now owning the promotion's Trios titles alongside his House of Black cohorts. Even still, his singles outings are infrequent to say the least, with this being just his fifth since arriving in February 2022. As for Andrade, he hasn't wrestled in AEW since last September's Casino Ladder match, being suspended before undergoing surgery for his torn pectoral muscle.
Considering everything above, this was a unique moment in time, an opportunity that felt as fitting as it did surprising. While most understandably pencilled this in as Collision's meathead moves match, these two had something contrasting in mind, delivering a very different style of television hit. They're bigger now, slower too, but they're also more mature wrestlers and that was the story of Saturday night's match. While not without physical fireworks, this was a war of attrition more than anything else.
Clearly, it's still a match ultimately about Andrade, the bigger star who's also been absent, being greeted by "welcome back" chants. Even with their substantial muscle mass, they set the stage with the athletic exchanges that have traditionally defined this "workrate" subgenre. They're still incredibly dynamic pros, but the bout soon becomes about their wear and tear through the years, as Andrade struggles with his aforementioned pec in the match's very first act.
That gives Matthews a target but he soon re-injures his own left knee, giving Andrade something to focus on in response. They halt the match for a double doctor spot, then fighting to their feet for a brawl in centre ring. The crowd reacts accordingly and to their credit, takes this ride, adjusting to a match that Andrade and Matthews certainly weren't expected to have. It was a daring choice, especially for this night in front of that crowd, but it very much worked.
Those injuries pair the final act's physicality with a certain gravity, a palpable drama. Both men sell with such commitment here that they inevitably earn an investment beyond the match's initial exhibition scenario. It's not a smooth ride by any means, but it's a refreshingly gritty one, a match as much about toughness as athleticism. Matthews is selfless as ever, using his space to portray competition without trying to unnecessarily match Andrade's highlight reel offence.
He allows him to shine instead and Andrade sure does shine, feeling like an absolute superstar at this bout's conclusion. It's a really interesting television outing, one with a very different feel to the norm and again, even to the match that most expected these two to have. In that sense, it does a fabulous job of shaping Collision's presumed identity, a show seemingly set for a more meat and potatoes output.
I don't want to overstate this bout's quality, but I do want to credit its style, managing to stand out in ways that I didn't necessarily expect. Very good pro wrestling from two guys who seem positioned to benefit greatly from Collision's arrival, real graps.
CMFTR vs. Bullet Club Gold & Samoa Joe (AEW Collision)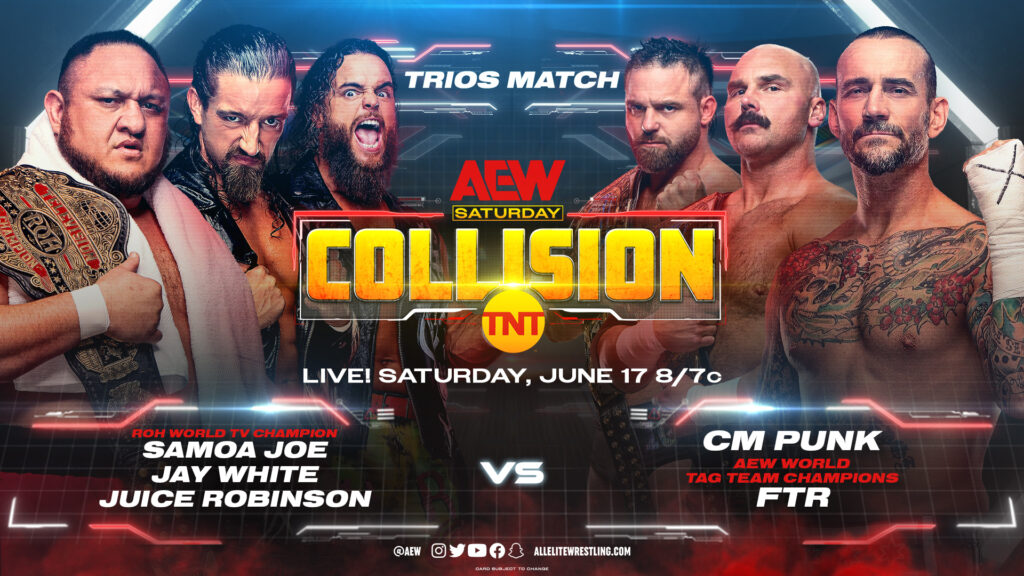 The very first Collision main event, this felt like a bizarre alternate reality at times. With FTR by his side, CM Punk is back, wrestling for the first time since All Out 2022 and everything that came with it. In much less dramatic news, it's Samoa Joe's return to AEW TV also, with the big man gracing the grand stage again after living in Ring of Honor exclusively following his TNT Title loss to Wardlow. While much of the work comes from elsewhere, those two are the story here, sharing the ring after eighteen years apart.
It's a very simple match and yet, though far from perfect, a personal favourite for 2023 thus far. In fact, I'd argue that with brief consideration, you could've reasonably predicted a bout almost identical to this one. The beauty of wrestling though is that if executed well enough, predictable isn't necessarily without unpredictability. Each beat arrives as you'd expect, yet there's an energy and spirit to this that you can't help but get lost in, entranced by the magic unfolding before your eyes.
Everyone is at their best, with Dax Harwood setting the tone in purposeful fashion opposite Jay White. There's such a crisp tightness to the bulk of this work, the timeless exchanges that are immovable from great pro wrestling. While Juice Robinson's offerings aren't quite as textbook, they're equally captivating, sporting that usual quirkiness as Cash Wheeler wrestles like a man possessed. Again though, it's still about Joe and Punk, that much is simply inevitable.
Even though you can see it coming from a mile away, there is something intoxicating about their eventual standoff. The crowd are a big part of that, giving the moment an electricity that was unfathomable as these two made history in 2004. In that sense, it's an entire era embodied, a golden generation who changed wrestling and after all these years, somehow remain as relevant as ever. They are no mere nostalgia acts either, with Joe immediately finding an intensity that transforms the bout's atmosphere.
It's been a long time since Joe has offered the consistency of his finest peers, but he maintains that mercurial intangible. On the biggest nights, under the brightest lights, Samoa Joe can still go back in time. CM Punk is happy to take the trip with him too, snatching the headlock that he wore Joe down with almost two decades ago. The match's first act is its strongest, concluding with an extraordinary chop exchange between Harwood and Joe.
They eventually settle into some heat on Harwood, building to Wheeler's hot tag before cutting him off also. Again, every step of this recipe could've been predicted and even expected, but there's still something surreal about watching it all play out. While my personal investment kept me comfortably engaged, the match is almost certainly too long. I don't think it's such an issue that the bout's positives are erased though, with the work itself remaining at a high level throughout.
Ultimately, Punk's own hot tag transitions the match to its finish, with him sharing yet another sequence opposite Joe late. They do a fabulous job of making you question the obvious destination, but still land as expected, closing Collision in triumphant fashion. It's a special match, for as much as what it represents as any of its actual content. Certainly, it's one reliant on your investment in those involved, which has become an understandably polarising matter in recent months.
Personally though, this was very much for me, an encapsulation of the wrestling that I adore. It's certainly not without flaws, but whatever happens next, I'm truly thankful for this occasion. In one fell swoop, this match spotlighted an era of innovation while writing a love letter to major wrestling's most timeless qualities. A wonderful way to kick off Collision, one I'll remember for some time.
Kevin Blackwood vs. Roderick Strong (Prestige Black Sunshine)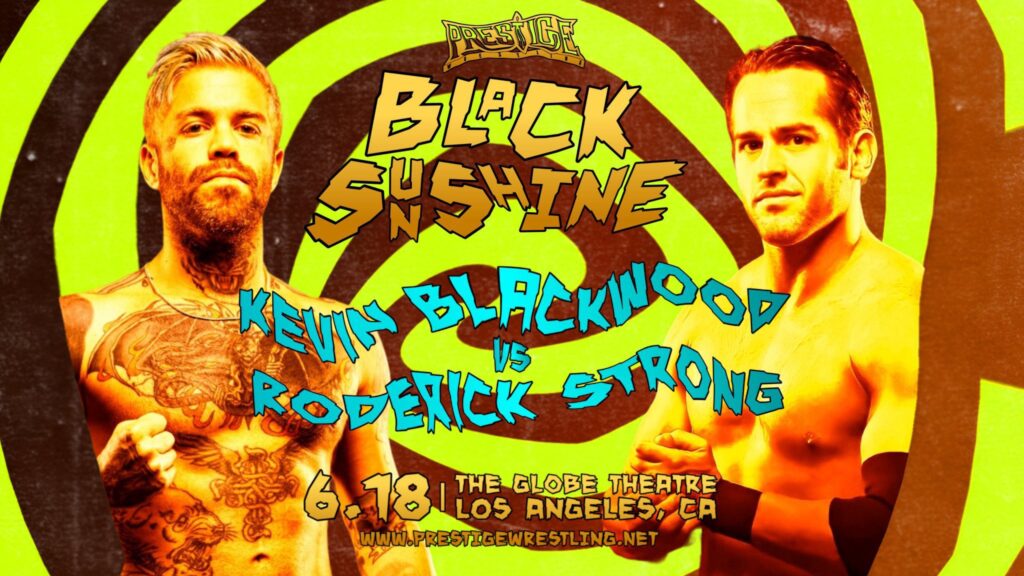 After almost seven years away, Roderick Strong is back on the independent scene. Before heading to WWE, Strong had comfortably cemented himself as an all-time independent great, producing career best efforts in his final few years on the circuit. Now in All Elite Wrestling, Strong is able to start a new campaign, getting that underway at the Globe Theatre in Los Angeles, as he heads to Prestige Wrestling for a bout with Kevin Blackwood.
It's a natural pairing, as Blackwood is one of the current crop's most recognised standouts, a list that Strong will likely be working his way through in the coming months. Though I've seen Blackwood multiple times before, I won't claim to be an expert of his emerging match catalogue. With that being said, I feel quite confident in declaring this the match of his career thus far. There is a noticeable shift in this match, a moment in which Strong whacks Blackwood into a necessary levelling up.
It'll go under the radar, but Strong's entrance here is one of the year's coolest moments, as Roddy sports tears in his eyes as he makes the short walk from ringside. It's such a wonderful show of raw emotion, as Strong's unwavering passion and pride for this scene reveals itself, seemingly against his will. That's a special thing, but totally unsurprising, as Strong's career is defined by a refusal to give anything less than his best. On every night, in every town, Roderick Strong is as advertised, and that's no different here.
They share some really tight wrestling exchanges early, battling for position with razor sharp technique. It's been awhile since Strong had the opponent and/or runtime to offer a first act such as this, taking advantage of the sickos in attendance and painting a specific picture. The mat is very much Blackwood's domain, and he matches Strong admirably in that regard. There's an idea early that as a longtime fan of Strong's work, he has an answer to the usual questions, earning an immediate respect.
That eventually creates a terrific moment in which Strong celebrates his first backbreaker, the crowd responding accordingly. They transition away from the mat with a Blackwood boot to the face, his confidence increasing just enough to veer in a dangerous direction. Strong takes that invitation, uncorking some thunderous chops as the physicality escalates. It's within this firefight that the aforementioned levelling up takes place, with Blackwood finding the intensity necessary to steer this ship.
In response, Strong finds a form that I'm hoping will be central to this next chapter of his career, increasingly operating as a spiteful grizzled veteran. There's a sense that while impressed, Strong is only encouraged by Blackwood's performance, relishing the chance to punish a worthy foe. Indeed, that results in the usual backbreakers, with Strong committing to that target. Blackwood sells well, conveying agony on his face as well as an increasing desperation to create space.
That brings a desperation out of Strong also, seemingly frustrated at his inability to close the show. The deeper they get, the more that Blackwood believes, battling through his back injury for a fiery comeback. Beyond anything else, that's what the match is about: Blackwood emphatically answering the bell. He really rises to the occasion here and makes the most of his time opposite an unfathomably motivated Strong, seeming totally at home in an extended encounter with a generational worker.
It's a gritty, scrappy bout that still offers some thrills late, including a couple perfectly placed near falls. To translate, it's the exact type of match that Strong perfected many years ago, with Blackwood not just riding the bus but even driving it at times too. These days, I don't get to watch as much independent wrestling as I'd like, but this took me back. There is such a charm to an occasion such as this, a sense that it's pro wrestling's purest form, a chance to paint upon a truly blank canvas.
Once upon a time, Roderick Strong matches such as this were my favourite piece of the entire industry. Even if only on occasion, I'm truly thrilled to have them back.