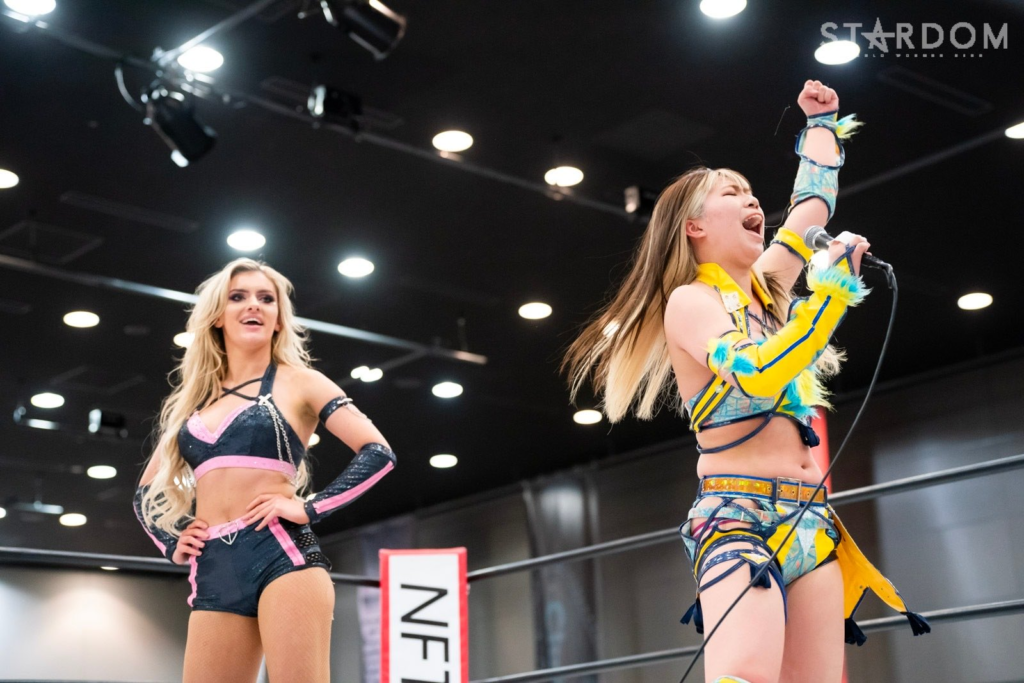 STARDOM
On Sunday a STARDOM show took place, with the Main Event being a Rumble Match to decide the last two Wrestlers to enter the 2023 edition of the 5STAR Grand Prix. The field included the likes of Mai Sakurai, Thekla, Ruaka, Momo Kohgo, Saya Iida, Mei Seira, and more but in the end, only two were remaining. Hanan and Club Venus's Mariah May won the Rumble and will enter the 5STAR GP. It will be the second appearance for Hanan after the Young Ace entered last year. She finished with 4 Points with wins over Saya Iida and Mina Shirakawa. Mariah May will make her 5STAR debut this year after joining STARDOM at Queendom in December of last year. She's also the only non-japanese Wrestler that will enter the 5STAR this year and is the first since 2019 when Avary, Bea Priestley, and Jamie Hayter entered the 5STAR.
5STAR 2023 Participants
– Mayu Iwatani
– Hazuki
– Utami Hayashishita
– AZM
– Saya Kamitani
– Natsuko Tora
– Starlight Kid
– Momo Watanabe
– Giulia
– Maika
– Tam Nakano
– Natsupoi
– Saori Anou
– Syuri
– MIRAI
– Ami Sourei
– Mina Shirakawa
– Suzu Suzuki
– Hanan
– Mariah May
The Blocks will be announced on a later date together with the schedule when each match will happen. We'll release a Preview on Wrestle Purist before the start of the 5STAR
---
TJPW
Tokyo Joshi Pro announced their full card for their upcoming major show in Ota Ward on July 8th. The Show features the two title matches with the POP Championship match between the Champion Mizuki and her former Tag Team Partner Maki Itoh and Rika Tatsumi defending against Yuki Aino, it also features the return of Sakisama who teams with Mei Saint-Michel against Yuki Arai and Wakana Uehara and the return of Juria Nagano who teams with her Tag Partner Moka Miyamoto against Daisy Monkey. The TJPW debut of Nyla Rosa against Yuka Sakazaki got changed due to Yuka's neck injury. She will now face Miu Watanabe which will be a great match that could bring a lot of eyes on Miu Watanabe who was the TJPW break-out star last year.
Full TJPW Summer Sun Princess 2023 Card:
Arisu Endo & Suzume vs Juria Nagano & Moka Miyamoto
Mahiro Kiryu, Haruna Neko, Shino Suzuki & HIMAWARI vs Toga, Kaya Toribami, Haru Kazashiro & Runa Okubo
Vertvixen vs Hikari Noa
Aja Kong & Raku vs Shoko Nakajima & Hyper Misao vs Pom Harajuku & Max The Impaler
Nyla Rose vs Miu Watanabe
Sakisama & Mei Saint-Michel vs Yuki Arai & Wakana Uehara
Rika Tatsumi (c) vs Yuki Aino – International Princess Championship Match
Mizuki (c) vs Maki Itoh – Princess Of Princess Championship Match
---
Sareeism
Sareee (FKA Sarray in WWE) announced her Sareeeism Vol. 2 on August 4th in Shinjuku Face. This was announced after the first show has been a huge success and a sell-out. The show features an all-star main event with the Ace of Marvelous Takumi Iroha teaming together with the Beyond The Sea Champion Arisa Nakajima against Sareee and non-other than KAIRI. An insane match-up with KAIRI wrestling her second match outside of STARDOM since her return. The show will be available on PPV.
The announced Card:
Ibuki Hoshi vs Chi Chi
Jaguar Yokota & Kizuna Tanaka vs Cohaku & Kaoru Ito
Mio Momono vs Miyuki Takase
Sareee & KAIRI vs Arisa Nakajima & Takumi Iroha
---
Sendai Girls
The next opponent for Chihiro Hashimoto got announced, and it's non-other than the High-Speed Fairy Natsupoi from STARDOM. The match was made after Big Hash and Poi were beefing on Twitter. Hashimoto then called out the Cosmic Angels Member, with Poi replying to it and challenging Hashimoto to a match. The Singles Match will happen on July 16th in the Korakuen Hall.