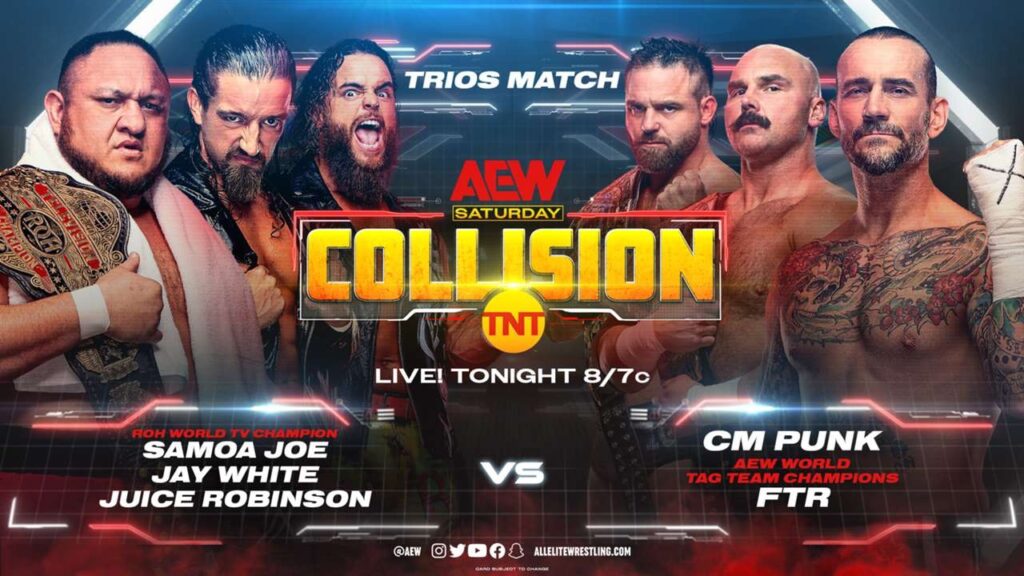 Welcome to the Wrestle Purists' Live coverage of AEW Collision for the June 17, 2023 episode.
Saturday is alright for fighting! The AEW Collision debut is here from Chicago, IL on June 17, 2023! It is truly weird, after four years, not hearing Excalibur open an AEW show but Kevin Kelly and Nigel McGuiness are a great announce team (sitting ringside no less, not up on the ramp) and if nothing else give Collision a different vibe from other AEW shows right off the bat and it needs it.
CM Punk Live Promo:
Punk makes his entrance with boots hanging from around his neck & a red bag. CM Punk says he is tired of being nice. He then explains that he had a ruptured tricep tendon that was torn off the bone, but he is still here and as long as he is, this is the "Professional Wrestling Business", which is for grown ups and not a popularity contest.
He then reminisces about his career and Arena's he's sold out and how the younger him wouldn't of believed it. He then starts with the "tell me when I'm telling lies" and talks about how he loves the fans and they love him for being unapologetic his whole career and he couldn't of done all he's done without the fans, but it seems some people hate him for the same reasons. He says he understands he makes people uncomfortable because he's the truth and the truth is painful. After this line, a "Fuck the Elite" chant breaks out for a few seconds. Punk then starts to point out signs with his name on, positive and negative and says "You can call me that. boo me, cheer me, love me, hate me, you all do it because you know I'm right. You can call me whatever you want. You know what David Zaslov calls me? 'One Bil Phil'. That's because I am the one true, genuine article in a business full of counterfeit bucks… The King is back baby and I have a lot of things to get off my chest."
Punk then asks the crowd why he would change? He will always be himself and never compromise. He says to the people that think they're owed an apology that he's sorry that the only people softer that you are the wrestlers you like. He then picks up a red bag which assumably has his old AEW World title in it and says that it still belongs to him until somebody can pin or submit him for it. He then takes the boots that are around his neck and says he knows theres people who hope he puts them down and goes away never to be seen again, but until somebody in this company can fill his boots, they belong his feet, tell him when he's telling lies.
Luchasaurus Defeats Wardlow (c) (TNT Championship):
Christian continues to get real heat when he comes out, not Don Callis heat but the turtleneck is still doing its job. One of AEW's big calling cards was not just the quality of its in ring but the diversity, offering all different kinds of styles in a quick 2-hour package. This was about as WWE a match as the company has put on; big guys working a steady pace, not afraid to slow down or take a break before hitting a big power spot. The only chance Luchasaurus had was Christian continually drawing Wardlow's ire, eventually leading to him hitting Wardlow with a camera and Wardlow paid the price. Luchasaurus is your new TNT Champion and it looks like this feud will continue.
Not sure this was the high energy start the first Collision needed, the crowd only really came alive for the Powerbomb Symphony and a few near falls. Also, apropos of nothing, I like the red ring ropes.
Another quick pretape, this time of QT Marshall pumping up Powerhouse Hobbs and Hobbs' plan to win the Owen Hart tournament (I'm down with that).
Andrade El Idolo Defeats Buddy Matthews by submission with Figure Eight Leglock:
Now this was more an AEW match I'm usually used to. After nine months off television Andrade is back, and he couldn't have had a better opponent than Matthews (except maybe PAC). The pair have always had great chemistry and continued to do so here in a story of equals looking hard for any sort of weakness. This eventually meant injuries for both men with Andrade particularly suffering from his still weak shoulder after pec surgery and the question was just whose body was going to give out first. It ended up being Matthews' knee but when Andrade tried to help up his fallen opponent up the lights went out and the rest of the House of Black appeared to lay the beat down on him.
This was the kind of match I think people expected we'd get from Andrade when he arrived and both he and Collision needed it. Babyface Andrade got over quickly with the crowd as well and should help make him the star he can be if they stick with it.
I miss the Andrade pinstripes though.
Scorpio Sky is back! He's been gone even longer than Andrade so a quick video package caught us up to him (though with no specifics). From the tone it feels like it will still be heel Scorpio but we'll see.
Miro Defeats Tony Neese by submission with the Game Over:
Tony Neese brought out the personal trainer heel gimmick he's been doing on Ring of Honor to get some easy heat and tee him up as a sacrificial lamb for the returning Miro. This crowd was really happy so see some Miro, and they were even more happy to see him murder Neese, which he happily obliged. This was a little bit more than a squash, Neese got a small amount offense, which is what it needed: the crowd would not have been happy with a squash and Neese is a great cartoon bad guy.
There's a quick replay of the CM Punk promo video from the Road to Collision to ramp up his return at the top of the hour.
Willow Nightingale and Skye Blue defeat Toni Storm and Ruby Soho:
Skye Blue pinned Ruby Soho. It was team green versus team blue in Skye Blue's hometown of Chicago, which gave her mother a chance to slap the Outcasts. That never gets old. The heels kept looking for an answer for Willow's power leading up to the hometown hot tag and Blue getting back in the ring with the woman she had just barely lost the title to a few days ago. There was a nifty call back to that match when Toni tried to submit Blue with the Texas Cloverleaf again only for her to figure out how to get out this time. Long Term Storytelling! Eventually the heel needing to cheat bit them on the ass as Ruby took a face full of Toni's spray can opening her up for Sky's finisher and the hometown hero victory.
It also means the AEW originals versus outcasts story continues for another week at least as we hopefully build to some sort of group blow off, be it Blood and Guts or All In or whatever. The story's been going for a while now and still seems a little stuck in this back-and-forth zone for a while, which makes this definitely an AEW show.
Ricky Stark pre-tape next as he also proclaims his entry into the Owen Hart tournament. Sounds like this is going to be a primarily Collision affair.
We get some follow up to Friday's Rampage mixed tag insanity with a Jeff Jarrett pre-tape as he announces a Concession Stand brawl against Mark Briscoe on the upcoming Dynamite.
THE ACCLAIMED LIVE PROMO:
The Acclaimed head to the ring to get a Happy Father's Day chant for Billy Gunn and partake in some light scissoring. If someone just happened on this group for the first time without context there would be some real head scratching. No match on hand, just keeping the group on TV so they don't cool down anymore as they announce their intent to go for the Trios titles again let everyone know they'll be on both Dynamite and Collision. The walls, they are coming down.
Minoru Suzuki on Dynamite next week, teaming with Chris Jericho – didn't have that on my Bingo Card. The road to Forbidden Door is heating up. If Collision does nothing more than let AEW push Dynamite cards further out than the day before, I'd call it a success. Kelly is going to have to practice some to compete in the Excalibur wrestling card speed reading Olympics though.
CM PUNK & FTR DEFEAT SAMOA JOE, JAY WHITE & JUICE ROBINSON:
Main Event Time! A slightly horse Jim Ross joins the announcing booth to get this puppy off the ground.
As star powers goes, though, this is about as much as AEW could realistically get for the first episode. Kevin Kelly laid out the story right at the start: what could CM Punk really do after a nine-month layoff and how much ring rust did he have? Yeah, it was the same story from the Andrade match but it's the most obvious as well. The big difference was letting Switchblade and Juice and FTR eat up a lot of time until finally getting Punk and Joe in the ring. FTR and Bullet Club Gold have solid chemistry especially when Jay White gets in the ring – someone should definitely be thinking about this as a PPV match up. There wasn't much Jay White/Punk but what there was suddenly makes that seem like an obviously great feud for Punk as well. The result was of course always obvious (and that is not a bad thing at all), as great near-submission spot between Punk and Joe was broken up to allow Juice Robinson to fulfill his destiny of taking everyone's finisher and eating the pin.
As far as first episodes go, Collision feels like a re-skinned Dynamite rather than its own super specific kind of show right now. That immediately puts it one up on Rampage. It right away gave real TV time to some acts that desperately need it and if it stays that way then it's done its job.