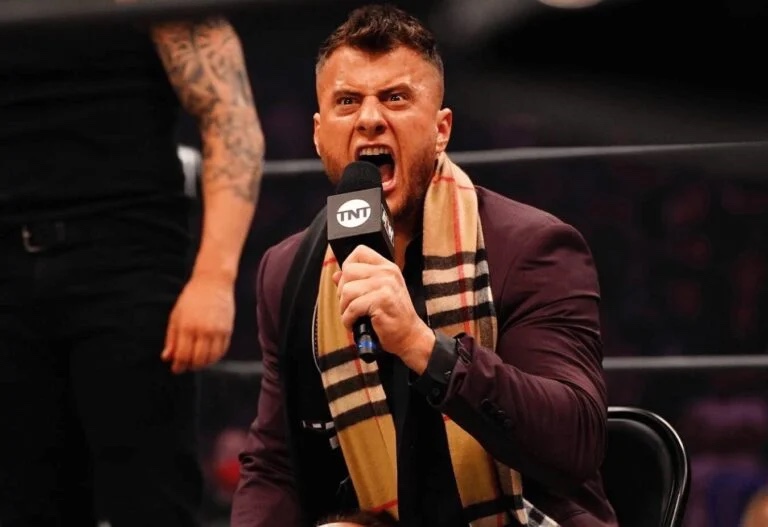 The relationship between MJF & AEW has seemingly hit a very rough stage.
MJF no-showed his scheduled meet and greet appearance at AEW's fanfest on Saturday night, sending wrestling fans online into a whirlwind of wondering what was going on and where MJF could be. According to fans online, MJF had been spotted in a Casino when he was supposed to be at the meet and greet, however this is still yet to be confirmed in any actual reports.
It was then reported by Sean Ross Sapp on twitter that the situation between MJF & AEW is not seeming pleasant & he would be working to follow up with more details. He was later able to confirm that MJF is physically fine, which had been a worry for many.
It has now been reported by Sean on Fightful Select that MJF has been booked a flight OUT of Las Vegas where Sunday night's AEW Double Or Nothing PPV will be taking place, and the status of his scheduled match with Wardlow on the PPV is uncertain.
The report states that when reaching out to them, AEW have kept very quiet on the situation but one AEW source has said that the communication between the two sides had reached an all-time low:
The only sources within the company that would speak on the matter said that they were "very unhappy about how it all played out." One AEW source said they heard that communication between the two sides had reached an all-time low. AEW talent and personnel were asked to not comment on the situation

– Fightful Select
The report would then go on to confirm that the flight booked for MJF out of Las Vegas is indeed for Saturday Night, but wasn't able to confirm whether or not MJF will actually board the plane.
Neither side would confirm the reasoning for this when pressed. We have to reiterate, we're not sure if he's actually getting on the plane, but have confirmed a flight for him has been booked out of Vegas Saturday night.

– Fightful Select
Additionally, the report would go on to reiterate what Fightful Select had reported in the past about MJF being frustrated with AEW in recent months regarding his contract status, specifically pay scale, adding that they have heard AEW would be willing to pay MJF "top performer money" to sign a contract extension with them
we're told that AEW has been willing to discuss a new contract with the star performer, who is scheduled to face Wardlow at Sunday's Double or Nothing PPV. We're told that in the weeks prior, MJF effectively blew off those overtures. Those we spoke to in AEW believed that MJF would be paid "top performer money" to sign an extension.

– Fightful Select
The report would finish with stating that MJF is said to have kept to himself much more since the initial argument with Tony Khan in early April that Fightful Select reported, but during that discussion Tony Khan's issues with MJF were more about MJF' not informing AEW's PR team about an interview he did with Ariel Helwani.
UPDATES:
• In an update from PWInsider. They confirmed a lot of fightful select's original report and also added that MJF's booked flight out of Las Vegas was to Newark, New Jersey.
However, it has since been established in an update by both PWInsider and fightful select that MJF did not get on the flight.
• Bryan Alvarez in a tweet questioned whether MJF was ever actually bought a plane ticket out of Vegas, to which Sean Ross Sapp responded to by saying he saw the physical evidence :
• PWInsider reported at 15:20 EST on Sunday that MJF was still yet to be seen backstage at AEW Double Or Nothing, which was then confirmed by Dave Meltzer on Twitter
• Just before the AEW Double Or Nothing Buy-In show started, Justin Barrasso of Sports Illustrated Tweeted that MJF vs Wardlow was set to open the PPV. Which was then confirmed by Dave Meltzer.
MJF vs Wardlow opens Double Or Nothing: