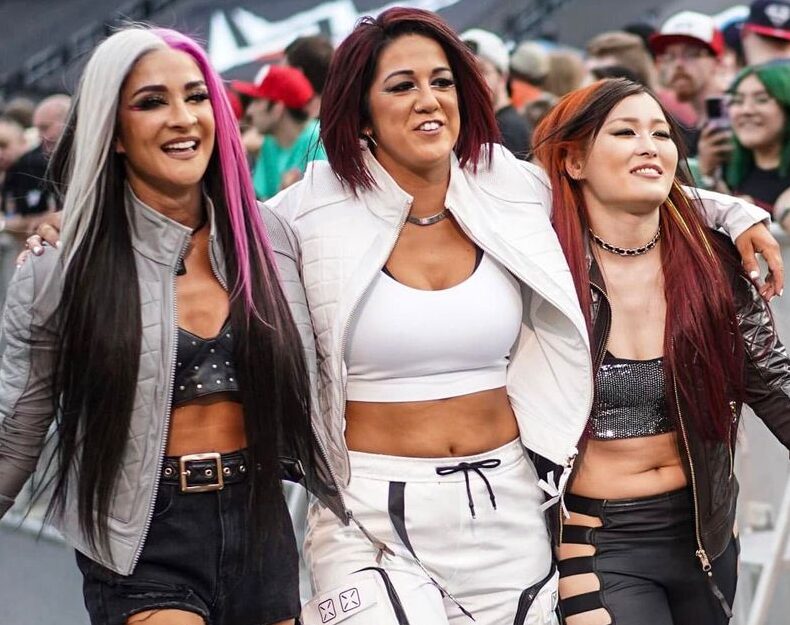 This past Saturday, WWE presented SummerSlam from the Nissan Stadium in Nashville, Tennessee. The show opened with Bianca Belair successfully defending her Raw Women's Championship against Becky Lynch, although it didn't take long for another threat to Belair's reign to spoil the celebrations. Following the bout, Bayley made her long-awaited return, flanked by Dakota Kai and IYO SKY (FKA Io Shirai), prompting Lynch to reappear and take the Champion's side.
Speaking on WWE's The Bump, Kai discussed her return to WWE at SummerSlam, and noted that the plans were made at the last minute.
"Honestly, it still feels like a whirlwind to me with everything that happened. It all happened so last minute too. To be talking with you guys is insane to me. Everything that happened since Saturday has been insane. It's been crazy,"

-Dakota Kai
The alliance between Bayley, Kai and SKY certainly appear to be a force to be reckoned with, with the trio dominating the first post-SummerSlam episode of Raw. When asked about being paired with Bayley and SKY, Kai revealed that her partnership with the two former NXT Women's Champions is like a dream come true.
"Bayley and I, we've been kind of talking about something like this for a long time. It hasn't been something that was spurred overnight. This has been something we've wanted for years. The fact that it actually happened and to be under her guidance is insane because she's literally amazing and great. IYO and I, we've known each other a long time, when I first went to Japan and she is literally one of the best in the world. To be alongside these two women is a dream. Everything that's happened is something you think of in a fever dream, you don't think it's really going to happen, but the fact that it has and I'm alongside these two amazing people is crazy."

-Dakota Kai
Kai was released by WWE on April 29th earlier this year. Upon the confirmation of her release, Bayley shared a tweet stating that Kai was one of the reasons she couldn't wait to get healthy.
Commenting on Bayley's tweet from earlier this year, Kai noted that it meant the world to her at the time, and is thankful that the pair, alongside IYO SKY, are now able to make history together.
"When she first sent that message out, obviously that was a very emotional time. The fact that she did that and also sent me a bunch of chocolates and flowers, which she didn't have to do. Looking back on that tweet now, it's kind of crazy that everything she said, even back then at a time where we were unsure about everything, it's a lot. It's overwhelming. Even when I said, 'let's make history,' it was kind of weird for me to even respond. We're doing it."

-Dakota Kai
As previously noted, Bayley, Kai, and SKY made their presence known on this Monday's Raw, targeting both Becky Lynch and Bianca Belair, causing Asuka and Alexa Bliss to come to the aid of the Raw Women's Champion.
During a backstage segment, Kai seemingly made a reference to WWE's new Head of Creative Triple H, stating that they "know how to play the game,". Kai revealed that she's glad to be apart of the new era of WWE, and believes that the trio will have a big part to play as time rolls on.
"I think a lot of change is about to happen and I'm glad I can be part of this wave. We're definitely going to make ourselves known."

-Dakota Kai
SKY had her first taste lf singles action against Belair on Raw, but the bout ended in a DQ when Asuka, Bliss, Kai, and Bayley all interfered. We certainly look forward to seeing what the future holds for Bayley, Dakota Kai, and IYO SKY as a trio.
H/T to Fightful for the transcription.