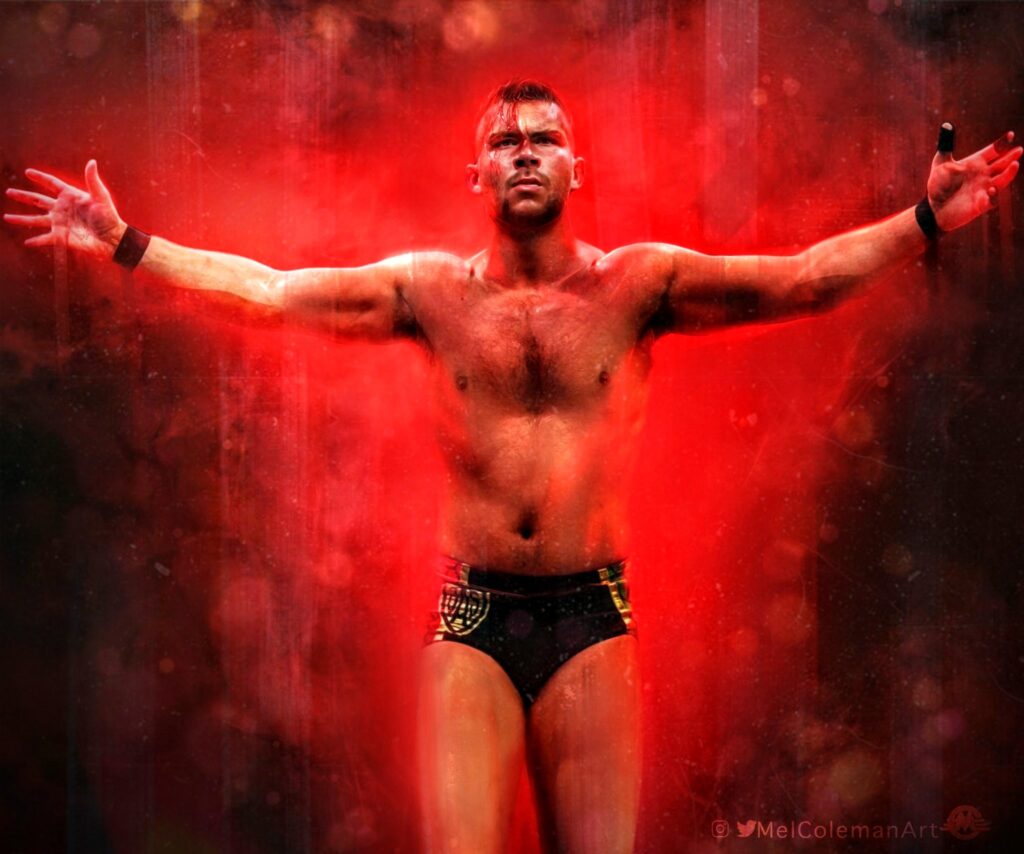 "And now was acknowledged the presence of the Red Death. He had come like a thief in the night. And one by one dropped the revelers in the blood-bedewed halls of their revel, and died each in the despairing posture of his fall. And the life of the ebony clock went out with that of the last of the merry. And the flames of the tripods expired. And Darkness and Decay and the Red Death held illimitable dominion over all."
-Edgar Allan Poe
The Masque of the Red Death, 1842
Daniel Garcia is a man of many gifts in the world of professional wrestling. The technical prowess of the likes of Dean Malenko, Bryan Danielson, and Bret Hart coalesced with the aura and coolness of Randy Orton, Scott Hall, and The Rock. All with the frustrations of youth and wanting to succeed and eat well and live deliciously.
Despite that greatness and potential, it does weigh heavily on the soul when it doesn't come your way. Regardless of the work you put in, you're not there yet. All your friends, rivals, and those that are strangers pass you by, and it is then you feel your future lies in the hands of a lucky break.
The wrestling prodigy that is Daniel Garcia enters arenas with the trunks of a pro-wrestler and a towel around his shoulder. An air of cockiness and boldness permeates, and yet under the hood, there is nothing. That unchanging face that houses a castellated abbey of several rooms and colors, hiding the masquerade of an unfettered man, rife with burning emotions. Yet you look into the eyes of The Red Death and you see nothing.
Garcia started off his tenure in All Elite Wrestling after a few instances of AEW Dark tapings, some appearances in 205 Live and NXT of WWE, and buzzing around the independent scene, usually accompanied by the likes of Kevin Blackwood and Robert Martyr before being scooped into the hands of Tony Khan to become fully Elite. Not long after, Garcia found brotherhood in Matt Lee and Jeff Parker.
It was here where Garcia won the Battle of Los Angeles Tournament in Pro-Wrestling Guerrilla and eventually the title before he joined his hero in Chris Jericho in his Jericho Appreciation Society, and became the one thing that stands in the face of what he truly is. Professional wrestler Daniel Garcia is a sports entertainer. Even his companions in Lee and Parker found their names changed to Matt Menard and Angelo Parker, the Rosencrantz and Guildenstern to Garcia's Hamlet. It is something that spits in the face of that which he embodied, yet he imbibes upon the forbidden chalice and is among the ranks of those who deem themselves superior to the medium they owe so much to.
You cannot see beyond the eyes of The Red Death, but the way he looks at his fellow peer in Sammy Guevara built on youth that has his own past with Chris Jericho, contemptuous in demeanor and brimming with jealousy. So fades the crimson of this disease, clean as a pallet, this empty canvas. The walls of Jericho keep him safe from the truth. One thing you do not want is an infection to spread though, and I wager Jericho will awake to this fact as Garcia spends more time in this Appreciation Society, but at that time, it will be too late. He will be gone.
Once Jericho unsheathes his dagger to leave its kiss of Judas, he will fall, this Prince Prospero. He will fall dead to the red right hand. And the revelers of Angelo Parker, Matt Menard, Jake Hager, Anna Jay, Tay Conti, and Sammy Guevara will feel the wrath of The Red Death as well.
One could wager that Garcia is almost to this level – for the misfortune has begun to switch a tide, as the JAS battles with the Blackpool Combat Club continues to return the color of red back into the glitz and glamour that enticed young Garcia to start with. The damned, accursed roll-up by Wheeler Yuta at their Pure Title Match at Ring of Honor's Death Before Dishonor event was the start. Perhaps it is his first victory over American Dragon and Blackpool Combat Club member Bryan Danielsonon the July 27 episode of Dynamite in 2022 that causes the fires of technical wrestling's new future purveyor to burn brighter – after all, he is Danielson's spiritual successor. He is of the lineage borne of that which The American Dragon himself once embodied, after all that is the pathogen and illness that will take force.
Yet, again and again, he remains conflicted. In a beautiful moment following that match with Bryan Danielson, the crowd welcomed him for what we all truly see him as, and the cracks in his normally stoic visage began to widen. "You're a wrestler." Repeated over and over again. "You're a wrestler." The battle for his soul began, for the crowd, for Danielson, and for Jericho. He keeps turning and turning against each mentor, each time convinced that he is sure of his path, only to change it at every fork in the road. It's hard to distinguish who you want to be and who others want you to be, when you don't even know who the hell you are anymore. Even with his world shaky, he still hides his emotion. Even with the Ring of Honor Pure Title around his waist, the biggest signifier of a professional wrestler, he is a lost sports entertainer, living in the excess of the man who walked both paths before.
The taste is still so sweet, though. That crimson mist, reminiscent of the delicious strawberries whets his appetite and the maroon sound of a pulsating heart courses through his veins. It cannot be ignored for long. Professional wrestling is a scar, and it must be treated, and once the Red Death reawakens, there is no cure. It is already too late.
At the heart of the squared circle now stands a sickness. Any victim that comes into contact with it feels the first of these ills – the sharp pains. When you're in the ring with Daniel Garcia, and you feel that sting in your body, you have to fight to survive. Stand toe-to-toe long enough, however, and that's when the dizziness starts. You're fighting two battles at once now. Regain your bearings, if you must, and rely on any offense, if you can. Something, anything, to stay alive. Should you not persevere through this, your luck has taken a dark turn. Absorb enough clobbers and strikes, he will have the blood seep profusely from your pores and from your wounds and from your scars. Thus, he lives up to his nickname, The Read Death. And if left to his own devices, he will hold the gold above all else, ruling in the excess of those that thought they could pass him by.
Only then will the masquerade end, and Daniel Garcia will hold illimitable dominion over the wrestling industry.
Thumbnail image by MelColemanArt