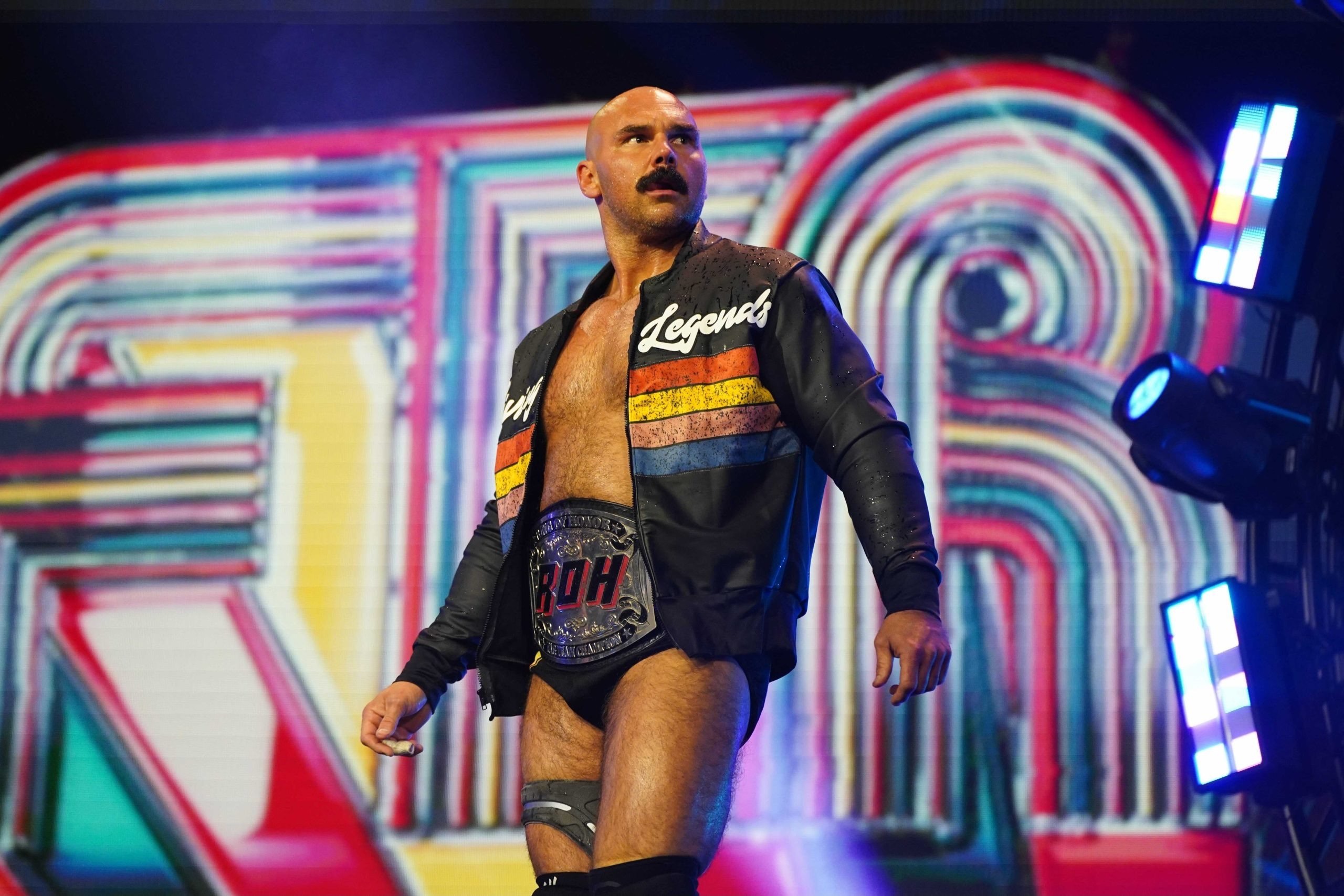 FTR and The Young Bucks are undoubtedly in the conversation for the best tag team in the world. Prior to their eventual meeting, wrestling fans from across the world were salivating over the thought of the two teams clashing. Even whilst Harwood and Wheeler were still in WWE, The Bucks would tease a showdown between the two by launching sky digs at FTR online.
Speaking to Matt Koon on his FTR podcast, Harwood has addressed the back and forth between the teams online leading to the inevitable match.
"It wasn't built up to that, and it should have been. The story of the match told that, but the build up didn't. I can confidently say that the four guys in the match didn't feel the build up was done well either. With 2023 eyes, I look back and say, 'If that's what the company wanted to, that's their prerogative,' but me, with a completely different mindset and my brain freaking out on me, I was taking everything as the world was against me. I was kind of upset. Now, I look back, and say, 'It was a Saturday.'"

-Dax Harwood.
Their initial match took place at Full Gear 2020, with Matt and Nick Jackson taking the victory and the AEW World Tag Titles. Yet, post-match sequence saw Kenny Omega joining the Young Bucks for an in-ring celebration while Hangman Page watched on.
Dax Harwood continued by reflecting on the build up and execution of the long-awaited Young Bucks match, saying that the process felt like a backdrop to the overall story of The Bucks and Hangman Page.
When I looked back on it, wrong or right, I'm not saying I'm right. I'm saying this is how anxiety works, this is how insecurity works, and a lot of these things I was fighting with. I'm not a perfect human being, I'm trying my best to be better. When I looked back on it and when I realized things weren't going to go the way we had expected them to go and the way, maybe, we were told. I look back on the angle and I started thinking, I don't know if this was purposeful, it probably wasn't, but I was like, 'Man, the Young Bucks and FTR was a backdrop, leading up, to Hangman Page and Young Bucks.' After the match, where hopefully we could have gotten a little bit of focus when we were crawling up the stage, the commentators could have said, 'they left their comfort zone and they tried to play the Young Bucks game and it didn't work, now the Young Bucks have finally proven they are the best tag team in the world. What will FTR feel? How will they think?' We got Omega and Page coming out and we were an afterthought. Thinking about it in 2023, if that's what the company wanted, that's okay. Thinking about in 2020 and 2021, I was bitter and upset about it because I felt that we were brought in, given a short title reign, and we were going to be forgotten about,"

-Dax Harwood.
Expanding on how he felt in the aftermath of the Young Bucks match, Harwood has acknowledged that he perhaps loves wrestling too much, with him needing to realise that he doesn't need to take it as seriously as he did around that time.
"I felt like we were a backdrop. I felt that everything we had been promised, when we came in, we were promised that the tag division was going to be built around these two teams, and I felt it wasn't being built around us. I felt we were lied to and at the time we were being lied to. I think my relationship with Tony got even more strained, I felt the relationship with the Bucks completely deteriorated. I take the blame for that. I take the blame for it because I shouldn't have taken wrestling so seriously. If Tony decided that he didn't think we were in that league or we should've been presented in a certain way, it's his company. Same thing with Vince (McMahon). I hold no ill will towards Vince or Tony (Khan). Tony is one of my closest buds now and I love him for what he's done for me and my family. I should've looked back and said, 'If Tony doesn't look at us in this light, what can I do to prove him wrong?' Instead, I had the same thought, but I was going to be combative and fight for it, and I shouldn't have. It's his company. If there were, if there are ill feelings between us and the Young Bucks, it was because we took it personally and we shouldn't have taken it personally. I think they took how we felt personally, and they probably should have because we probably weren't being the best team players at that point. I can speak for me, I wasn't being the best team player because of all the shit I had going on in my brain."

-Dax Harwood.
Dax Harwood concluded by talking about the mental health struggles he went through during his first few months in AEW. He acknowledged the anxiety he faced, including feeling the need to seek reassurance from Tony Khan that FTR were viewed on the same level as The Young Bucks.
We had a lot of meetings with Tony during this time period. From the time 2021 started to right after I had my anxiety attack and I started to get on the good side of that. We had a lot of talks with Tony. I remember telling him, 'Tony, I want you to present us as 1A and 1B with the Young Bucks.' He said, 'You guys are 1A and 1B.' I think he did think that. I think he thought that in the world of wrestling, the best tag teams in the world, we were 1A and 1B. I didn't feel that we were being presented that way, but I think he did feel that way. I think he felt we were the two greatest tag teams in the world and he thought that was good enough. It probably was good enough and should've been good enough, but to me, it wasn't."

-Dax Harwood.
To close. Dax discussed how he approached the situation at the time and how he perhaps could've dealt with his feelings better in hindsight.
"Going into Tony's office and instead of trying to find a middle ground to get a better positon on the card, I would go in there and say, 'Tony, you're shitting on us. You're making us look bad. You're not presenting us the way we feel we should be presented. You're putting the Young Bucks here and us here.' It was just me being too abrasive."

-Dax Harwood.
In 2022, FTR had a rematch with The Bucks on Dynamite where they retained both their ROH World and AAA Tag Team Championships. However, even to this day many fans feel as if FTR don't spend enough time on AEW TV compared to what they achieve in other companies.
H/T to Fightful for the transcription.